Mini-Kati's Berlin Diary – Part 2
Dec 19th, 2016 | By
mervi
| Category:
Reports from Berlin
19.12.2016 by Mini-Kati with a little help from Ralph
The next event was at the Zoo to raise a glass and toast Knut. In Ralph's case it was another chance to meet Katjuscha.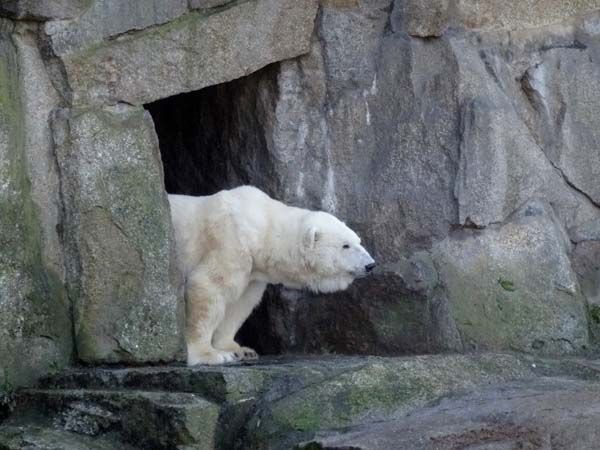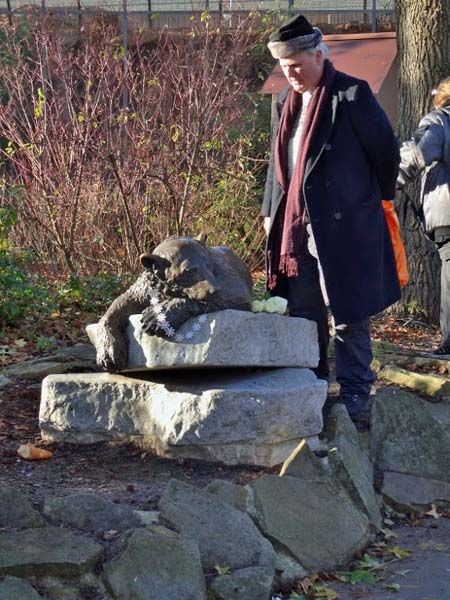 We found this tribute to Knut particularly appropriate!
Not so sure about this one though…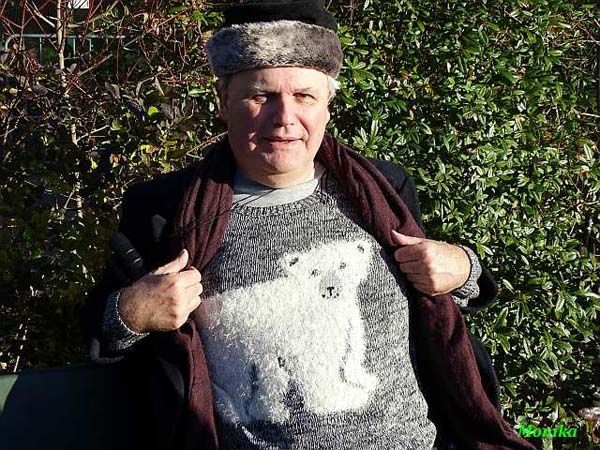 By the next day the number of tributes to Knut had grown.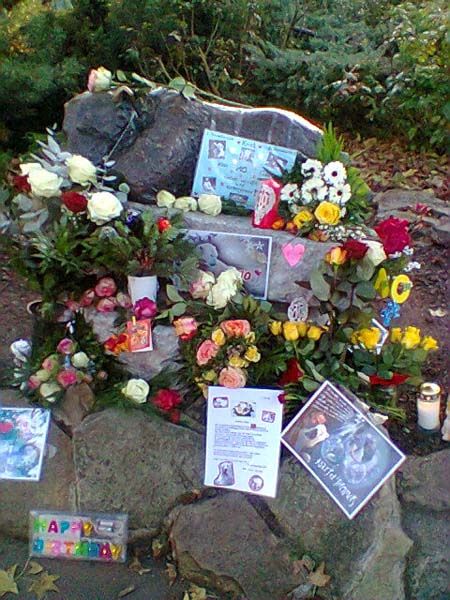 BN liked this thought about Knut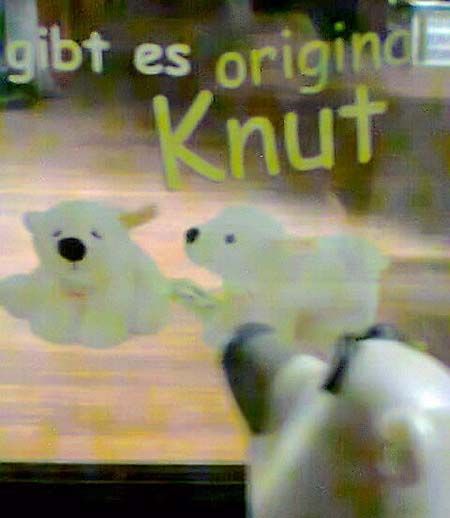 In the evening there was another meal to celebrate Knut and all the people he had brought together from different countries as friends.
Goose is a special German dish at Christmas and we were all delighted that the restaurant served it so well.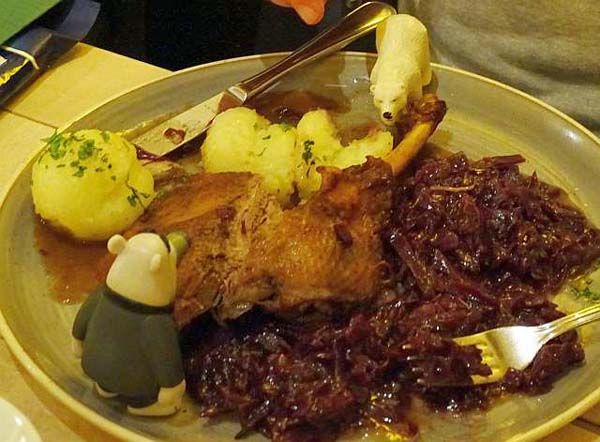 BN and I also enjoyed the Advoka and Cream Ice that Ralph had afterwards.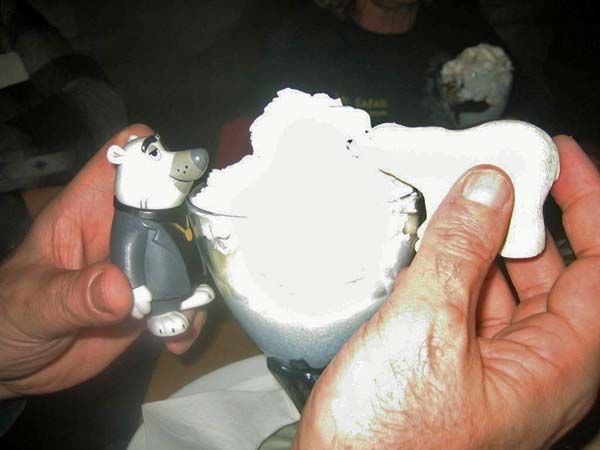 On the Sunday we went to the Zoo again to join in talk by the senior biologist who was responsible for the bears in Berlin Zoo. He assured us that Katjuscha would continue to receive the best care and that in the future a new special set of enclosures would be built for Polar Bears in the Zoo. He also showed us the latest pictures of the little Polar Bear cub in the Tierpark.
BN and I were interested to find out more about the Pandas, as they are very famous animals.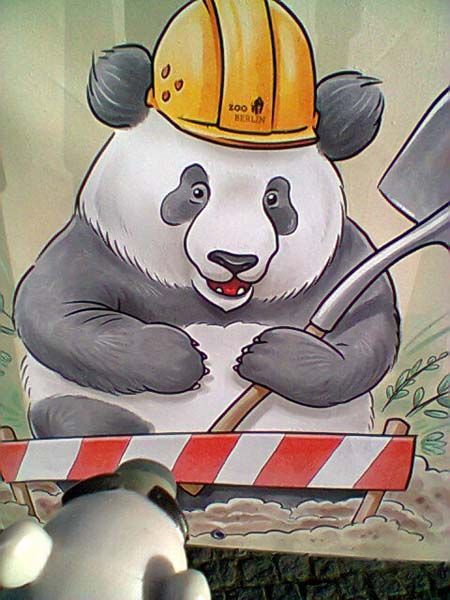 BN reckoned that he knew this Panda Engineer personally, but would not explain more. I checked out what the new Panda enclosure will look like.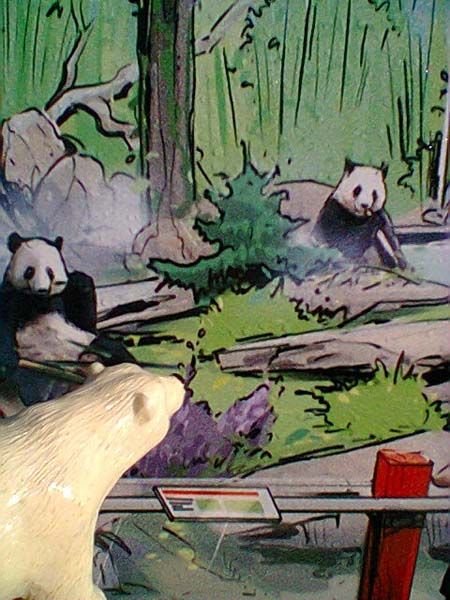 BN and I agreed that they would not be as exciting as Polar Bears, but they are kind and gentle animals.
This picture reminded me of Nancy licking Tosca's ear. The mother Okapi and her baby are very special as the baby Okapis are as fragile as little Polars.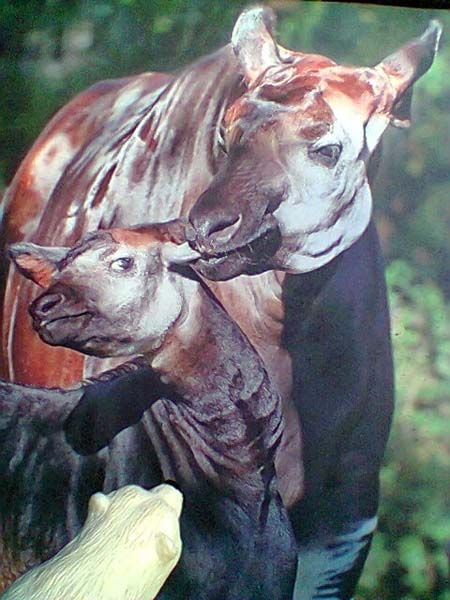 I think this greeting from the Zoo is a great way to wish all Polar Bear friends a Happy Christmas and a beary 2017.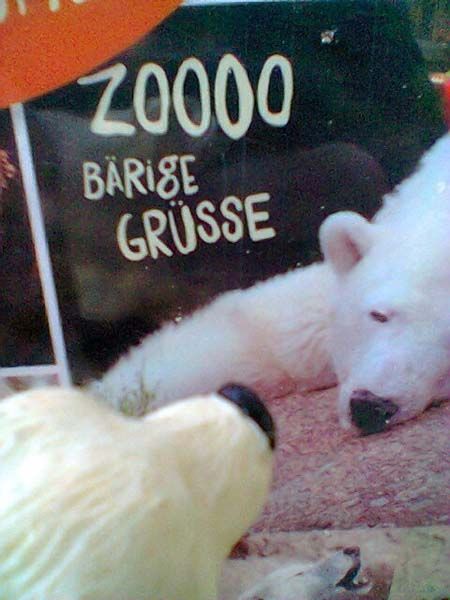 When we left the Zoo, Ralph needed a coffee but I managed to find something for me and BN as well. These sticky treats are supporting the Berlin Eisbaers hockey team but they are also Heidelbeer flavoured (Blueberrys) and so a special treat for all Polar Bears.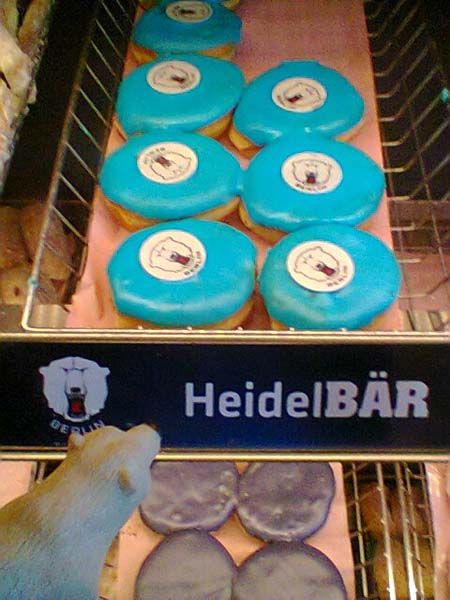 In the evening, Ralph's friend could not meet us as he had caught a cold, so we decided to do some shopping instead. A big French Department store in the Friedrichstrasse was holding a Polar themed evening shop. This lady was waiting for us.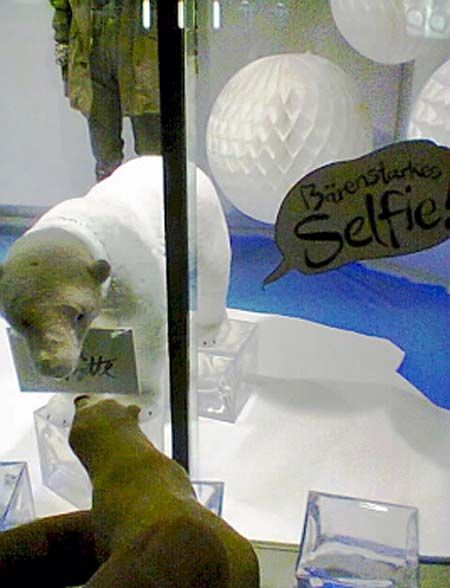 Inside the decorations were rather good as well. I took a picture downstairs.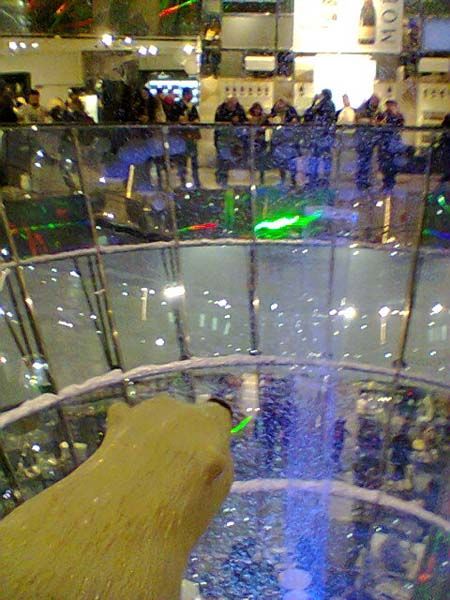 and BN took one upstairs.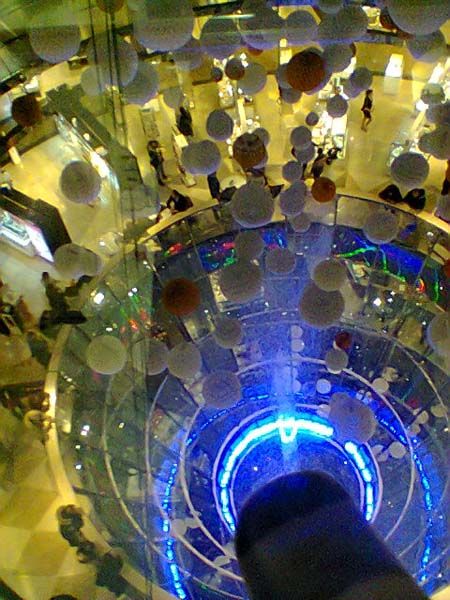 We spent a long time in the store and then went back to the Christmas markets
BN reckoned that this might be one of Uncle Sergei's new business ventures. Though BN added that he still preferred Staropramen Czech beer!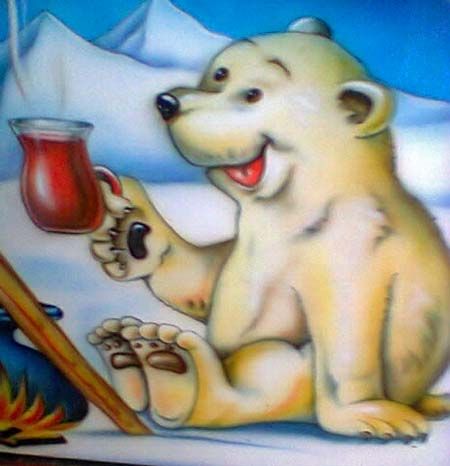 It was by now very late and we found ourselves near Ka De We. I wanted to do some more shopping, but everyone else was hungry. We had been joined in the afternoon by two bears from an East Berlin market. They are Mini-Tonja and her new cub. The Pommes and Mayo were organic and very good!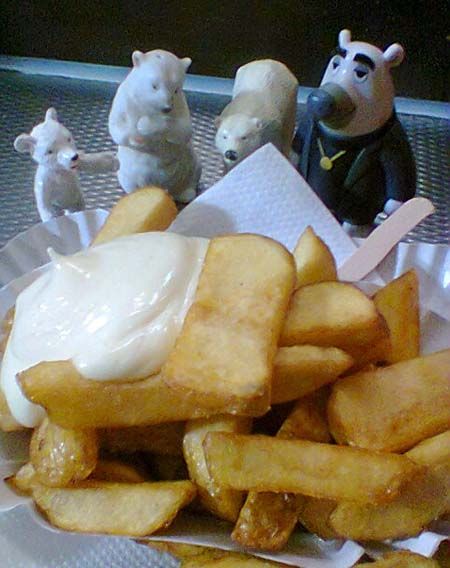 Monday was our last day in Berlin and I know that Ludmila and Uwe have already published some beautiful photos from the Tierpark.
Ralph was able to give a card and some little Polars to the keepers and we learned how well Tonja was looking after her little cub. Ralph took these two photos of Wolodja, showing him eating a frozen carrot and then greeting us. Ludmila's pictures are much better!
We then went for a walk round the Tierpark, which was very cold. The Malayan Bears are still in their old quarters but will move soon to a new part of the Brehmhaus. Tina was very interested in us, until she realised we had no food!
This little Pampas Mara from Argentina had the right idea on a cold day.
The flamingos were also well protected from the cold, You can see how wintery the park looks as well.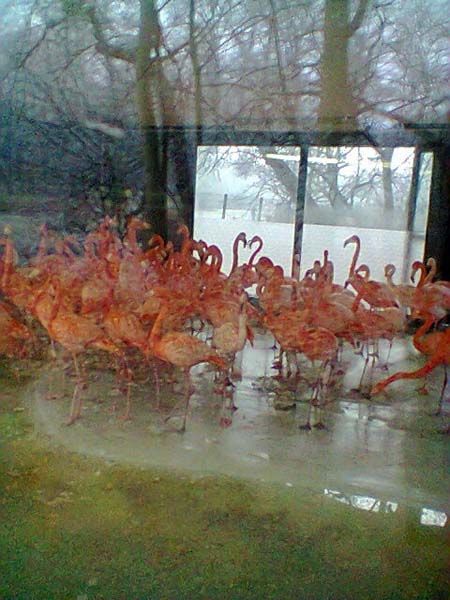 The Indian red wolves or Dholes are popular visitors in KWM and the family in the Tierpark were all very hungry and waiting to be fed. They look like Foxes to me,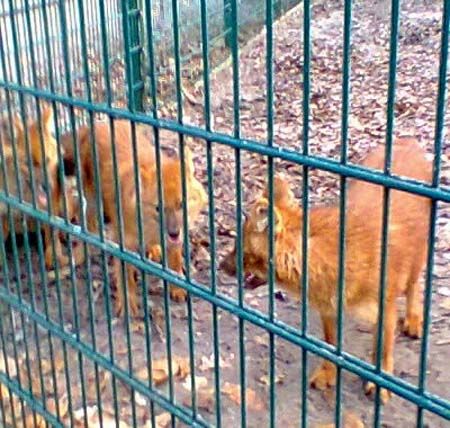 Ludmila has already shown you photos of the Manatis in the Elephant House. We were also delighted see all five Tigers inside the cliff enclosure in the Brehm Haus. Ralph thought they looked like a scene from a Bollywood movie.
Before long it was time to say goodbye to Wolodja and leave the Tierpark. As there was plenty of time before going to the airport, we decided to have our evening meal near the hotel in the famous Schlemmer Pylon snack bar. I chose a filling Pea Soup with an extra sausage on the side.
As we picked up the bags from the hotel, Mini-Tonja suggested that this might be a good way of getting to the airport.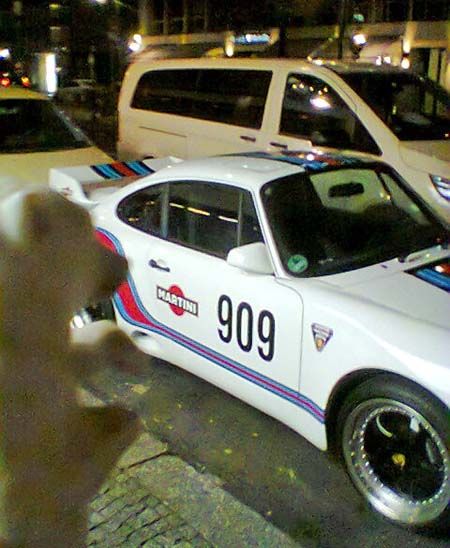 We are all looking forward to our next trip to Berlin when we want to meet Tonja and her cub.
Thanks to Mervi, Dumba and Monika aus Berlin for their help with photos.