March has turned into the month of night mares
Mar 18th, 2017 | By
mervi
| Category:
The Memory Lane
19.3.2017 by Mervi and La Dame Blanche
Until the black Saturday – the 19th of March – we were happy having a beautiful, magic polar bear connecting people all over the world. Knut was so much loved by all of us but we were not allowed to have him more than 4 years and 4 months.
We have, of course, our sweet memories  but it will never be the same …..
We were so happy when the polar bear boy Fritz was born but once again we were reminded of how quickly happiness can turn into deepest morning. On the 7th of March little Fritz crossed the Rainbow Bridge and joined Knut. His time with us lasted only four months.
March should be the cheerful month when we start enjoying the Spring time. However, now it's connected with very sad memories. This month is the month of night mares!
I can't help thinking it's so unfair that Berlin had to loose even Fritz – and at such a young age. Both Knut and Fritz brought so much joy and happiness to me …. Of course, I'm are grateful for the happy moments but oh, how we wish they would both still be with us!
Knut and Fritz have always a warm place in my heart but my heart also has two bleading wounds ….
I can't think of Knut without thinking of Fritz and I can't think of Fritz without thinking of Knut. You were both just a loan …. I hope you're happy together in your bear heaven.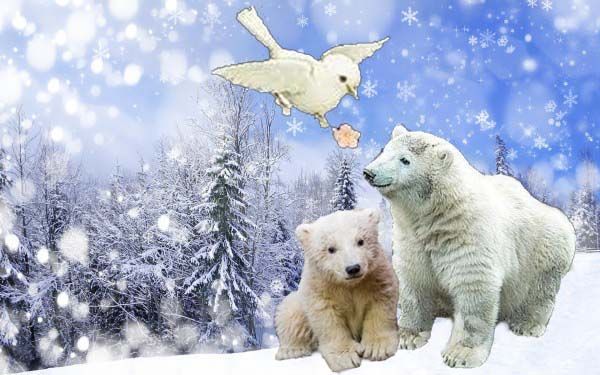 In the day time I can watch the clouds and maybe find you sitting there watching over us or up to us.
When the sky gets dark I'll try to find two twinkling stars …..
ALWAYS IN MY HEART – NEVER FORGOTTEN!
From La Dame Blanche in France: