Polar bear cubs' first Easter / Das erste Ostern der Eisbärbabys
Apr 12th, 2017 | By
mervi
| Category:
Mervi's stories
13.4.2017 by Mervi (English/Deutsch), Übersetzung von Bärgit
It's the first Easter for the polar bear cubs who were born in November/December last year. Of course, their mothers wanted to make this holiday very special for their babies.
In Hellabrunn Giovanna shows Quintana how to look for Easter eggs.
Das erste Osterfest für die Eisbärbabys, die letzten November/Dezember auf die Welt kamen, steht bevor. Natürlich setzten ihre Mütter alles daran, dass dieses Fest für ihre Babys zum einem ganz besondern wird.
In Hellabrunn zeigt Giovanna ihrer Quintana, wie man Ostereier sucht.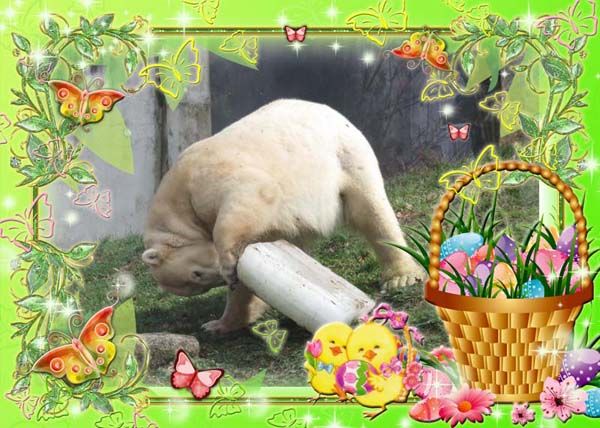 Quintana was eager to go egg hunting but she didn't only find eggs – she found a nice white and fluffy friend, too!
Quintana war ganz scharf darauf, auf Eierpirsch zu gehen, und sie fand nicht nur Eier – sie fand auch einen netten weißen, fluffigen Freund.
After the egg adventure she decided to give mama a little performance with an Easter bunny and a tiny chicken.
Hippity hop Easter Bunny! 🙂
Nach dem Eierabenteuer kam ihr die Idee, ihrer Mama mit einem Osterhäschen und einem winzigen Küken eine kleine Vorstellung zu geben.
Hippity hop Osterhäschen! 🙂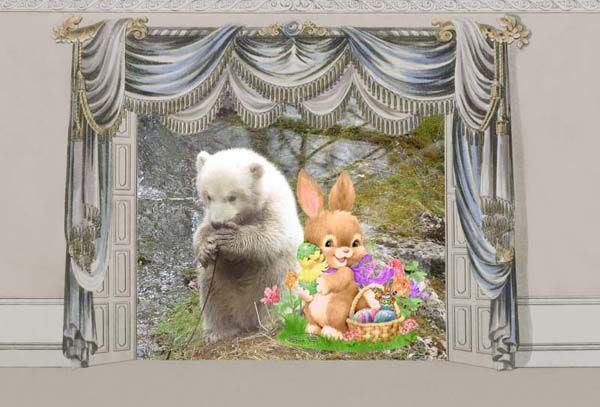 In Aalborg mama Malik helps her baby girls to find some treasures hidden under the rocks. I guess papa Lars had helped her to hide them ….
In Aalborg hilft Mama Malik ihrem kleinen Mädchen, die versteckten Schätze unter den Felsen zu finden. Ich schätze mal, Papa Lars hatte ihr zuvor beim Verstecken geholfen…..
Sesi had a wonderful surprise for Nanuq who was delighted to have a play mate. The little bird took care of the musical entertainment.
Eine wunderschöne Überraschung hatte Sesi für Nanuq vorbereitet, die entzückt über ihren kleinen Spielfreund war. Der kleine Vogel übernahm die musikalische Umrahmung.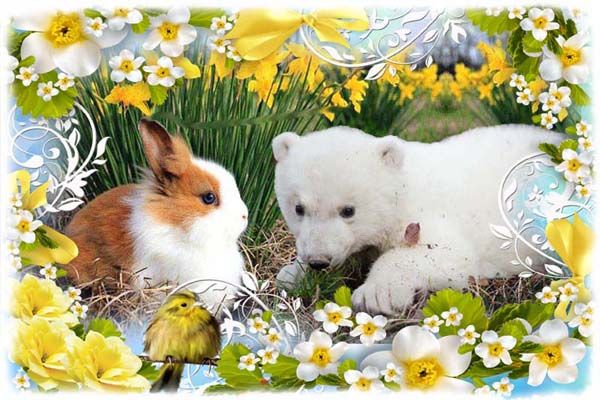 Aron's play mate doesn't look too happy. The cat's 'mother person' had made her wear the stupid thing on her head. She wasn't amused at all!!
Arons Spielkamerad schaut weniger glücklich aus. Die menschliche Katzenmutter hatte ihr dieses dümmliche Ding auf dem Kopf verpasst. Sie war ganz und gar nicht erfreut darüber!!
Let's hope even the cat was in the better mood after playing with Aron. Mama Frida had made sure her son would have all the possible Easter enrichment.
Hoffen wir einfach, dass die Katze nach dem Spielen mit Aron besser gelaunt war. Mama Frida hatte alles getan, dass ihr Sohn alles erdenkliche Oster-Enrichment hatte.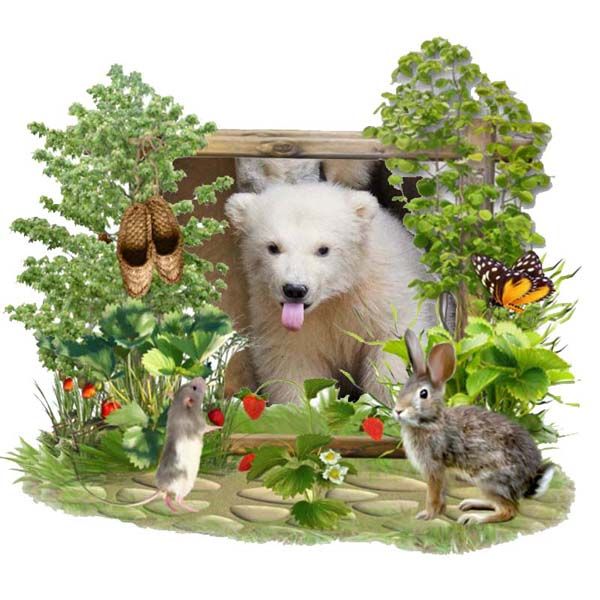 In Ranua the Easter looks very different from the Easter in other parts of Europe. There's still plenty of snow and the Spring will come later. However, it doesn't prevent Venus arranging lots of Easter fun for her son.
In Ranua sieht es an Ostern völlig anders aus als im Rest von Europa. Es gibt noch immer massenhaft Schnee und der Frühling lässt sich Zeit. Aber das hält Venus nicht davon ab, allerlei Osterspaß für ihren Sohn vorzubereiten.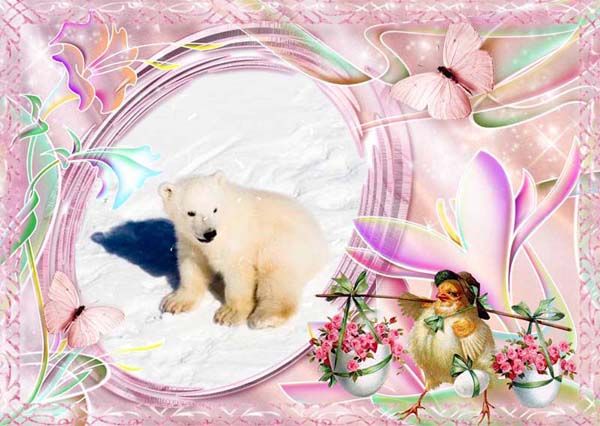 'Nalle' met a bird and he wanted to get some answers ….
– Hello bird, can you tell me why these white things are called 'pussycat willows'? They have no tails and no  whiskers – and they don't even meow?
– Dear boy, I don't know the answer – but I think they look more like tiny polar bears so maybe you can call them 'polar bear willows'. They certainly look like tiny bear babies to me ….
'Nalle' traf einen Vogel und er wollte von ihm ein paar Antworten haben….
Hallo Vogel, kannst du mir verraten, warum man diese weißen Dinger 'Weidenkätzchen' nennt? Sie haben keinen Schwanz und keine Schnurrhaare – und sie können noch nicht einmal miauen?
Lieber Bub, das kann ich dir auch nicht sagen – aber ich denke, sie schauen eher wie winzige Eisbären aus; vielleicht solltest du sie 'Weidenbärchen' nennen. Für mich sehen sie wirklich wie winzige Bärenbabys aus…..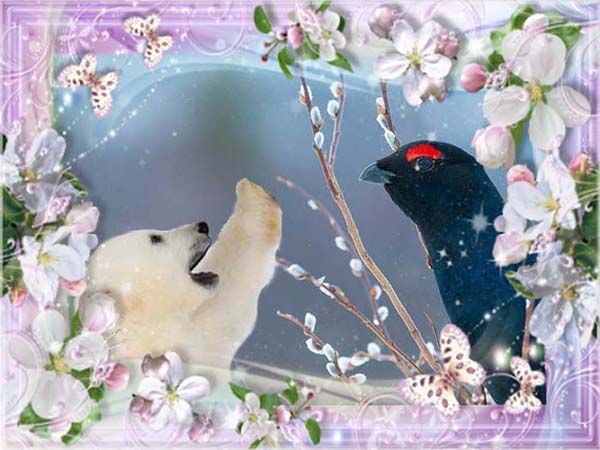 'Nalle' was quite satisfied with the bird's answer and hurried to share a carrot with a bunny.
'Nalle' war mit dieser Antwort des Vogels natürlich sehr zufrieden und eilte weiter, um eine Karotte mit einem Häschen zu teilen.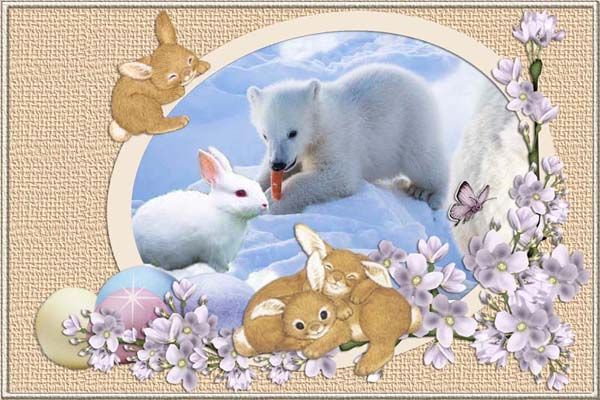 Our polar bear babies were exchanging emails and came up with a very nice and touching idea. Because little Fritz had to go to Knut Auntie Tonja was alone. She would have loved to prepare Easter fun for her son, too ….
Our gold hearted cubbies decided to send Easter bunnies to keep her company which made Tonja very glad. How thoughtful of the babies to think of the mother that had lost her baby.
Unsere Eisbärbabys tauschten untereinander E-Mails aus und dabei entstand eine sehr nette und rührende Idee. Weil der kleine Fritze zu Knut weiterziehen musste, was Tantchen Tonja allein. Wie gern hätte sie auch für ihren Sohn eine Osterüberrachung vorbereitet….
Unsere Kleinen mit den großen Herzen aus Gold beschlossen, Tonja Osterhäschen zu schicken, damit sie nicht so alleine sei, und darüber freute sich Tonja sehr. Wie lieb von den Babys, an die Mutter zu denken, die ihr Baby verloren hatte.
When Giovanna, Frida, Malik, Sesi and Venus heard what their kids had done they were very, very touched but also very proud of their good hearted sons and daughters.
Here Giovanna gives a gentle hug to Quintana.
Als Giovanna, Fride, Malik, Sesi und Venus davon erfuhren, was ihre Kids gemacht hatten, waren sie sehr, sehr gerührt und auch sehr stolz auf ihre mitfühlenden Söhne und Töchter.
Hier umarmt Giovanna Quintana sanft.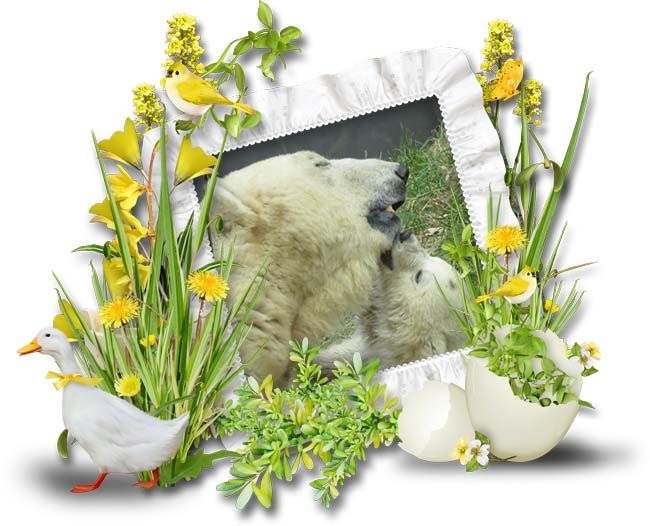 Together with the sweet cubbies and their mothers Knuti's Weekly wishes all the readers and reporters a very happy Easter!
Zusammen mit den süßen Kleinen und ihren Müttern wünscht Knuti's Weekly allen Lesern und Leserinnen sowie allen Reportern und Reporterinnen Frohe Ostern!