Polar bear special from the Columbus Zoo
Apr 18th, 2017 | By
mervi
| Category:
Featured articles
18.4.2017 – Source: The Columbus Zoo and Aquarium
Hi all! My name is Ellie and I am a keeper in the North America and Polar Frontier regions here at the Columbus Zoo and Aquarium. I have taken over the Zoo's social media accounts today. We have A LOT of things going on in our Polar Frontier area (HELLO CUBBIES!!) so get ready for a fun-filled day full off all things bears! Here I am with polar bear Aurora's back foot while she gets a root canal. Animal health is extremely important to us and we have AMAZING Vets on staff along with various specialists that help us keep all of our animals in tip-top shape!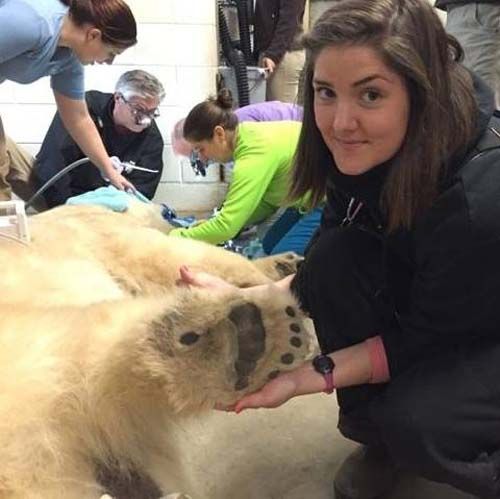 Every day brings something new and exciting for the cubs as they continue to learn more about life and the world outside the den. Swimming is currently the most important skill they are trying to master. Both moms are teaching their cub(s) how to swim, and the little ones are naturally very curious and investigate the water often. Here you can see Aurora's twins "yelling" at each other, not wanting to be pushed in the pool, and Anana's cub standing up on the back paws!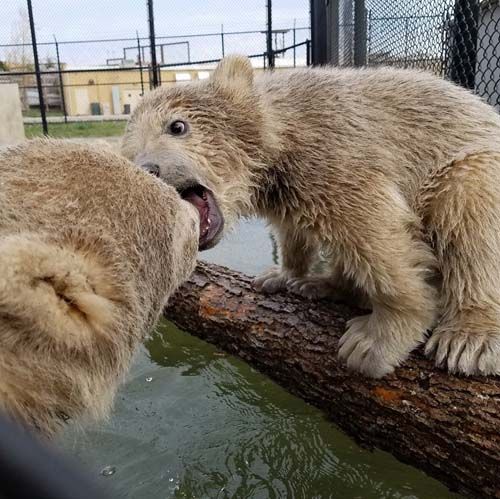 The cubs are not yet on view, but once we are confident that they can swim, then we will introduce them to the big pool in the habitat. Also, some of you are asking if Anana's cub and Aurora's twins will be put together. They will not, as polar bear mothers do not raise their young together.
White cubs …..
… turned into brown cubs in seconds flat. 🙂
Food is obviously very important for a growing cubby. Each cub is now getting the same diet as the adults, consisting of polar chow, meat, and fish (just smaller portions), but mom's milk is still nutritionally the most important part of their diet. With a fat content of 33%, mama polar bear milk helps to pack on those pounds! Here you can see and hear Aurora's twins nursing. That 'motor' or humming sound is the cubs suckling!
Sleep is also very important for a growing cubby. Like most youngsters, these cubs play hard and sleep hard. We constantly find them sleeping in the funniest positions, but sometimes right on top of mom is the best place to take a snooze!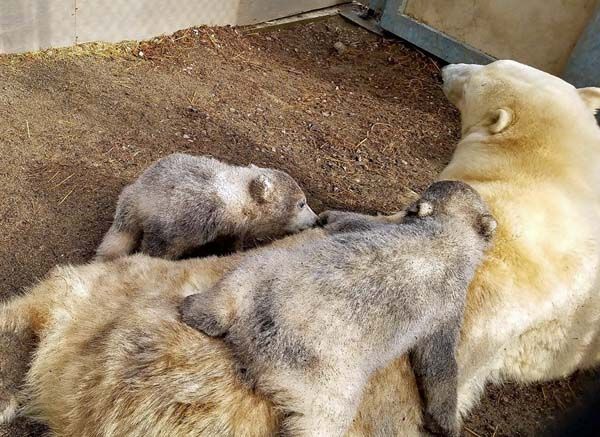 Taking care of cubbies is a lot of work and sometimes mom just needs a little break. Aurora has figured out her "mom spot" in the behind-the-scenes yard where she can enjoy a few minutes without the kids jumping all over her. As you can see, cubbies NEED to know what is so exciting up there and are trying their hardest to get to mama bear!
Meanwhile, since polar bear dads don't have any role in cub rearing, papa bear Nanuq enjoys taking a nice dip in the pool.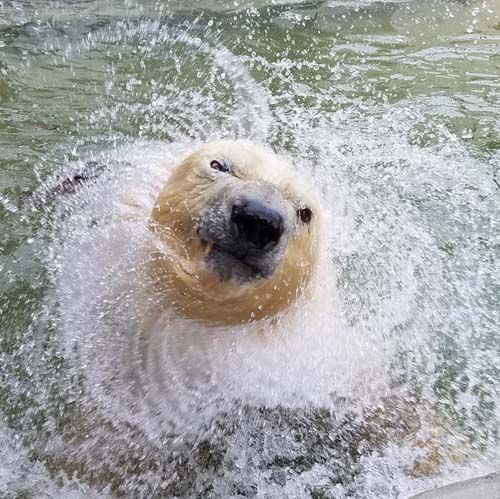 Anana's little cubby  has a very unique marking. We noticed while monitoring the den cameras that this little one had a small patch of gray hair on the neck. It's been about 4 months since then and the patch has remained, so I'm hoping it stays forever since it's so unique and cute! It can be a little hard to see sometimes since all the cubbies love to get dirty, but see if you can spot it in this picture while mom gives the little cub a quick bath.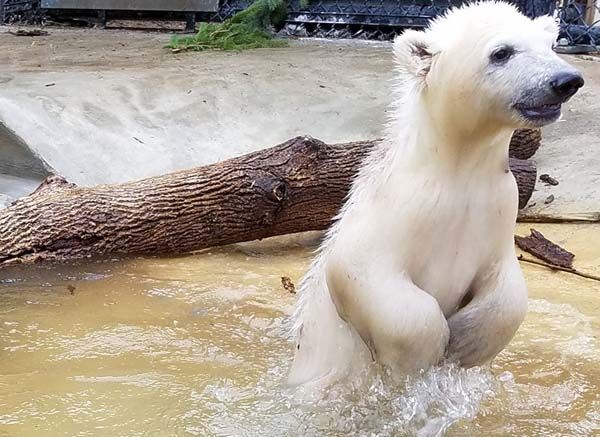 Enrichment is a big part of our growing cubbies' world and they absolutely love everything, but ice is especially fun. Here you can see Anana's cubby rolling in a tub of ice!