The painting bear Juuso is awake!
Apr 24th, 2017 | By
mervi
| Category:
Kuusamo Predator Center
24.4.2017 – Source: Kuusamo Predator Center
The painting bear Juuso is awake!
Early this morning Juuso – the famous painter in the Kuusamo Predator Center – came out from his den where he's been hibernating since the beginning of last November.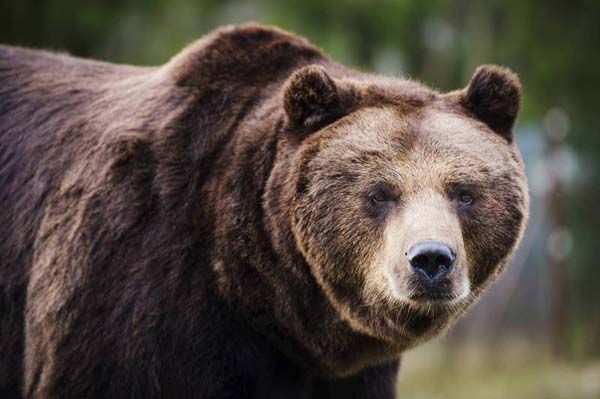 Sulo Karjalainen was having his breakfast when he saw Juuso coming out. Sulo immediately invited the big bear to join him.
– Juuso started wading in the snow towards me and, of course, there was a lot of kissing and cuddling when we met after several months. We were both happy to be together again. Juuso hasn't a big appetite yet but I treated him with honey, fruit and candy. Maybe it was a bit too much because he had to take a nap, Sulo Karjalainen says.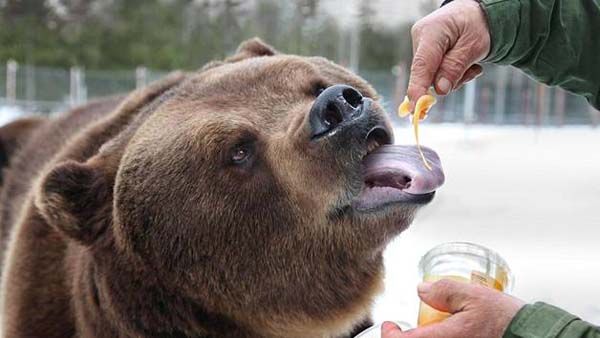 – I was already missing Juuso because this year he came out later than usual – probably due to the very cold Spring. Maybe the warm weather is coming now …. We had a long chat and I had to tell Juuso everything that has happened during his Winter sleep.
Juuso celebrated his 18th birthday in the den. Maybe he had sweet dreams of honey …. He has lost a lot of weight during the hibernation period and now 'only' weighs about 400 kilos!
Sulo could also tell Juuso that his art exhibition in Helsinki was a big success. Juuso's paintings will be on exhibit even in the Riihigalleria in Kuhmo in June. The exhibition is a one of Finland's 100 years anniversary events and the theme of it is the nature and the bears. In the ancient Finland bears were greatly respected and treated as gods. It was not suitable to call them 'bears' – that's why there are so many nicknames like mesikämmen, otso and kontio.
As far as we know Juuso won't be attending the exhibition ….. 🙂
– Now we are taking things very easy and just chat, eat and nap – and, naturally, cuddle a lot, Sulo Karjalainen says.
Knuti's Weekly wishes Sulo and Juuso a very happy Spring time together. Of course, we also wish the great painter good luck with the art exhibition but we're sure it will be a fantastic success!