Visiting Berlin in April 2017
Apr 17th, 2017 | By
mervi
| Category:
Reports from Berlin
17.4.2017 by Ralph
I do not have a long report from Berlin as so many wonderful reports are done about both the Zoo and Tierpark in KWM.
I would like to explain that although there is no Mini-Kati story this time, my little travelling group of bears wanted to remember both the victims at the Christmas Market, which they enjoyed visiting so much, and Little Fritz, who they were so looking forward to meeting.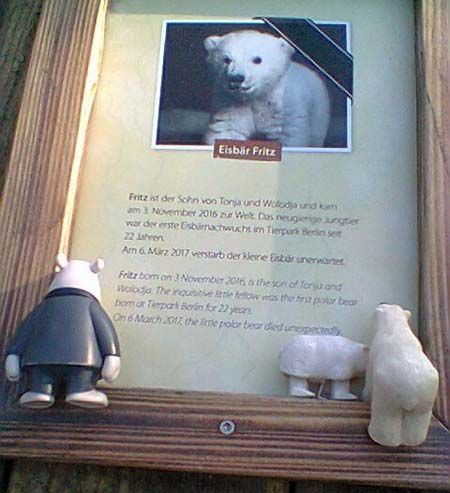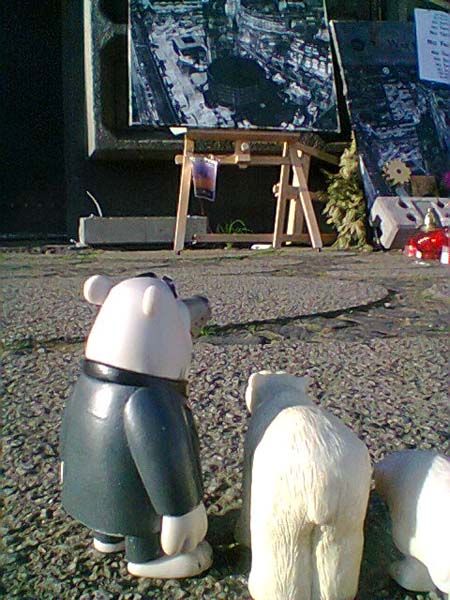 I spent nearly two days watching Tonja playing with her various toys and as you can see from the photo I was able to get close to her and see how much damage she has done to the "unbreakable" crazy egg. Her power, grace and strength were illustrated by the way in which she was able to stand out of the water, holding a large ball in the air.
Wolodja is looking a little better physically, but it is clear that he wants to be back home with Tonja. From what I heard, the only reason he is not back already is the difficulty in finding a suitable travelling container and shipper.
My Kati is looking large and fluffy. Both of us now move more slowly and like to rest a lot. She was on the big enclosure during my stay, which may mean that Wolodja will move soon. I think she would like to spend more time indoors, or maybe she enjoys the target training treats!
For once, the return flight was not an ordeal. Because now that British Airways no longer serve food, I had some excellent sandwiches from Kaiser's supermarket and treated myself to a small bottle of METAXA Greek Brandy (Leti – I love this Greek Brandy!) which made me feel nice and relaxed. I even had a window seat so was able to enjoy the approach to London up the Thames and see all the landmarks.
This morning I treated myself to a bacon roll. Breakfast in England is a nice thing to come home
to.
Now I am planning my trip to Aalborg in May.