Meeting the polar bear royalties in Ranua
May 30th, 2017 | By
mervi
| Category:
Ranua 2017
30.5.2017 by Mervi & Vesa
When we heard the happy polar bear family news from Ranua in January we immediately decided to visit the baby bear. We wanted to wait until the roads were free of ice and snow but since the Old Man Winter retired very late this year we had to wait. However, on the 24th of May we could finally enter the zoo – even called the Wildlife Park.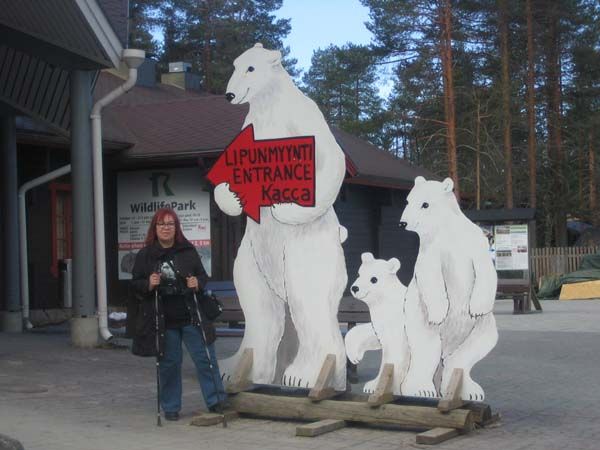 We didn't come empty handed – there were water melons to Venus and Manasse, a honey melon to Nalle and jars of honey to Malla and Jemma. We even brought a ball to Nalle. Mari Heikkilä kindly met us in the entré so we could leave our gifts to her.
For the new readers' information – the baby bear hasn't got a name yet so Nalle is a nickname I've given to him. There's a name voting going on and a jury consisting of the keepers will choose the best suggestion in the end of August.
The snow had melted in most parts of the Ranua region but in shadowy places like this wood there was still some snow left.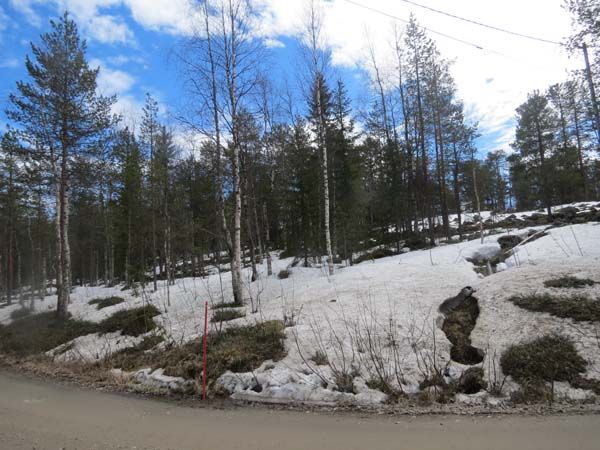 Finland is a republic but there's a kingdom of polar bears in Ranua!!! 🙂
When we came to the polar bears we found King Manasse sleeping in the sunshine. After admiring the sleeping bear we continued to Venus and Nalle in the neighbouring enclosure.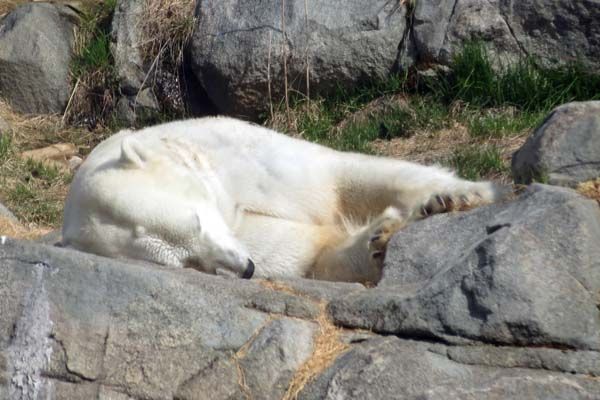 First we didn't see any bears but we waited patiently (as you know I'm a very patient person! 🙂 ) and our patience was rewarded!
Oh bear, it was richly rewarded!!! What a fantastic feeling it was to see our sweet Nalle peeking out from the den! I had to pinch my arm to make sure I wasn't dreaming.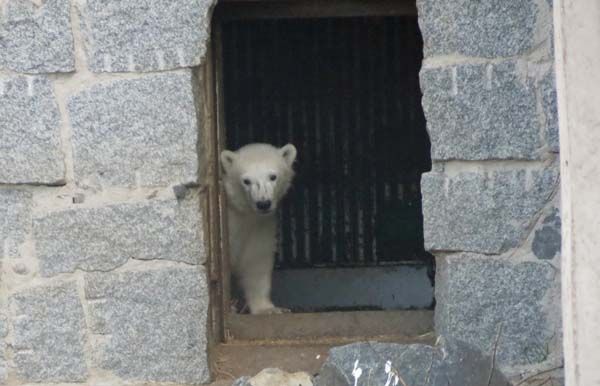 Soon even mama Venus joined him and the bears started to walk towards us.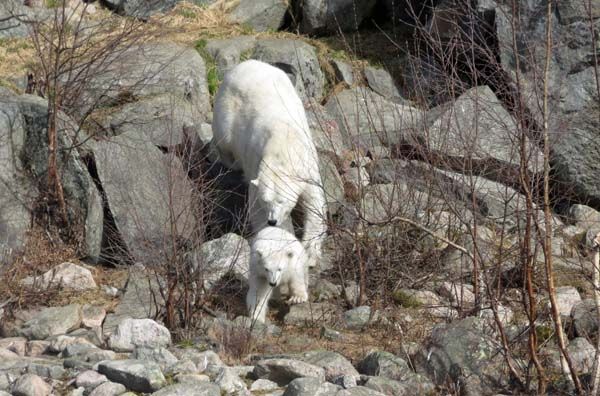 A little morning chat. Maybe mama was checking that her baby boy was clean even behind the ears. 🙂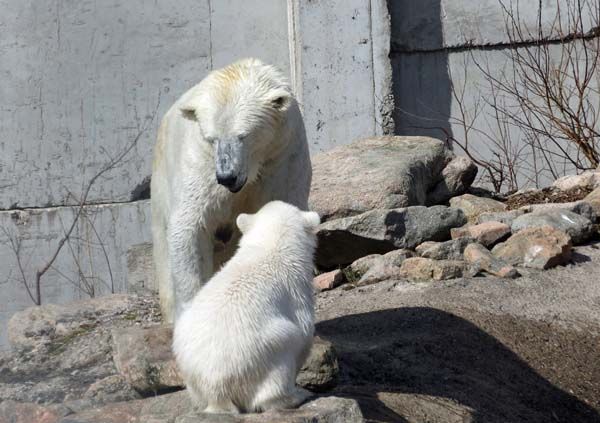 He's so sweet, so cute, so lovely, so beautiful – you name it! It's simply impossible not to love this fur ball!
Nalle even presented the naked bushes to us. No green leaves in sight but I assured Nalle that they will turn green before the Midsummer. I hope I'm right so our bear boy won't be disappointed …. 🙂
When Nalle came down to the pool we could have a closer look at him. He's a real rascal according to the keepers. Recently he was weighed and the scales showed 39 kilos which is much more than Ranzo weighed at the same age. Ranzo is now a very big polar bear and I'm sure Nalle will be as big or maybe even bigger than his brother.
Nalle really is a fearless viking. When the visitors and the media had to wait for two hours for Ranzo to come out for the first time Nalle immediately followed Venus when it was time for him to present himself to his fans.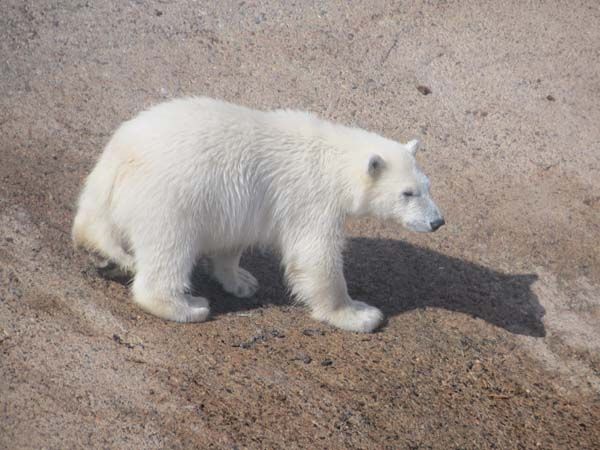 Queen Venus is a beautiful polar bear lady and it was easy to see she was very happy about her son.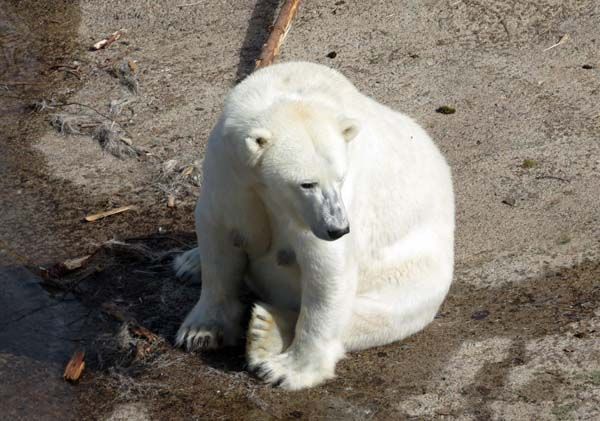 Very often the mother and the son stopped for a hugging and chatting session.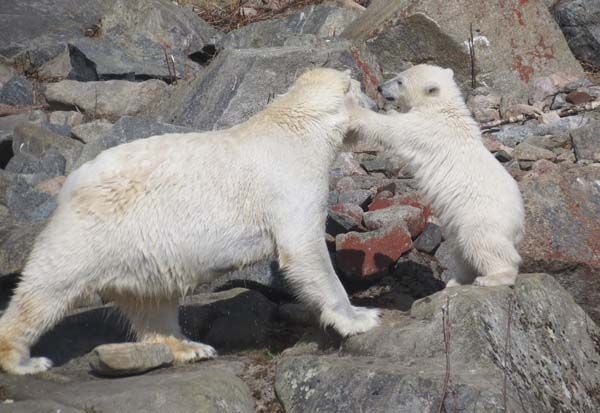 The water in the pool couldn't be cleaned because the cleaning system was still frozen. Although the snow has melted the ground hasn't. Nalle doesn't mind that but had made his first swimming tours only a couple of days earlier. He hadn't  hesitated one second before jumping in the cold water – obviously he instinctly knew it was his element just like the snow and the ice.
There were many treasures in the water and just like all little boys he loves the black tyre.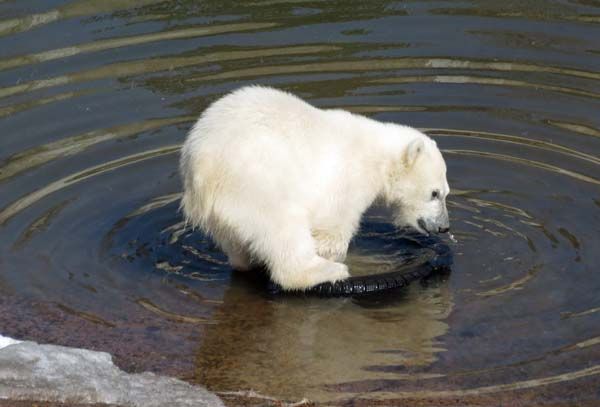 We couldn't see what the 'white thing' was but Nalle had a good time playing with it.
There's a wall separating Manasse from his family but it seemed to us they are still kind of living together.
Manasse kept walking along the wall sniffing the air. Of course, he's very well aware of the fact that Venus is close to him. It's really great Manasse doesn't have to share the destiny of many other polar bear males who have to leave their home zoos at least temporarily when a baby bear is born.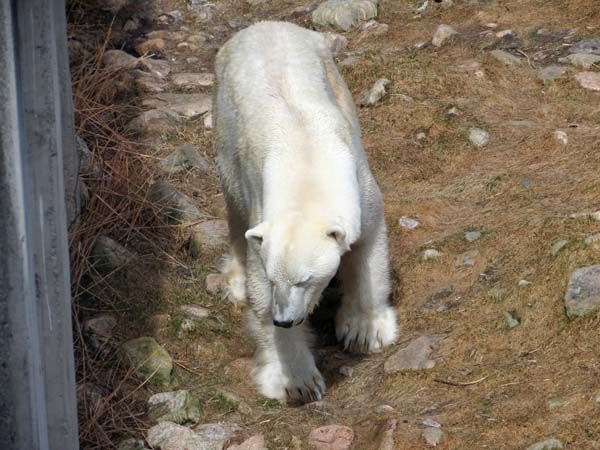 On the other side of the wall Venus was doing the same but we had the impression they were not sad but quite contented with their current situation. Of course, my fantasy got wings and I thought Venus was telling Manasse about their son and how well he's developing ….. 🙂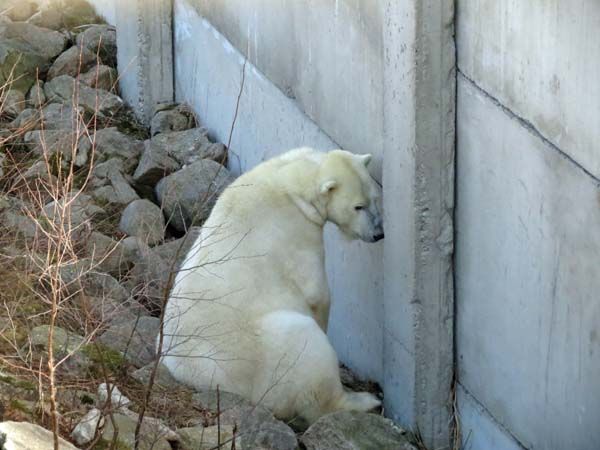 It was fun to watch Nalle imitating her mother. When Venus stood on her hind legs he did exactly the same. When Venus left the wall he followed. There could have been great photos of this but we allowed ourselves to observe the bears instead of taking photos all the time.
Mari had an appointment with a school class by the polar bears' enclosures and when the kids came we were introduced as the Ranua bears' god mother and god father. Needless to say we were very flattered and proud! 🙂
Nalle quite clearly guessed something special was going on ….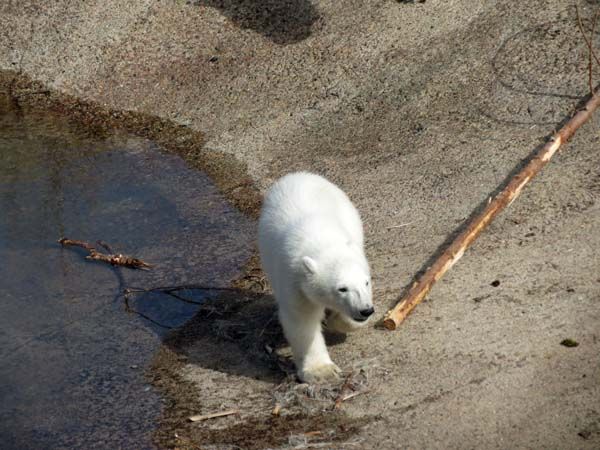 The public feedings start in June but this time there was a 'show' anyway because Mari threw the ball into the water. The ball was intented to Nalle but Venus was quicker and picked it up first.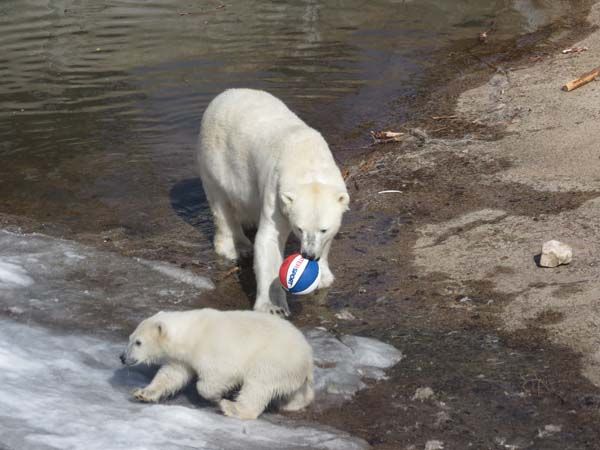 As you can guess it didn't take many minutes until the ball had the omelette shape. 🙂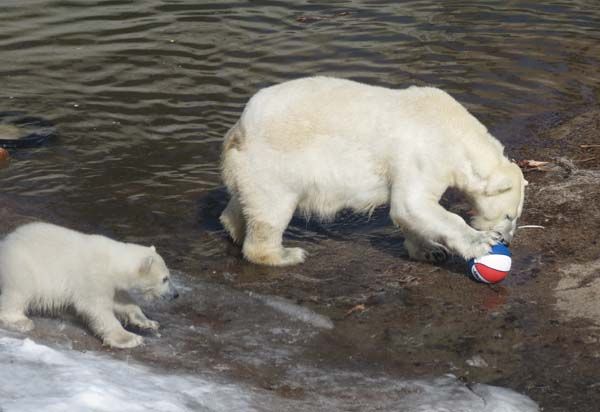 Nalle didn't make a fuss but let Venus have her fun.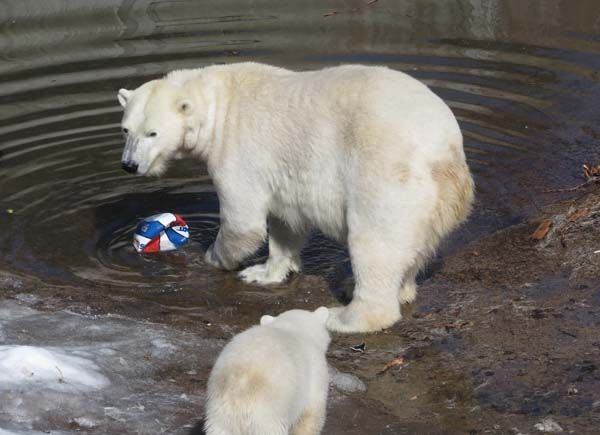 There were many snowy spots even in the lower part of the enclosure so Venus continued the 'treatment of the ball' in the snow. 🙂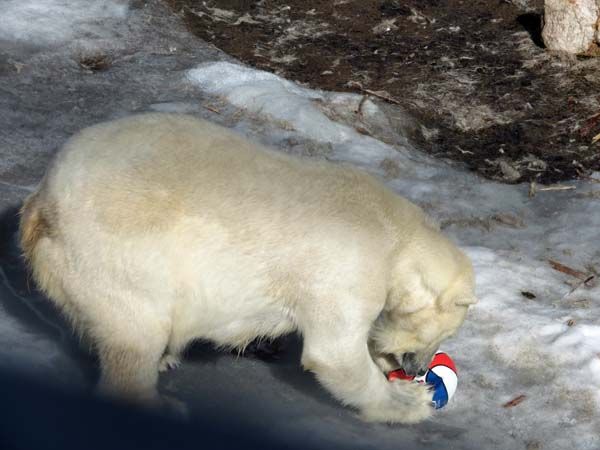 Now Nalle was running out of patience and started to claim the ball.
Finally Venus left the ball – what was left of it – to her son. She looked very pleased with herself ….
Now the 'Nalle Show' started. He was walking, running, somersaulting and running again with the new toy in his mouth or between his paws. The school children seemed to have as fun as Nalle. Of course, we were happy, too, watching our bear boy.
How elegantly he managed to transport the ball even on the slippery ice.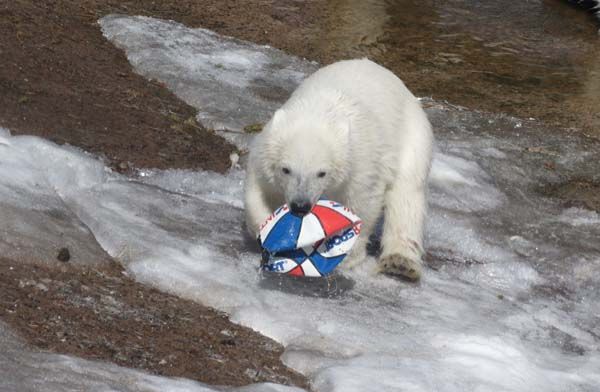 Naturally, Nalle tried to hide his treasure and the tyre was a perfect hiding Place.
The next thing on the 'schedule' was treating Manasse with a water melon. It looked like our 'Silver Fox' guessed what was coming. 🙂 Venus and Nalle would have their melons in the den because none of us was sure we would hit the water. The treats would have been totally smashed if they had hit the ground.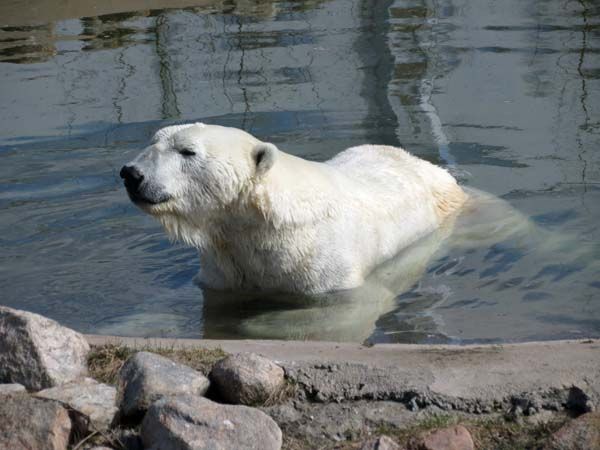 Manasse is already 28 years old but he's still going strong! Not only does he look gorgeous but he also moves with great agility. We wish the old chap lots of health and many, many happy years still to come!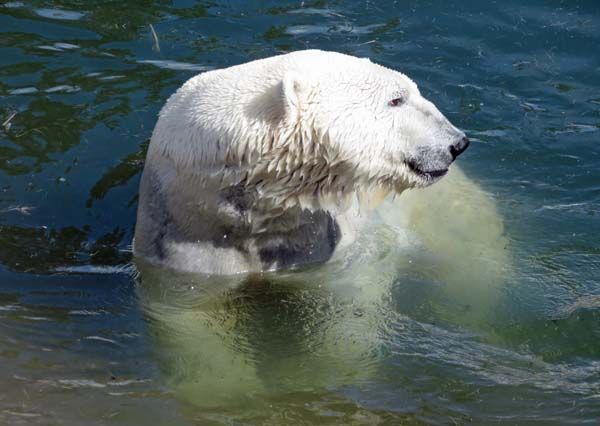 There were only mini melons available in the shops in Tornio but even the 'minis' are quite big. However, on Manasse's paw the melon looks like a big apple. 🙂
He didn't eat it at once but took a couple of swimming rounds with the melon between his paws.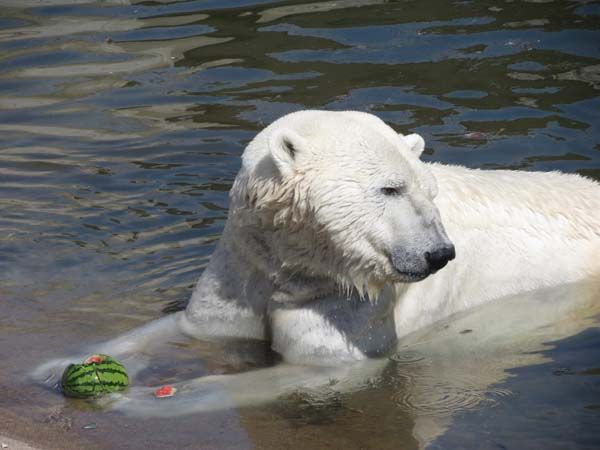 We were glad seeing our treat seemed to be very welcome. Manasse ate it with good appetite.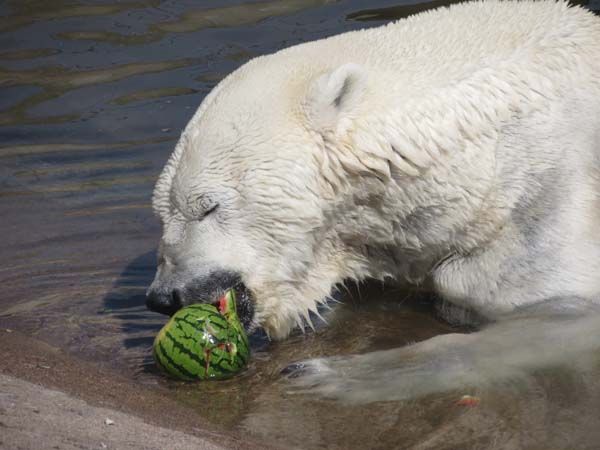 It was difficult to take pics of Nalle when he was in the lower part of the enclosure but here are a couple of examples of how it looked.
Nalle is wondering where all – almost all – the snow has vanished.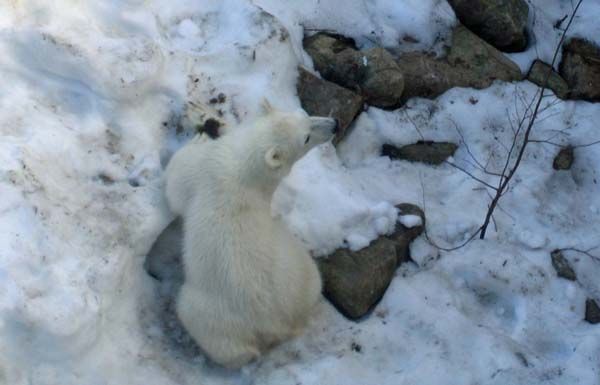 There are only the remains of his snow cave left but it was still possible to do some digging.
Again I read Nalle's thoughts: 'Why can't I have the snow and the cool pool at the same time?' 🙂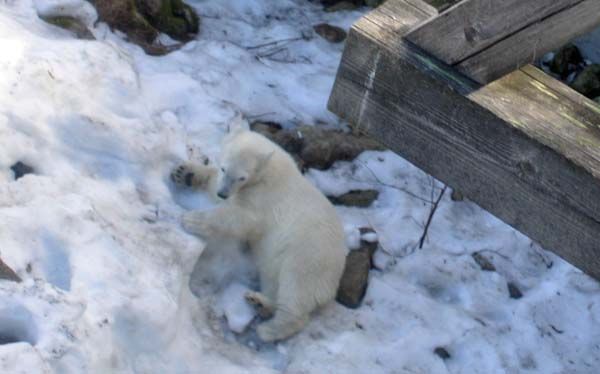 Watching polar bears is always a fantastic experience – no matter if they're sleeping, eating, swimming or just sitting but the most touching are the tender moments between the mother and the son.
Even the most fearless viking turns into a little polar bear boy sometimes ….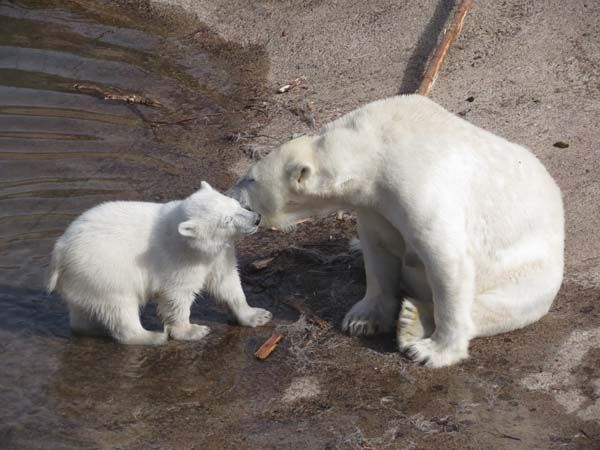 After a 'hug  & kiss session' it was time for some water games. Venus had found something in the water but when Nalle joined her it was time for some water polo. 🙂
Venus had again pinched the ball and Nalle did his best to take it back.
…. and he made it with great bravour! Venus was taken by surprise. 🙂
Instead of a 'high five' Venus and Nalle made a 'water paw'.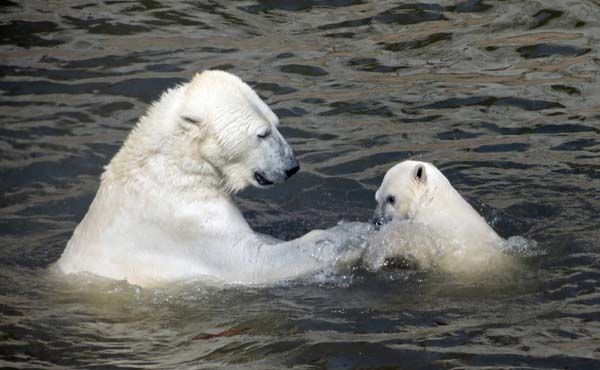 It's amazing this was only the third day Nalle was in the water. It looked like he had spent his whole young life there.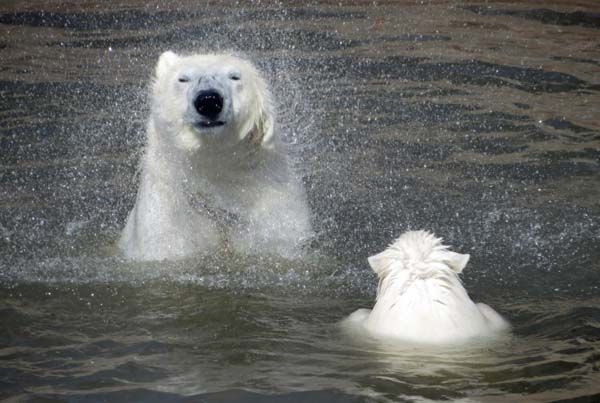 Mama, you'd better watch out – I'm attacking!!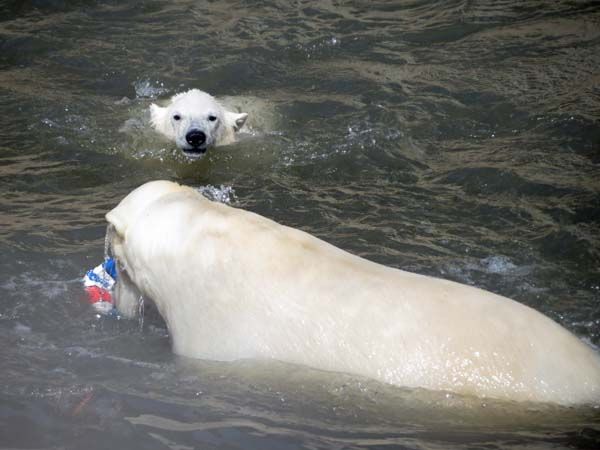 Oh, keep that stupid ball – I'm not so interested anyway (twinkle, twinkle) 🙂
Hahahaa, I fooled you again!!!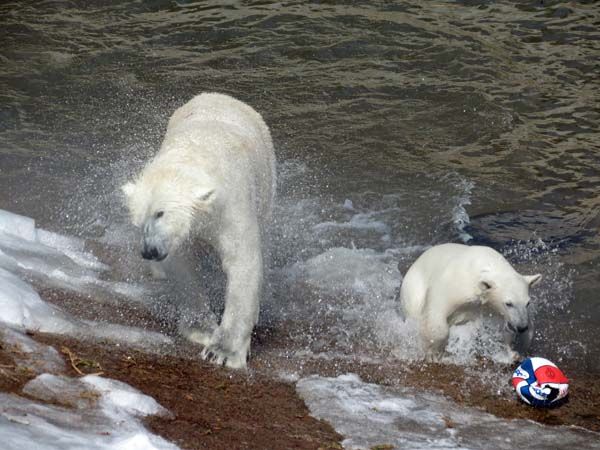 Let's see  what I can do now ….
Ice gliding with a ball isn't such a bad idea!
We hope Nalle could enjoy his special icy stairs to the water at least a couple of days more. The day was very warm so the ice was melting quickly.
We had a wonderful day with the polar bears and we were glad we had reserved two days for our Ranua visit this time.
His royal fluffiness Prince Nalle of Ranua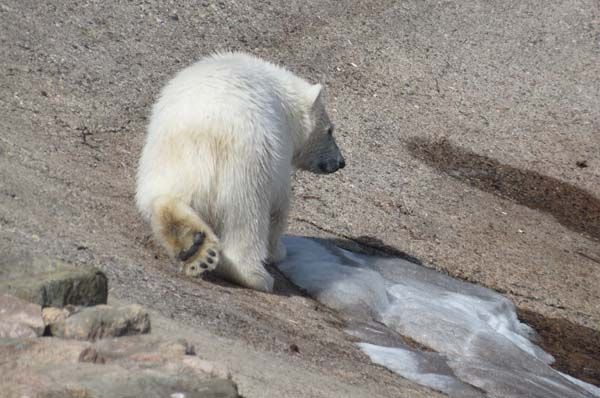 This is the first part of our Ranua reports. We hope you like it.
We want to thank Mari Heikkilä for her kind guidance and, of course, we also want to thank the nice personnel in the entrance for the kind and warm welcome!
There are lots of photos in our album because I just couldn't make myself delete anything but the totally failures. Here's the link if somebody wants to take a look at them.
Beary greetings from Mervi & Vesa