Meeting with Fiete and Zora
May 17th, 2017 | By
mervi
| Category:
Fiete's diaries
17.5.2017 by/von Tereza (English / Deutsch)
Last week I spent two days in the Zoo Nyíregyháza-Sóstó, to see how integrated the cute Rostocker 'bearchen' is there. First I did not see any polarbear, but later I discovered Fiete walking along the big pool side.
Zwei Tage habe ich verbracht auf Nyíregyháza –Sóstó, und habe besucht Fiete und Zora. Im ersten Moment gar nichts gesehen, doch bald habe ich wahrgenommen der hin- und her umgehende Fiete am sein Wasserbecken.
That was a wonderful moment for me, to see him personally. The little, sweet, and very active Fiete is already a beautiful big polarboy. After some moments he went to Zora, who was laying on the grass, and he licked her. The keepers said me, he makes it often. Maybe he's not so big yet?
Es war wunderbar zu sehen, der einst klein süss und aktiv Fiete schon als erwachsene Eisbär-Bursche. Nach kurze Zeiter ging zu auf der Graz liegende Zora und fing an sie zu zuseln. Laut die zwei Pflegerinnen macht er est oft. Sind er doch noch nicht so gross?
Zora is a very nice and calm old polar lady. She likes Fiete as if she was his mother.
Zora ist ein sehr geduldige alte Dame, liebt Fiete, als eine Mama.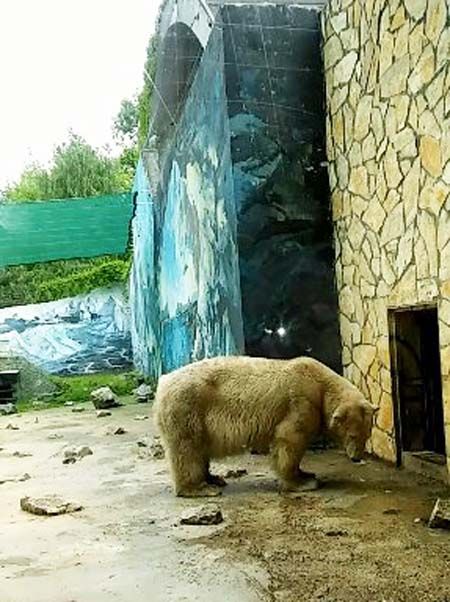 The next time I had opportunity to give my gifts to them with help of the keepers. They tossed down from the high: Fiete jumped in to pool, and suddenly came out with his treats and waited yet for the next ones, but then he disappeared in to their cage. Why? Only he knows it.
Am folgenden Tag traf ich mit der zwei Pflegerinnen. Sie haben mein Geschenk in Wasserbecken abgeworfen. Fiete eingesprungend, sofort heraus kommend mit seinen "Beute" und wartete auf die Nächste. Schliesslich verschwand mit denen in sein innere Gehege. Warum? Das weisst nur er.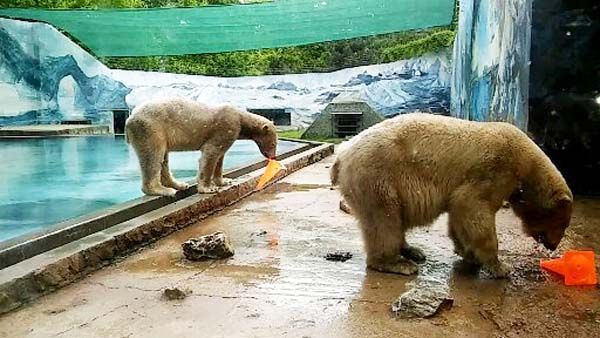 Unfortunately I did not see them in the pool, except this moment with Fiete. Maybe they kind of expected the big storm coming some minute later, with a big and very long thunder-shower.
I was happy to see them in good condition, at a very beautiful and big place in two parts: one with a big pool, the other with grass, like tundra, with a little pool which will be a good mama-baby enclosure when it hopefully will be needed.
Leider ich habe sie nicht gesehen im Wasserbecken, ausgenommen die vorhin erwähnte kurze Moment. Kann sein wegen der binnen minuten ausbrechenden Sturmwind mit einen langen Wolkenbruch.
Es war gut sie zu sehen im besten Kondition, auf ein schön und gross Ausseranlage, welche aus zwei Teil besteht, eine ein grosse Wasserbecken, andere ein grasige "Tundra".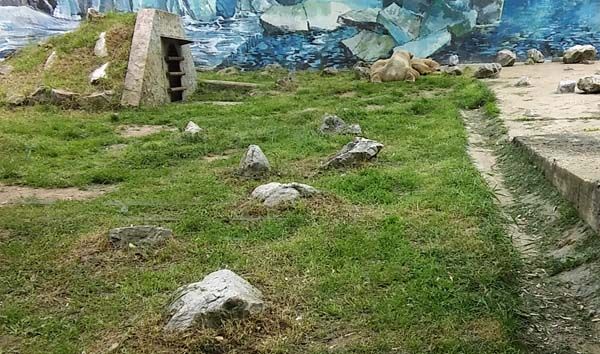 I hope, I can see Fiete in the future also, maybe with a beautiful nice polarbear girl.
Ich hoffe werde Fiete künftig auch sehen, mit einem schöne Eisbärmädchen.