Jemma, Malla & Co in May 2017
Jun 11th, 2017 | By
mervi
| Category:
Ranua 2017
11.6.2017 by Mervi & Vesa
You've met Nalle, Venus and Manasse in our two previous reports from Ranua but now it's time to tell you about our meetings with other four legged friends in the zoo.
We walked the path leading us to the reindeers and they gave us a warm welcome. They posed so nicely to our cameras and we could even have a little chat with them. Oh yes, we did! 🙂
Hello friends! We're still having a late Winter here but it was kind of you to come and visit us anyway. Because youre now in the land of Santa Claus it was very suitable to visit us first!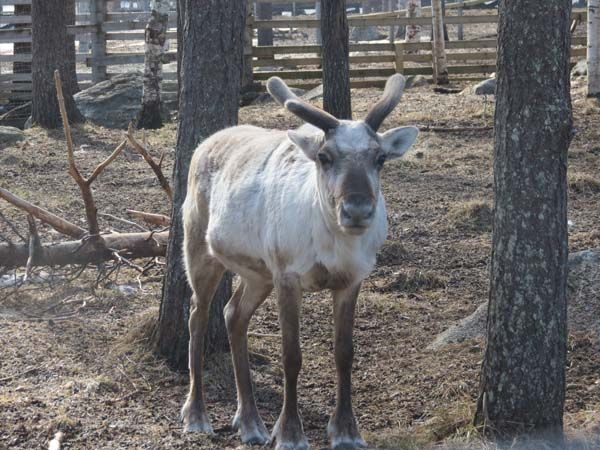 From a distance we saw this lovely scene. To my great surprise I managed to take a photo.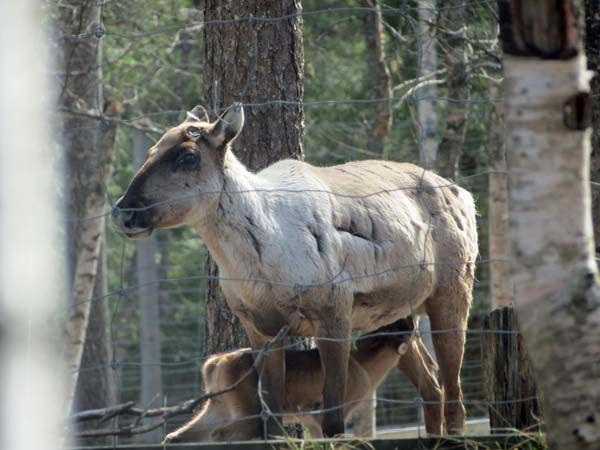 Our next stop was by the musk oxes and we were very glad seeing Bodil and her son waiting for us. OK, they showed us their boomsies first but I want to believe it's a 'musky way' to say 'hello'. 🙂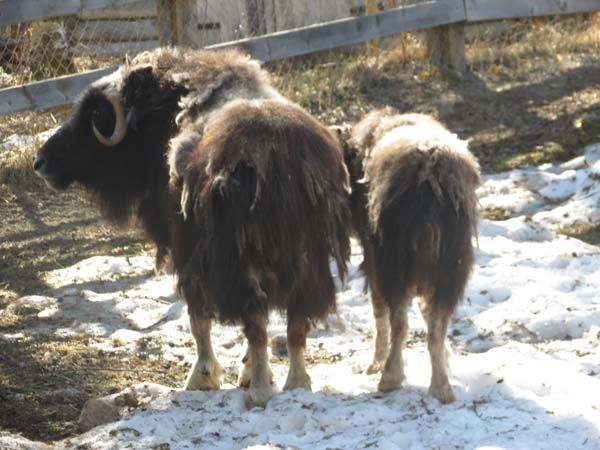 Some of you may remember Bodil's long journey from Copenhagen to Ranua. We can assure you it really is a tough drive because we've made that journey by car several times.
Mari Heikkilä travelled with Bodil and told us it was a very hot day in southern Sweden so she had to keep an eye on the thermometer all the time to make sure Bodil was doing fine and not suffering from the heat.
I insert the video here to refresh your memory about Bodil's journey: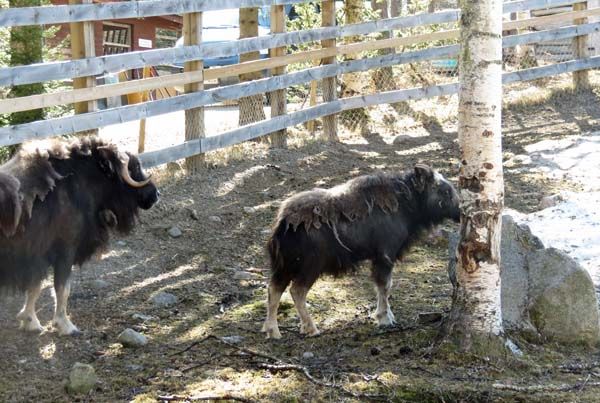 Bodil was a brave girl and soon after her arrival to Ranua she was introduced to the male Max. In due course the meeting resulted in a sweet musk ox boy. We didn't see Max but he must be very proud of his handsome son!
When we said 'Davs, Bodil! Venlige hilsen fra København' she immediately  came closer us. Do you think she recognized the language? We think she did …..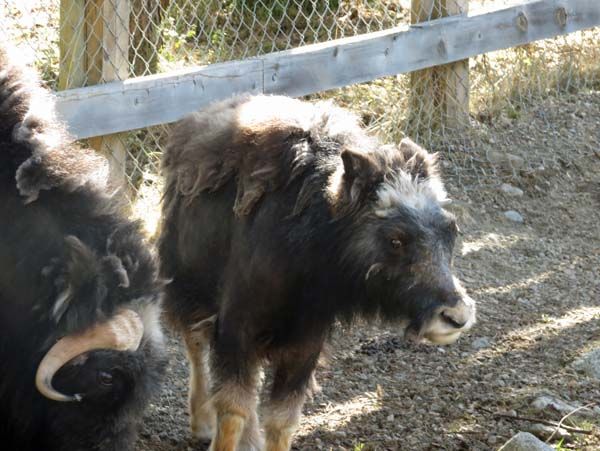 The lynx was sun bathing behind a tree so we couldn't take a good photo of him/her.
The wolverines were busy running hither and thither all the time but finally this one stopped for a second so we can present the beauty to you. 🙂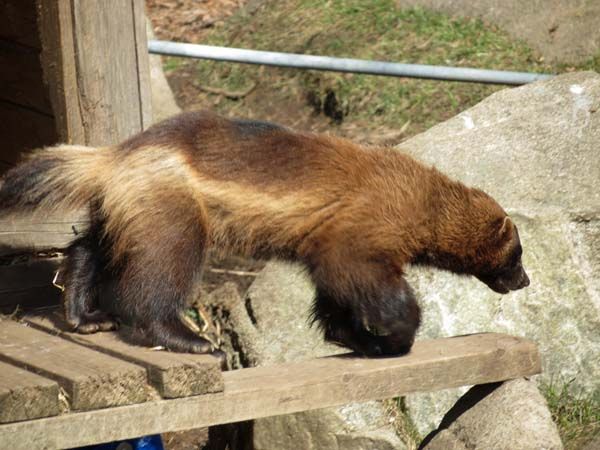 This time we were lucky to see even two wolves very closely. They have a wonderful 'camouflage coat' so in the bright sunshine it was very difficult to catch them with the cameras. Half of the photos showed stones or trees … but luckily some of them turned out quite well. 🙂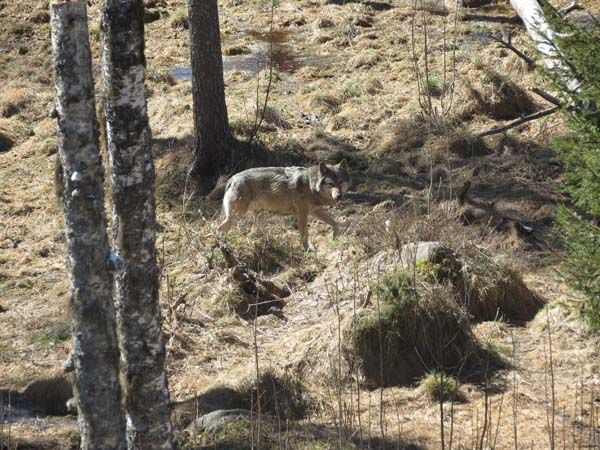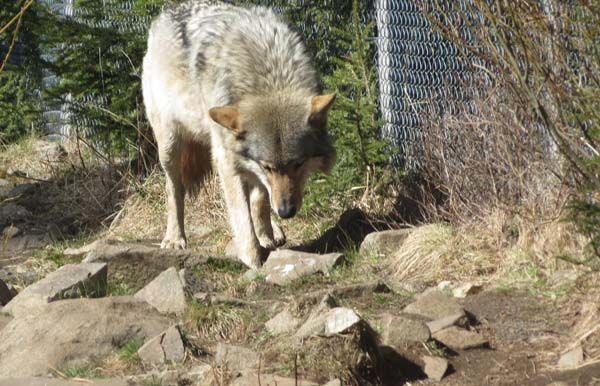 The wolves were inspecting the enclosure – or rather a forest – very thoroughly. I guess they were looking for signs of Spring.
A big bad wolf? Hardly – this one looked very friendly!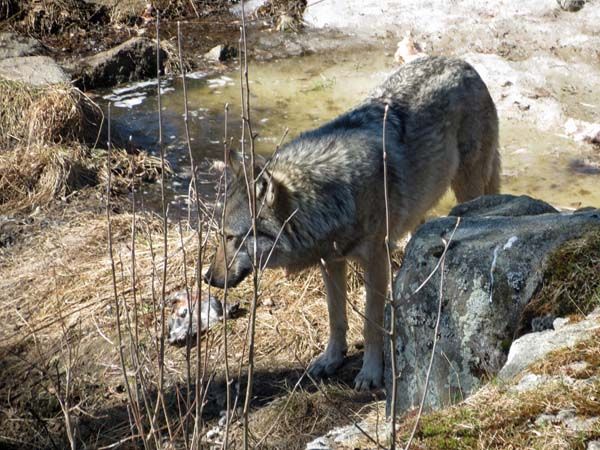 We didn't see the dholes but we heard them. The noises they make sound like a dog's barking. It must be quite a concerto when the wolves start howling at the same time. 🙂 A visit in a zoo not only offers something for the eyes but also something for the ears!
Finally it was time to meet the brown bears Malla and Jemma. The big sign makes sure the visitors won't get lost!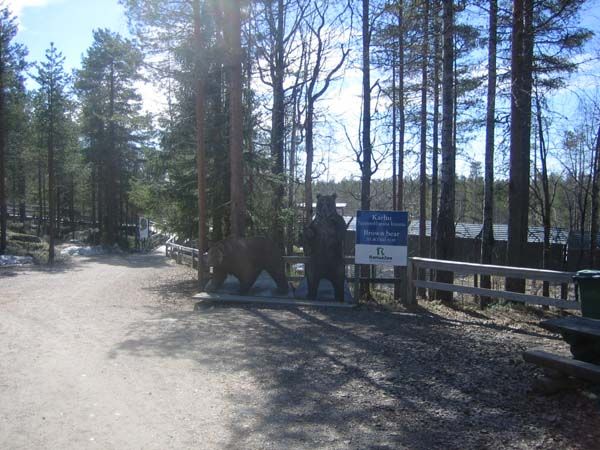 We had seen Malla walking in her big enclosure when we were watching Nalle. There's a wooden 'bridge' between their enclosures so you can see both a brown bear and the polar bears at the same time – if you have eyes in your back, too …. 🙂
When we came to Malla she was preparing herself for a nap.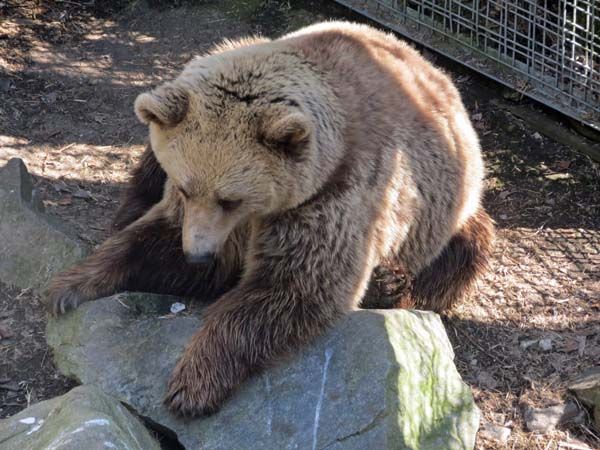 We wished her sweet dreams and continued to Jemma.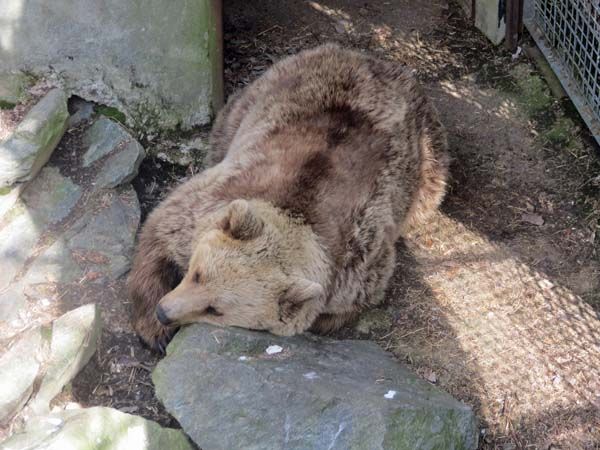 Jemma is Malla's daughter but they don't live together. When Jemma was born Malla took very good care of her in the den. However, when they came out she suddenly abandoned her baby and Jemma was hand raised by the keepers.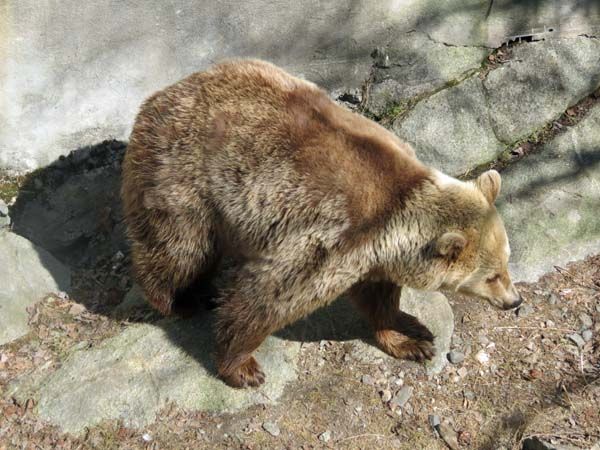 Jemma must have been wondering why the snow was still there …. maybe she should be still hibernating ….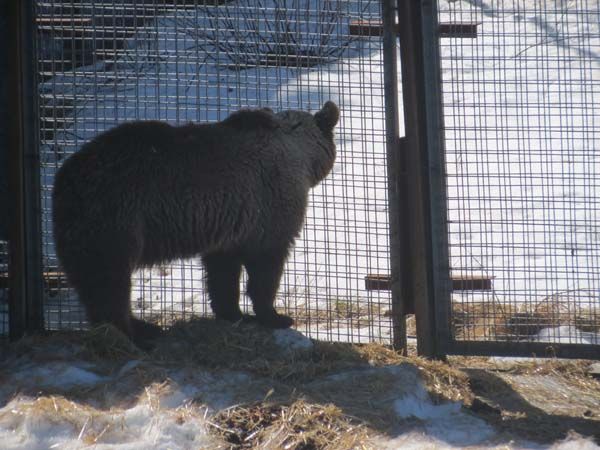 …. but on a very warm day it was nice to cool off in the white stuff.
After a while Jemma started with her yoga exercises.
She had a nice smile on her lovely face.
First some stretching
She even stretched her tongue! 🙂
And now its time for some paw waves.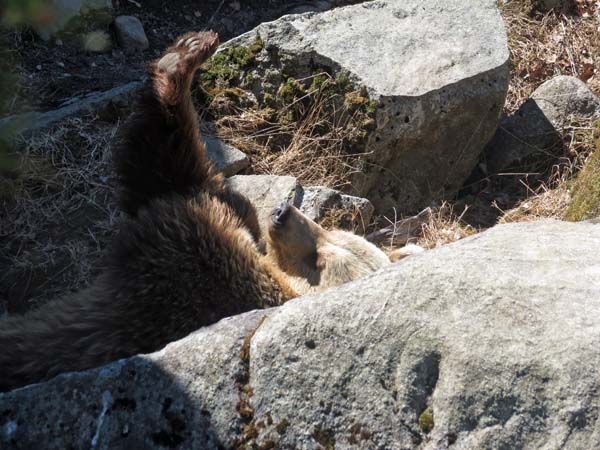 Just like many other hand raised bears Jemma was licking her paws or a stone making a noise that sounded like a cat's purring – but louder.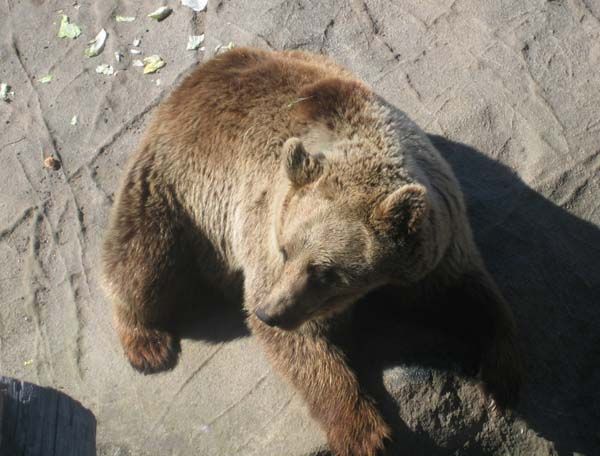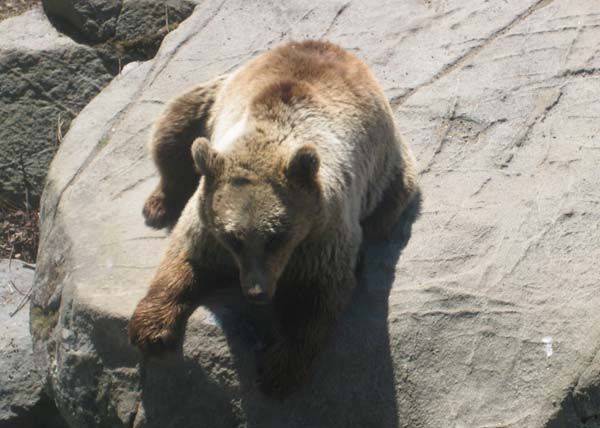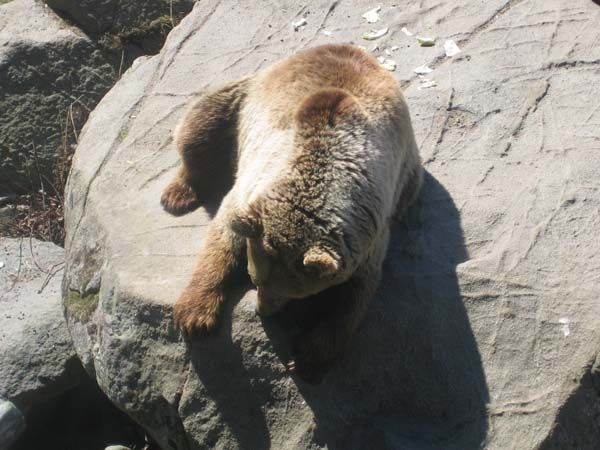 For the time being there are no plans for getting a male bear in the Ranua zoo. It's very difficult to find homes for brown bears in the zoos nowadays so the zoo doesn't want cubs. We think this is a very wise decision.
Vesa made a short video of Jemma – hopefully you can hear her 'purring'. It reminded us of a special polar bear cubbie in Berlin.
This is the last of our three reports from Ranua. What a pity this zoo is so far away from us. We would really love to visit our friends there more often. However, we had a fantastic time in the zoo and our mental suitcases are filled with wonderful 'souvenirs'.
We know now that the Summer has finally arrived even in Ranua so we finish this report with a collage with Nalle and Venus and wish all our friends in Ranua – both two- and four legged – a wonderful Summer time!
Toivotamme kaikille ystävillemme Ranualla – sekä kaksi- että nelijalkaisille – oikein mukavaa kesää!
Mervi & Vesa