Like siamese twins: Belij and Serij at the Budapest Zoo
Jun 13th, 2017 | By
mervi
| Category:
Featured articles
13.6.2017 by Theresa (English / Deutsch)
Wie die Siamesische Zwillinge – Belij und Szerij im Budapest Zoo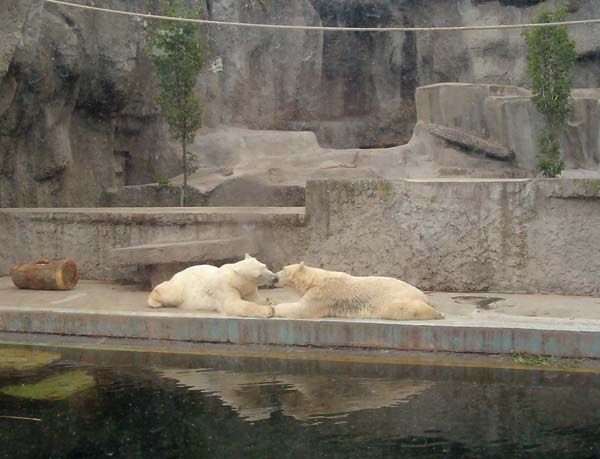 At least succed to meet with our Zoo's new polarbears. In the way to Belij and Serij, these sweet toddlers just have finished their snack.
Endlich es ist mir geglückt kennenlernen die neue Eisbäre unseren Tiergartens. Unterwegs zu Belij und Szerij die pinguinen haben just ihren Vesperbrot beendet.
Then I caught sight of Belij and Serij. By this time is not difficult to guess at Who is Who?
It was very warm so no wonder they were lazy. Just like all twins these two are doing same things at the same time. Of course, there's a lot of cuddling and caressing, too. It looks like they were afraid of loosing each other. They have already left their home zoo but luckily they could do it together!
It was heart warming to watch these cute bear boys.
Dann erblickte ich die Tenageers. Es war sehr warm, kein Wunder, wie sie sehr faul sind gewesen. Wie die Zwillinge Belij und Szerij auch stets zusammen sind, lecken einander, eine macht, wie der andere. Als ob sie befürchten würden, um den anderen zu verlieren, den der das süsses Heim und die Familie für sie bedeutet, die sie so früh verlassen müssten. Sehr herzensfreundlich war diese niedliche Bärenjunge zu schauen.
When I went to see other animals it started raining so I was looking for a covered place. After about 20 minutes I went back to the bears. They were shuttling along the pool.
Weitergehend um andere Tiere anzukukken es fing an zu regnen. Ich ging an eine bedeckte Platz. Etwa nach zwanzig minuten ging ich zurück zu den Jungbären, die trampelten hin und her am Rand des Bassins.
Sorry, the rain was getting heavier and heavier so I had to say "good bye" to the bears and the zoo. While I was walking out from the zoo it started rain cats and dogs – 2 hours later I arrived home soaking wet.
I hope to see Belij and Serij soon.
Es fing an immer mehr zu regnen, musste mich verabschieden von Belij und Szerij. Ich lauf schnell hinaus, als ein Gewitter brach aus. Ganz nass bin ich nach Hause gegangen, ziemlich umständlich.
Bald fahre ich wieder, um sie anzuschauen und andere auch.