Baby hippos, impala ballet and polar bears' new neighbours
Jul 30th, 2017 | By
mervi
| Category:
Denmark
30.7.2017 – Source: Copenhagen Zoo
While the visitors are waiting to see the newborn hippo baby in the Copenhagen Zoo they can admire the little older hippo baby Yala.
She loves to walk around in the 'savannah' …..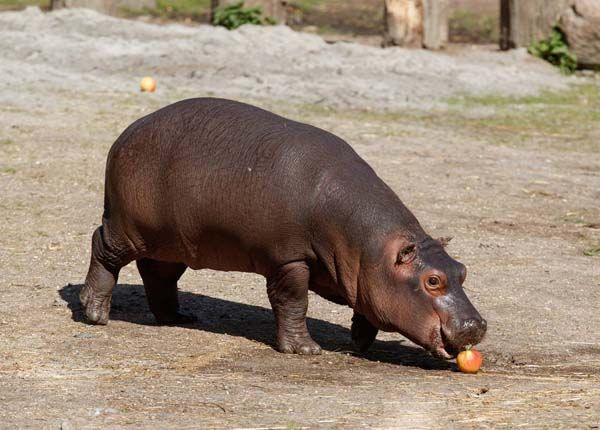 ….. and after the feeding there are usually apples as dessert for her.
Yala often meets other inhabitants in the savannah area – this time a zebra came to say 'davs' to her. 🙂
The savannah is a very nice place for the hippos and all the animals sharing this area in the zoo.
Mama hippo joined Yala and together they enjoyed the yammy apples.
The newborn baby hippo had the first medical examination and it was also chipped at the same time. It took Three men to keep the 'slippery' baby so the vet could do his job. Everything went well but, of course, the brave baby was more than happy to run to his mama after the examination.
Hippo baby in deep water
The 14 days old hippo baby took today (25. July) his first swimming tour in the deep basin. He must learn to 'master' this deeper basin before he can be introduced for the other hippos.
The keeper Mette Knudsen will be keeping an eye on the baby during the week in order to see if the baby boy can come up to the 'island' in the middle of the basin. It was obviously also the aim of mama hippo today. She went ashore a couple of times and the baby tried to follow her. He wasn't very succesful but Mette expects him to learn the 'technics' very soon.
The next step will be to introduce the hippo boy to an female adult and his half sister Yala who's now 7 months old. Once the two females and their babies have been used to each other in the basin it's time for the father to both babies to join them.
There's a name voting going on. You can vote for Katavi, Mariko or Rukwa in Facebook. The names are inspired by African seas and rivers.
Here's a video of the baby hippo's first swimming tour:
If you come to the zoo early you can enjoy the impalas' morning ballet!
When the keepers let the impalas out to the savannah they immediately start their characteristic 'dance'.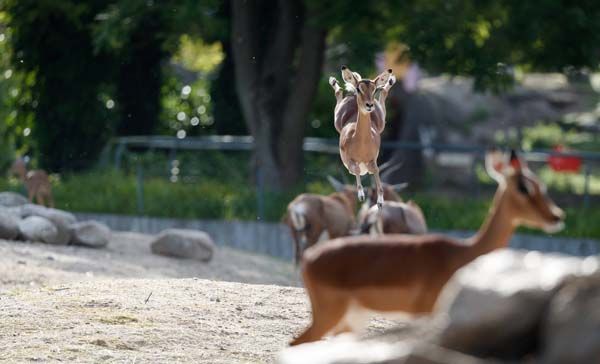 The impalas' jumps can be 3 meters high and 10 meters long!
A candidate for the Bolschoi Balet???
Nöel and Nord have new neighbours
About 100 big rainbow salmons are placed in a neighbouring basin where the polar bears can see them swimming around. These salmons are not aimed to be caught – they are simply an attraction for Nöel and Nord and even for the visitos. In the video you can see how it looks.