BN and Katited visit Munich with Ralph from 25 to 28 June – Part 1
Jul 7th, 2017 | By
mervi
| Category:
Featured articles
7.7.2017 by Ralph
Bear with no name (BN) explained to Katited that, as Mini-Kati (MK) was too ill to travel, she would have the chance to go to Munich to visit the best Polar Bear Habitat in Germany and see a really famous Polar Bear mother and daughter. BN knew that MK had told Katited to do some shopping at the airport first.
Katited was very impressed with the big modern hall at London Airport and the desk where she could get information about shopping. BN said that as Ralph would carry them around, and that BN already knew all the shops, this was not necessary.
BN told Katited that this machine was called an ATM and allowed people to get money to pay for things with. However, as he carried a "Raspicard" and a phone link to Uncle Sergei, paying for things never seemed to be a problem, though some humans got very nervous when Uncle Sergei phoned them.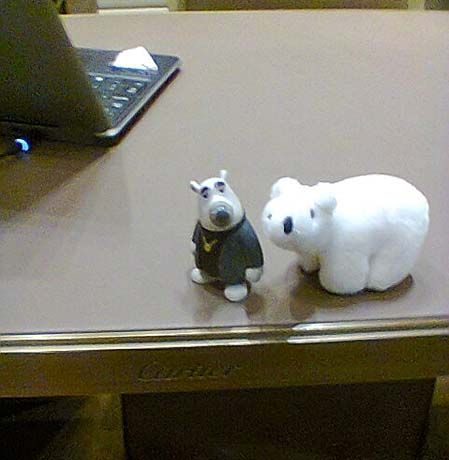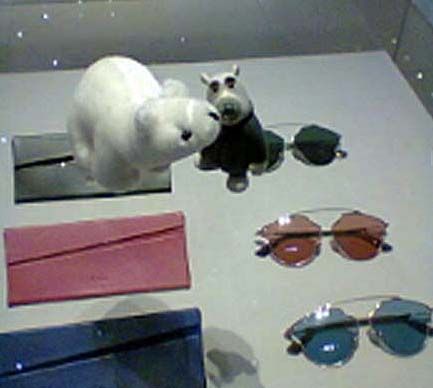 Katited liked these designer sunglasses and thought they would suit BN. She also liked the little purses. A shop called Cartier even had a desk for BN to use to phone Uncle Sergei.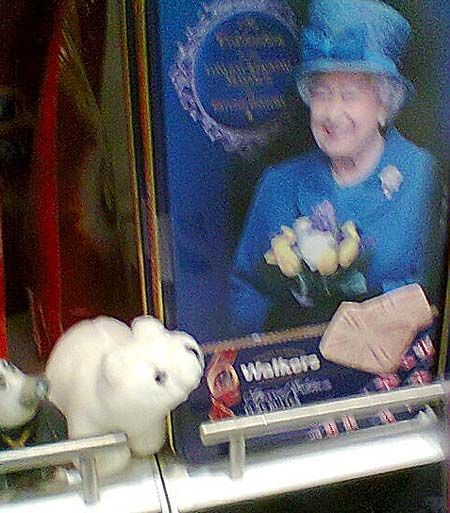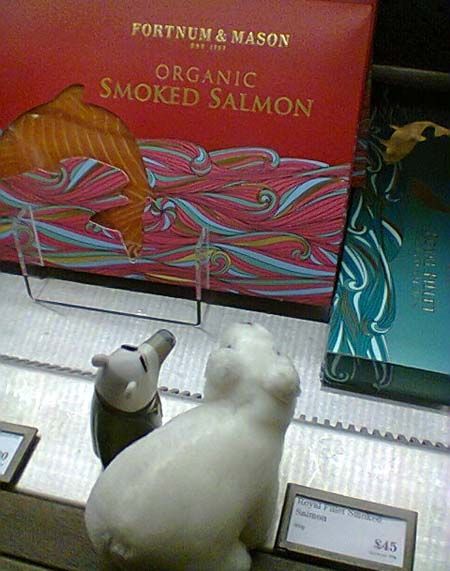 BN wanted to ensure that they had personal presents for Giovanna and Quintana. One shop had Scottish biscuits that seemed to be made by Walker at the Highland Wildlife Park. In the end though, organic smoked salmon from Fortnum and Masons looked a good present for both mother and daughter.
It was not long before the two had to get back into Ralph's pocket for the flight to Munich, but they were able to get a look at the airliner they would be flying in.
It was not too long before the airliner had reached Munich and everyone began to get off. Ralph ensured that they were able to travel by train and underground train to the famous zoo of Hellabrunn. They were delighted to learn that they would be spending 4 days there, mainly with the Polar Bears, but as the map below shows, with many other new friends to meet.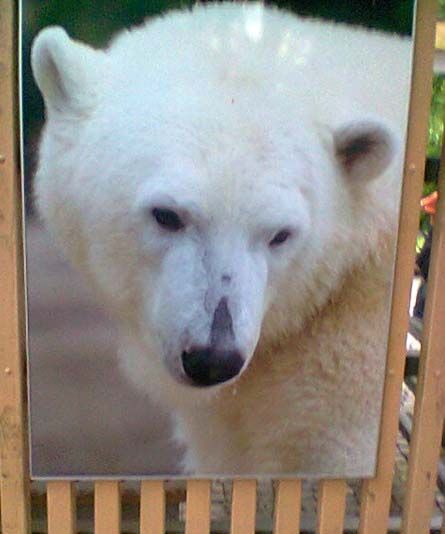 The first thing to greet them at the main gate to the Zoo was a picture of a beautiful Polar Bear. Ralph told them that this was Giovanna. BN and Katited already knew her from the wonderful reports in Knutis Weekly. They also remembered that Ralph had first met her when she was a young bear. She had spent several months in Berlin with Knut while her own home enclosure was being built. Katited thought that Hellabrunn must be very proud of Giovanna to have her picture at the entrance.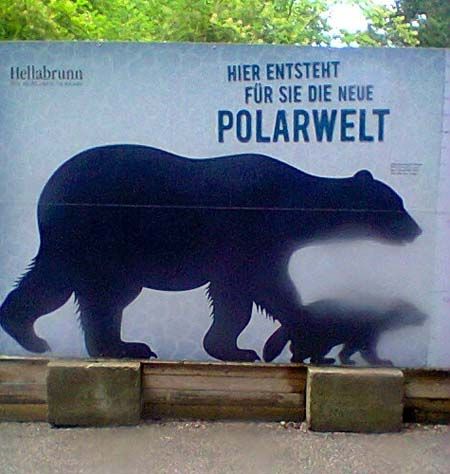 The leafy pathways and water from the nearby River Isar made it lovely and cool after the heat of the city. When they got to the Polar world, Ralph pointed out that new enclosures were being added for other animals, but naturally the Polar Bear remained the star.
Another picture of Giovanna was on the side of a machine which issued souvenir coins of the Zoo, featuring Giovanna in silhouette. BN and Katited both took one home.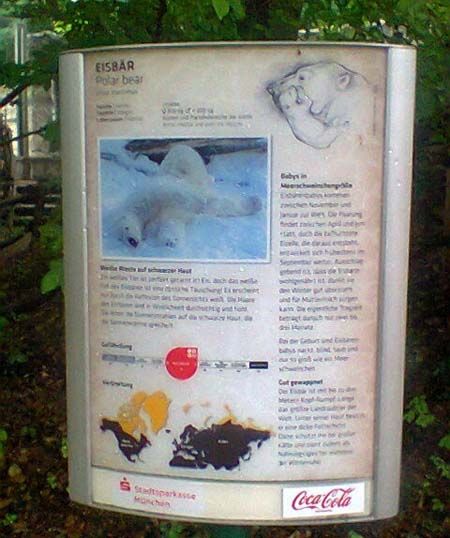 Coca Cola are famous for their sponsorship of Polar Bears and many of their plush bears and souvenirs live in Kidlington with Katited and BN. Katited liked the drawing of a Polar Bear Mum and cub.
This life-sized Polar Bear shows some of the people who have sponsored the Polar Bears in Hellabrunn.
Ralph explained to BN why Giovanna was so lucky. Munich had a very clever Head of Bears and keepers who really understood Polar Bears and what they needed. As the drawing above shows, they built a special double enclosure for the bears. One side is concrete and rocky with deep water, the other is grassy like the tundra and with shallower water, where cubs can practice swimming.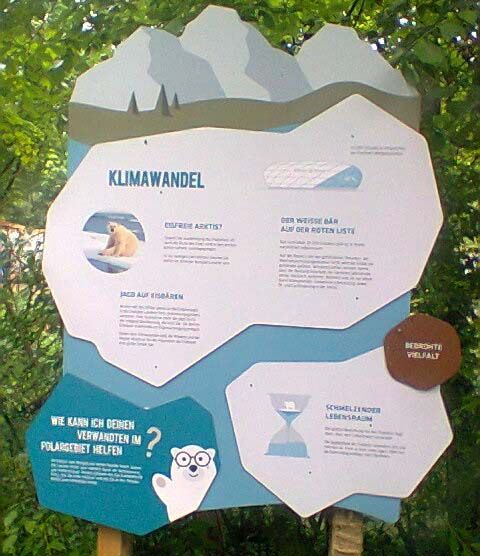 Katited liked the series of charts around the enclosure, explaining the work of the Zoo and why it was necessary to keep Polar Bears in a Zoo like Hellabrunn.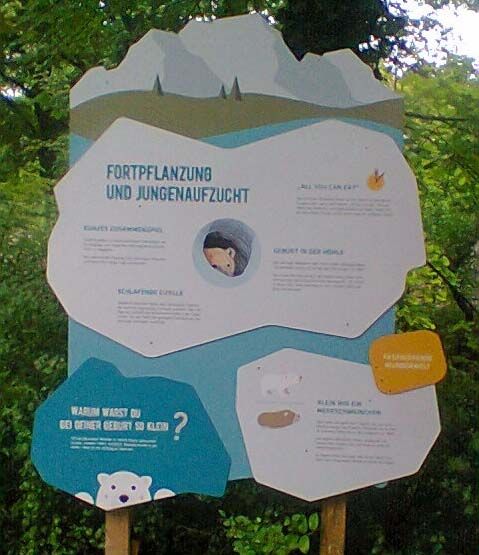 BN and Katited knew that Polar Bear cubs were small and very fragile. In Hellabrunn, Giovanna had already given birth to two cubs before Quintana, and the Zoo had special facilities to film the birth and rearing of the cubs in colour and allow the keepers to check on them without disturbing them.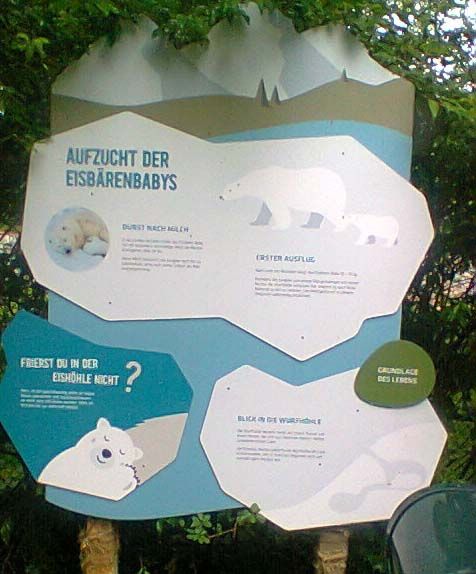 Rearing Polar Bear babies in the wild is not easy, but Giovanna has also been learning how to look after her cubs. As Quintana is on her own, Giovanna is able to spend more time teaching her how to be a Polar Bear. The Hellabrunn keepers help her by providing toys and food which takes skill and effort to eat. The keepers work very hard. BN had seen them on television and was delighted to be able to see them for real.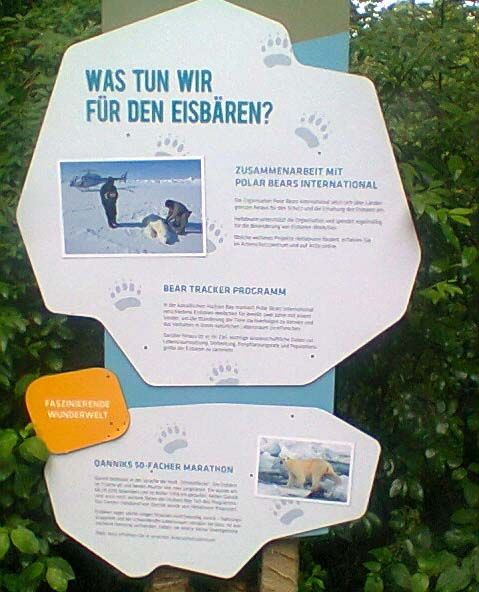 Part 2 will follow …..