BN and Katited visit Munich with Ralph from 25 to 28 June – Part 2
Jul 10th, 2017 | By
mervi
| Category:
Featured articles
10.7.2017 by Ralph
Like many Zoos Hellabrunn works closely with organisation like Polar Bears International to support research into the condition of Polar Bears in the wild. Hellabrunn tries to give its bears a life as close to natural conditions as possible, and is a leader in the field.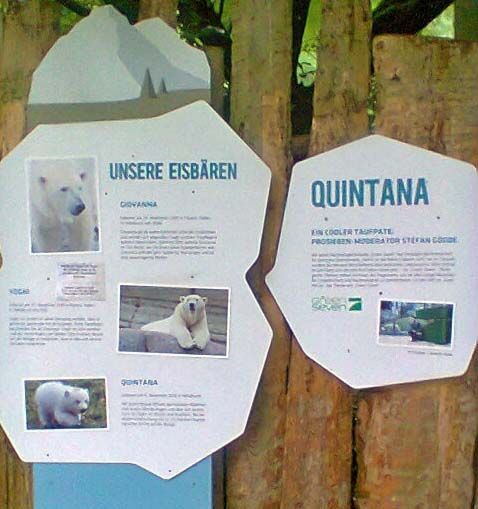 BN and Katited knew that Yoghi was no longer with us and were pleased to be able to read about this very special bear here, and of course to see him still on TV and in KWM. BN wondered when a new male would come to Hellabrunn. The keepers reassured us that Giovanna would have plenty of time to bring up Quintana on her own, and that there was no pressure to have a new male. Nor would Hellabrunn ever make Giovanna travel away again. She was Hellabrunn's Polar Bear. But Yoghi is still mentioned by the keepers and they loved him very much.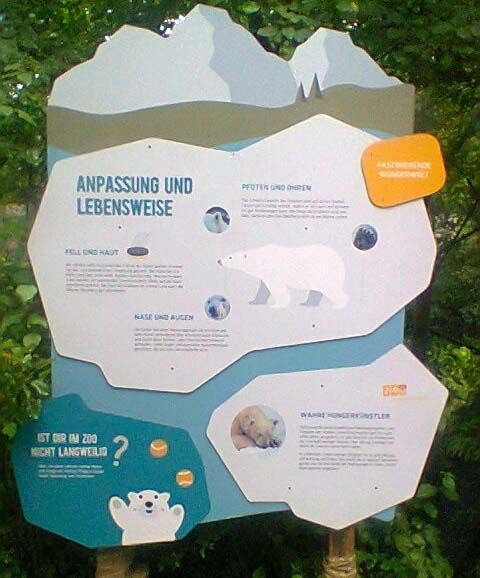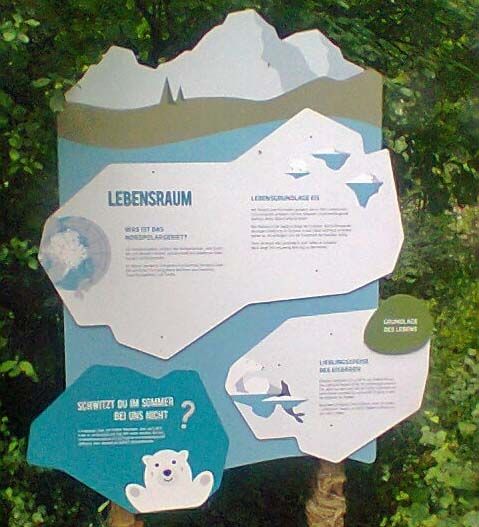 Recreating the conditions of the wild in a Zoo is not easy. BN and Katited were not surprised to learn how clever Polar Bears are. Each day at 1530 the keepers explain to the visitors about the Hellabrunn Zoo Polar Bears. However, their work begins long before the public arrive. Not only do they have to keep all the enclosures clean and tidy and prepare the bears' food, they also have to plan a whole day of enrichment with toys and hidden food or special tests.
This Hellabrunn method is matched behind the scenes, where the keepers establish a relationship with Giovanna and Quintana using touch training and treats to allow the bears to be examined without dangerous anaesthetics.
BN asked about Nobby and how he had been prepared for Doncaster, which BN had now visited many times. The keepers were pleased to hear that Nobby, like his sister Nela, was doing well in a new Zoo and included this In their talks.
Giovanna was born in November 2006 in Fasano in Italy and came to Hellabrunn in 2008. During 2009 and 2010 she was in Berlin with Knut. When she returned to the Zoo she and Yoghi became partners very quickly. Yoghi relied on Giovanna to check out anything new and they were a great couple. Giovanna reared her first two cubs and her new cub splendidly. The photos and films here in KWM proved that.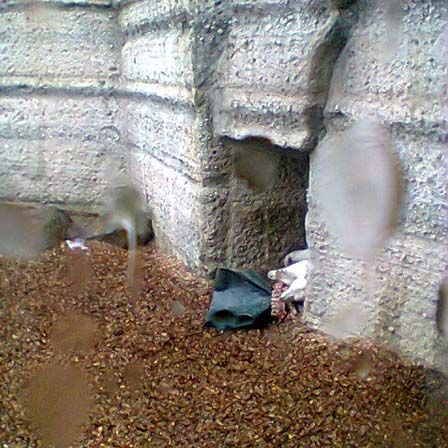 Our first glimpse of Giovanna on Sunday afternoon was a very significant one. She rested inside the entrance to her den, with Quintana beside her, a rack of meat clasped securely and a large green canister nearby.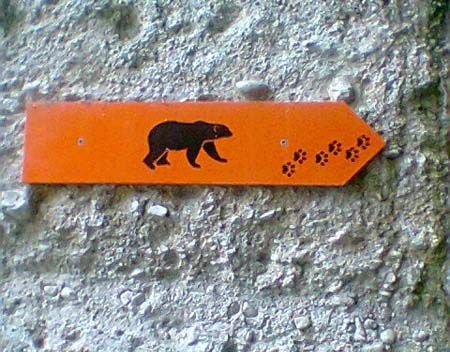 There was no need to look for the other enclosure as this sign made it clear how to follow the tunnel which connected the arctic with the tundra enclosures.
BN and Katited were reading about Quintana and thinking that it was already hard to remember that she had started life no bigger than a guinea pig.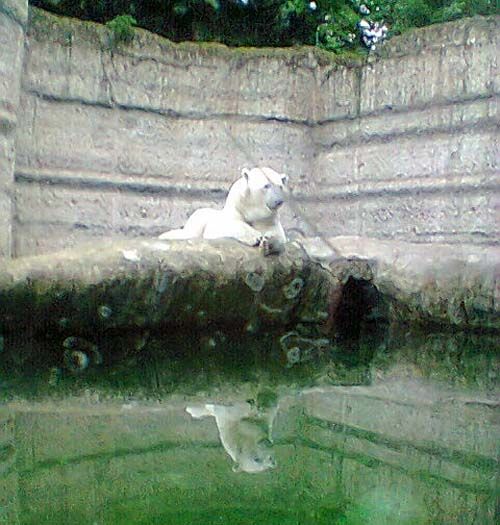 Giovanna had another favourite position. Like all Polar Bears in Zoos she has selected a position like a throne where she can sit and keep an eye on what is going on. It is not hard to see why she is the Queen of Hellabrunn.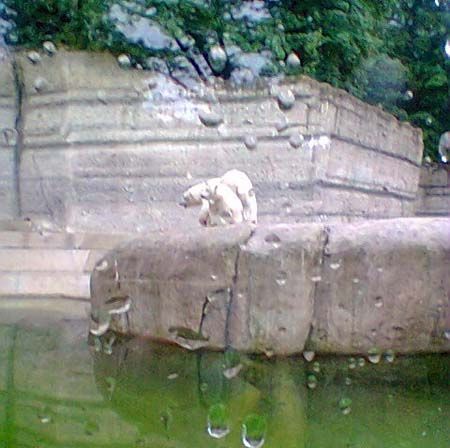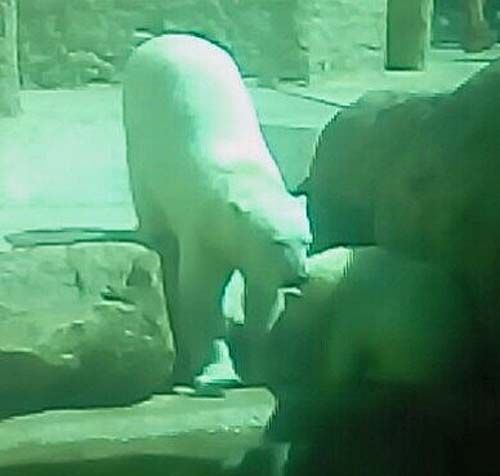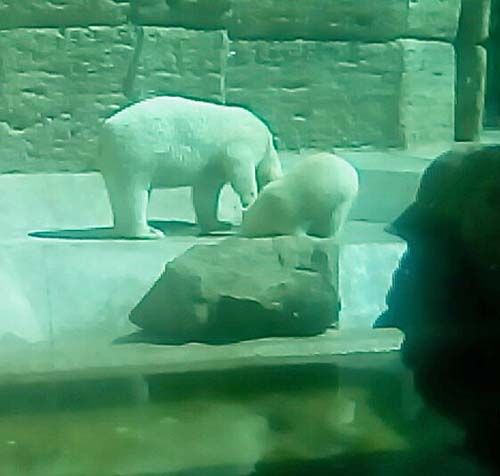 For most of the time, but not all, Giovanna seemed to prefer the Arctic because this was where the tests and treats had been laid. At the start of the day, though, sleeping on the Tundra was a good option. BN and Katited were impressed by how much Quintana had grown from her pictures.
The glass windows by the water pools are a real highlight with bears and visitors alike. Katited had to admit that Giovanna had an impressive head and was like Kati in Berlin.
Just in case visitors cannot find Giovanna and Quintana, there are plenty of reminders around the Zoo.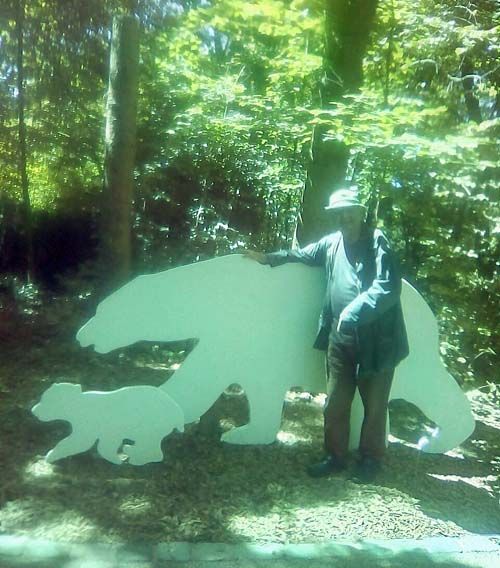 BN and Katited fell about laughing at this picture. The silhouettes showing Giovanna and Quintana and a large fat Englishman to the same scale. Katited thought Giovanna and Quintana would enjoy lunch with me!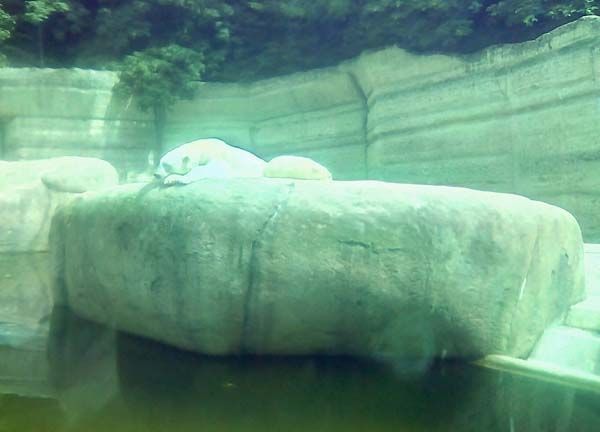 There are so many wonderful pictures and videos of Giovanna and Quintana online. We met Anita and Eva who provide some of the best. I am not sure who is the greatest fan of Giovanna, Anita or Mrs Koehler, the Chief Bear Curator, but I am sure that Hellabrunn is in excellent hands. The Polar Bears and humans are a genuine family. I hope that Doncaster and Hellabrunn will keep up their great work.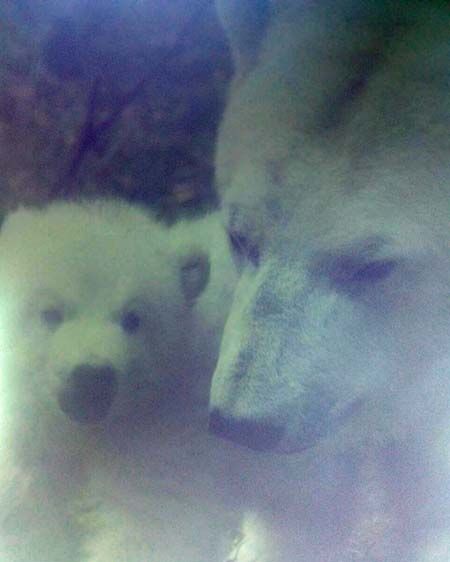 This poster from the Zoo shop of Giovanna and Quintana sums up the pride of Hellabrunn. I am fortunate to be able to visit Nobby so frequently in Doncaster, but a bit of me would like to get back to see Giovanna and Quintana some time. BN and Katited of course too.