Katited's first trip to Berlin: Part One Thursday 27 July
Aug 2nd, 2017 | By
mervi
| Category:
Featured articles
2.8.2017 by Ralph
Katited was very excited. She would be going to meet Katjuscha in Berlin for the first time. The Bear with No Name (BN) had already made the trip, so he was rather relaxed. Both were very pleased that instead of shopping, Ralph had decided to let them join him for a big breakfast in Terminal 5 before they set off. They were very glad that he had decided to order Eggs Benedict with Salmon rather than Bacon and Eggs. There was also plenty of coffee.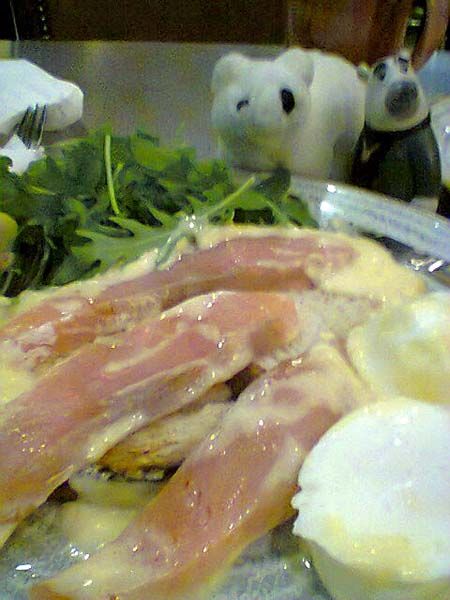 Everyone was still hungry after the early start, so in honour of Mr Michael Bond and Paddington Bear, they ordered a Marmalade sandwich.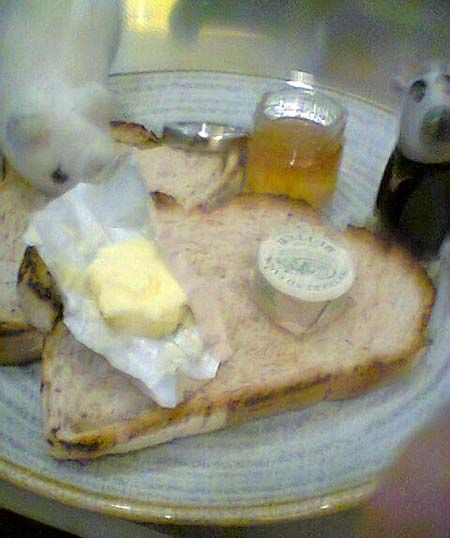 It was soon time to get on the British Airways flight to Berlin. Not surprisingly after such a big breakfast all three travellers were soon asleep. In what seemed a very short time, they were on the yellow bus, which BN explained to Katited was Ralph's form of transport. BN was used this from his weekly beer drinking in Oxford. He explained to Katited that much better forms of transport were available.
After they had checked into the big Crowne Plaza Hotel, BN was pleased to see that his call to Uncle Sergei had worked.
Katited was very impressed and wanted to get in straightaway
But Ralph explained that the Zoo was only a short walk away and he needed as much exercise as he could get. BN agreed that Ralph was very fat and could not wear Armani suits like BN, so they should walk. Katited muttered something about having a perfect figure for a Polar Bear.
Once inside the Zoo, Ralph explained that they would be meeting some Very Important guests in Berlin (Actually we did this on Saturday and Monday, but Katited likes this version better-Ralph). The Zoo had built a special Panda Garden for the guests. The first Panda they met was The Lady Meng Meng.
BN told Katited that he had been to China with Uncle Sergei and the Chinese bears were very formal and used grand titles. He showed her the wooden thrones with Bamboo holders that the Pandas had demanded. The Lady Meng Meng laughed with a delightful tinkling sound when she saw the Polar Bears. "In the language of your Two Leg, we are called "Little Darling". You will see that I have brought my own personal staff from Chengdu".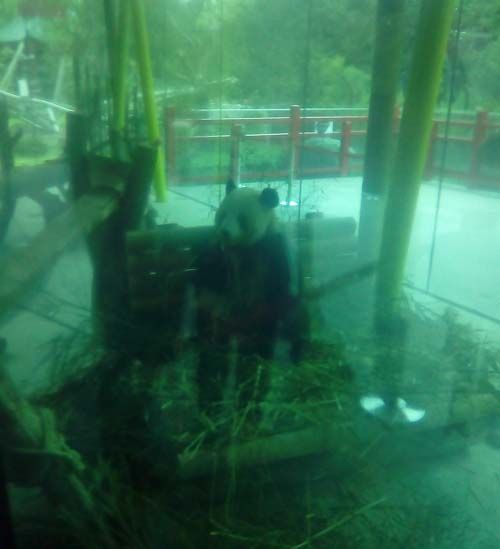 "But now you must show respect to the Lord Zhiao Quing!"
Katited was quietly grunting in the language of the Polar Bears. "Lords indeed. These chubby little bears. BN we should go soon to see the real Lady of the Zoo." BN calmed her down, he knew that protocol was important. Soon they were in the presence of Jiao Quing, whose name in English means "Little Dreamer"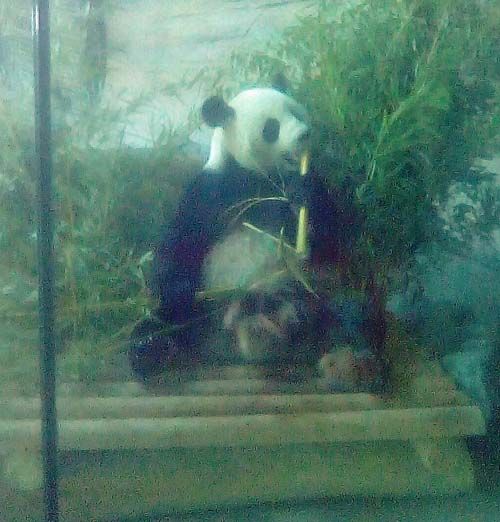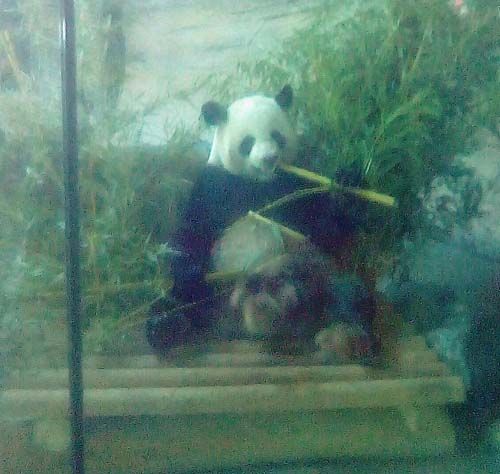 Jiao Quing nodded graciously at BN and Katited, but was too busy eating to answer them.
"More like a Little Buddah, sniffed Katited. "He is as bad as Ralph, always eating and drinking!".
A short while later Katited and BN were able to meet Katjuscha.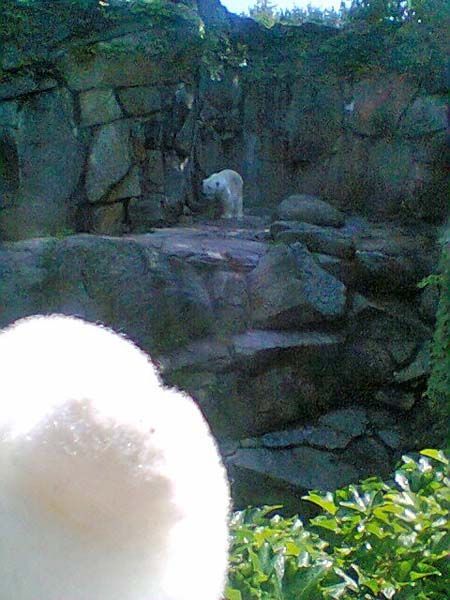 Katjuscha laughed at the two Polar Bears' account of the meeting in the Panda Garden.
"The Two Legs like these chubby little things and treat them like children. Polar Bears are above such things. Though Tosca and her son, Knut, liked to entertain them as well. I prefer to be like Marlene Dietrich, mysterious and aloof."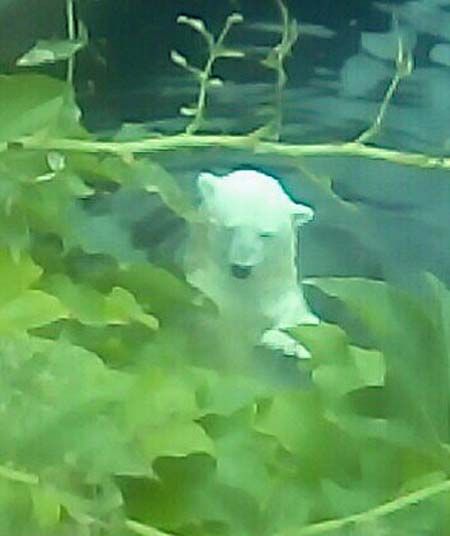 Katited was delighted and told BN as they were leaving, "That is how a real lady should be"
BN decided to show Katited the statue of Knut.
"Kati always felt that Knut was too much like the Two Legs, but he was a brave bear and became a symbol for both the Two Legs and many of us White Bears. His mother, Tosca, had been trained by the Two Legs to entertain them. Her son inherited her talents, and before he died they shared some good times together."
BN was then silent, as he knew that real respect has to be earned.
BN and Katited walked through the mulch next to the statue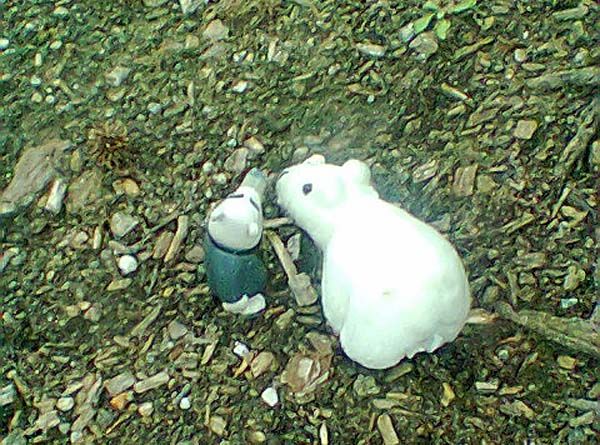 As they did so, a Two Leg cub climbed onto the Knut statue and his father took a photo. Katited huffed a bit, but BN explained, the Two Leg who made this image of Knut intended the little Two Legs, who could no longer meet the real Polar Bear, to have some sense of his presence. Knut is forever in the hearts of the Two Legs. Katited thought for a little, "let us hope that the Lady Meng also learns this kind of respect".
BN decided that he and Katited should show respect to the Two Leg who had made the statue and whose name – Josef Tabachnyk – is engraved on its base. Ralph joined them in remembering both Josef and Knut.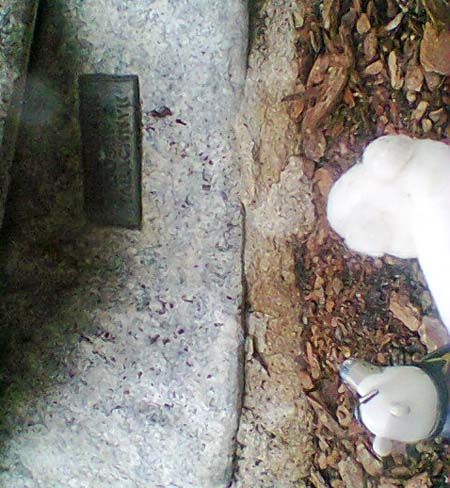 It was all too soon, time to leave the Zoo for the day. As they did so, BN and Katited noticed another sign of the Two Legs' respect for the White Bears. A big white bear with many animals painted on him, but with a little Polar Bear as well.
"Knut and Little Fritz" whispered Katited.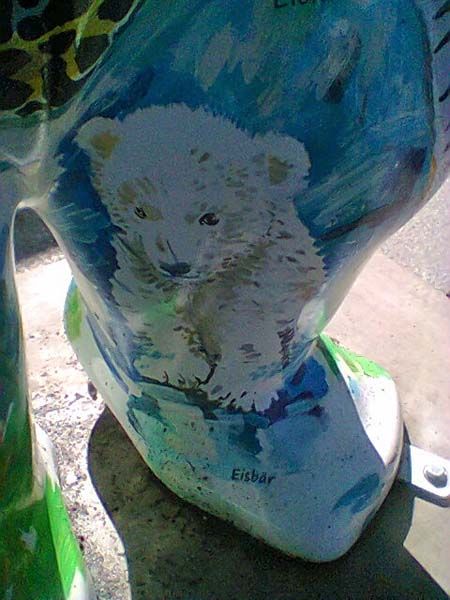 On the way back to the Crowne Plaza, BN noticed this artwork in a shop called "Lego". Ralph explained that there were even Lego Polar Bears living with the Cotswold Bears.
"Ralph was here in 1989, but watching the way that bear drives, I can see why Ralph is happier on a bus!" laughed Katited.