Katited's First Visit to Berlin: Part 2 – Saturday 29 July 2017
Aug 7th, 2017 | By
mervi
| Category:
Featured articles
7.8.2017 by Ralph (many thanks to Monika aus Berlin for most of the photos and being the Knut Taxi)
After a busy day on Friday meeting Wolodja and Tonja in the Tierpark, BN and Katited were looking forward to a special day of celebrations by the Two Legs who love the Polar Bear Knut, but also the other white bears like Katjuscha.
Tonja had explained to Katited that although she still loved Wolodja very much, he was big and clumsy like all males and she did not want him around when she might be having to look after cubs. The loss of "Bringer of Noise" or "Fritz" as the humans had called him still hurt, but she was a strong bear with her old friend Aika to guide her. In honour of Aika, she always sat on her favourite rock even in the bright sunshine.
Meanwhile, BN had been listening to Wolodja telling his side of the story. Wolodja was doing as much exercise as possible. Tonja was a real headache. He wanted to be able to play with her, but she did not want to. But he knew that at any moment she might change her mind.
But that was all forgotten, as BN and Katited watched the Two Leg keeper throw a bright red ball in the direction of Katjuscha. Katjuscha watched it carefully, but did not dive into the water. Instead she waited until the ball floated to the side and she was able to easily scoop it up with a paw. The Two Legs think that such balls are hard, but a Polar Bear is harder. With one bite, Katjuscha had it in her mouth, and then carried it to safety in her favourite doorway.
Much more to Katjuscha's liking was a big salmon, which she did dive into the water and then carried away to safety.
Katited was not surprised that like the fat pandas, Ralph had found food.
She did not think anyone would queue to see Ralph eating! Katited and BN did enjoy the Polar Bear cake which one of kind Two Legs had baked specially.
The little party was soon over and they walked back to the Hotel. But on the way Ralph went into a shop in the basement of the Europa Centre where they still sell little Polar Bear cubs in plush that look just like Knut. Katited and BN were not sure what to make of the new addition, who was much bigger than either of them despite being a cub.
Later on, they walked back to the Zoo, with BN complaining that they should have used the nice black car that Uncle Sergei had provided. Ralph reassured them that a friend would be waiting for them. She soon drove up.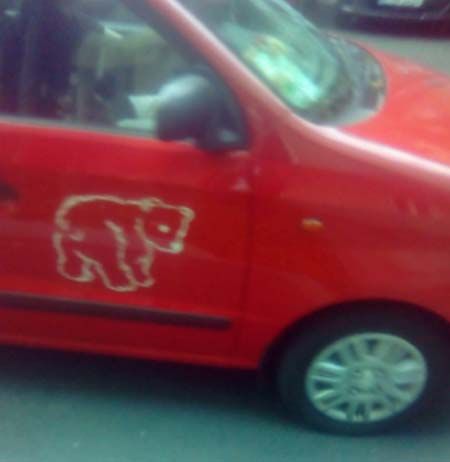 "A special Knut taxi" Katited was delighted at the little red car.
A few minutes later they were inside a restaurant dedicated to producing good Schnitzels. Ralph introduced everyone to his team. He had even put on a shirt showing Tonja and a cub, which he bought at the Tierpark.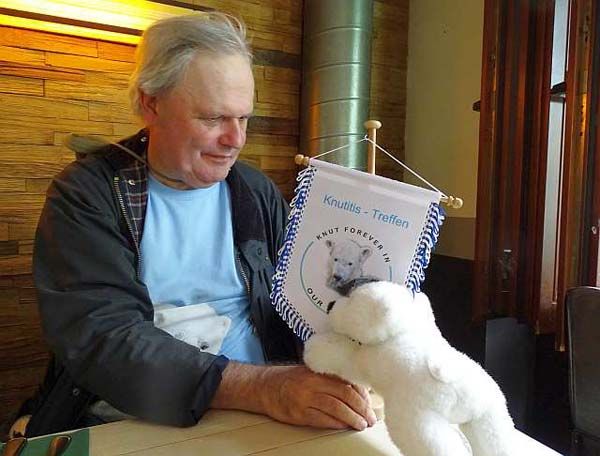 The Berlin plush Knut and Ralph ordered a typical Berlin drink of light beer with syrup. Katited thought it reminded her of the water in the Polar Bear enclosure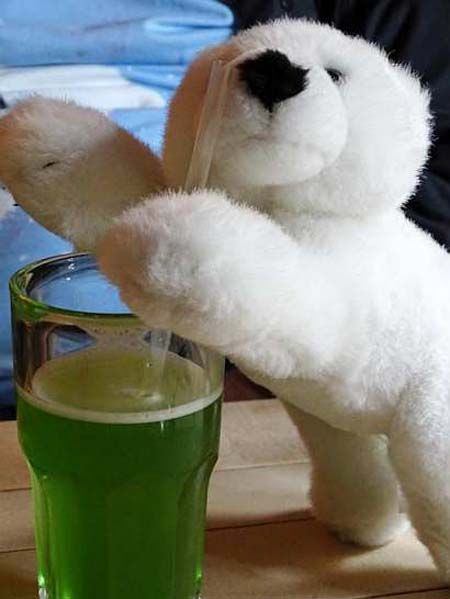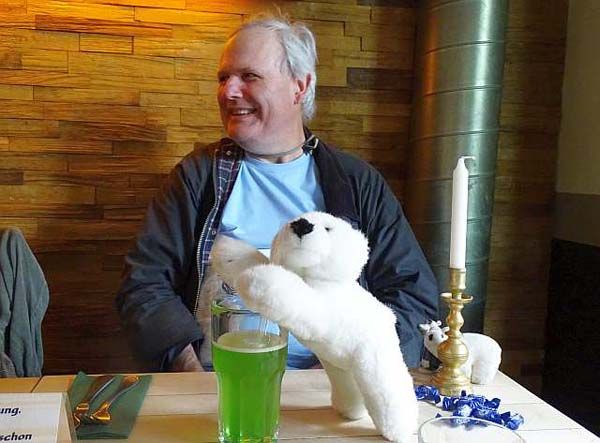 The group of Two Legs come together twice a year to remember Knut and celebrate the other Polar Bears. They even have their own banner.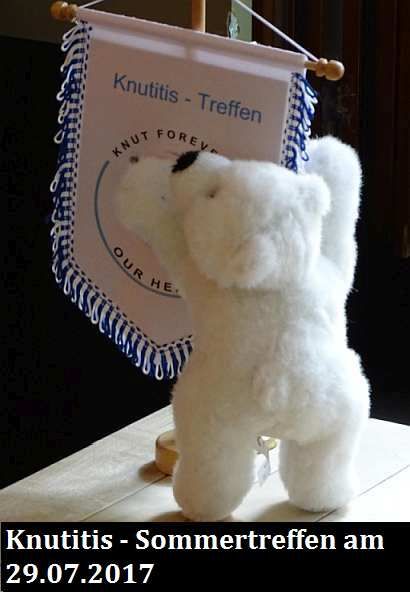 Katited decided that she wanted to be involved and demonstrated using a menu how big Kati prefers to be in the doorway to her home, but as we have not got a photo of that, Katited decided to pose on the Knut Banner.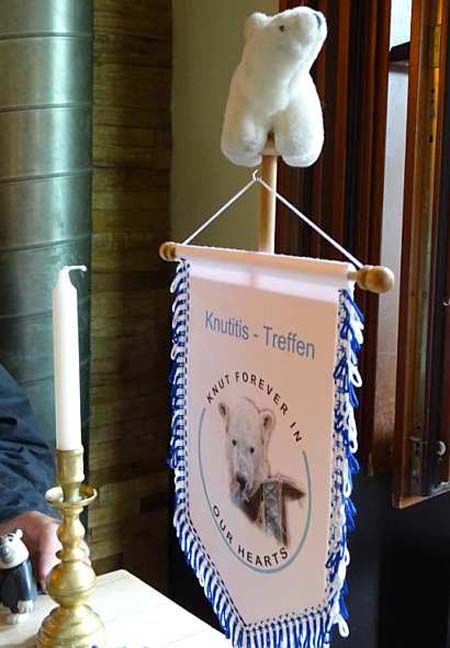 After such a busy day everyone was hungry. Ralph ordered a light snack, which he had seen Mervi eating last year. Fortunately, Plush Knut, Katited and BN were there to help him eat it.
Ralph had brought some special sweets from England. BN was feeling a bit annoyed as one of the Two Legs had described him as not very good looking. So he decided to do his imitation of Kevin Costner as the Bodyguard. True, Katited does not sing as well as the late Whitney Houston, but she can catch salmon in her paws!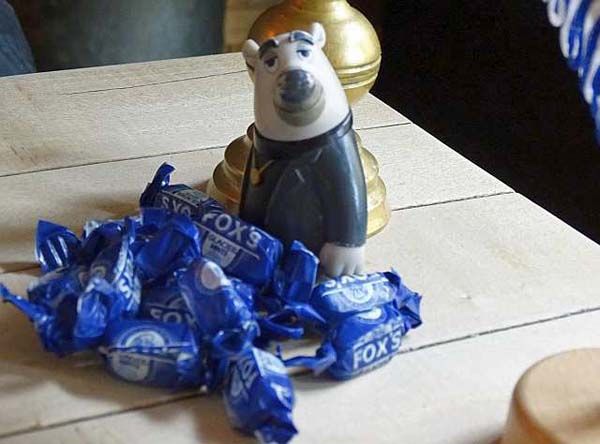 The sweets are hard transparent mints like little glaciers and have a Polar Bear on them. Ralph always brings some with him.
It was a brilliant evening and photos of all the Two Legs involved can be found if you are a member of Knutitis on their website.
Sunday was a very hot day, so Ralph decided we should go to the Tierpark again and spend the day sitting on a bench chatting to Tonja and Wolodja.
BN and Katited liked the signs showing the Two Legs how to find Tonja and Wolodja. The other bear is in fact the real Paddington, a spectacled bear from darkest Peru. They live near the Polars and are very noisy, always having parties and singing!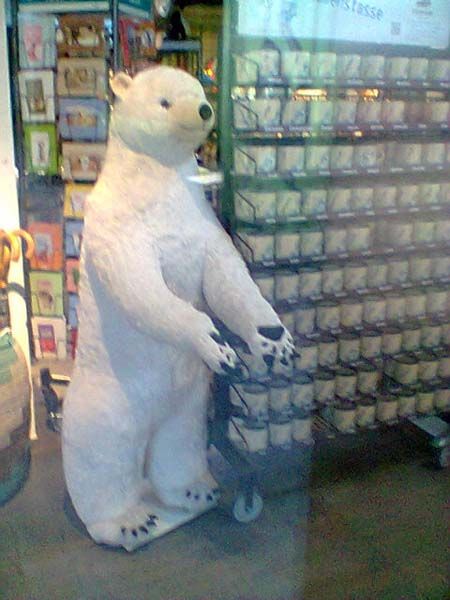 As we were leaving, we saw this bear. Ralph wanted to take him home, but BN and Katited suggested that one of the nice mugs with a Polar Bear cub would be better. Ralph chose one without a name on, as they did not have one with "Ralph" or "Ursula" on it.
BN and Katited were supposed to be home safely on Sunday night but the Two Legs could not get the Airbus to work so they were able to see the Pandas and Kati again before flying over a sunny London and returning to Oxford on another bus. A friend of Ralph's was waiting in a bar with a glass of champagne and later on BN was able order a Staropramen beer, but without green stuff!