Polar bear fun in Udmurtia Zoo
Sep 2nd, 2017 | By
mervi
| Category:
News from the Bear World
2.9.2017 – Quelle: Udmurtia Zoo
Sun bathing and swimming are polar bears' favourite hobbies during the Summer time. However, the white giants need different kinds of enrichment throughout the year.
'Inventing' new means of enrichment is a challenge to the keepers but they love to spoil their bears in many ways. The more interesting the bear spends it's days, the better it's mood will be, which means he has better appetite, he will be cheerful, strong, healthy and willing to share his fun with the visitors, too!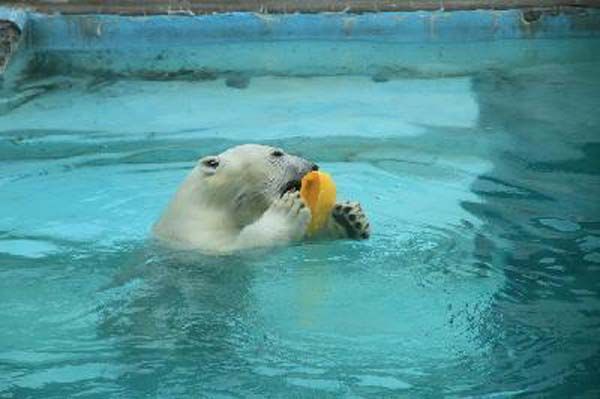 One of the most popular toys is a kind of rattle. Not a child's rattle but a big bear rattle which is a jerrican filled with things that 'make noise'.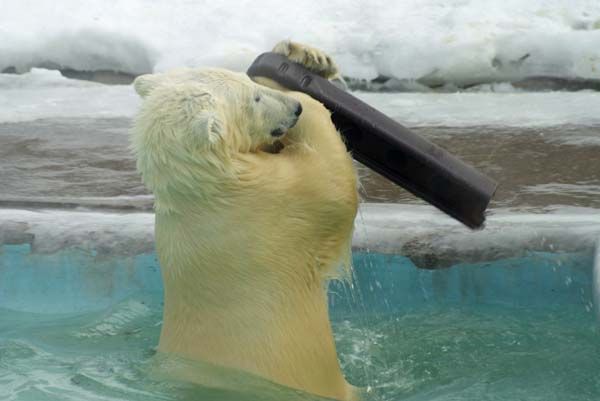 Our polar bears love the frozen Eskimos which their keeper prepare for them. The recipe: Take a bucket or a plastic bottle, fill it with tasty berries and then let it freeze in a freezer.
Skittles and balls are traditional toys of polar bears. The collection is constantly replenished, because they can not withstand the treatment with sharp teeth and powerful claws for very long.
One of the latest innovations in a series of amusing games was invented by 'accident' – the bears began to cuddle in the water, winning a stormy applause of visitors. Bot the bears and the visitors love these cuddling games. 🙂
There are four polar bears in this zoo – the males Aion and Balou, the females Dumka and Zabava. Only Zabava was born in a zoo (St Petersburg, parents: Uslada and Menschikov) – the others were found as cubs in the wild.
Polar bears in the zoo of Udmurtia treated with ice cream