My visit to the Yorkshire Wildlife Park (YWP) near Doncaster in Yorkshire
Oct 13th, 2017 | By
mervi
| Category:
Ralph's reports
13.10.2017 by Ralph
Friday 6 October 2017
Although there are many interesting animals in the YWP, I spent most of my time with the four Polar Bears as the YWP is the only place in England where I can visit them. The Park has excellent web and facebook pages where you can see professional photos of the animals.
I arrived slightly late at about 11 oclock in the morning, so the four bears were already in action. The weather stayed fine all day.
The big news was that the third enclosure is now in use. It has changed the routine of all the bears, though in different ways.
Another item of news was that the YWP had hosted a conference of Zoos with similar predator animals a few weeks ago, including from Scandinavia and Germany, the US and Canada. Munich was represented, so they will have been able to see for themselves how Nobby is doing. The Conference allowed good exchanges of ideas, especially on how to enrich the lives of the animals and use target training to look after their health.
My mobile phone camera is really not suitable for anything other than close up shots. Even then the light plays havoc with the automatic focus. This made it hard to photograph the bears, especially Nobby, who is usually roaming the perimeter of the enclosure backing on to the houses and fields nearby.
A great advantage for me is that there are plenty of benches to sit on and just enjoy the bears. It is also really easy to talk to the Rangers who look after them, as a Ranger is always on duty when the YWP is open.
Victor and Pixel were using the new enclosure when I arrived. They are especially fond of the reeds and bulrushes, which made them look as if they were eating bamboo.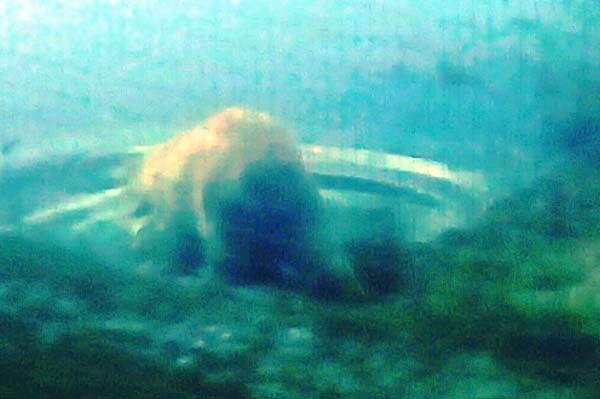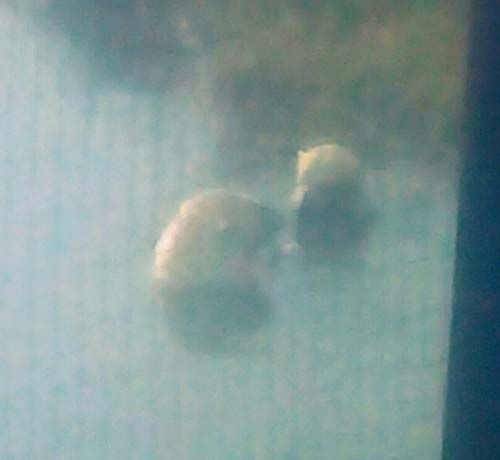 Victor has become even fonder of using the tunnel system to sit and wait for the other bears. However, his "cunning plan" has allowed Nissan and Nobby to choose an enclosure and then use it themselves without much fear of Victor sneaking up on them. Nobby still chooses to keep well clear of Victor, but Nissan has noticed that Pixel enjoys being with Victor and Nissan's curiosity and sense of fun mean that he is sometimes coming quite close to them. Pixel is very tolerant of Victor's need for company, though he is not afraid to stand up to him.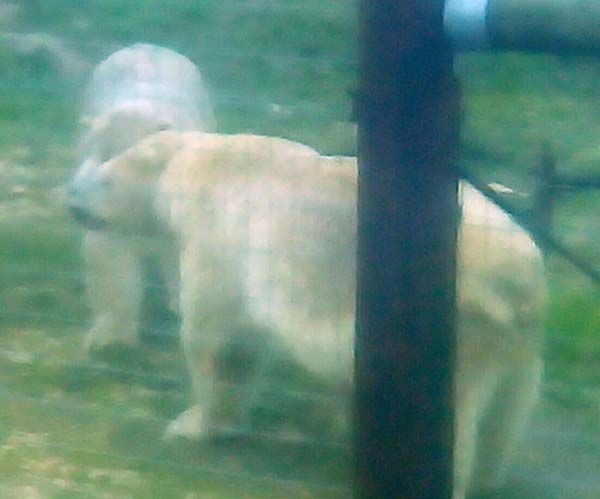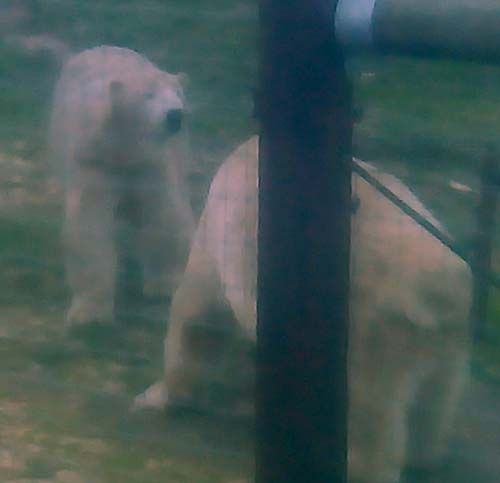 Victor is over 500 Kilos and nearest the camera in the shots above. Pixel only weighs about 70 Kilos less.
Nissan is growing into a fine looking bear. Like all Russian bears he is going to be very big. He has discovered the new enclosure allows plenty of places to view visitors close up and also sit watching the various animals in the nearby South American walk through area. Here is Nissan enjoying his public.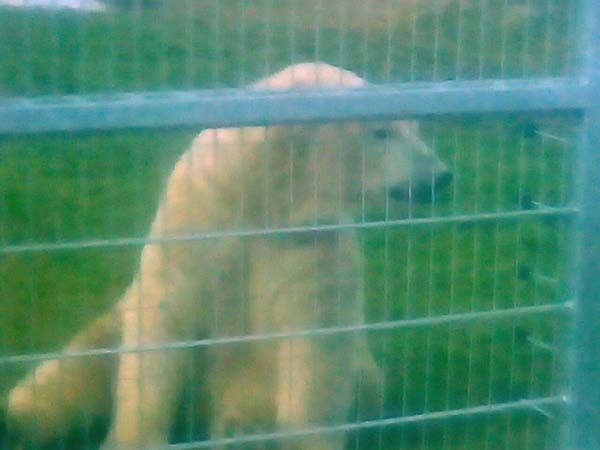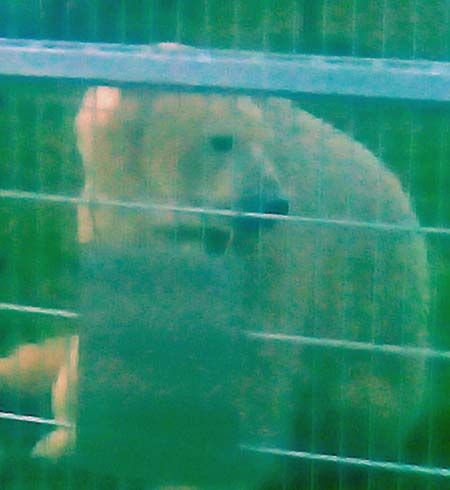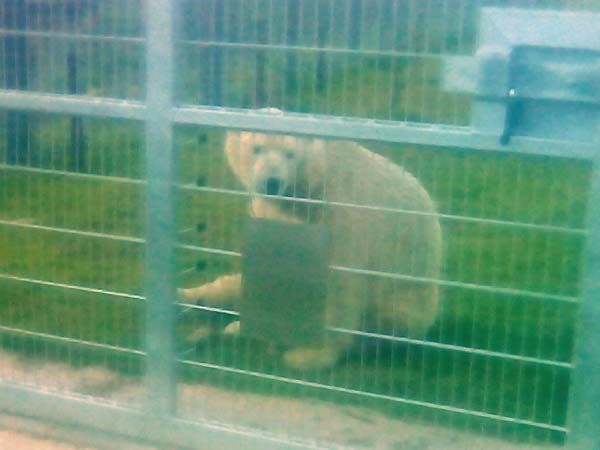 Here is Nissan in the main enclosure watching the Ranger unloading pieces of meat and foliage in the afternoon.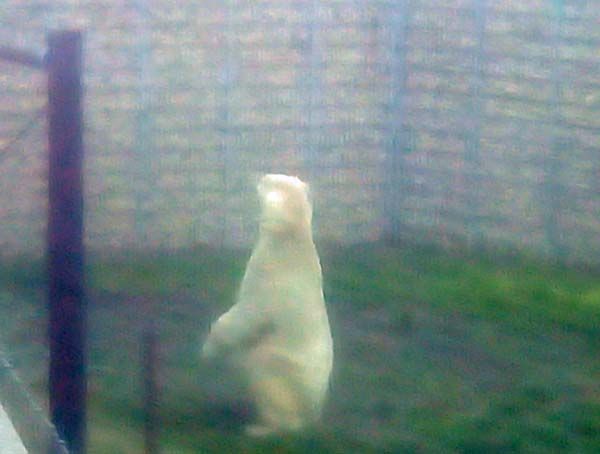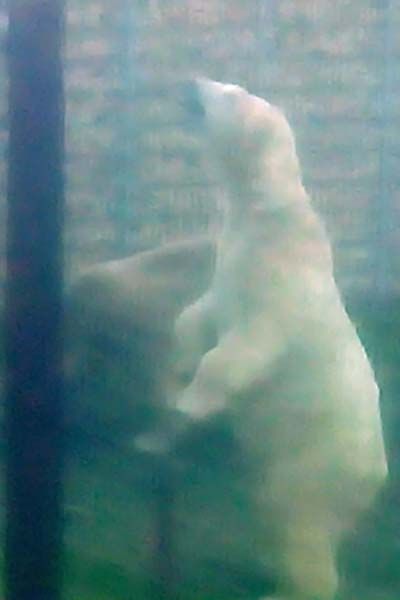 He was joined by Nobby, who had been in the water and rolling around in the two older enclosures, largely undisturbed by the other bears, though occasionally Victor had walked through with Pixel. Nobby used the opportunity to change enclosures.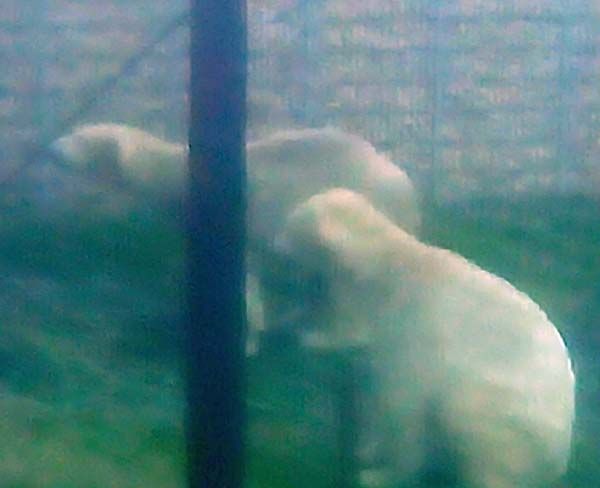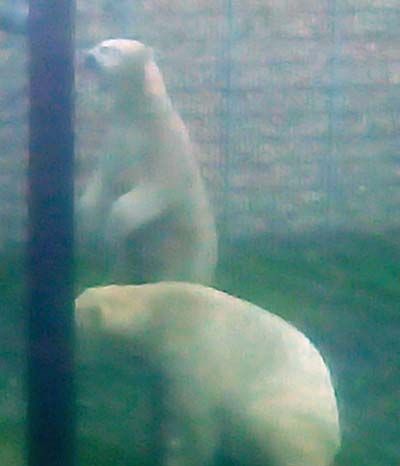 Nobby and Nissan are in fact still more or less the same size. Nobby reminds me very much of Knut. I had a conversation once with Herr Roebcke where he pointed Knut out to me and said that he was growing "in der Laenge", that he had a long back. Nobby is similar.
The Rangers notice that Nobby is the most determined of the bears and will stick at something for a long time.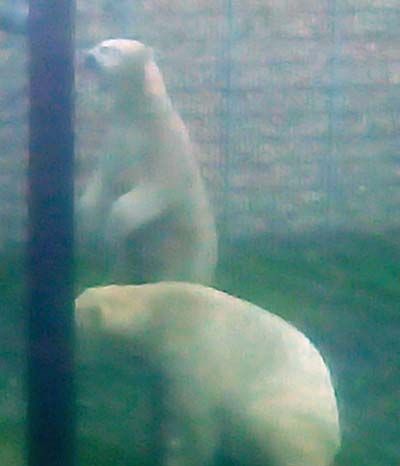 Nissan grabbed a big piece of meat and I was able to photograph him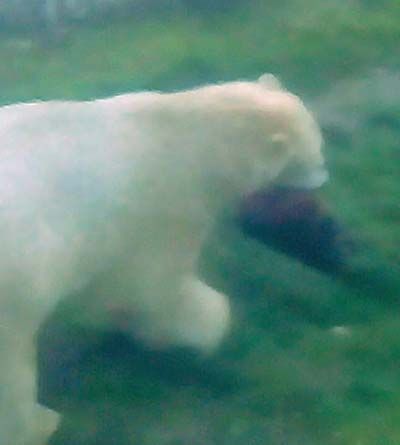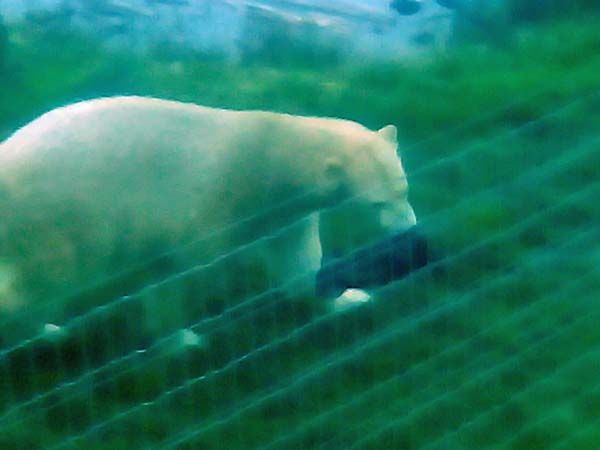 Nobby was much faster and had eaten his before Nissan. You can guess what happened next. Nobby decided to sneak up on Nissan and try and grab his meat. Nissan of course knows Nobby well, so that did not go well.
Nobby decided to go and relax.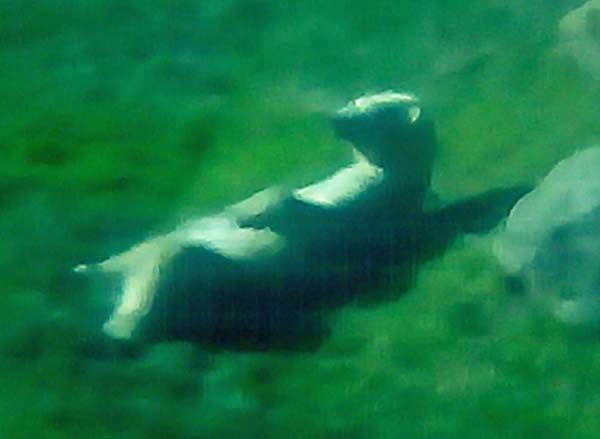 The Rangers keep the two pairs of bears separated in the evenings so that they can sleep outside in peace.
Pixel and Victor had polished of their meat and were now very interested in the foliage that he had been left by the entrance.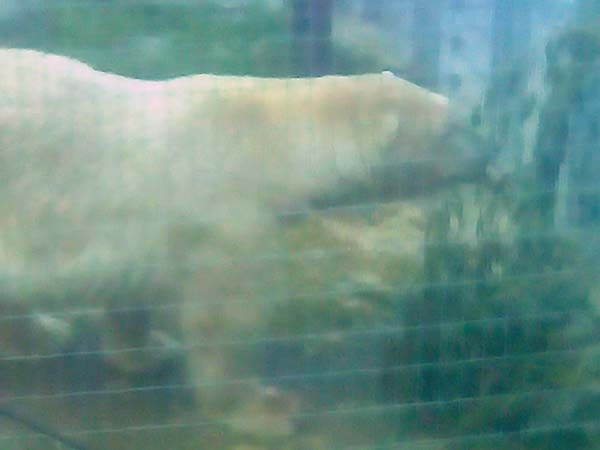 Victor was the cleaner of the two and grabbed a big piece. Pixel was a bit more hesitant.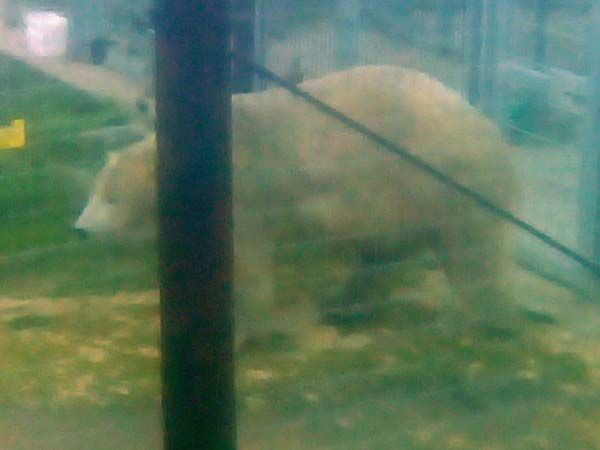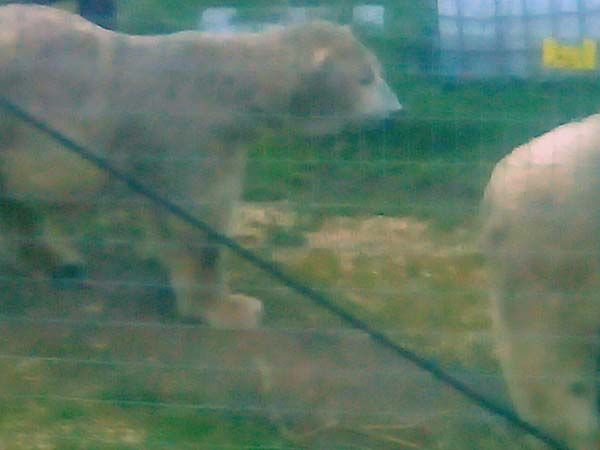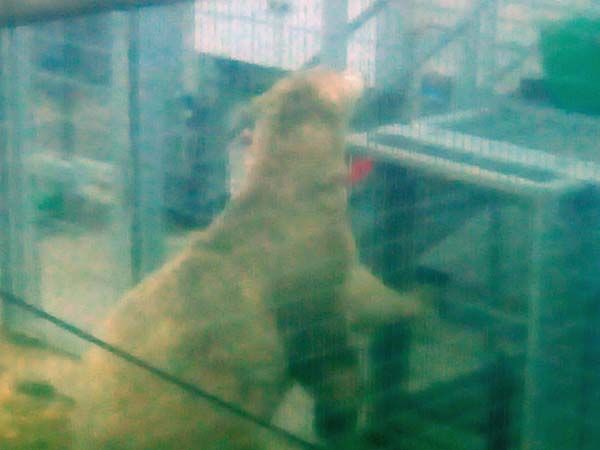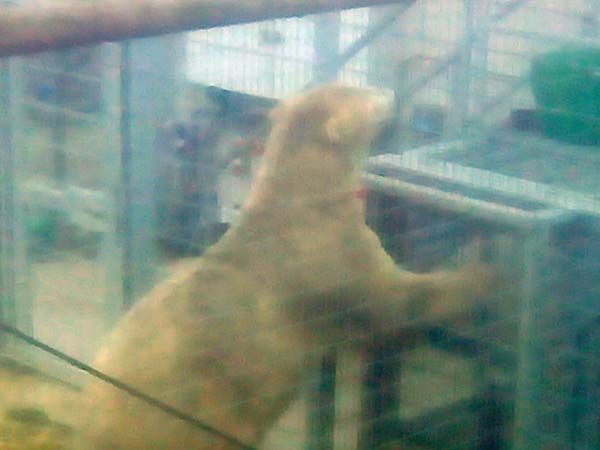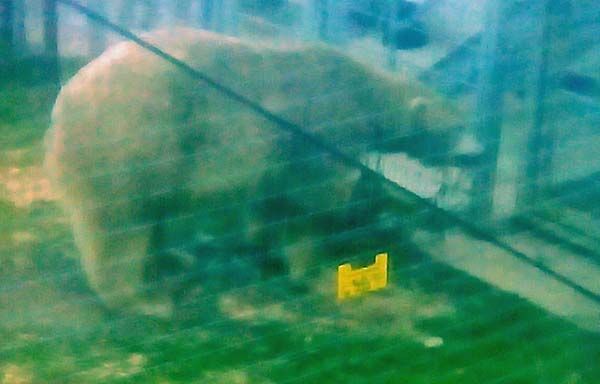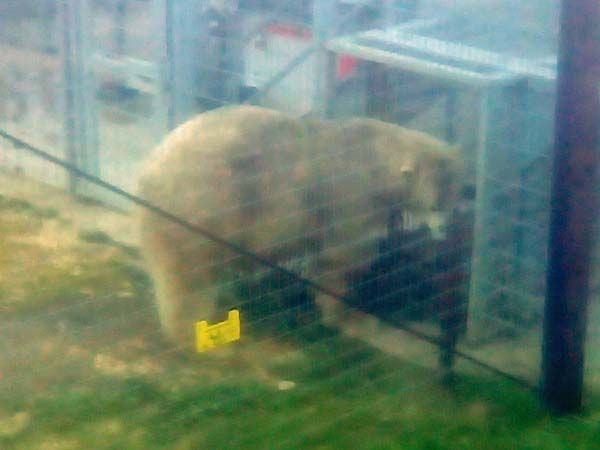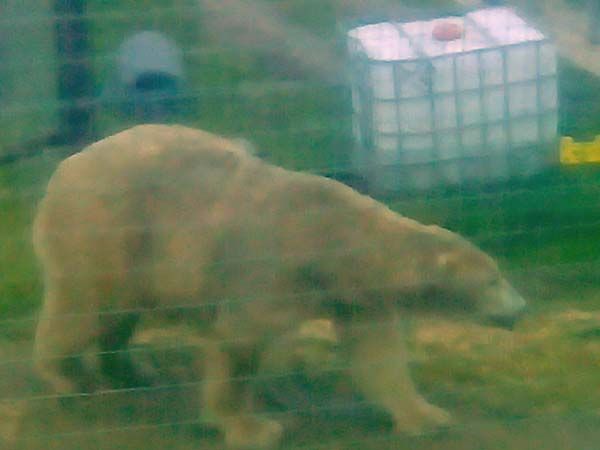 Pixel has really improved Victor's mood. Victor seems to need companionship and at the end of the day he and Pixel were stretched out together. They looked so cute. But I only managed these shots.
Victor used the foliage to oil his fur, something which Zoo Polar Bears really enjoy in the absence of snow.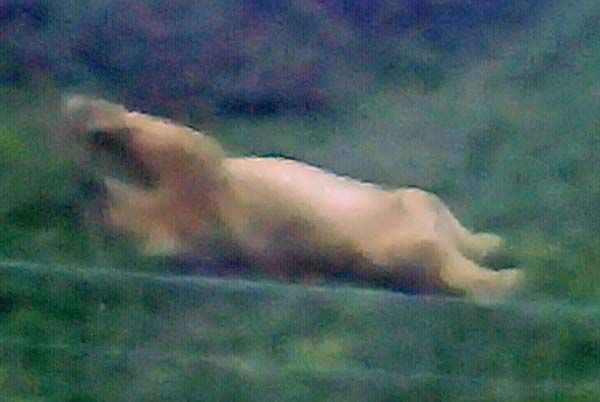 Victor is easily identifiable by his "teddy" ears and rolling walk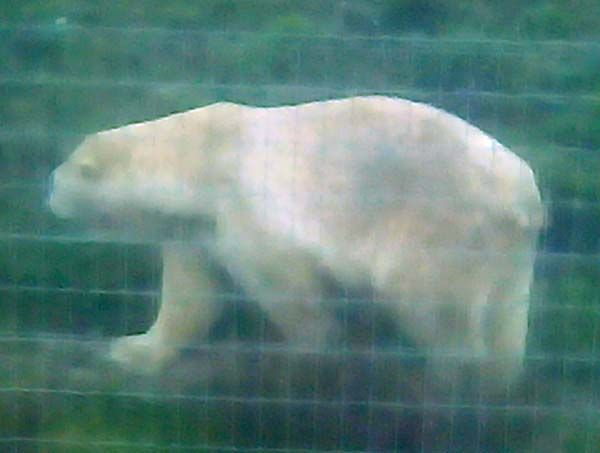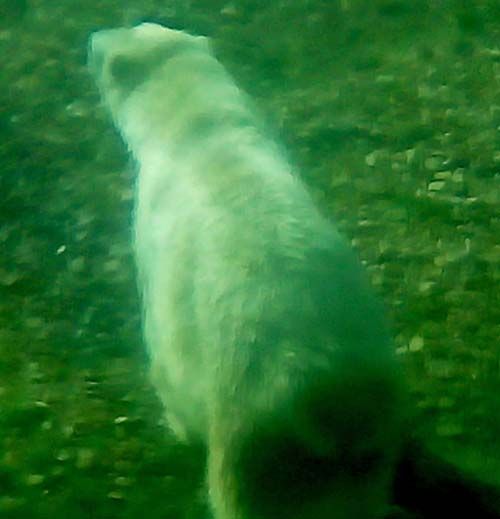 At 5 oclock both pairs of bears were settled in their outside enclosures and it was time for me to go to the shop and buy some bear stuff, before meeting my taxi and catching the train back to Oxford.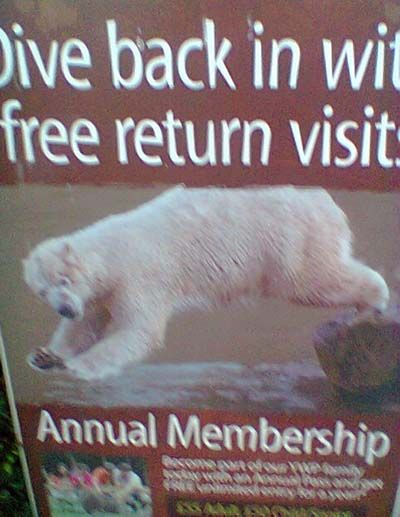 As the poster says, I shall be diving in to Doncaster again as soon as I can.