Inukshuk loves the Winter!
Nov 29th, 2017 | By
mervi
| Category:
News from the Bear World
29.11.2017 – Source: The Polar Bear Habitat, Cochrane
Inukshuk was born in Northern Ontario and rescued when he was four months old in Fort Severn after his mother was shot. He was brought to the Toronto Zoo for a year, then transferred to Zoo Sauvage in St Felicien, Quebec. There he bred with Aisaaqvak and fathered Ganuk and his twin sister Taiga. Inukshuk has also fathered three other cubs with mother Aurora – Hudson, Humphrey and Juno. He has spent time at both Toronto Zoo and the Cochrane Polar Bear Habitat since 2012.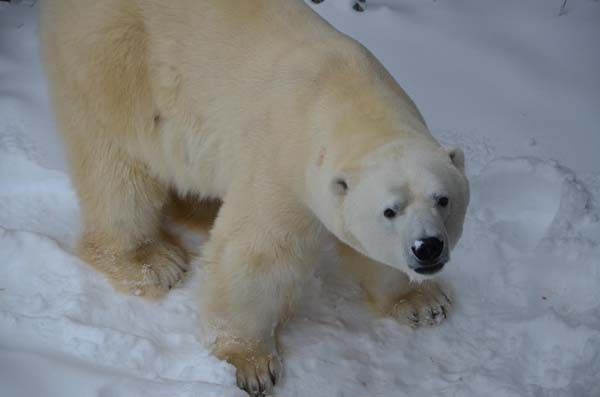 Inukshuk's weight ranges from 900-1200 lbs. He enjoys eating mackerel, moose, seal and is the only bear we've had so far that actually likes beaver! In summer, lettuce and watermelon give Inukshuk a cool treat without adding calories. Inukshuk is highly intelligent and enjoys complicated enrichments and training.
Now it's Winter in Cochrane and Inukshuk loves playing in the snow.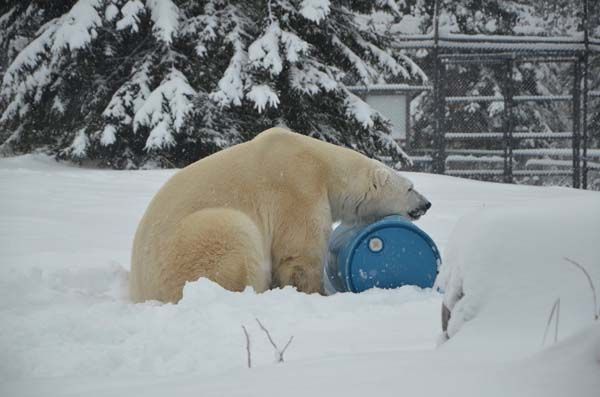 Blue seems to be even Inukshuk's favourite colour …. 🙂