Chaartschaana has arrived in St Petersburg
Dec 15th, 2017 | By
mervi
| Category:
St Petersburg
15.12.2017 – Source: St Petersburg Zoo
First some facts to freshen up your memory: Chaartschaana was born in the Yakutsk Zoo on the 30th of November 2016. Her parents are mother Kolymana who was found in the wild in 2012 and father Lomonossow born in 2011 in St Petersburg.
The visitors of the St Petersburg Zoo have been waiting to see Chaartschaana and finally on the 6th of December it was time for the young polar bear lady to present herself to the visitors and for the media.
There were many VIPs attending the presentation of Chaartschaana like the governor of St Petersburg and the leader of the Yakutsk region.
Chaartchaan lives in a bears' enclosure where she can be seen by the visitors. She eats and drinks well and has accepted her new home – in other words she's doing fine! When the renovation of the polar bears' enclosure is finished she will move to the new home and live close to her grandma Uslada.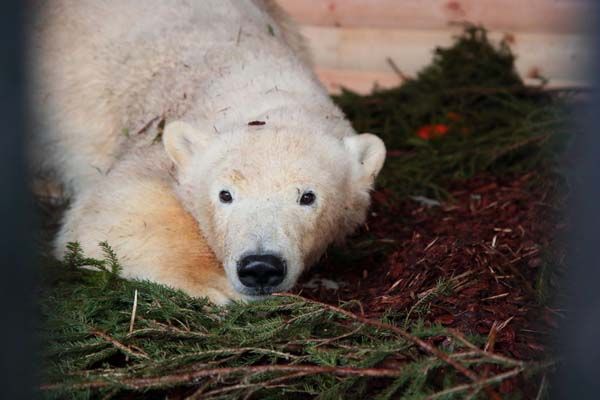 Uslada, photo by Micha Moroz
Knuti's Weekly wishes Chaartschaana and Uslada good times in their new enclosure!