Happy birthday, dear Vesa!
Dec 22nd, 2017 | By
mervi
| Category:
Birthdays
22.12.2017 by Mimmi and Nalle
Dear Husse! We wish you a very happy birthday with this little 'picture book' of our Christmas preparations. Your birthday is for us the start of Christmas. We hope you will read it while sipping a glas of champagne or maybe with a good beer.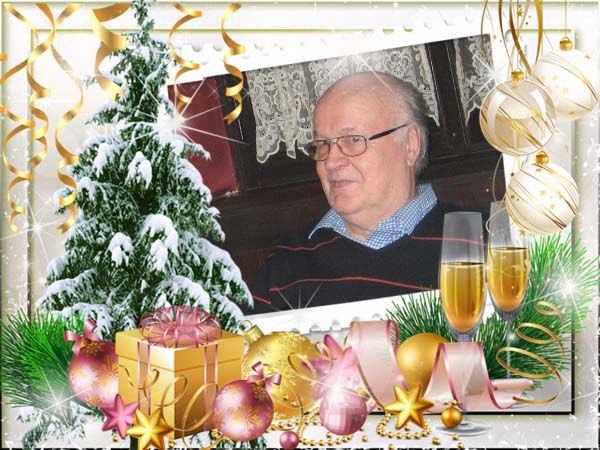 Usually you have visited Berlin in December but this year you had to stay at home. Well, we didn't mind so much although it has always been nice to have the flat for ourselves. You've been so delighted finding our home in a 'new dress' ….. at least we think so.
On the Lucia Day it was time to decorate the tree and, naturally, we wanted to assist you and Mervi.
Mimmi: Where are the decorations? I'm really running out of patience now!!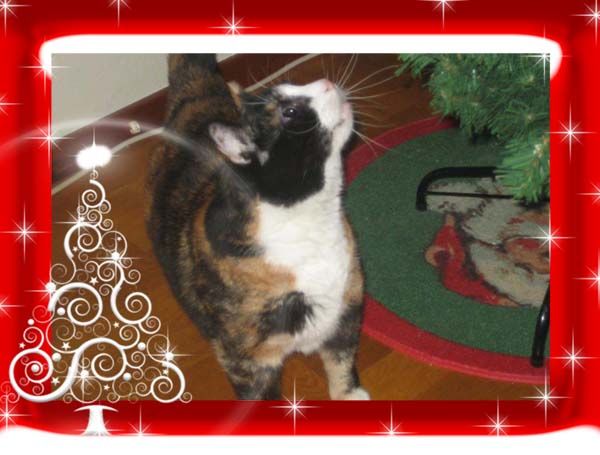 Mimmi: Lying under the tree is my favourite hobby during the Christmas season …. if they only could get started with the decorating!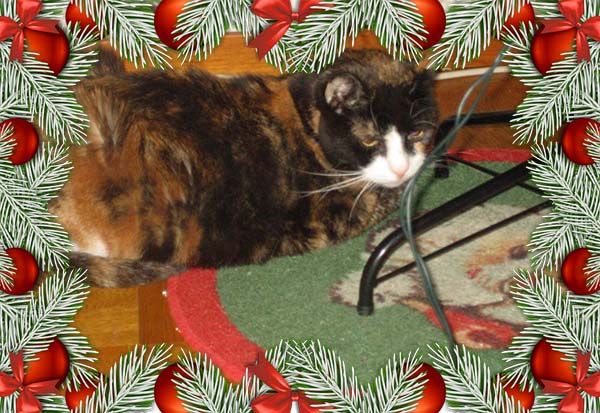 Finally!! The lights are on and the glass balls, silver ribbons and, of course, lots of small polar bears are hanging from the branches.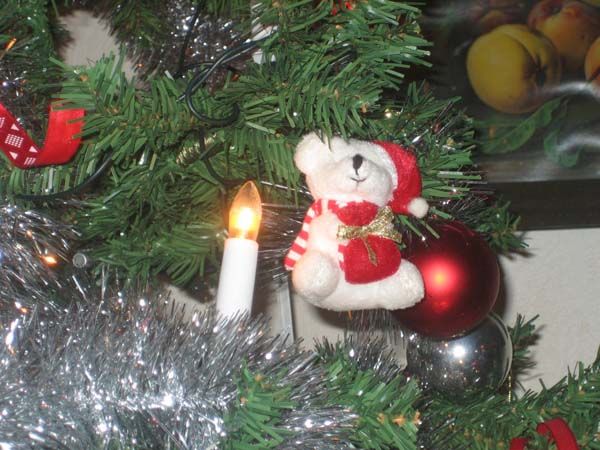 We were wondering why you only have polar bears and no cats in our tree but you had a good explanation: We already have two beautiful cats so we don't need cats in the tree! We can't but agree!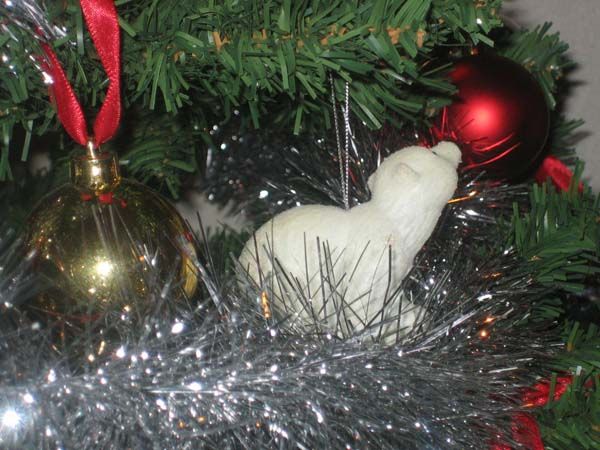 Many of the decorations are gifts from your friends you've met in Bärlin. These sweet polar bears is from Ludmila. When you decorate the treee we can always hear you remembering all the great moments you've had at the Knut meetings.
Nalle: I'm quite satisfied with the tree but you forgot Santa! You must find a place for him, too!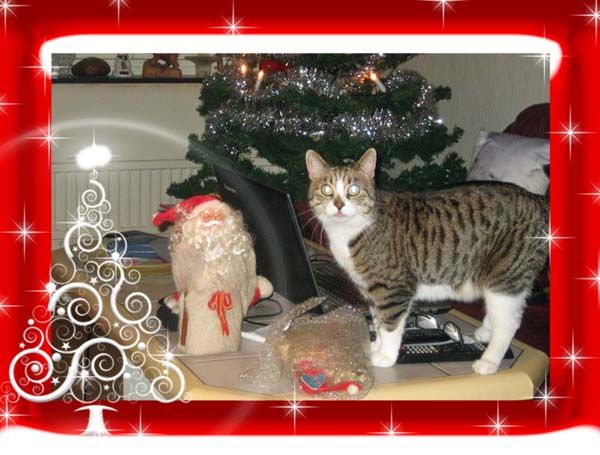 Mimmi: Nothing compares to a nice cardboard box!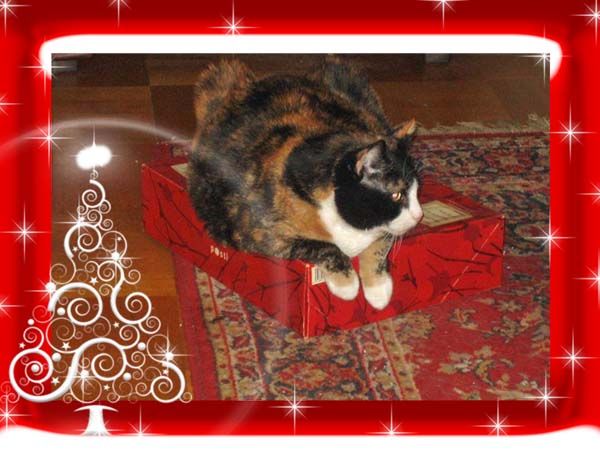 Nalle: I promise to help you placing your trotting bets even next year even if it often is really exhausting to find the winning horses. Hmm, I've noticed you very often watch polar bears instead of horses! That's good because it gives me an opportunity to take a well deserved nap.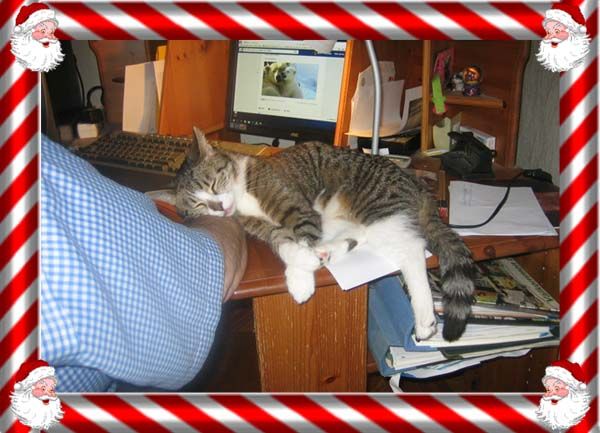 We promise to be nice cats and not cause too many 'mishaps' – but a decent cat just has to DO some things and accidents DO happen! We might add that whatever we do 'we didn't do it'!
Nalle: I also promise to hold my horses – or should I say hold my cats? – with my morning concerts. Maybe a huge glass ball could be a solution? Whatever, I'll try to sing my morning arias a little later in the future.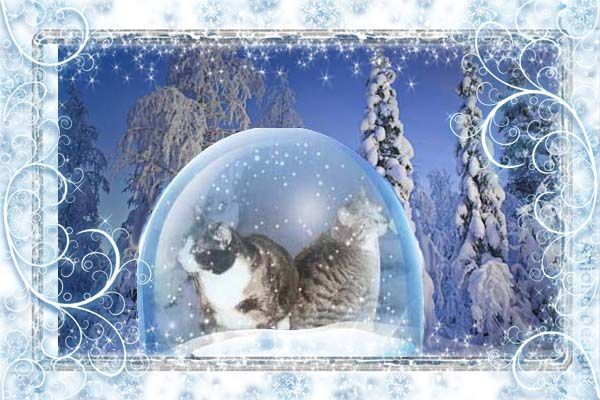 We are very glad you didn't make us wear a stupid hat. That certainly  wouldn't make us amused! A beautiful cat doesn't need any 'decorations'!
You are the best 'Husse' in the world! Happy birthday to you!
Onnittelut maailman parhaalle 'husselle'! Lupsakkaa syntymäpäivää!