Katited's Diary: Visit to Berlin: 30 November to 3 December 2017
Dec 19th, 2017 | By
mervi
| Category:
Ralph's reports
19.12.2017 by Katited with a little help from Ralph
This report is dedicated to Katited, with the hope that she has found a new home
Thursday
Ralph ensured that we were all at Heathrow Terminal 5 in time to catch our flight to Berlin at 0705, but also have enough time for some shopping. BN, or "international bear of mystery" as he calls himself, was acting as our security and transport expert.
Of course, Ralph had to be fed before we could get on with the shopping. But BN this time cunningly ensured that instead of sitting down for a large breakfast, Ralph made do with coffee and porridge.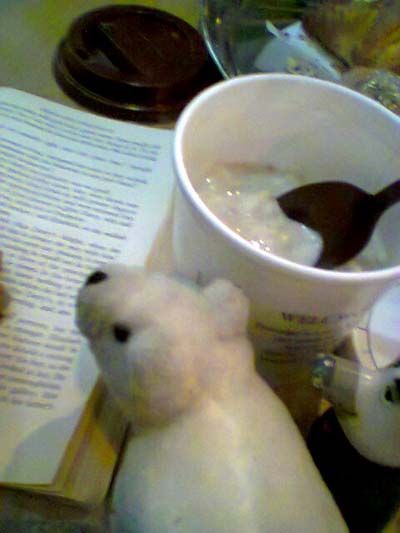 Ralph always insists on reading something over breakfast. I think it's "Pride and Prejudice". Ralph says he wants to do a version with Polar Bears, or was it for Polar Bears. Anyway we managed to get him moving.
We soon found a very nice little shop with a large Christmas tree.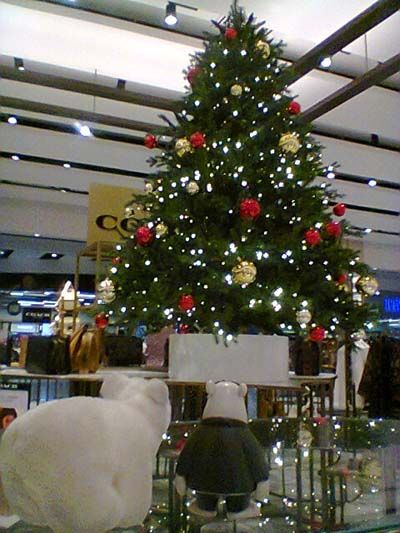 BN thought that his hat would go well with his suit, and wanted to try it on, until a nice lady appeared and asked him for his card.
I was rather taken with this bag, which the pink furless animals (sorry, people) use to carry all their things with them.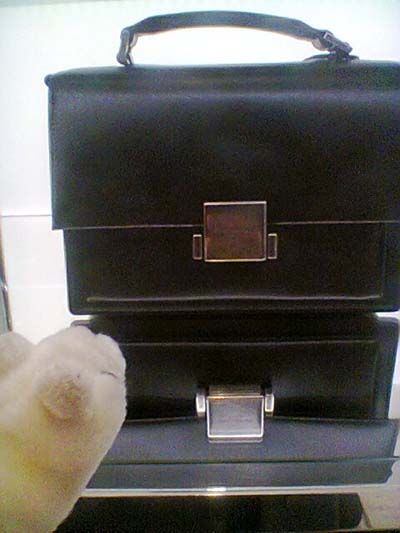 BN reminded me that Polar Bears do not carry things. He is right of course. We are far too sensible.
Ralph still seemed to be hungry as he was muttering something about "Breakfast at Tiffany's". He was speaking to a very helpful person in a shop with another Christmas Tree.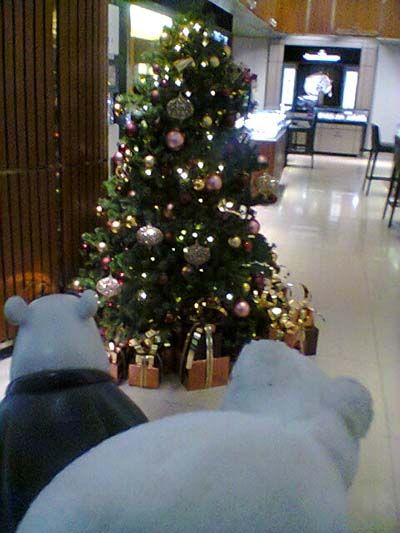 The shop was full of very expensive sparkly things, which the pink, -sorry people like. Ralph explained that there is a film in which a lady working in New York always eats her breakfast outside the Tiffany's shop in New York. Of course I wanted to be photographed with the lady.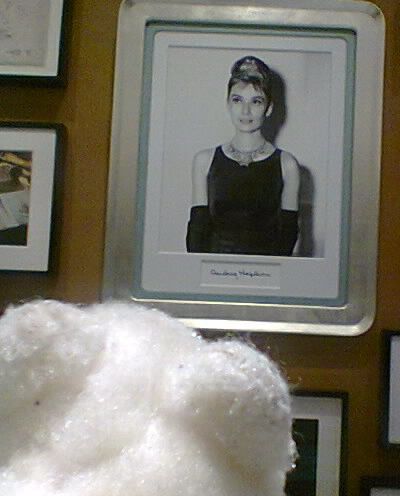 Polar Bears are not really interested in sparkly things, but I am sure Giovanna, Nela or Qintana would like to star in a version of the film with blue plastic barrels. Perhaps Sisu or Fiete could star as well.
Our last Christmas Tree was in the entrance to the famous Fortnum and Mason shop.
All went well with the flight to Berlin and we were at the Zoo by 1100 and Katjuscha was waiting to meet us.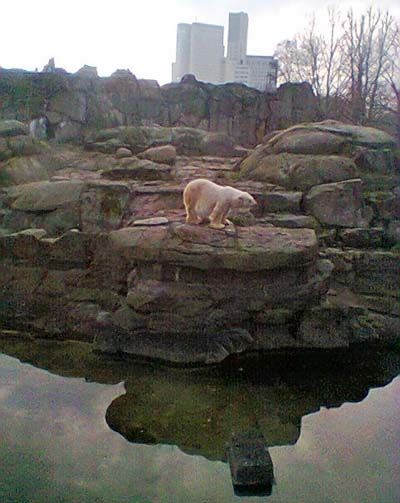 A lady living in Berlin was speaking to the team that helps Kati with her household. She had brought a Christmas Tree for Kati, but without all the silly sparkly things that the people like. Kati examined it carefully and decided that although she could not eat it, she would use the nice smelling twigs to make her fur clean and smelling nice. I told you that we Polar Bears were sensible.
Here is a photo of Katjuscha, which I think looks every bit as good as the lady in Tiffany's.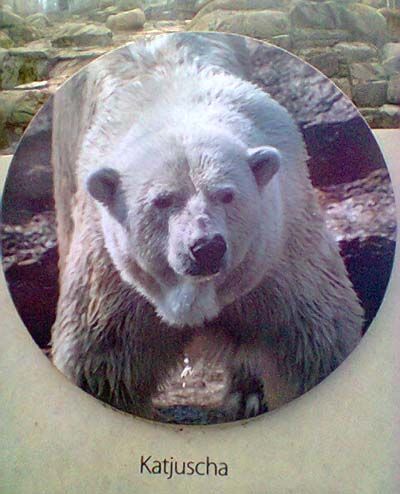 Whenever we travel, various Polar Bears tend to join Ralph. And so it was this morning, Ralph produced a new bear when we visited Knut's statue.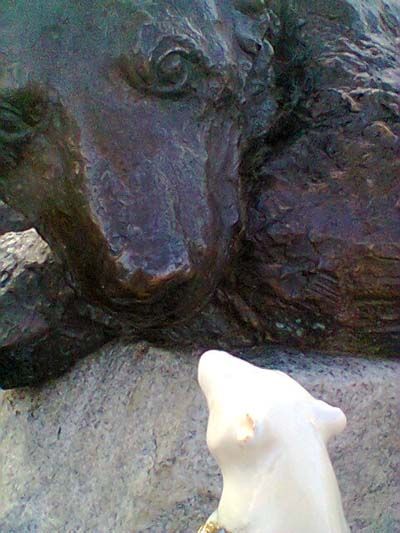 I think she looks very smart, and the sparkly things must have come from Tiffany's. BN christened her "Bling Bair". I think that is something to do with his time working in the USA.
Finally, Ralph wanted to also pay his respects to Knautschke.
Ralph's father and Ralph both liked hippos. Fortunately Ralph's mother was more like a Polar Bear.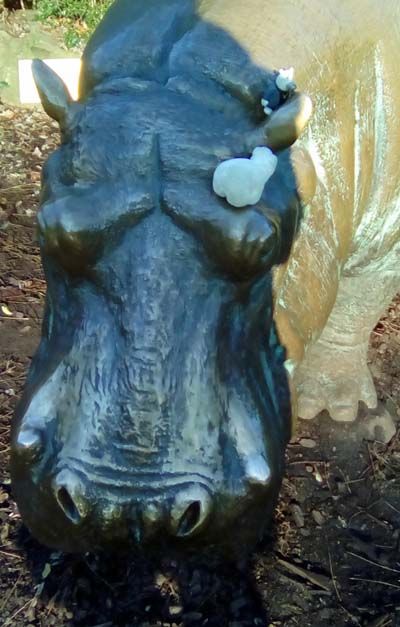 In the afternoon, Ralph met a couple of his friends and had coffee and cakes. But we were too tired and were fast asleep. We were all very glad to get to the hotel. This bear was waiting to greet us.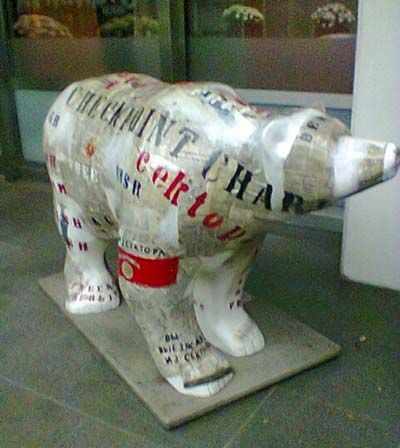 According to BN he was a great friend of his and they were starting to discuss their shared liking of expensive cars and nightclubs. I managed to drag BN away and we all had a good night's sleep.
Friday
BN's friend and Ralph both remembered the days when Berlin was divided into two halves by the pink- sorry people. As a Polar Bear I could not understand such nonsense, but then we roam over hundreds of miles. Ralph likes using the Berlin overground railway or S Bahn as it has the best views of the city. We got on the train at the Zoo station, which was once the main railway station for the Western half of the city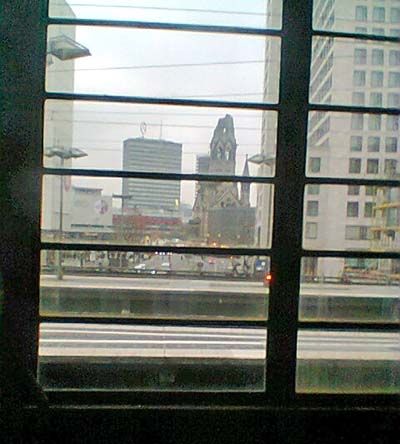 As we went along, Ralph and BN were pointing out to me all the sights and also the point at which the train crossed in to the other half of Berlin and the Friedrichsstrasse Station.
I had to laugh at BN talking about the border crossing as he was not even a cub when Ralph was crossing between the two cities. I was much happier looking at the Museum Island and Alexanderplatz. It was not long before we changed to the Underground for the last stage of our journey to the Tierpark in East Berlin. We met this very kind Polar Bear lady at the entrance while Ralph sorted out his card.
Ralph was very excited as he hoped to be able to meet the gentleman who looks after the Bears household in the Tierpark. There are not just Polar Bears, but also black bears of various kinds, some of whom are very noisy. BN found the sign that showed us how to get to the Polar Bears.
BN thought Ralph should have a sign like this over his door to tell people that his house was actually quite interesting. BN can be a bit cheeky at times.
Ralph was lucky enough to meet the gentleman and started discussing the Polar Bears. I thought he was a bit cheeky as well, since a lot of the conversation was about Tonja, who was snug and warm inside her "birthing den". They did not think Tonja would be having cubs this year, but did not really know.
Fortunately BN and I were able to talk to someone who really did know what was going on. BN and Wolodja both know very important people in Russia, so they were soon talking. Wolodja was rather sad as he knew that Tonja would be busy soon looking after a cub. He explained to BN that he like the Tierpark as the gentleman here had worked for the Polar Bear families for many years and knew how to look after them. He was not keen on going to the West again, but Tonja was the boss!
We both sympathise with Wolodja but tried to explain that the West was not really so bad. BN promised that he would speak to some people there and keep visiting Wolodja whatever happened.
Afterwards we suggested to Ralph that we needed a treat. Opposite the Tierpark is a shopping centre. We soon found an ice cream parlour, with a lovely Polar Bear welcoming us.
The firm is called Berliner Eisbaer
Ralph chose a very British flavour, After Eight Mint! And we all tucked in.
Ralph then explained that he was going to be meeting Annemarie, who does the yummy Knuipe breakfasts. But first we had to get out of the cold and go to various shops so that Ralph could find more Polar Bears for our family. This took several hours, but by the evening we were back on the S Bahn heading for Alexenderplatz. I asked where we would be meeting Annemarie.
Ralph explained that on the edge of the Alexanderplatz was a famous Clock where in the old days the demonstrators and journalists had gathered in East Berlin. BN was nodding as if he had also been there.
Annemarie arrived, and Ralph suggested that we go to the Nikolaiviertal, where of course there is the Teddy Bear shop, but also many nice places to eat and drink. Ralph found the restaurant he had in mind and we all sat down. Ralph introduced us to Annemarie and they ordered coffee and cakes.
Even some other guests came over to say hello to us. It had been raining and Ralph and Annemarie both wanted to catch a train. Ralph took us a long way even crossing where the old Checkpoint Charlie had been. After saying good bye to Annemarie we went to visit an old friend of Ralph's before turning in for the night. I asked Ralph the name of the restaurant we had been in, which was unchanged from his days in East Berlin, but he had forgotten as he went there so often. Oh well.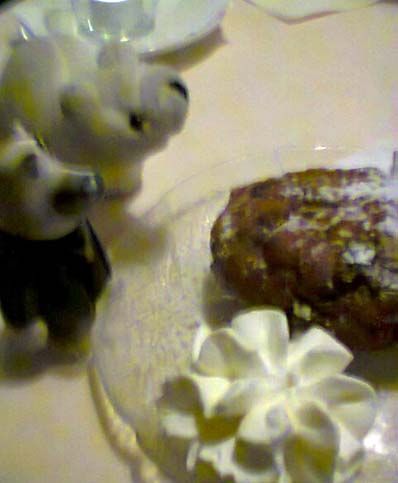 Saturday
Ralph got us to the Zoo at opening time because it was time to meet some friends of Knut.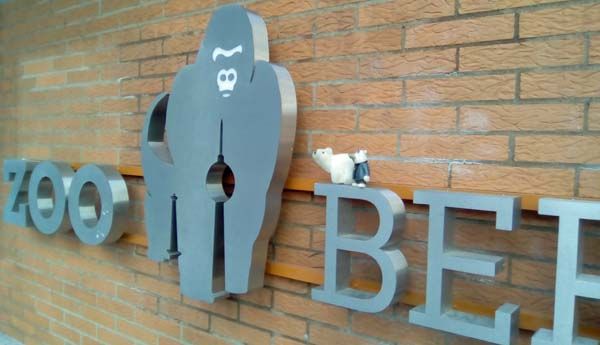 We were looking forward to meeting the Pandas, but Meng Meng was only interesting in grooming her paws and the other panda had not come out. Still BN asked Ralph to take his picture.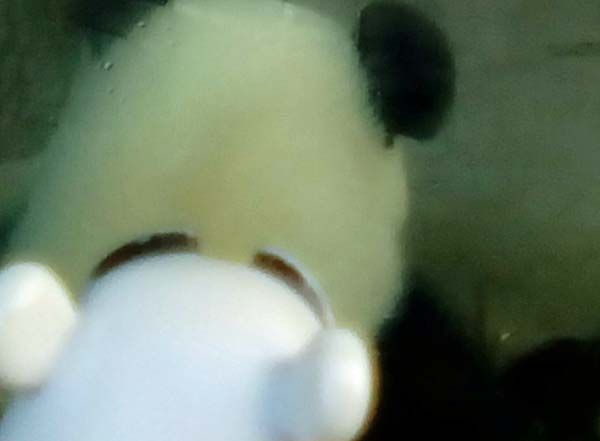 The pandas are very important guests and there is a very detailed board all about them.
Some Knut friends arrived and Ralph and they began talking a lot, so BN and I had a rest. They then spent a lot of time with Katjuscha and the statue of little Knut. I like this picture of Knut, which is part of a machine that issues a bronze coin with a picture of Knut. Ralph likes this machine and always visits it.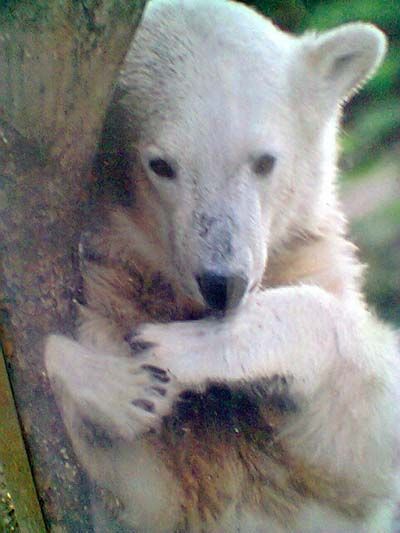 Ralph was hungry again and also wanted to visit some more shops, so we stopped at a snack bear called "Curry 36" near the Zoo Station.
This had been suggested by one of the Knut friends. The meal that Ralph chose is a famous Berlin dish – Currywurst.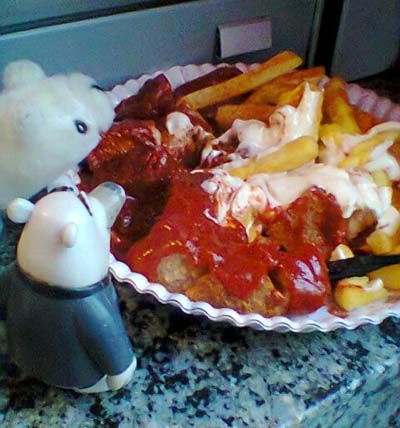 I am sure that Ralph eats too much, and I found this picture which reminded me that so do Polar Bears.
Sorry, Ralph. At the end of the shopping, Ralph said that he had been told there was a very good Christmas exhibit in the Europa Centre.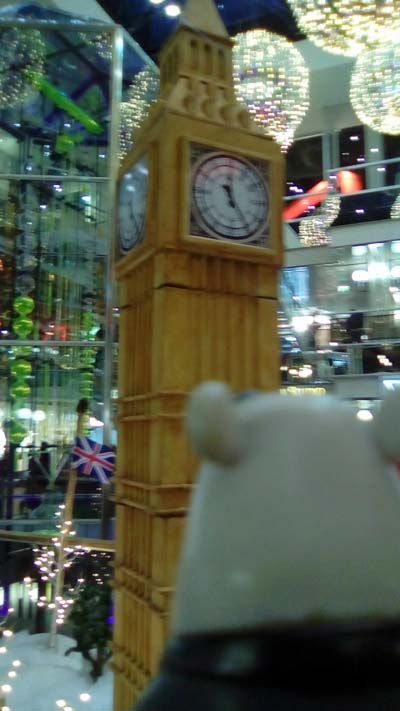 We found it without any problem at all. BN thought this picture suited him very well. But then he met someone who gave him a bit of a fright.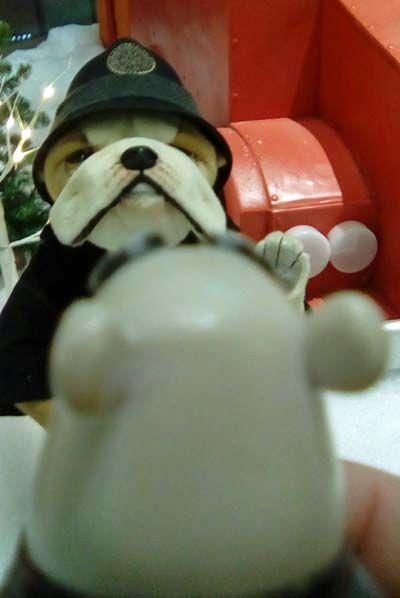 BN started muttering in English, something about "speeding fines" and "diplomatic immunity" I managed to get him away and was captivated by this scene from Greece. We all sent our Greetings to Leti for Christmas.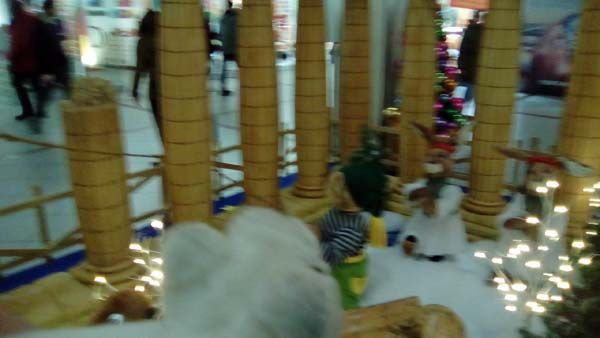 I then saw a London Bus and asked the bear lady if she was going to Harrods. She said that she was not, but that Ka De We was close by.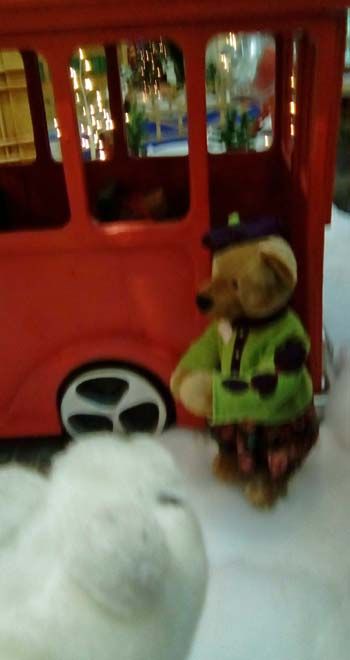 The other reason for being in the Europa Centre was that the Knut friends were meeting for another of their big meals. I was not sure whether Ralph should be eating any more, but he disagreed.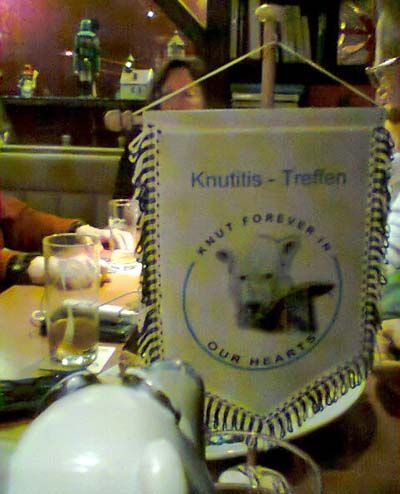 We sat down in a very nice restaurant and were introduced to another Polar Bear called Berta, who was travelling with Filomena. We were also able to meet Teddybaerenmutti and Teddybaerenvati, who Ralph was able ask to adopt a little plush Polar Bear cub that looked just like Knut.
Of course Ralph had to order more food, and this time it was a special German Christmas dish, Goose Breast with Red and Green Cabbage.
The beer reminded me of the Polar Bears eating the whale but Ralph assured me that it tasted very good and was mixed with cherries. Ralph said that in Belgium he used to drink a similar beer but it was much stronger and called Kriek. I sometimes think Ralph and BN deserve each other.
And that sadly was the last entry in Katited's diary which she had fortunately left on my phone. I had thought she was safely with BN in my pocket but I had no idea until I reached home on Sunday night that she was missing. There were so many places I could have lost her. I can only hope that someone found her and offered her a good home. Parting with Polar Bears is never easy.