Sisu wishes you all a COOL NEW YEAR!
Dec 30th, 2017 | By
mervi
| Category:
Ranua 2017
30.12.2017 by Sisu with a little help from his secretary Mervi, Photos by Marko Junttila, Ranua Wildlife Park
Dear friends! The year 2017 is over but what a year it has been for me and my mama! We want to thank you all for being here with us. Our special thanks go to Marko Junttila who has taken such great photos and videos of us!
Oh bear, am I'm going to start the new year without my head ….
Hihihii, just kidding! My head is right where it's supposed to be! 🙂
Sisu: Mama, I've heard we can make wishes for the new year.
Venus: Yes, that's true but we have everything we need here in Ranua. Maybe we can instead make wishes to our  two- and four legged friends?
Sisu: OK! First I wish my big brother Ranzo will be happy with his two girlfriends. When I get older I want to have at least three girlfriends!
Venus – Dear boy, why three? What if you and Quintana will be living together?
Sisu (blushing): Well, that would, of course, make a difference. One Quintana would be better than three other polar bear girls!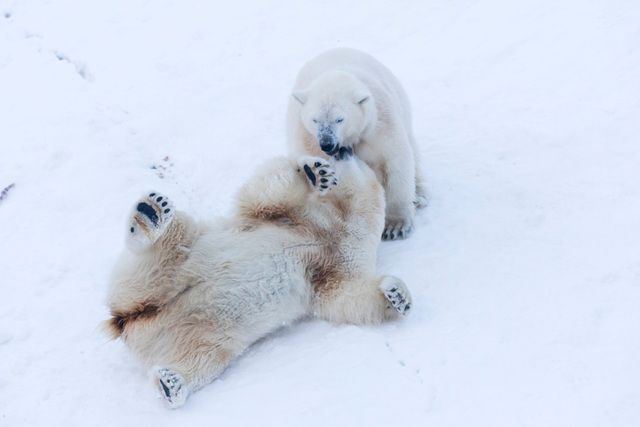 Sisu: I wonder what I should wish for the two legged creatures ….. maybe I wish they will finally learn to live side by side in peace?
Venus: That sounds as a very good wish! Let's also hope they will learn how to take best care of our planet!
After this discussion mama and I decided to go diving. The water is so refreshingly cold!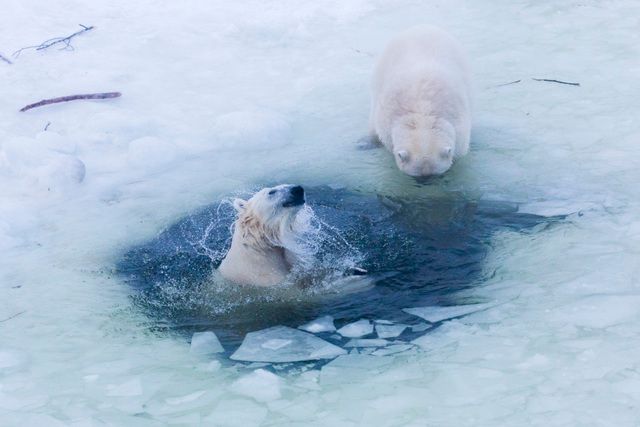 Did you know we can play hide and seek on the ice – or rather under it? :- Mama was wondering where his little boy went.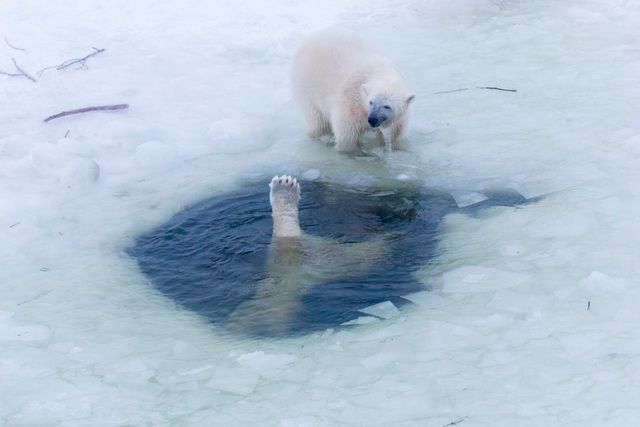 Venus: Sisu, you really mustn't scare me like that!
Sisu: But mama, that was only fun! I'm a polar bear cub and I'm supposed to play games with my mama! Don't you remember when you were a kid? Of course, you're very old now ….
Venus: I didn't hear those last words!!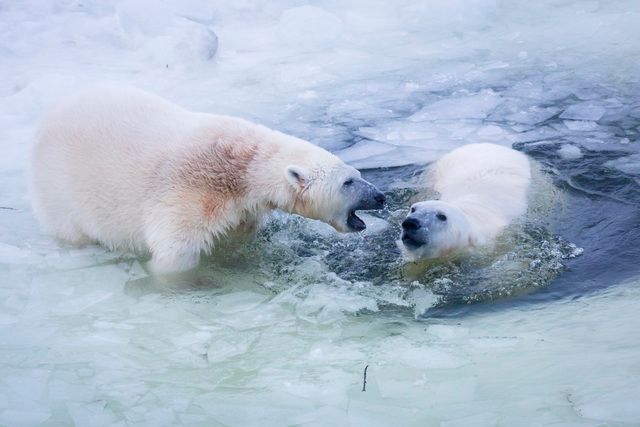 Treasure hunting under the ice is one of my favourite hobbies this time of the year.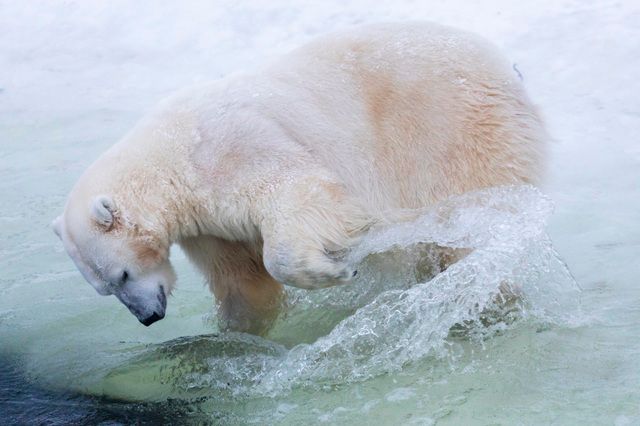 I think I saw something ….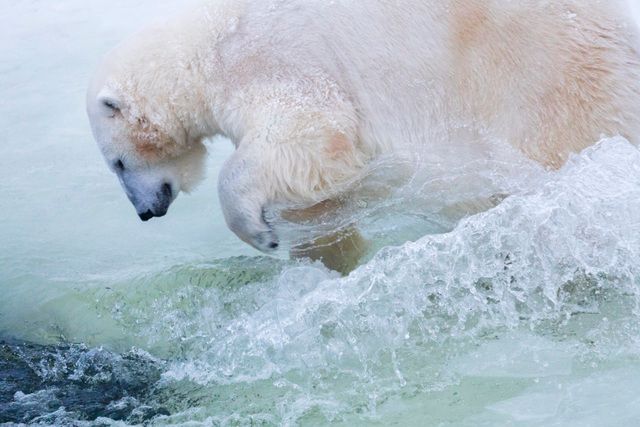 …. I'd better take a closer look!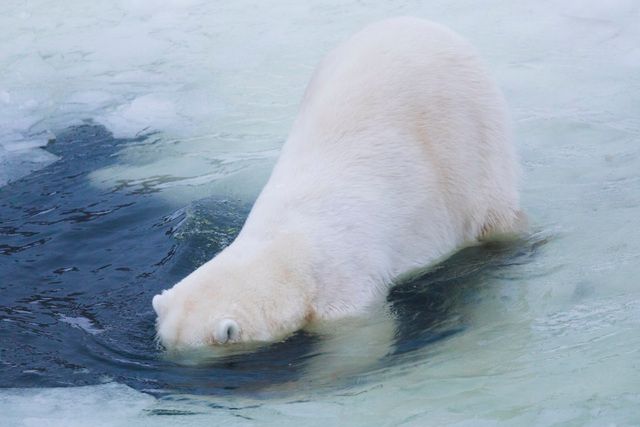 Excuse me for showing my boomsie to you – although it IS a cute boomsie. You must admit that! 🙂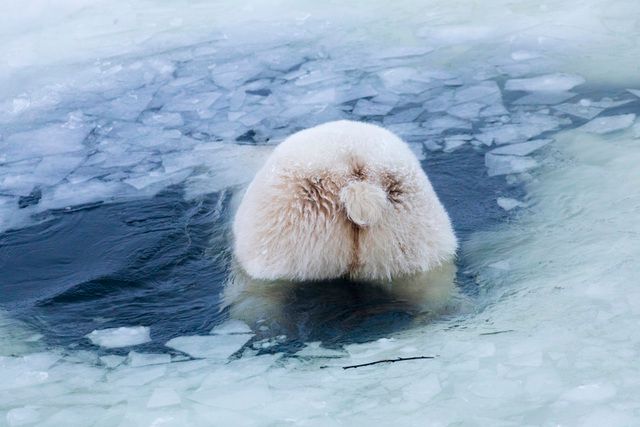 I found a thing that seems to be a piece of cloth of some kind.
Do you think I can make a wish when I throw it? In that case I wish all my friends in the wild will have a better new year than the last one was! I also wish best of luck to all the newborn polar bear cubs in the wild and in the zoos!
My wishes are flying!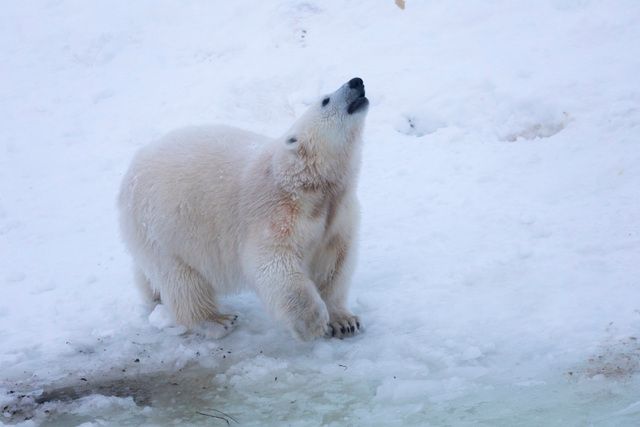 I hope they will come true!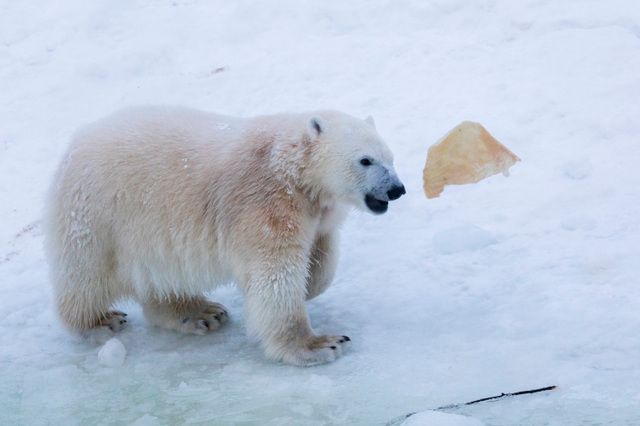 Oops! It landed on my head. I take it as a good sign!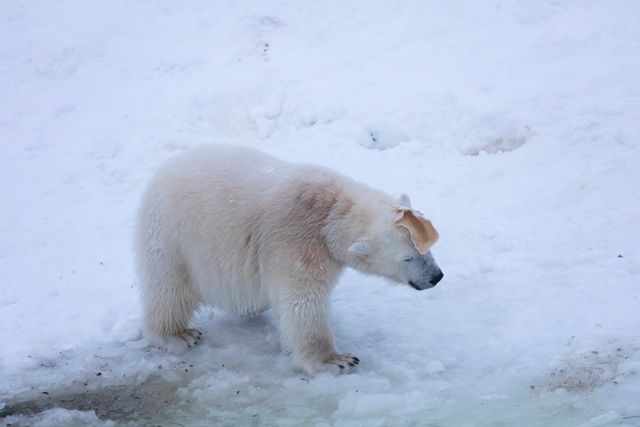 You must agree my mama and I are really cool polar bears! Did you know that in Finland even the two legged creatures like to swim in icy water after the sauna? Maybe they are polar bears dressed like people …. hmm, that's a very interesting theory!
Mama and I wish everybear and everybody a very HAPPY AND COOL NEW YEAR!