Visit to Yorkshire Wildlife Park (YWP) Doncaster in December
Dec 26th, 2017 | By
mervi
| Category:
Ralph's reports
26.12.2017 by Ralph
After the run of bad weather in England last week I did not think I would be able to fit in a final visit to the YWP this year. I was lucky that on Friday 15 December the weather had broken for a few days. I got up early, wrapped up warm in a couple of coats, and caught the train north.
I arrived at the Project Polar enclosure soon after 11. The first bear I met was Nobby. He was on his own in the large enclosure and as usual patrolling the perimeter. This enabled me to get a few photos of him and call out to him.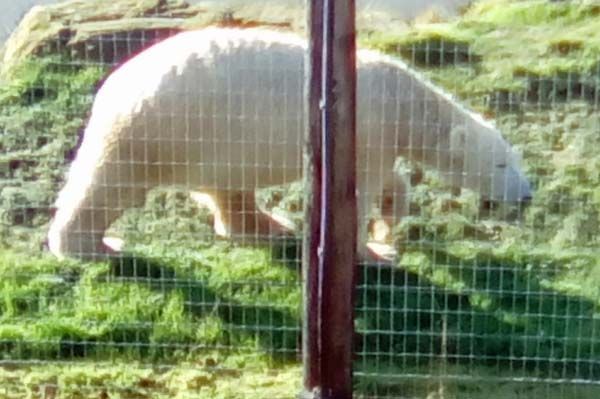 Nobby looked round to see who was calling, and then carried on with his rounds.
I arrived at the main Polar Bear quarters and tunnels between the three enclosures. I was lucky enough to be able to chat to a student who was studying Victor's behaviour in YWP and comparing it with his condition when he arrived from the Netherlands. The bear himself was in the tunnel below us and had decided to adopt his "cunning plan" which was to rest comfortably blocking the crossroads in the tunnels and hope to catch out Nissan or Nobby. Nissan was fast asleep behind "Terminal 5" as I now call the house and tunnels. Pixel was in the furthest corner of the new third enclosure.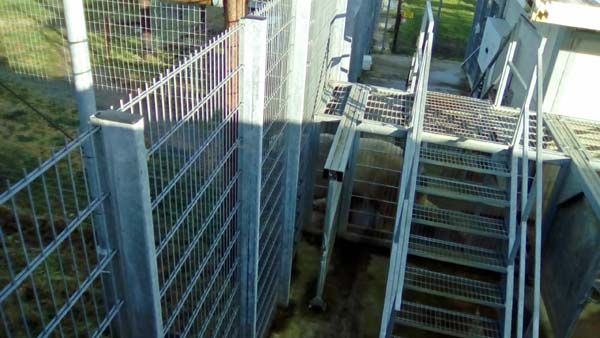 I tried to take some pictures of Victor in the tunnel, but they did not come out. However, a bit later on I was able to get this shot of Pixel.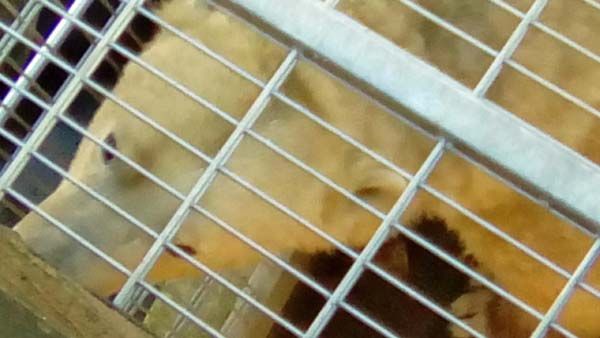 Victor was not very keen on the cold weather and decided to leave the enclosures to the other bears, but at one point he did emerge on to the new enclosure to check them out.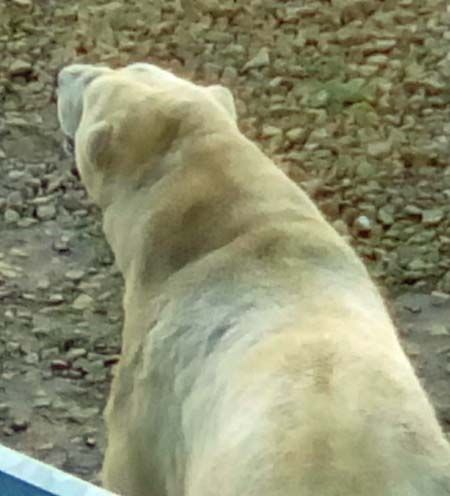 He is a very impressive and adorable Teddy. But he does not like the cold weather and soon returned to the relative comfort and warmth of his den.
Nissan was so wrapped up in his thoughts that the first time he tried to come through the tunnel, he had forgotten about the risk of Victor. He quickly reversed and came out again before Victor could react. Nissan is a lovely character and likes to come close to the wire when there are people around.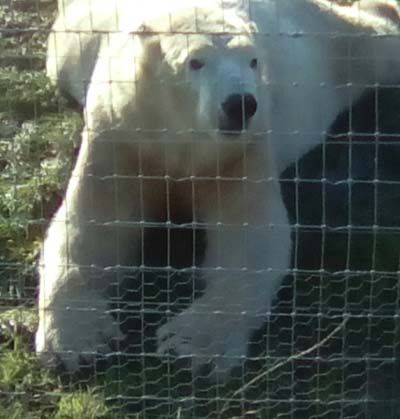 He looks just like one of my plush Polars resting on top of a bed or a couch. The male Polars always love this "Troll" pose.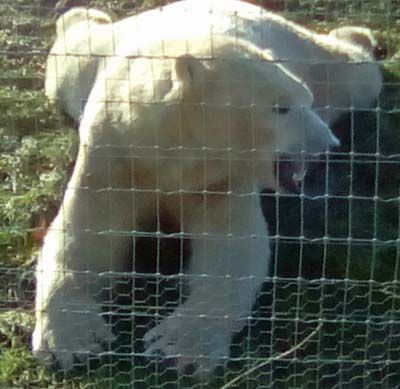 Nissan is such a friendly bear that he reacts to hearing his name.
In the afternoon the three young bears came together on the new third enclosure. It was great to see Nobby joining the "brat pack".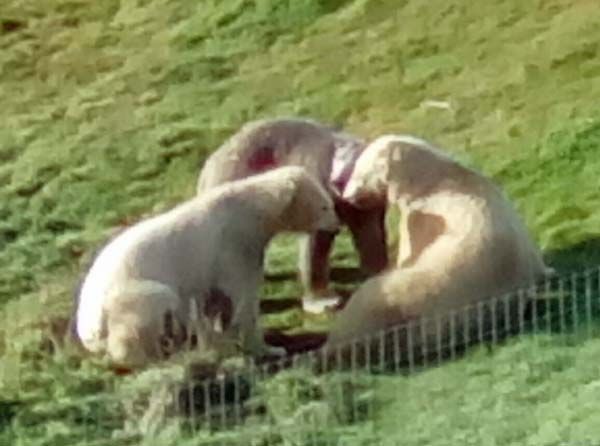 The relative sizes of Nissan, Nobby (chocolate bear) and Pixel can be seen in these photos.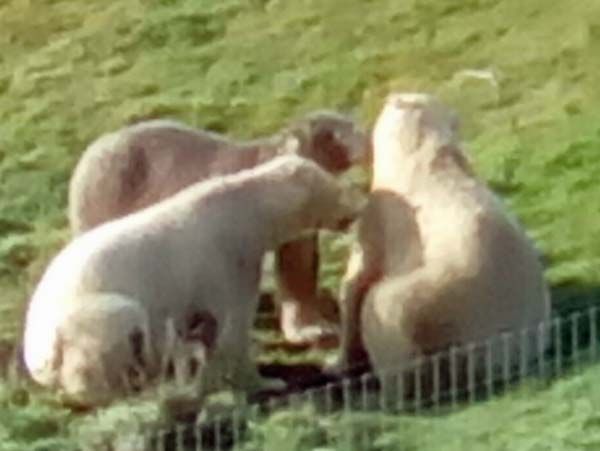 Nobby soon showed how relaxed he was, and also how like his mother, Giovanna, by playfighting with Pixel.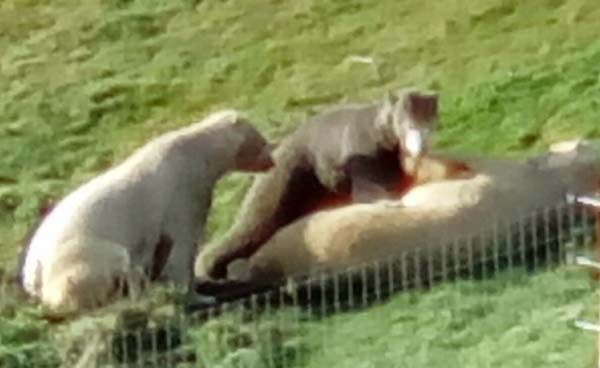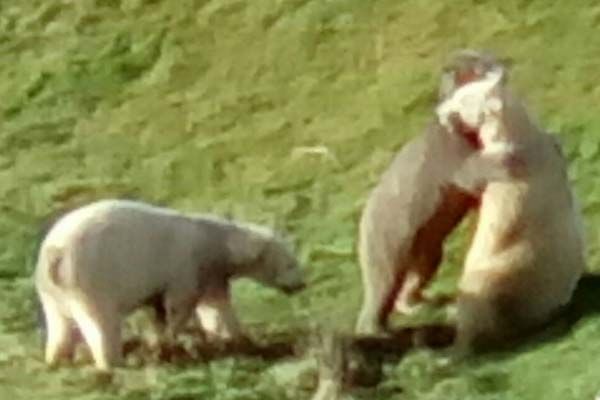 Pixel takes his role as friend to everyone from Victor to Nobby very seriously. Soon he and Nobby were playfighting alone.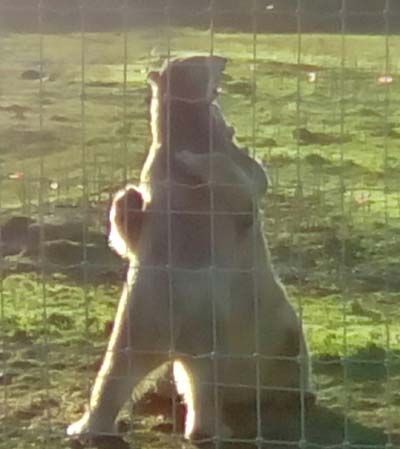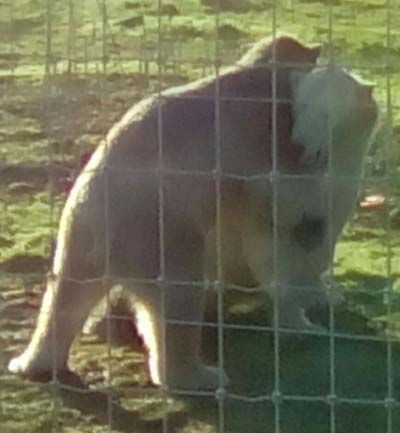 Nobby is no longer the shy outsider but a confident Polar like his Mum. Pixel seemed content to let Nobby have the upper paw.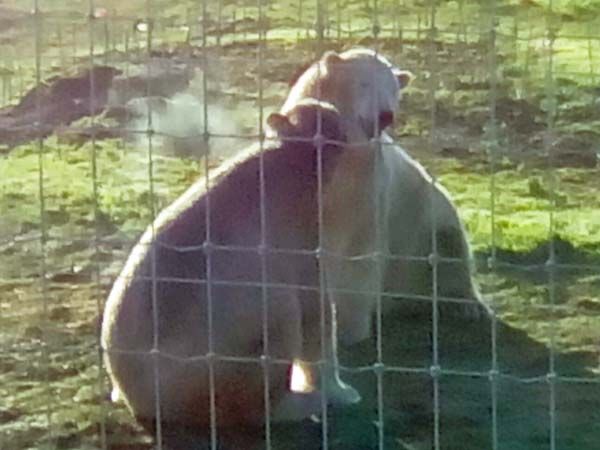 The energetic sniffing, huffing and tasting between the boys will be good practice for making friends with a female Polar Bear when the time comes. The affectionate and curious nature of these bears is clear.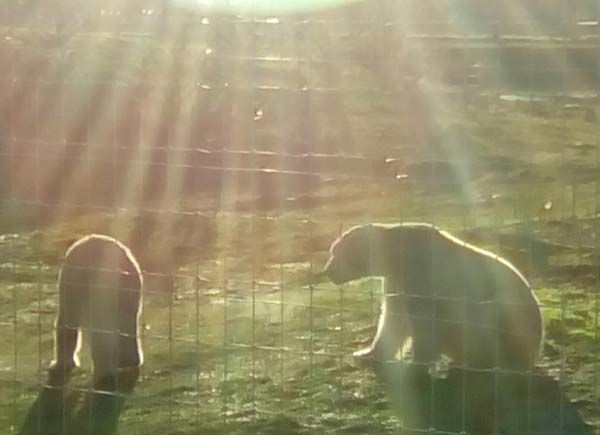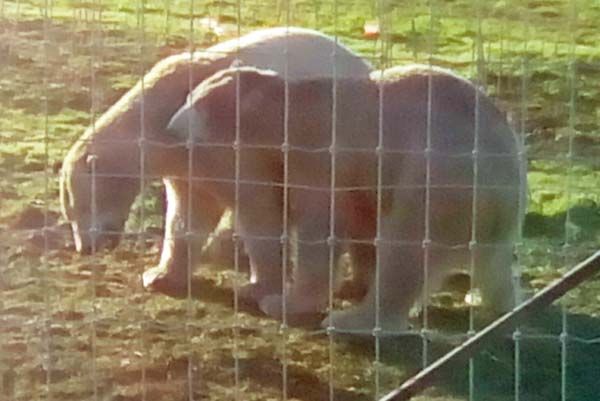 Pixel also spent some time with Nissan, with whom he is still very friendly.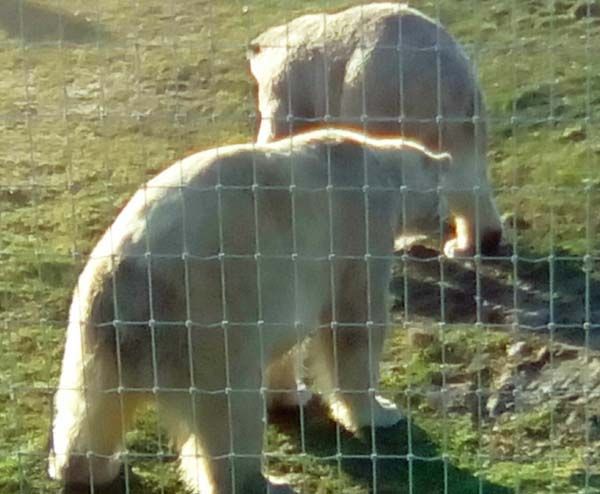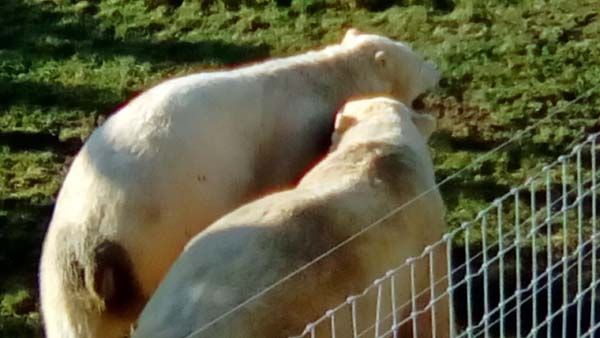 But Nobby and Pixel were the main bears in action. They seemed to really enjoy each other's company.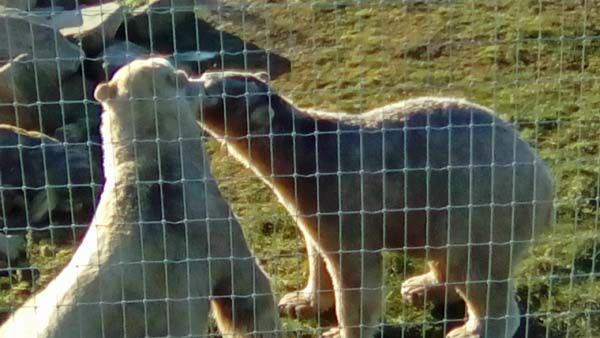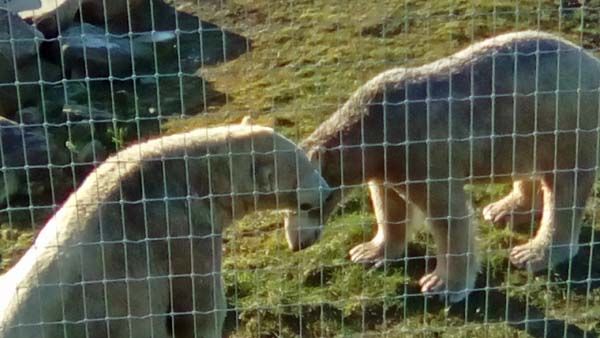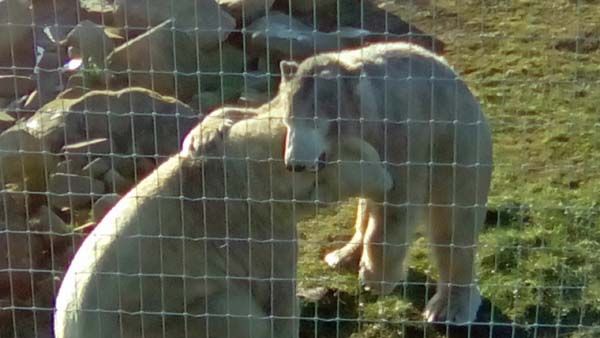 The playfighting always ends in a very ritualised session of sniffing and making friends. Respect is a crucial factor of Polar Bear life.
Nobby still found time to come to the wire and show what a cute bear he is.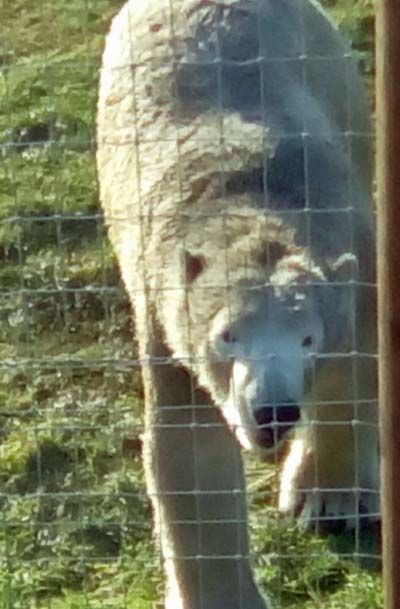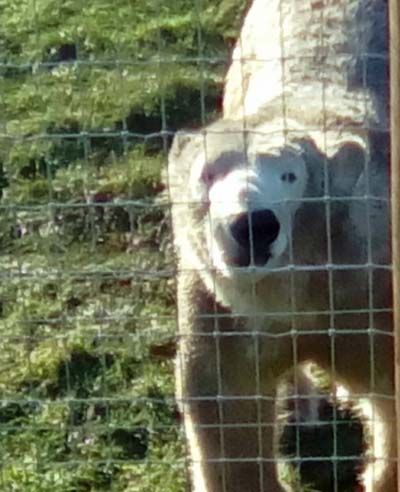 Nobby of course also loves cannisters and in the new enclosure there was one ready for him and Nissan to play with.
Unfortunately they were too far away to photograph successfully but this shot of Pixel watching them in the water sums up the spirit of the day.
Fortunately there are several excellent photographers who visit the YWP regularly and post their photos here.
If you are on Facebook it is well worth becoming a friend of YWP.
Project Polar was designed to help the Polar Bear Registry in the Netherlands provide a refuge for male Polar Bears. Victor will remain at YWP as he is now "retired" after many years fathering cubs.
It is unclear when and how Pixel, Nobby and Nissan will leave for other Zoos. YWP has a close working relationship with the Registry and individual Zoos. There is now space for additional bears, but there have been fewer male cubs in recent years. Bears from Eastern Europe and Russia would certainly benefit from the excellent facilities at Doncaster.