Memories from the Knuipe and KWM by Ralph
Jan 24th, 2018 | By
mervi
| Category:
Ralph's reports
25.1.2018
My first memory comes from before the Knuipe and KWM were published and I visited Knut in 2008 and spoke to Thomas Doerflein for the last time, promising to meet him and Knut in the Spring, but sadly it was not to be.
December 2010 was a time of mixed emotions. Many were worried that Knut was not coping with being on the big enclosure with the three ladies. For me, it was a chance to wish him well.
These were my reports from the Knuipe: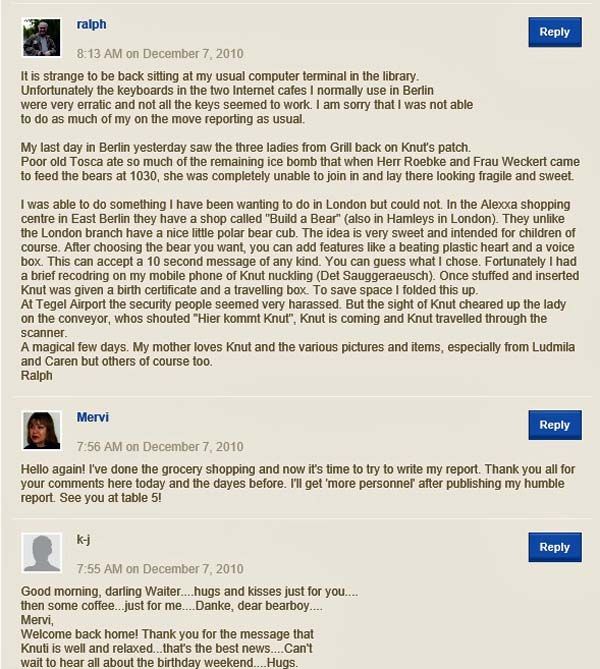 That visit to Berlin was perhaps my most memorable and Mervi reported it for me in KWM.
A tale of two bears or three or four ….
The origins of my relationship with Berlin and Knut were told in this story in KWM in 2014, which still reflects my memories of those times and my thoughts about Knut and Thomas Doerflein. Unfortunately the photos don't show anymore.
Verliebt in Berlin, verliebt in Knut
2015 was to be another dramatic year for me and was a mixture again of sadness and hope.
My mother spent her last year being looked after in a home in Oxford and appeared in KWM with a bear also called Ursula.
That year I was able to leave Mum for a day in the Summer to travel to Berlin for what I thought might be my farewell visit to Katjuscha.
Ralph und Monika bei den Berliner Eisbären
Katjuscha
Aika
Unlike in 2010 this visit was not to be my last opportunity. Although Mother Ursula left me in December 2015, just five years after my last meeting with Knut, it was to be the beginning of a regular series of visits to Katjuscha, and other Polar Bears.
Collage by Doro
Thank you Mervi for allowing me to share my journey with others. My only regret is that I could not record that last visit in September 2008 when I said Auf Wiedersehen to Thomas Doerflein. But at least I have a memory of a man at ease with his bear and chatting to a friendly visitor.
Video by Doro