Polar bear cubs in Gelsenkirchen, Kincraig and Winnipeg
Jan 27th, 2018 | By
mervi
| Category:
News from the Bear World
27.1.2018 – Sources: Zoo Gelsenkirchen, Highland Wildlife Park, Kincraig, Assiniboine Park Zoo
The polar bear cub in Gelsenkirchen became 7 weeks old on the 24th of January. Lara and her baby are doing fine but the first 8-10 weeks are always critical. The veterinarian Pia Krawinkel is looking after the mother and the child.
The photos are screen shots from the video – that's why they're unsharp.
Highland Wildlife Park, Kincraig
Want to hear the latest recording of the first polar bear born in the UK for 25 years? We have now passed the 30-day mark and are growing more and more hopeful of the best possible news when Victoria emerges from her maternity den in the spring. Keepers have been keeping their distance and giving Victoria and her offspring the peace and quiet they need.
Find out more in this update from our keepers
WINNIPEG — Two orphan polar bear cubs at a Winnipeg zoo have been named Willow and Baffin.
The two cubs, a female and a male, aren't related and were taken in by the Assiniboine Park Zoo about a month ago when their moms couldn't be found in the Churchill, Manitoba area.
The public was invited to vote online between two names for each bear suggested by zookeepers for their relevance to Arctic geography.
Choices for the girl bear were Willow or Tundra, and Arctic or Baffin for the boy bear.
This is Willow – the female
The names were announced today when the approximately one-year-old cubs made their first public appearance at the zoo's polar bear conservation centre.
This is Baffin – the male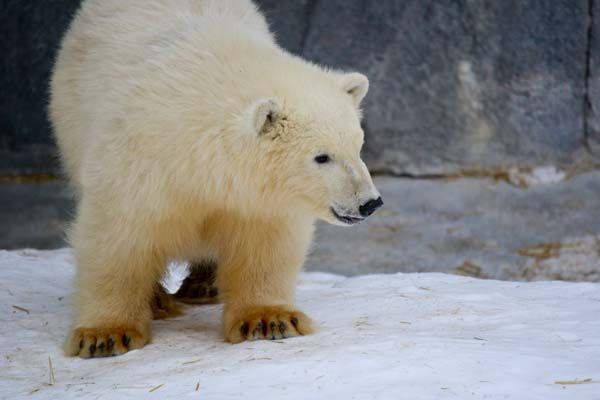 Willow and Baffin will remain on display in both the indoor and outdoor holding areas.
The Journey to Churchill exhibit and the Leatherdale International Polar Bear Conservation Centre are now home to 11 bears, including the two new cubs, along with Storm, Aurora, Kaska, Blizzard, Star, Nanuq, Siku, York and Juno.
Siblings Hudson and Humphrey were transferred to the Toronto Zoo.