Doncaster – Part 1 Morning
Feb 25th, 2018 | By
mervi
| Category:
Ralph's reports
25.2.2018 by Ralph
My visit to Yorkshire Wildlife Park (YWP) Doncaster on Friday 16 February
It had been two months since I had last visited the YWP and I was keen to see how the Polar Bears would be coping with a very cold icy day. The Polar Bears live in three large open enclosures, surrounding a set of quarters. You are sure not to miss the route to them.
"Project Polar" aims to provide a home for male Polar Bears who are not needed for the breeding programme co-ordinated from the Netherlands. Victor, the oldest bear, has retired after being the father to many cubs. He was joined by his grandson, Pixel. Pixel is now nearly as big as Victor. Two younger bears, Nissan and Nobby have also joined the programme. Victor stars in this background notice.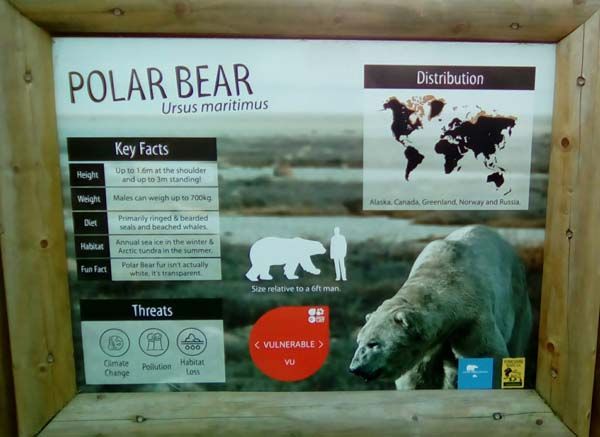 It is interesting to note that the YWP is nearly as far north as the latitudes in which Polar Bears are found.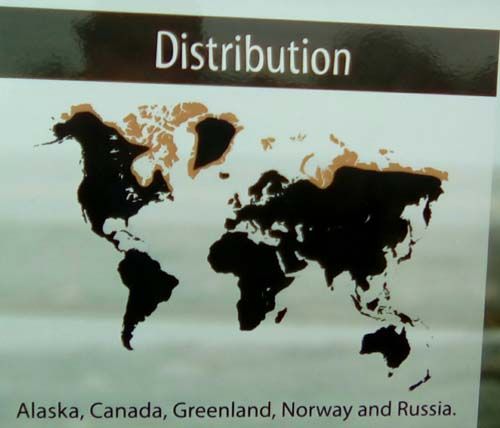 I was lucky with the weather. Although it was cold, there was no snow and rain and the light was just right for my phone camera to take pictures.
I know that Facebook is not popular with everyone, but the Fans of Yorkshire Wildlife Park pages are a must for those who are members.
Two of the photographers who use the pages were watching Nobby breaking through the ice covered water when I arrived. Their photographs are worth joining Facebook for (I did, and gave minimal information and only look at Polar Bear stuff).
I was told that Nobby had again got a boil, but that he had received appropriate medication. YWP were also testing to see if he had any problems with his immune system. Nobby seemed completely unaffected by his wound and was in the water for some time. When he emerged and walked towards his favourite mulch area, I was able to photograph the boil.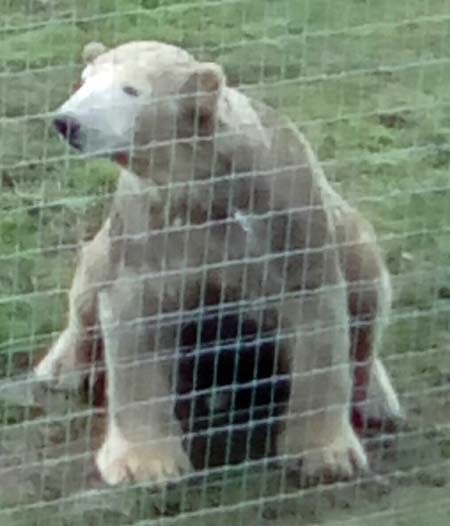 Nobby was un-phased by his boil and was soon rolling around in the mud and mulch at the end of the enclosure. This in fact led to the boil bursting, but I did not see this until later on. Nobby was much darker after this roll.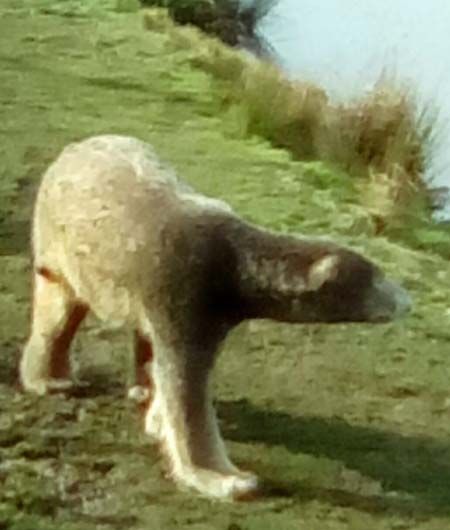 Victor meanwhile was in his favourite location, the tunnels which connect the enclosures the living quarters for the bears.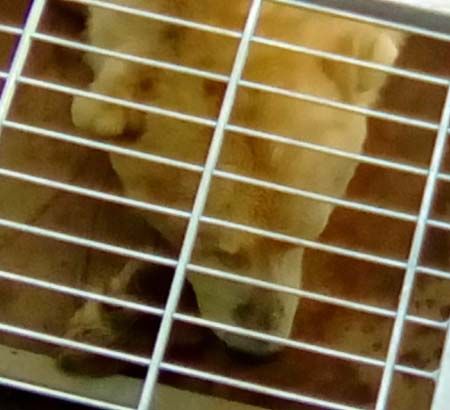 His wonderful round Teddy Bear ears and black blaze on his nose can be seen in this shot.
Pixel and Nissan were on the new third enclosure.
They greeted each other respectfully.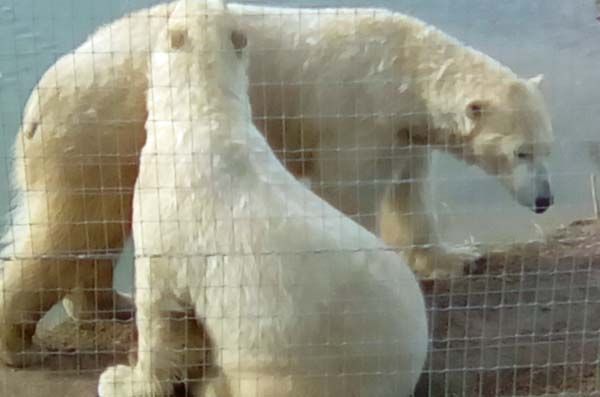 The addition of the third enclosure has made it easier for those without zoom lenses to photograph the bears.
Nissan and Pixel spent a lot of time in the third enclosure. Victor joined them from time to time, as did Nobby, once he found that Victor was not there. Victor still commands a lot of respect from the young bears, though I think Nissan may be starting to be less afraid of him.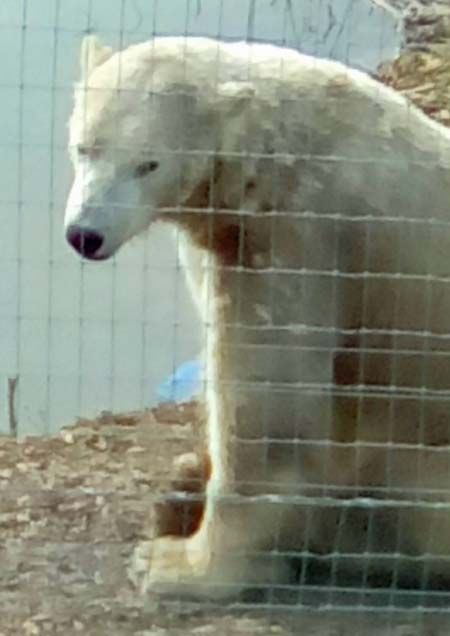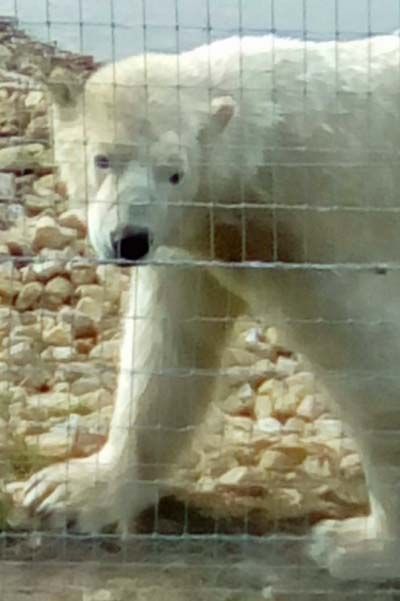 Nissan is very much a "fun" bear. He found a piece of meat and enjoyed carrying it around, followed by the other bears.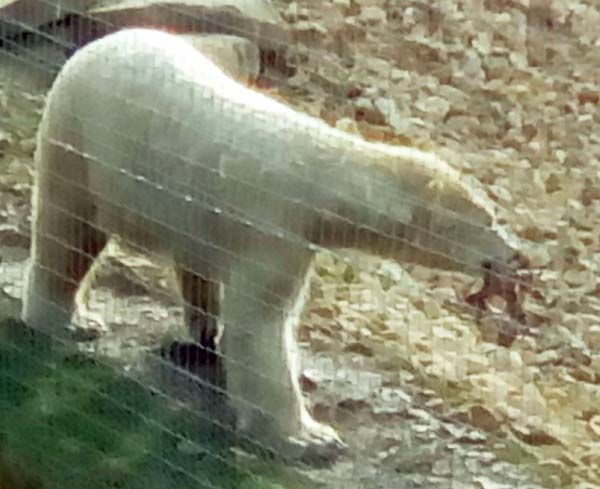 Nobby was also happy to join the other two young bears.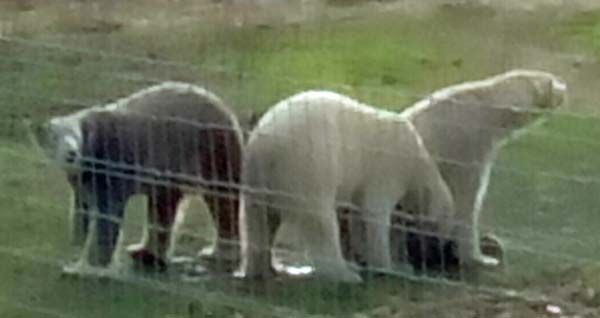 The bears like to walk along following one another, in this case, Nobby leads, followed by Pixel and Nissan.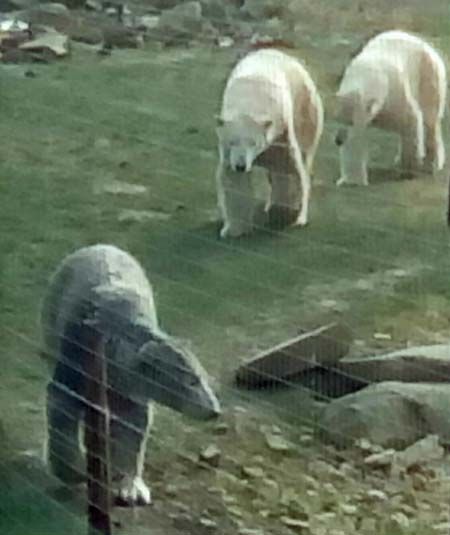 What you do not see is Victor, who was shadowing them. When Victor saw Nobby he came running.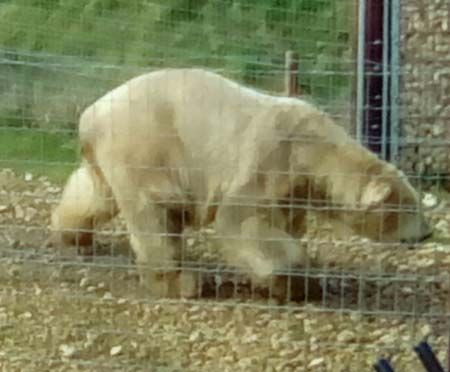 Nobby of course was long gone, back into the wide open space of the first enclosure. I was able to see Victor up close.
Victor's favourite place, however, is the smaller second enclosure, where he has his mound.
The report continues in Part 2 – Afternoon – coming soon.