A white love story in Vienna
Apr 12th, 2018 | By
mervi
| Category:
Nora and Ranzo in Vienna
12.4.2018 by Sisu, Photos by Jutta Kirchner (Vienna) and Marko Junttila (Ranua)
Grüss Gott! Tere! Terve! This is your Sisu again but this time my newsletter isn't about me. It's about my big brother Ranzo and his beautiful Estonian girlfriend Nora who now live together in Vienna. As you perhaps noticed I started with greetings in 'Austrian', Estonian and Finnish.
Because the Finns and Estonians can understand each other I'm sure Ranzo and Nora have no lingual problems. Of course, they can also growl in 'Austrian' when necessary! 🙂 I know they speak German in Austria but I call the language 'Austrian' …..
Ranzo, come on – jump into the water and play with me!
Naturally, Nora's wish is Ranzo's command!!
May I kiss your ear, gnädige Fräulein?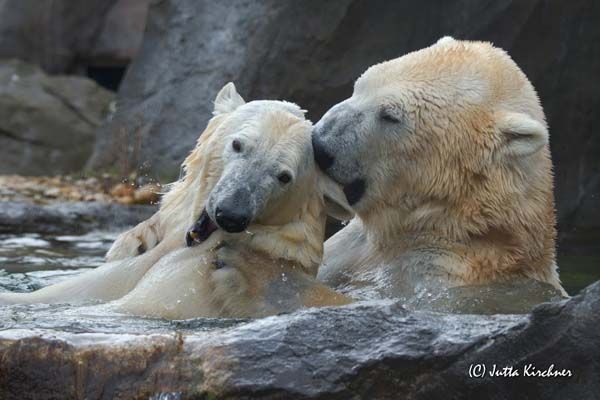 When Ranzo shakes off the water of his fur Nora gets a nice shower.
My big brother really is big – just like our father Manasse!
Ranzo is a Finnish Viking and I'm sure Nore couldn't have found a more gorgeous boyfriend!
It's easy to see that the big bear is deeply in love with the beautiful Nora.
Nora may be smaller but she certainly has a mind of her own and isn't afraid of expressing herself loud and clear. Oh bear, her mouth is almost as big as Ranzo's …. 🙂
Nora, aren't you forgetting that I'm the King of this enclosure?
Ranzo, you may be the King but, please, bear in mind that I'm the Queen. Your head is bigger than mine but I'm the one who turnes it, hehehee …. 🙂
I don't think Ranzo minds if Nora gets a bit bossy sometimes. 🙂
The look of love. Aren't they sweet together!!
Of course, Ranzo and Nora also spend a lot of thime playing with their toys.
The pink thing  matches Nora's white, fluffy fur so well.
Evi from Tallinn sent some toys to Nora and it's obvious they are very much appreciated!
Nora shares her toys generously with Ranzo.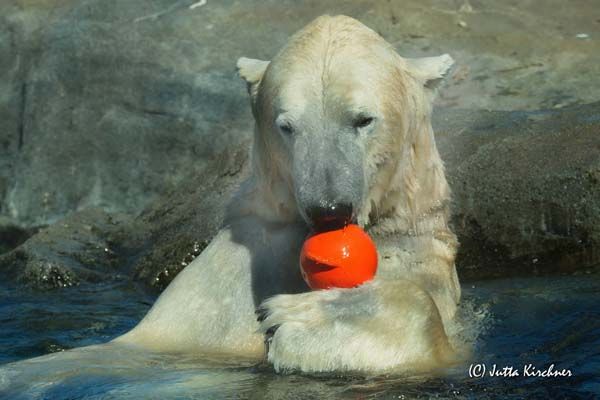 Finally a couple of close-up of the adorable polar bears in Vienna.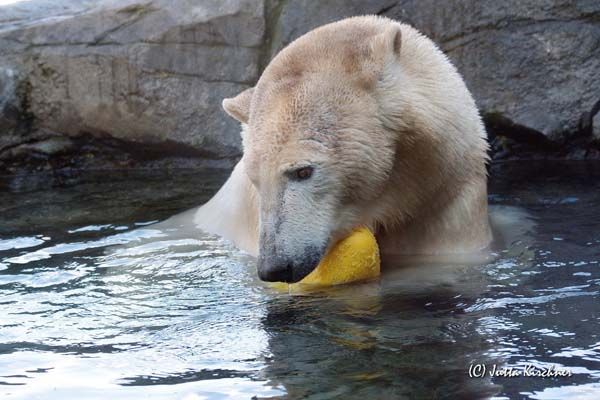 I'm very proud of my big brother and I'm very happy when he's happy! They say I'm going to be as handsome as he is ….. I'm looking forward to growing up!
I hope that one day in the future there will be sweet photos of me and nice polar bear girl ….
I'm not telling you which girl I have in mind but maybe I can reveal that her name begins with the letter 'Q'.
Nora, Ranzo and I wish all the readers of Knuti's Weekly a very pleasant Spring time.