Curious Hope – hot Wilbär
Apr 27th, 2018 | By
mervi
| Category:
Orsa
27.4.2018 – Photos and videos by Johanna Berglund
Hope has moved even closer to Ewa and Wilbär. At first she was more interested in the new surroundings than in the bear neighbours but now she has become more curious of them.
Hope's diet is a bit different from what she had in Antibes but she has accustomed with the new 'dishes' and eats fish, pellettes and fishliver oil with good appetite. She is becoming a 'Swedish polar bear'. 🙂
The black spots on Hope's head are caused by her scratching her head and her paws, too, against the fence.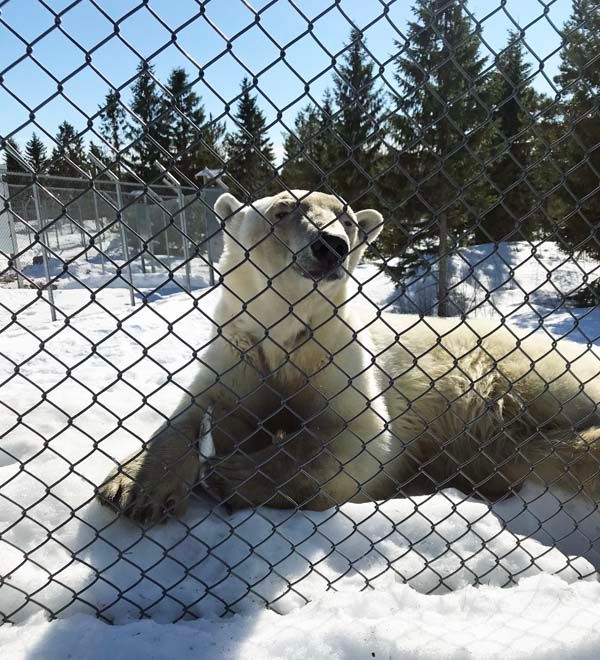 Wilbär has been very frustrated seeing and smelling Hope but not been able to be together with her. During the last few days even Hope has shown signs that she wants to meet Ewa and Wilbär. However, Ewa has been in heat and Wilbär hasn't left her out of sight for a moment. 🙂
That's why the introduction of Hope and Wilbär will have to wait because the keepers want to introduce these two to each other first. Later on even Ewa will join the duo. Hopefully they can live together in harmony.
This video shows Wilbär following every move Ewa makes.
Lately Ewa has kept Wilbär occupied but when Ewa tells him the fun is over he will be yearning for Hope again ….
I want to thank Johanna for the information and the illustrations! She has kindly promised to keep us updated about the development in Orsa so, please, stay tuned!