My first visit to Scotland
May 30th, 2018 | By
mervi
| Category:
Ralph's reports
30.5.2018 by Ralph
On Friday 18 May I set off for London from Oxford in the evening using the one of the two excellent bus services.
I arrived in Victoria in London in plenty of time to have an evening meal. I soon found a little place to eat and settled on a filling treat to keep me fed until Saturday morning.
As it was a Friday night and I was visiting Polar Bears I decided on a fish dish. It went down very well.
You may be wondering why I chose to use the bus to go so far rather than plane or train. Although I like looking at planes and collecting models of them, the tight sits and hassle at airports annoys me. Moreover however early in the morning I flew to Inverness or Edinburgh, I would then have to change to a bus or train anyway. Being able to get in a bus in London and get off in the morning near the Highland Wildlife Park suited me fine.
National Express buses operate a service from London to Inverness and so I caught the 588 bus. We set off promptly at 1030. By 430 in the morning it was already dawn and we had reached the Lake District in England. Sitting near the front of the bus I was treated to some beautiful views and by the time we reached the Cairngorms the views were dramatic.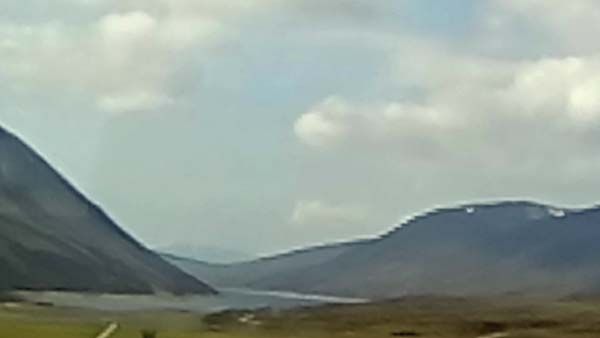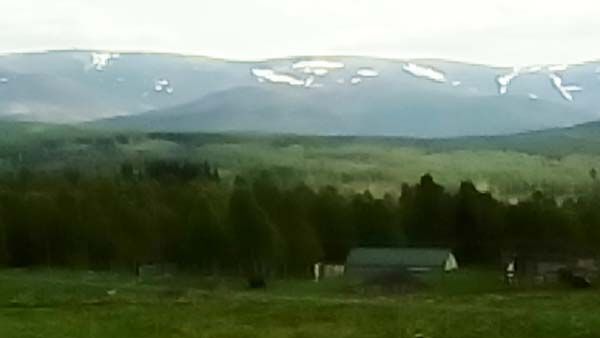 There was snow on the mountains and the bright sun was coming up. I got off the bus in the resort town of Aviemore.
I soon caught a bus which would drop me off at the Highland Wildlife Park.
I was able to join the Royal Zoological Society of Scotland online
This offers a year's visits to both the Edinburgh Zoo and the Highland Wildlife Park, as well as supporting their work.
Highland Wildlife Park is an impressively large reserve for animals from the tundra and mountains.
You can see from the list above that it is home to a wide range of interesting animals.
I hope that the Park will not mind me turning their PDF visitors map into a simpler JPEG here.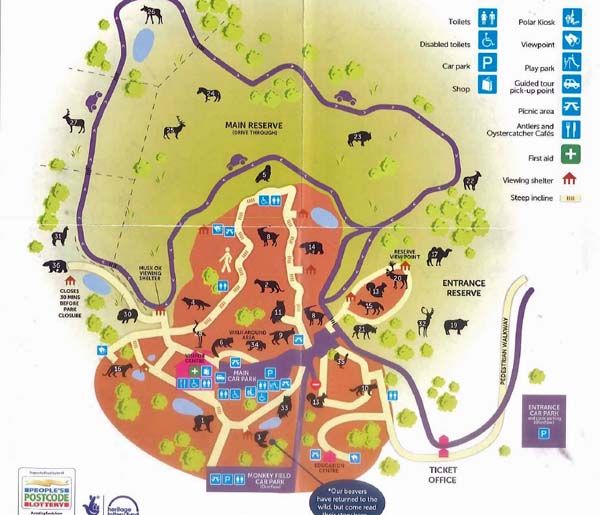 The purple route is the drive through area, and the white route is for visitors on foot. What the map does not show, is how hilly the HWP is. You will see two Polar Bear shapes on the map, one on the far left hand side and the other in the middle by a lake. The one on the left shows where Victoria and Hamish live. The other is the area originally created for Mercedes and now used by Walker and Arktos. The bears are sufficiently far apart for the males not to be too distracted by Victoria.
Although I did not use this service, as I was concentrating on the Polar Bears, HWP does offer a bus trip round the drive through area. I rather liked the little bus, perhaps you can see why?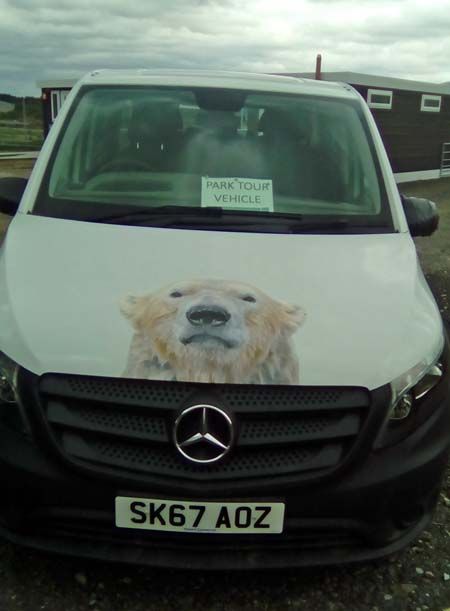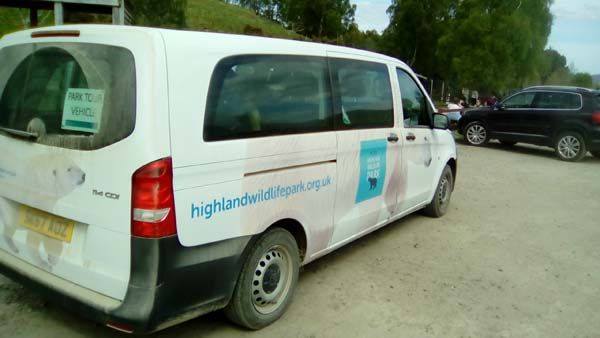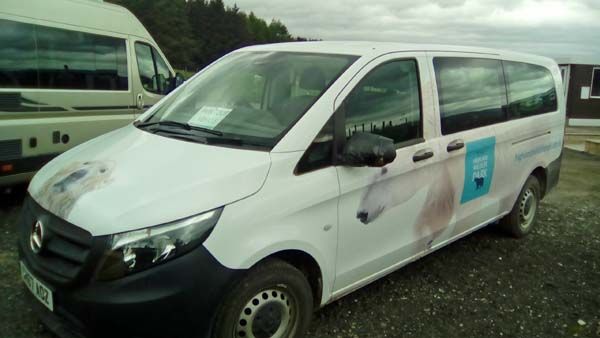 My plan for the weekend was to meet Molly Merrow, who was visiting the UK. Molly has a wonderful blog about Polar Bears
She would be taking her usual great photos, but it would also be an opportunity to exchange ideas and information about Polar Bears in Zoos and Parks around the world.
Molly was staying in the nearby town of Kingussie.
Although we were booked into different hotels we were able to meet up on the Saturday evening and arrange to visit HWP together on Sunday and Monday.
I had been able to spend Saturday getting to know the Park so Molly and I would be able to move around quicker. In the next part of my report I will show you how effective the HWP is at informing visitors about its animals. They also have lots of nice Polar Bear ornaments, which children and adults alike can sit on. This one is near Victoria's enclosure and shows how wild the location is.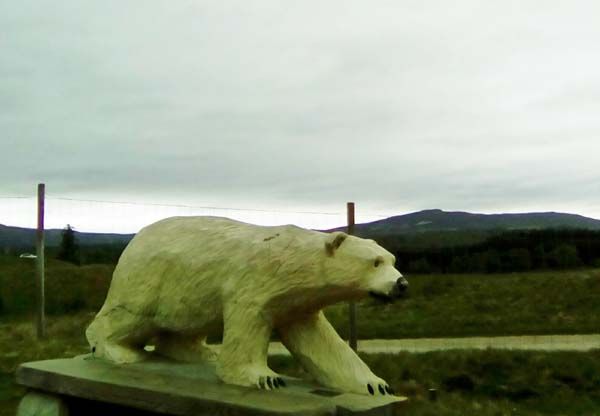 Animal Profiles

One of my great complaints about Berlin Zoo was the complete absence of any information about the bears. The Zoo seemed unwilling to put up any signs at all. It has started to get better, but I am pleased to say that both Yorkshire and Highland Wildlife Parks make sure that the visitors know who they are going to meet.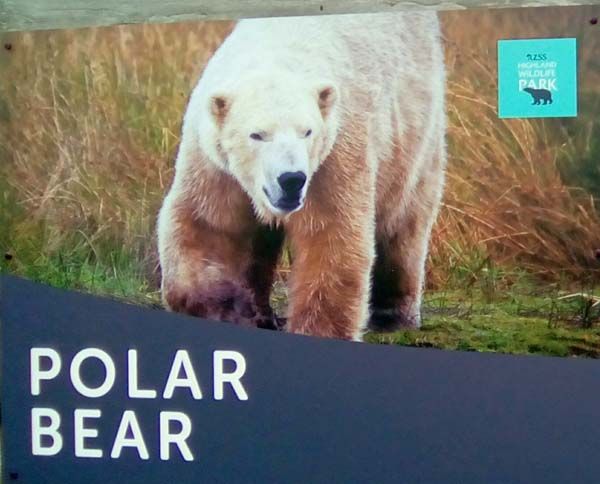 Unlike the tiny signs in Berlin this one leaves you in no doubt who lives here.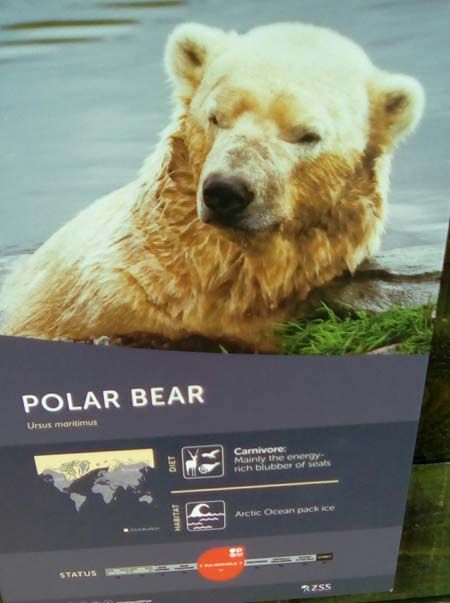 This sign tells you some important information about Polar Bears.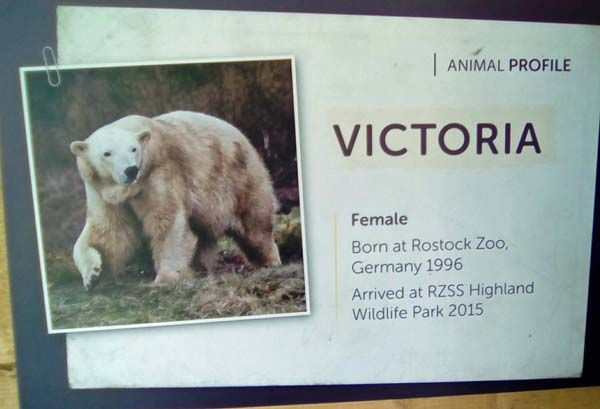 Victoria is introduced both at the entrance and by her enclosure.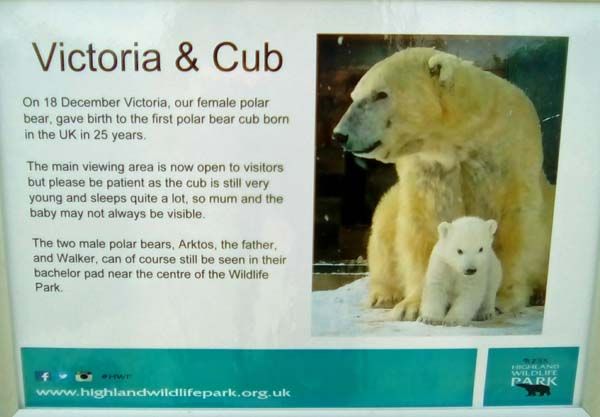 This sign was prepared before Hamish was named and is accompanied by a continuous film of Hamish emerging for the first time from his den.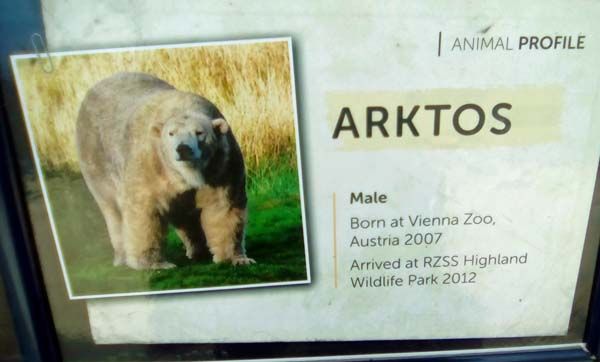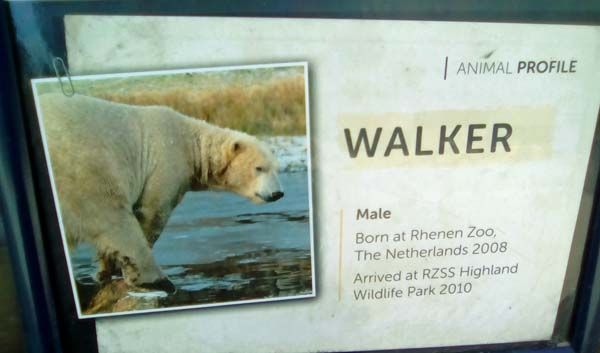 Arktos and Walker are also clearly described and introduced.
The Story of the current Polar Bears at Highland Wildlife Park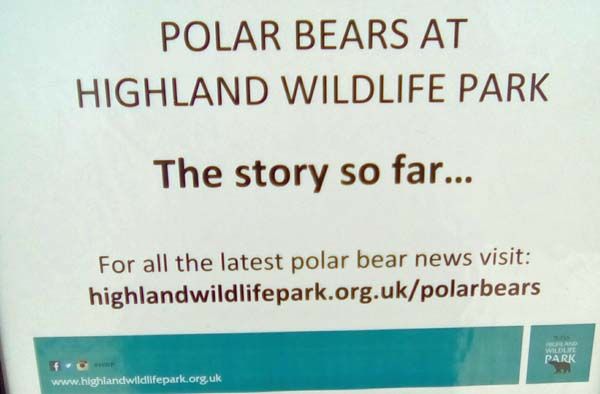 The Polar Bear enclosure was originally created for the elderly female bear, Mercedes, who moved to HWP from Edinburgh Zoo. She passed away in 2010.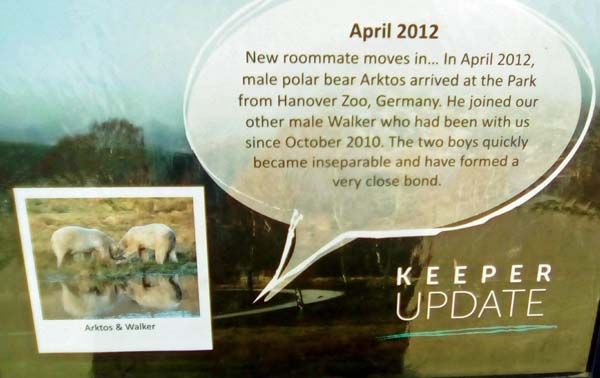 Walker had joined Mercedes from Rhenen in October 2010. Arktos arrived in April 2012.
Victoria became the UK's only female Polar Bear in March 2015. Born in Rostock she moved from Aalborg to HWP.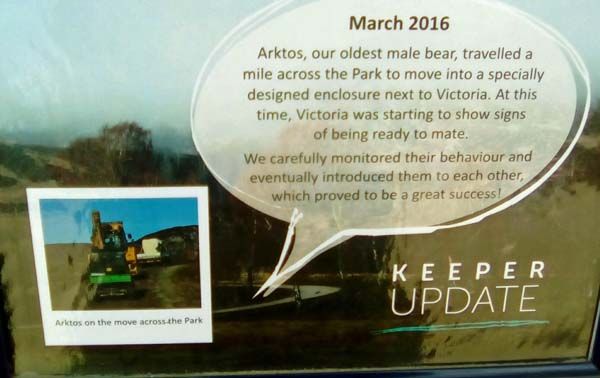 Arktos and Victoria first met in 2016.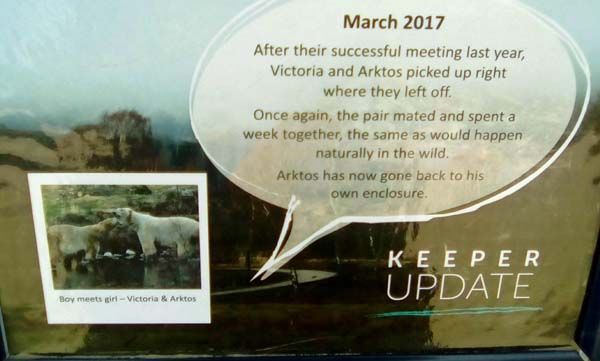 They were introduced again in 2017 and were very happy together.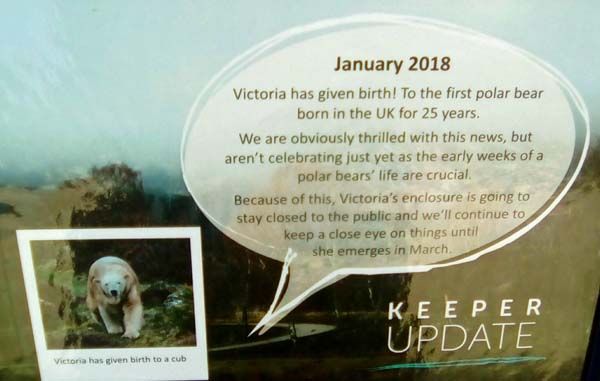 This last notice brings us up to March. It will soon be joined by another introducing Hamish.
Snow Leopards at HWP
HWP is home to a pair of beautiful Snow Leopards. This sign gives us a first glimpse of one of them and warns how difficult it is to spot them. Their enclosure covers the top and bottom of a cliff so they have plenty of scope to hide.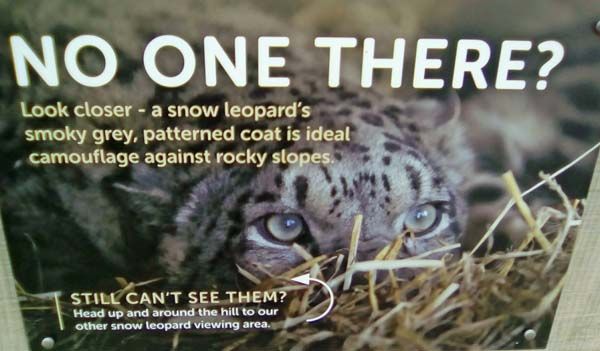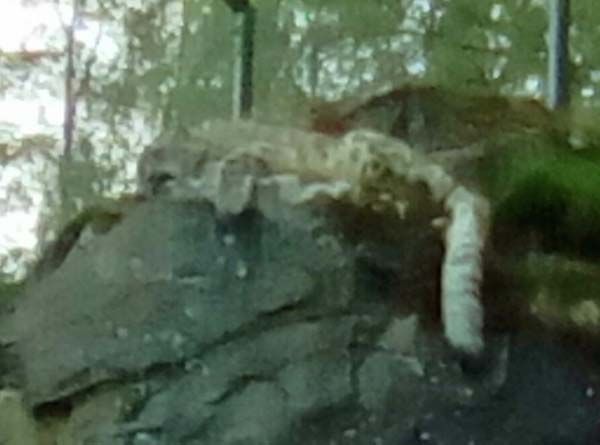 On Friday afternoon I managed to snap one of them at the top of the edge of the cliff, showing its lovely long tail.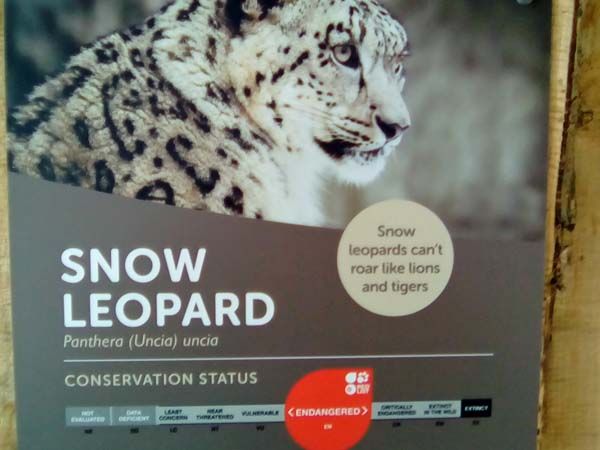 Fortunately the upper enclosure allows us to meet the leopards and there is a keeper talk immediately after the one about Arktos and Walker nearby.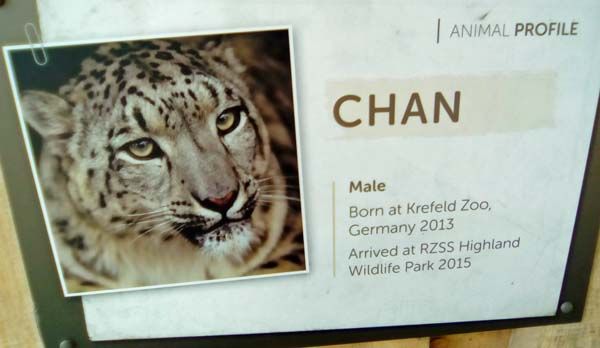 The male is called Chan and comes from Krefeld in Germany. He is five years old.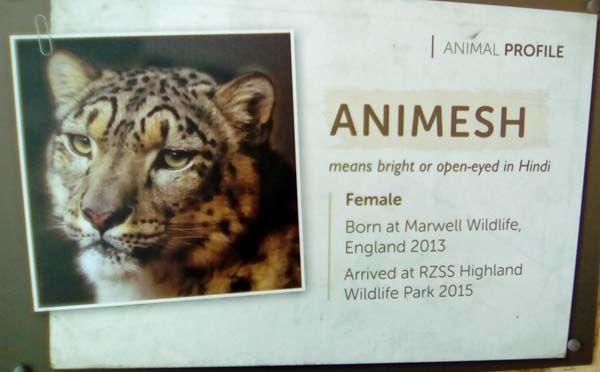 His partner, Animesh, which means bright or open-eyed in Hindi, comes from the Maxwell Wildlife Park in England and is a similar age to Chan.
Molly took some better photos but I managed to take a few to show off those wonderful tails. The keeper did explain how to tell the two apart, but the photos do not allow me to.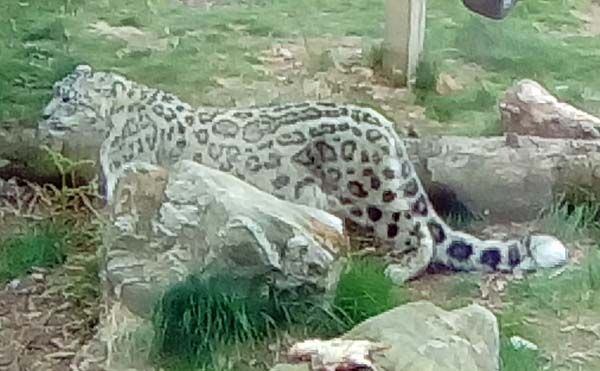 That thick fur helps in the biting cold of an Afghan night.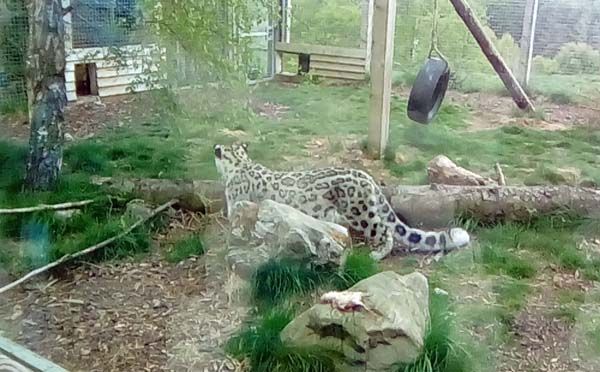 The Snow Leopards have plenty to keep them busy but sleep is a must.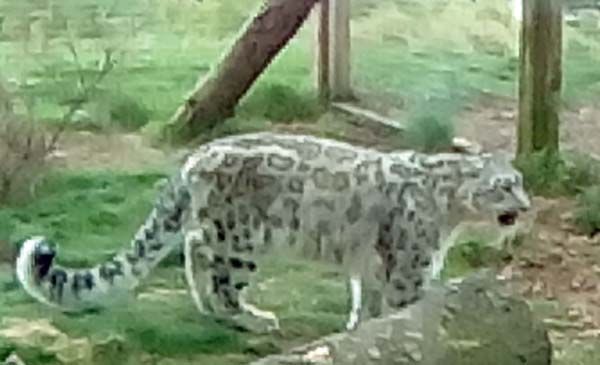 The tails are nearly as long as the cat!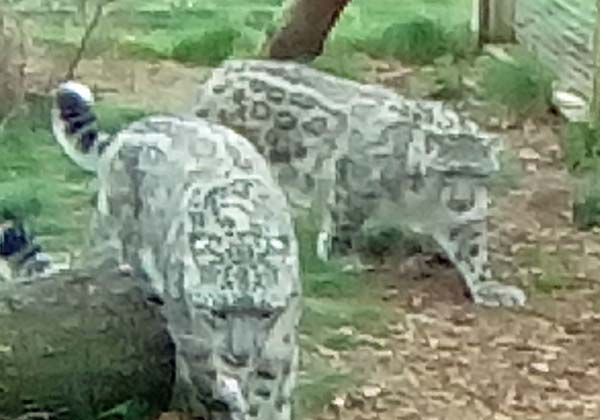 The pair together.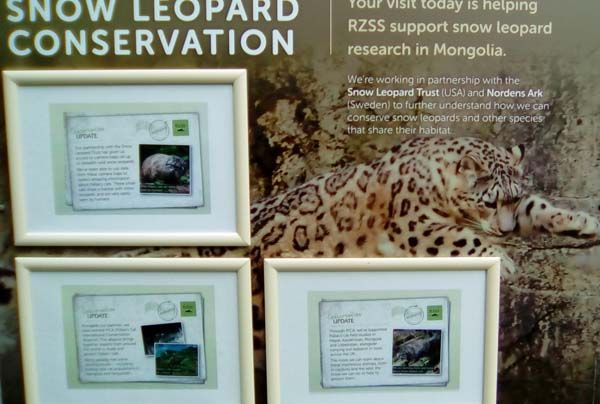 Another excellent noticeboard showing how the HWP works to help Snow Leopards in the wild.