Tierpark Berlin Tonya and Volodya
May 3rd, 2018 | By
mervi
| Category:
Ralph's reports
3.5.2018 by Ralph
Monika aus Berlin was able to take some wonderful photos of Tonya and Volodya playing together on Sunday. I also took some videos on my phone. However, these pictures will give you some idea of how close the two bears still are. Tonya of course is the one in charge. Volodya has learned that he must accept this, and does so like a gentlebear. We know how badly he misses her when she is not around.
This photo gives an idea of how much bigger than Tonya, Volodya is. She of course is more agile and cleverer.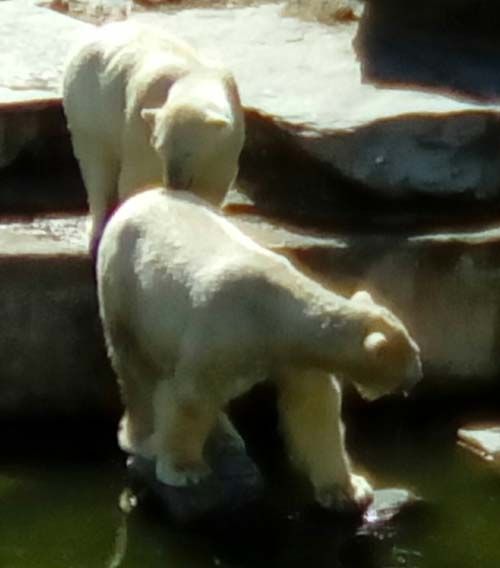 Volodya was delighted to find that Tonya wanted to play with him again.
This closeness between male and female bear can only occur for a few weeks in the wild. In Zoos, however, the relationship becomes much close and more intense. Perhaps this may one day also happen in the Arctic.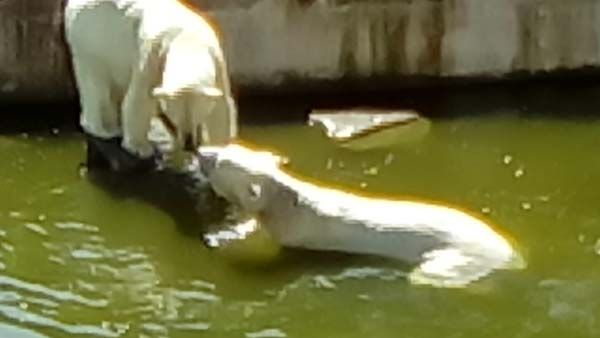 Opening and closing the mouth to sniff and taste is a key means for Polar Bears to communicate. We can only guess what messages they are exchanging. Great trust is required on both sides.
Volodya is showing how much he respects Tonya. This is the submissive position which says how much he loves her as a partner.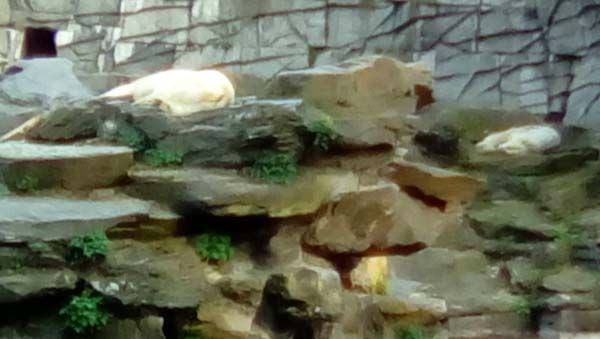 My last sight in the evening of Volodya and Tonya. I spent at least half an hour watching them like this in the late evening sun. I can think of no better way of spending my time.
I hope German readers will accept me using the English form of Russian names. I have never forgotten the first time a newsreader in Britain announced that a little bear called "Nut" (Knut-Canoot in English) had been born in Berlin Zoo. My mother and I thought it was very sweet.
Unlike my other reports, I was not able to get really close to the two Polar Bears in the Tierpark. Fortunately Monika aus Berlin was with me, and will be doing a proper photo story about our visit on Sunday 22 April soon.
Volodya is a impressive male already and will one day be as large or larger than Troll.
Like Troll, Volodya is never happier than when he is curled up asleep. He would of course like Tonya to be snuggled up beside him.
In the water, Volodya is relaxed and playful. This shot shows what a lovely hot sunny day we had.
Volodya and Tonya has been adopted by the Berliner Eisbaeren Hockey team. I think their mascot looks more like Troll, who they also adopted.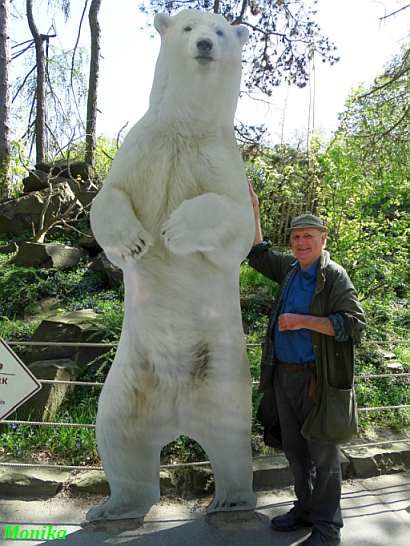 Monika aus Berlin took this photo for me that shows how big Volodya will be when he is fully grown.