Zoom Gelsenkirchen: Bill, Ella and other animals
May 10th, 2018 | By
mervi
| Category:
Ralph's reports
10.5.2018 by Ralph
Like all male Polar Bears, Bill is not finding it easy to be separated from his mate. However, he is able to communicate with her through a connecting wall between the two enclosures. In this picture he has decided to see if my shopping bag contains any food for him.
Bill was quick to realise that there was nothing of interest to him in the bag but this screen shot from my video gives an idea of how impressive a male Polar Bear he is.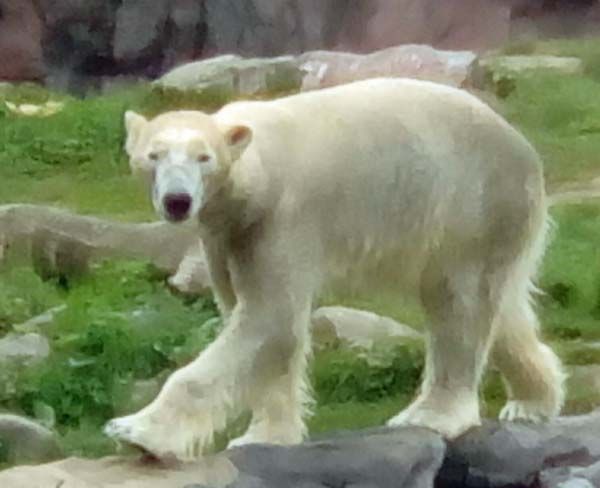 On land Bill shows how long his legs are. All the Gelsenkirchen Polar Bears have much shorter hair than other Polar Bears in German Zoos. They do not get their hair cut, but seem to have adjusted to the milder climate of the Ruhr. They are also Canadian rather than Russian Polar Bears by descent and these bears seem to have shorter fur.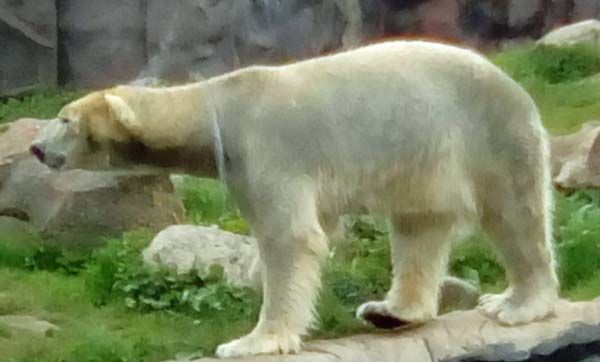 Both Bill and Lara almost look as if they are wearing armour like Iorek in the "Golden Compass". Bill's legs have a lovely fur wave as well.
Bill spends a lot of time in the water, often to work out his frustration at being separated with Lara, who he has been with since leaving his mother. Male Polar Bears are much more sensitive about needing company than we have been told in the past.
Bill will cope with being separated from Lara, as Lloyd has done in Bremerhaven. The keepers and vet in Zoom do not rule out any options for Bill, but at the moment they are keeping him as occupied as they can. It is hard to blame him for missing the lovely Lara.
As with the other Polar Bears in Zoom, Bill has a tablet in front of his enclosure.
Zoom Gelsenkirchen  – Ella
There are four Polar Bears in Zoom Gelsenkirchen: Bill, Lara, Antonia and Nanook. But there is also Ella. Since Zoom is divided into three separate areas: Africa, Alaska and Asia, it has decided that each needs an appropriate animal mascot. Leo the Lion represents Africa. JoJo the Orang represents Asia. Ella the Polar Bear represents Alaska. Of course this is mainly a marketing idea for souvenirs and children's toys. But Ella is a Polar Bear……
I have a soft spot for Polar Bears of all shapes and sizes so Ella is a welcome addition.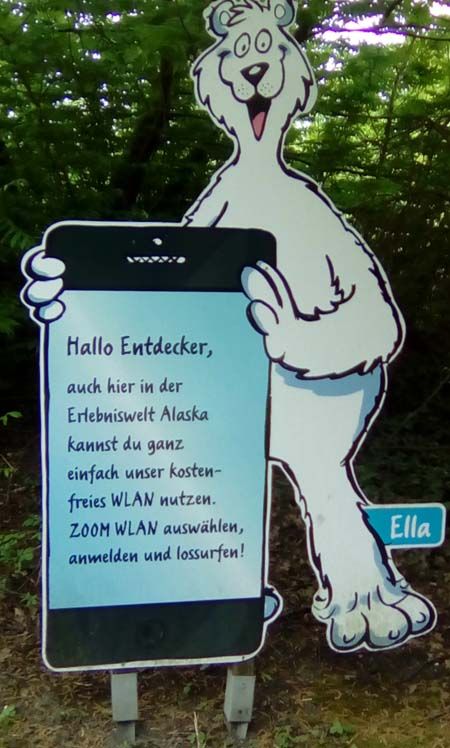 Here she introduces younger visitors to the Alaska world and assures them they can use their electronic gadgets.
Here she tells children that they need to be careful on the adventure ride. Berlin Zoo also takes notice of children and this notice on Katjuscha's board explains why books that show Polar Bears and Penguins together are wrong.
For the adults amongst us, Arctic means bears (Arctos from the Greek) and Antarctic means no bears!
Zoom Gelsenkirchen: Other Animals by Ralph
On the way to the Polar Bears I did meet some other animals in the Alaska part of the Zoo. This baby snow owl was sitting on the ground and making quite a lot of noise The older version was sitting in a niche above.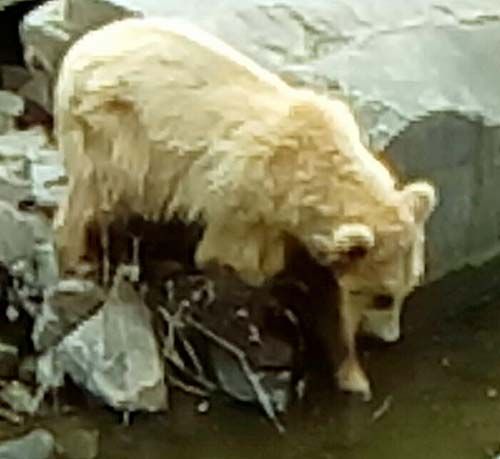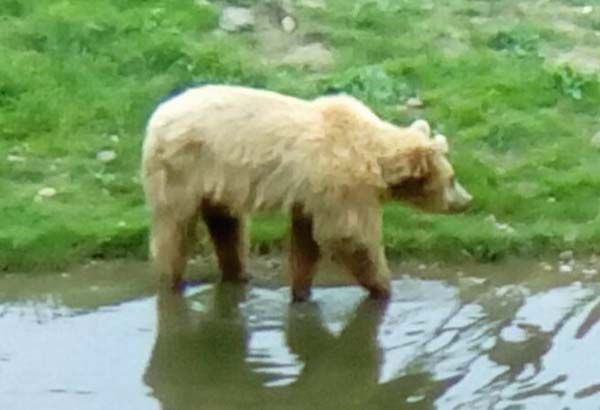 Three brown bears live in the Alaska world and are often to be found in the water of their large enclosure or watching the Kamchatka bears next door through the grill.
The two Kamchatka bears came from Hamburg where they were renowned for digging holes. They continue to do so, and there is now a concrete floor in their enclosure to ensure they do not escape.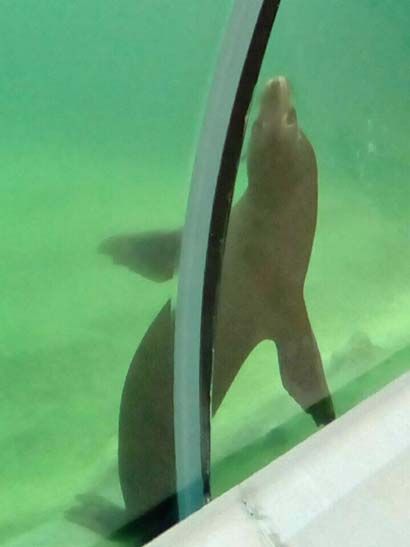 The tunnel between the Sealion pool and the Polar Bears is a popular part of Zoom as the Sealions love to "fly" over the visitors.
Although I spent most of the time I had in Gelsenkirchen with the Polar Bears, there are two other areas: Africa and Asia. On Tuesday afternoon I decided to break out into the Africa world and have a ride on the "African Queen" boat that goes around the lake for a twenty minute ride.
I love Hippos and there are two in Zoom Gelsenkirchen. They can also be visited on land.
On the way out of Alaska world I was able to see a new arrival, a lynx. The Lynx was very interested in visitors.
I did not have time to visit the Asia part of Zoom Gelsenkirchen, but as I am going back in September I shall do so then.