Zoom Gelsenkirchen – Lara, Nanook and Antonia
May 7th, 2018 | By
mervi
| Category:
Ralph's reports
7.5.2018 by Ralph
On Monday after a comfortable train journey and finding a city centre Ibis Hotel I arrived at Zoom Gelsenkirchen. I decided to buy a Dauerkarte straight away as I wanted to come back to Gelsenkirchen at least two more times this year.
A noticeboard at the enclosure explains the history of Lara and her cub.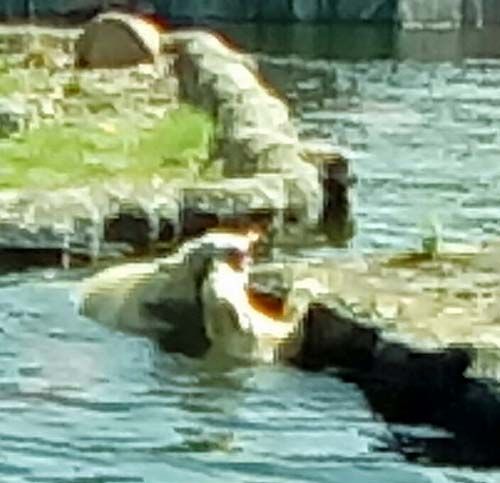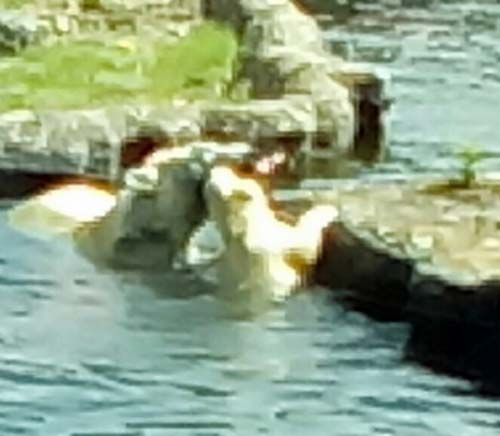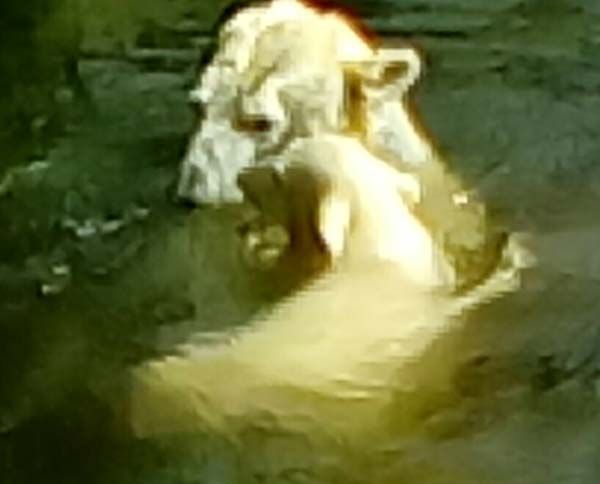 It was soon clear that Lara was teaching her cub how to behave in the water. In only a week, Nanook has earned the right to call herself a Polar Bear. I was able to speak to keepers and the Zoo vet. They were very pleased with the way in which Lara was bringing up her cub and the confidence Nanook displayed when she came out.
Lara arrived with her own mother, Olinka, in 2006 from Vienna. I had visited the Zoo in November that year and was impressed by how much Olinka was still teaching her daughter. Lara has clearly decided to follow this example. Unlike many Polar Bear mothers, Lara did not need to "huff" at her girl. A quick stare from Mum and Nanook came running or swimming. Lara was also able to grip Nanook and carry her if necessary.
Once on land, the size difference between Mum and cub is clear.
I was delighted to find that Lara has markings on her fur that look like Iorek in the Golden Compass. All the Gelsenkirchen Polars have short fur. I discussed this with the vet. The mild climate in Gelsenkirchen seems to be the reason that they do not grow the fluffy look. I suggested that it might also be because the bears come from Canadian rather than Russian wild grandparents.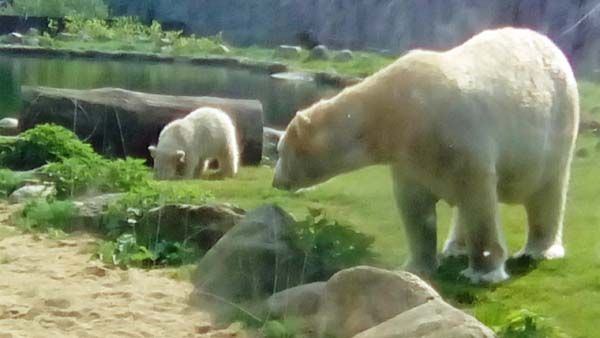 Lara has established a safe place surrounded by boulders and logs for her and Nanook to rest up.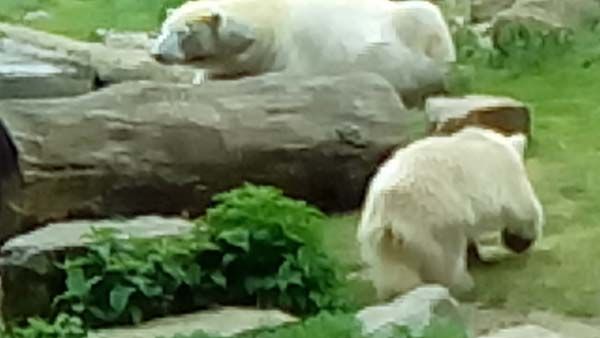 When Mum looks up it is time to stop playing and come back in.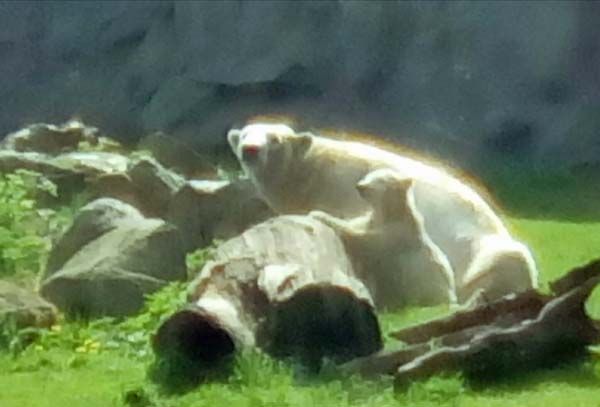 Being with Mum is Nanook's favourite pastime, but she still likes to keep an eye on everything that is going on around her.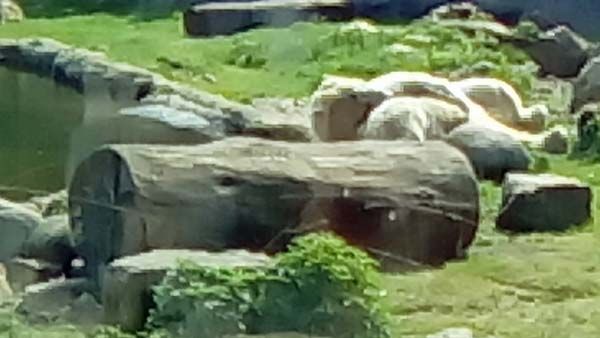 Polar Bears big and small need plenty of sleep of course.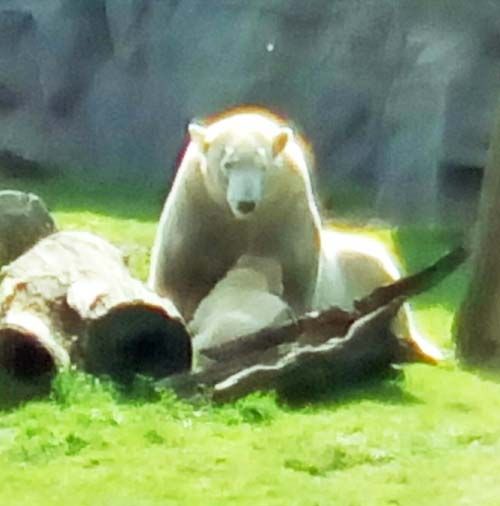 Lara takes her feeding duties very seriously and has special places and times. Nanook will sometimes pester her to be fed, but Lara is usually strict. Of course as the only cub, Nanook is ensured of a supply of the most nutritious milk in the world, and will grow into a beautiful Polar Bear lady.
Lara, Nanook and my bag
On the Tuesday morning, I brought a shopping bag with me to carry my supplies for the day. As I was there very early, Lara and Nanook decided to give me some close up shots.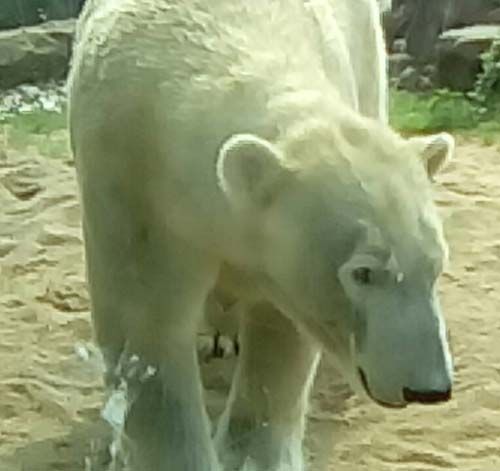 Here Lara shows the lovely face markings that look so much like Iorek wearing his armour.
My local supermarket were surprised to see who was investigating their bag. Again, Lara's face markings are visible.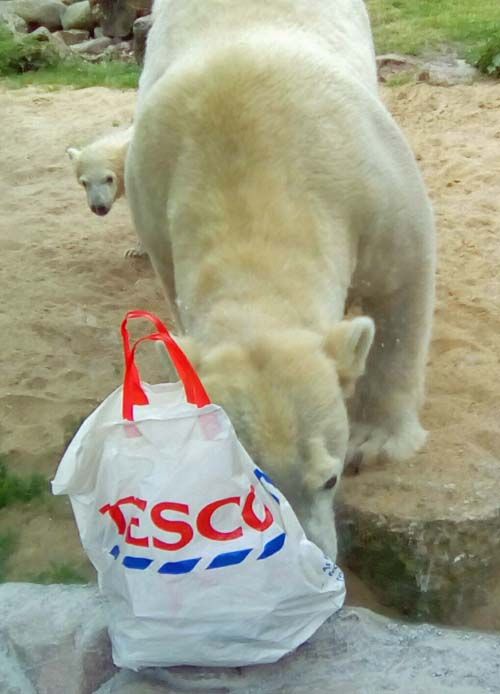 Nanook was taking no chances and stayed behind her Mum. But her natural curiosity soon took hold
Slowly Nanook moved forward while Lara stood guard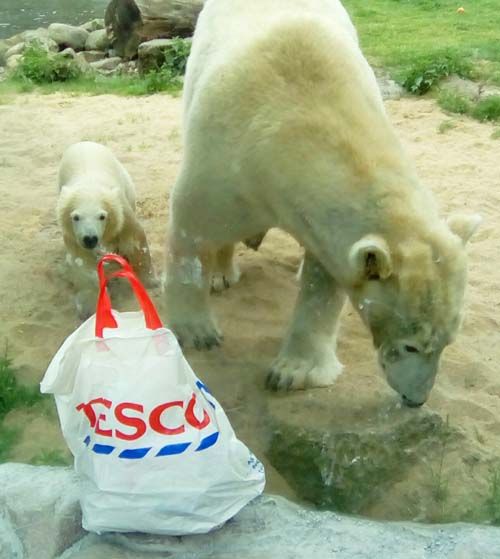 Nanook is not easily frightened and looked at me as much to say, that is my Mum and she will protect me, and I can bite as well.
Nanook is not old enough to know about glass so she came to give my bag a test bite. As you can see, she is already growing fast.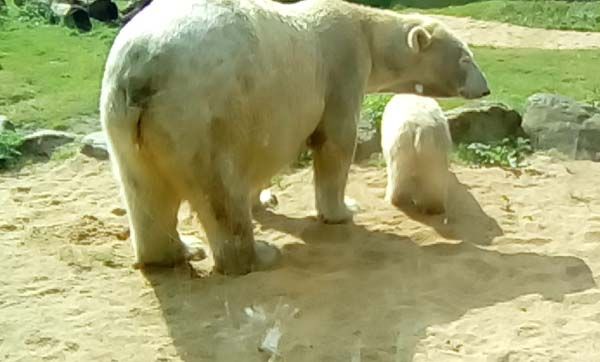 Lara and Nanook had investigated the bag, so Lara decided it was time for the morning class to begin and they went back to her lessons.
Nanook
A large TV screen at the entrance features various message about the animals in Zoo Gelsenkirchen, but you will not be surprised that one new star interested me in particular.
Nanook was one of three cubs, and the only one to survive. However, the loss rate for cubs is no higher and in some case lower in Zoos than in the wild. A statistics chart is part of a long series of education boards which I photographed but which are not clear enough to reproduce here.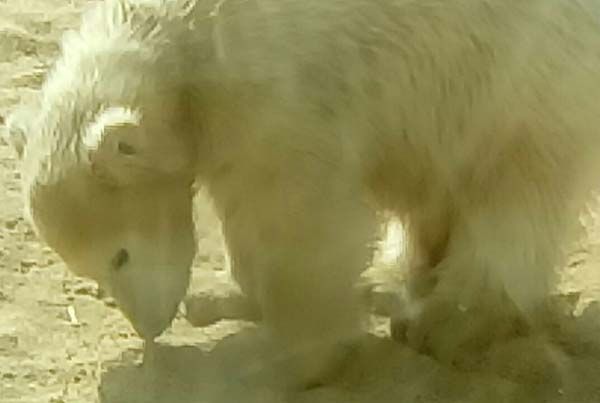 Nanook shows how much she has grown since she was born in December 2017
Nanook is already full of confidence and enjoys chasing away any birds, however large, that land in her back garden.
She already uses her powerful nose to search for goodies hidden on the enclosure and to find out all about her world.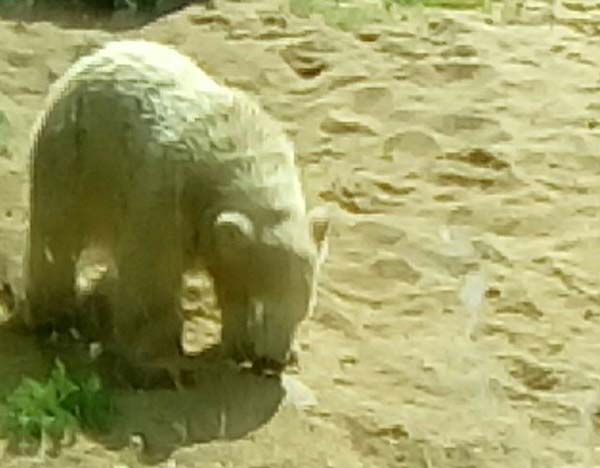 The tracks in the sand show how often Lara and Nanook have come to the glass. Visitors hold no fear for either bear, though they are not as ferocious as Aunt Antonia!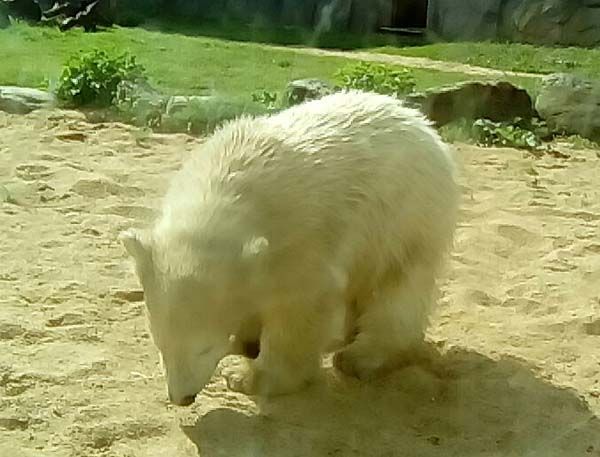 Nanook has longer fur than her parents to cope with the cold weather when she came out. It will be interesting to see how long it stays like this.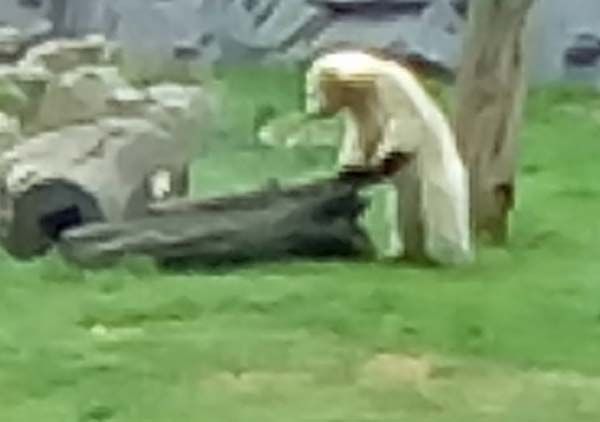 Nanook has already discovered that moving things around and breaking them is good fun. She already shows patience and determination when playing.
Antonia
I first visited Antonia in November 2006 after seeing a programme about Gelsenkirchen in NDR German TV. I went back to see her ten years later, and reported on her in October 2016 in KWM.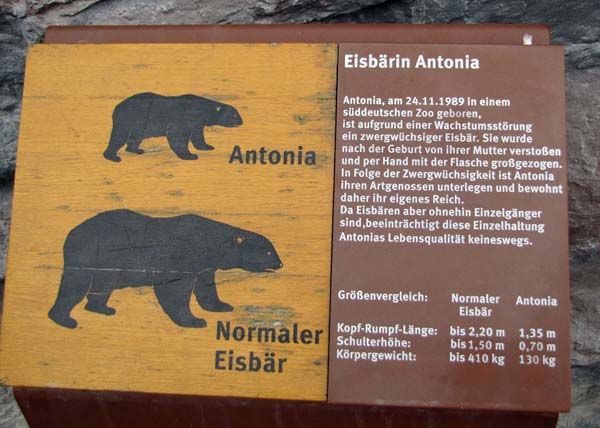 As the excellent notice on her enclosure explains, Antonia was born in November 1989 (as the Berlin Wall fell) and because of her genetic condition has lived separately from other bears. What the notice does not show, is that Antonia is in fact a very determined Polar Bear. She challenges keepers and other bears alike.
However, she is also very cute as these pictures from my visit show.
Her short legs make her look like a cub or a large badger.
Her face is full of character and she will often stick out her tongue at visitors.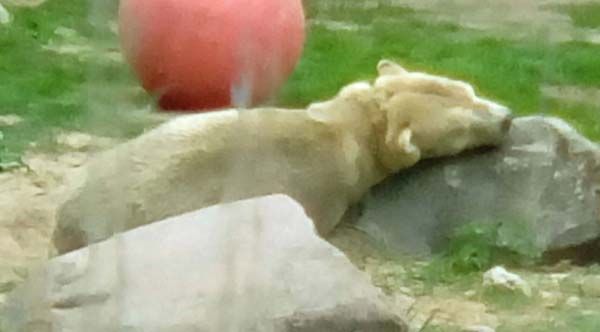 Asleep she looks very much like a Polar Bear cub.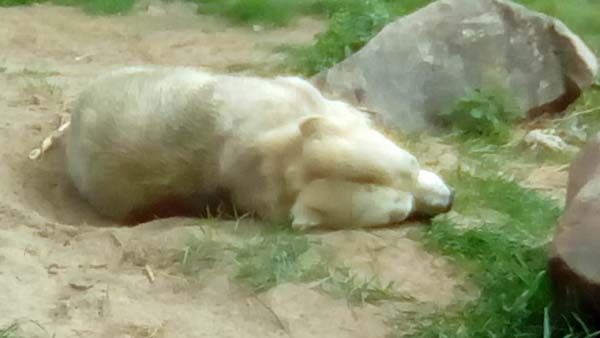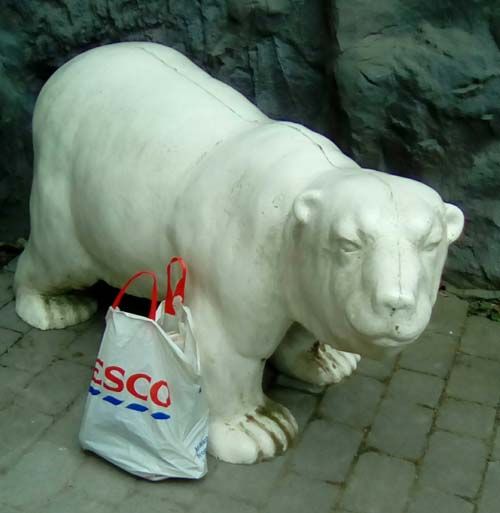 This Polar Bear is standing nearby and looks very much like Antonia. Antonia took no notice of my inviting shopping bag. She has seen too many visitors to fall for it. However, this bear was happy to let me pose her with the bag. I was very tempted to take her home with me.
The second report of polar bear Bill and other animals in Gelsenkirchen will come soon!