Hamish and Victoria in Highland Wildlife Park, May 2018
Jun 6th, 2018 | By
mervi
| Category:
Ralph's reports
6.6.2018 – Pictures by Molly Merrow, text by Ralph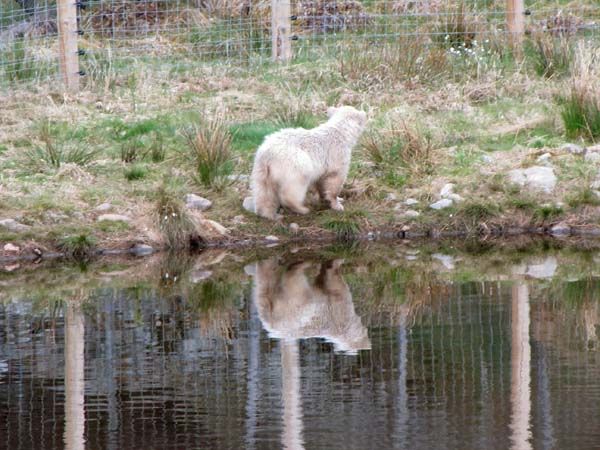 Hamish at five months is a self-confident little bear, who is very curious about everything that goes on inside his large enclosure.
Victoria and Hamish know that the keepers at HWP always have something interesting for them. Molly has mentioned that Victoria established a close bond with her keepers in Aalborg Zoo. The HWP keepers are just as fond of her and have given her the nickname " Breakfast?" after the her favourite meal and the fact that she is always hungry.
Hamish is at the stage where all food is treated as a toy and investigated thoroughly. He has already started to eat solid food, but the regular visits to Victoria for a power milk drink will go on for some months.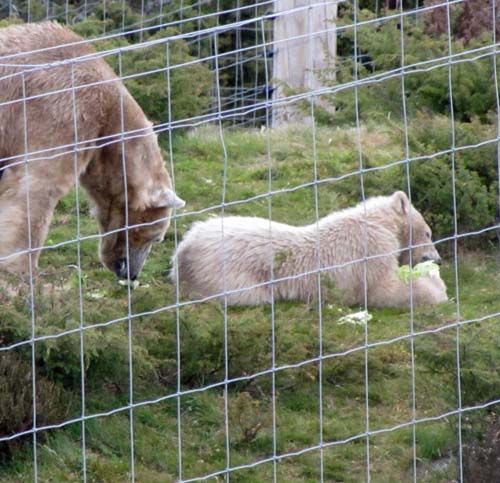 Victoria already has competition from Hamish when it comes to snacks thrown into their enclosure. Molly's picture offers proof that Polar Bears can chow down on lettuce.
Victoria is a fine looking bear and Hamish is already, five months in, showing that he will be a big male. Another item of solid food is being tasted.
Victoria is a strict and experienced mother. Hamish knows that when she moves in the big enclosure it is a good idea to follow her.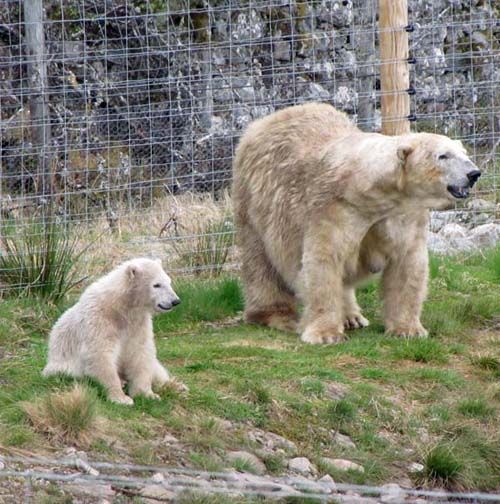 Victoria is always on the alert for something interesting ie food. Hamish has learnt to watch carefully as well.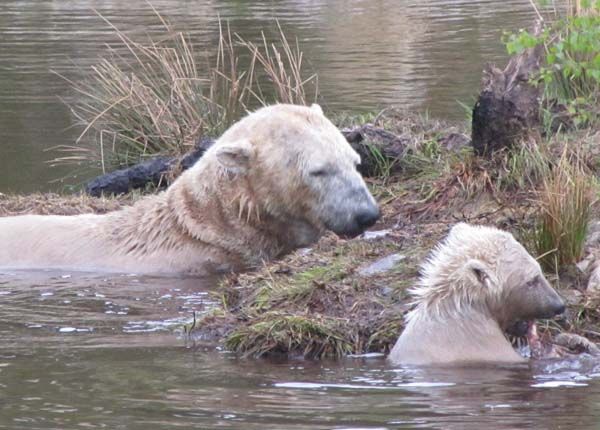 Victoria spent a lot of time investigating something hidden under the water. As the staff at HWP told us, it was almost certainly an old piece of food. Hamish is a quick study and has learned that if Mum is looking for something it is worth being around.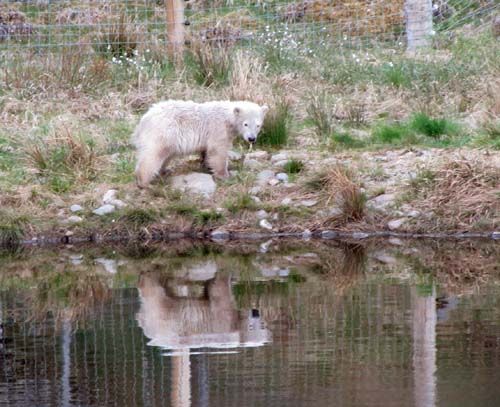 Victoria is an experienced mother and happy to let Hamish do his own thing. Molly's shot shows him investigating his world. HWP have given him a whole real tundra landscape to explore.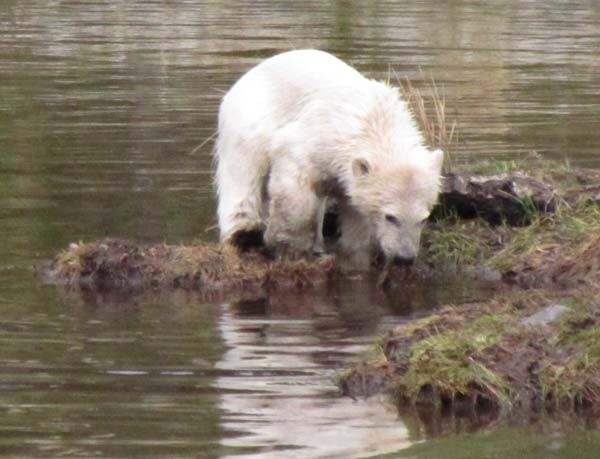 Victoria spent a lot of time at this part of the pool trying to extract an old item of food, Hamish decided that he would give it his best shot.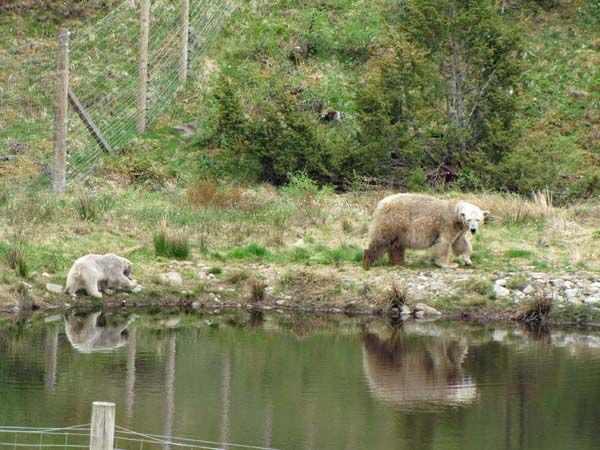 Victoria is never far away from her boy. Hamish is investigating something on the shore, but he knows that at any minute Victoria can walk away fast, and he will follow.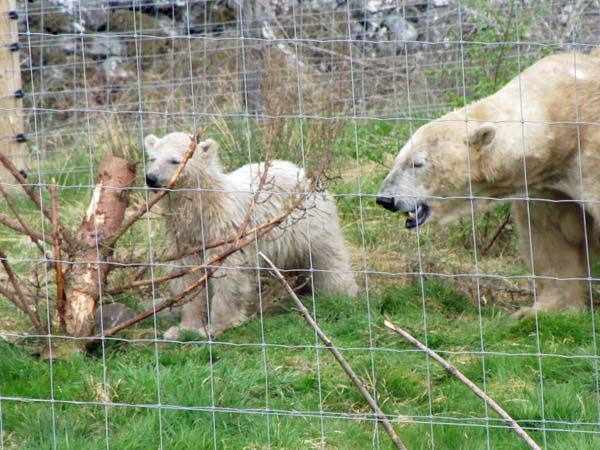 If proof were needed that Hamish will be a big male Polar Bear very soon, this tree and its branches were up for the Polar Bear treatment. First, try to eat it. Second, try to destroy it, so that you can eat it. If you cannot destroy it, hide it so that no one else can have it. Victoria watches him closely.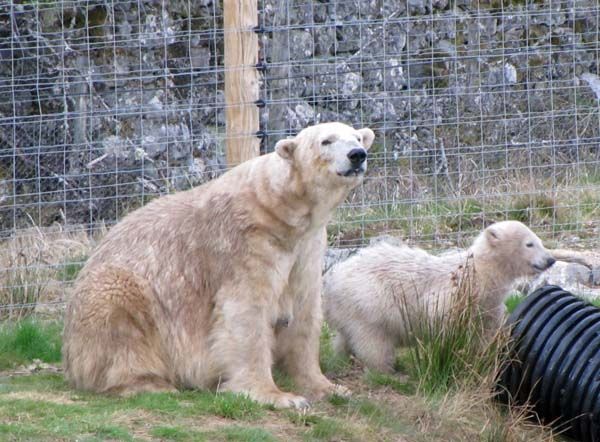 As Molly wrote in her blog, Hamish had been small enough to climb inside this tube. No more, but it is still interesting for him. Victoria seems pleased with her young student. In the wild she would be teaching him to hunt seals. Well, getting rid of some waste plastic will do for now.
Victoria is so relaxed that she is able to let Hamish have some fun with the plastic tube.
Hamish has no problem with being in the water. Blue plastic may be an environmental disaster, but Polar Bears know what to do with any bits that turn up in HWP.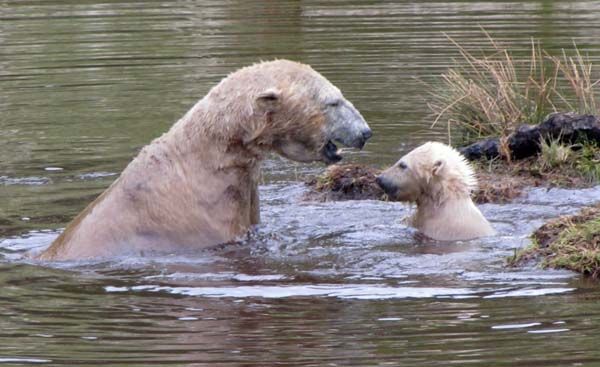 Playing with tubes and canisters is all very well, but nothing compares with the lessons from Mother Victoria in Polar Bear play in the water. One day Hamish will have to hold his own against other male bears, or better still impress his first female Polar Bear.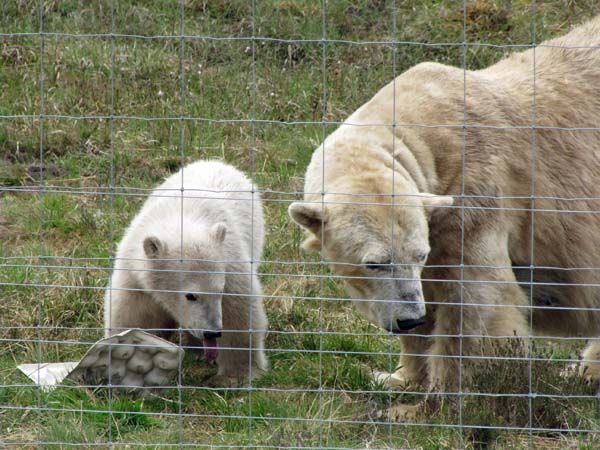 No object that arrives in the enclosure is left uninspected. Polar Bears depend on their curiosity to survive in the wild, Victoria and Hamish are given every opportunity in HWP to practise this skill.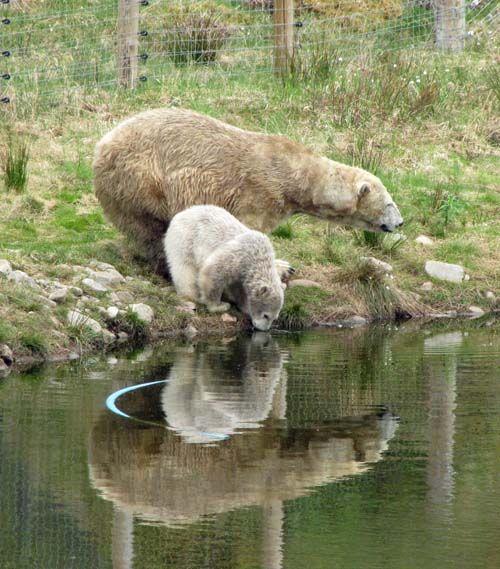 In the deserts of the Arctic Polar Bears get their fluid from seals, but during the Summer months they have to drink. Hamish quenches his thirst, with Victoria close by.
This picture shows a proud mother and a healthy five month old club. Much as I respect Bill Travers and the work of Born Free, would he really deny Victoria and Hamish this opportunity to show why life is so important for all of us.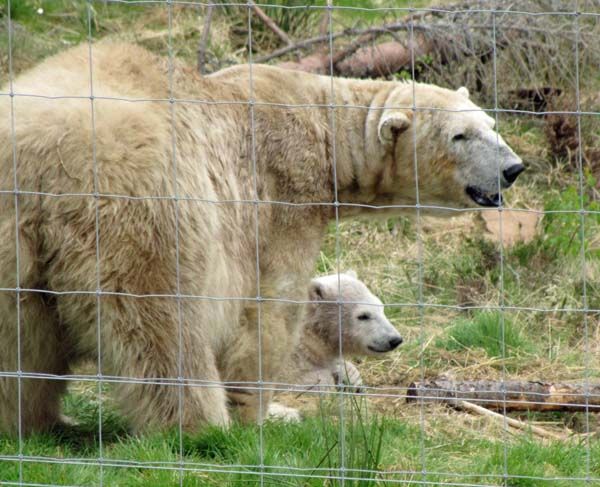 A mother and son, who deserve the wonderful place that HWP have provided for them. I am sure that HWP will do their best to give Hamish a good home, after all Doncaster is not far away as the Polar Bear walks!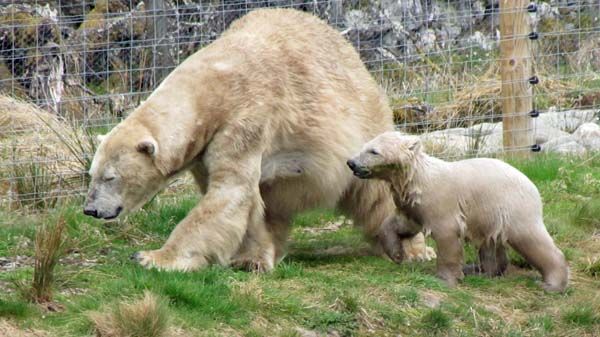 Victoria and Hamish are enjoying the best enclosure for a captive Polar Bear anywhere in the world. Unlike their wild relatives they do not face the dangers of the ice and are looked after by some of the kindest and best trained people I have met.
Molly wondered whether Victoria missed the people she used to see daily in Aalborg. I can only go from the three days I spent in Kingussie, but I would say that each day a whole team of really good people are keeping her company.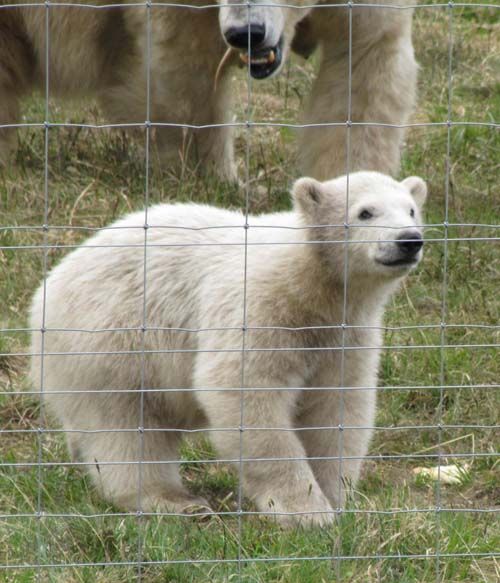 As an Englishman I can only take my hat off to Scotland for having the courage and imagination to make this home for Polar Bears in the magical country of the Highlands. At wee Hamish is no longer so wee.
This wonderful image of Hamish sold as a card in the shop.