Snow Born: A Polar Bear Story
Jun 20th, 2018 | By
mervi
| Category:
Ralph's reports
20.6.2018 by Ralph
I thought that KWM readers would enjoy this story board series which accompanies the path to Victoria and Hamish at Highland Wildlife Park.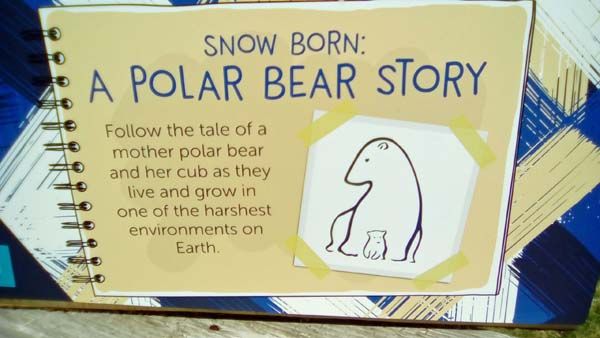 The black and white logo of the mother and cub is a wonderful symbol.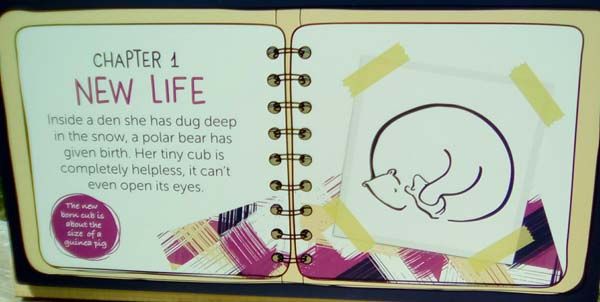 A newborn cub is the size of a Guinea Pig and its eyes are closed. Another symbol shows a paw protecting the cub.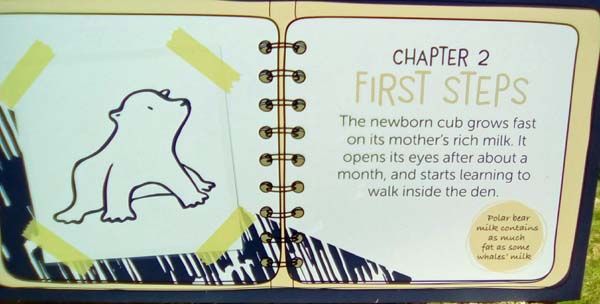 Polar Bear milk contains as much fat as whale milk and so by a month the cub opens its eyes and takes its first steps.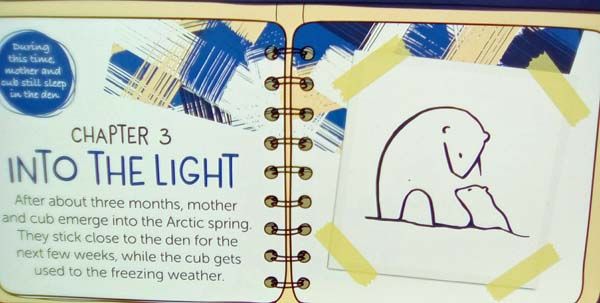 By March the cub is taking its first journey outside the den. The keepers are HWP filmed Hamish and Victoria doing this and the film is shown at the viewing lodge.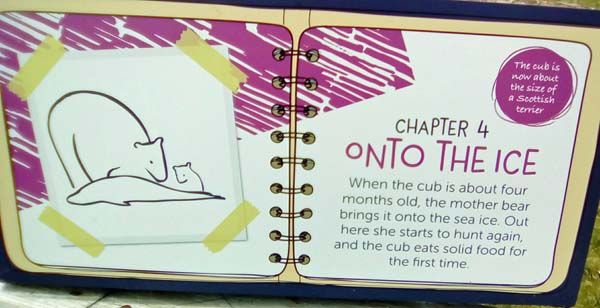 At 4 months the cub is ready to eat solid food and join its mother on the ice. Hamish has started eating some solid food but mainly enjoys playing with it and stealing it from Victoria.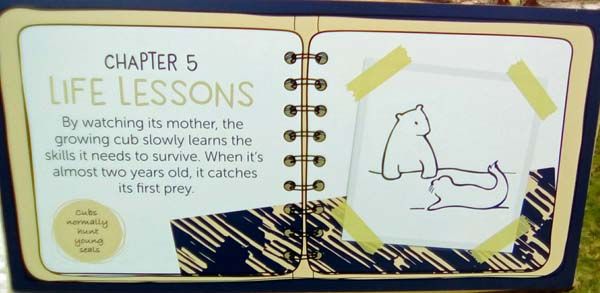 In the wild Hamish would be copying mother by trying to catch a young seal, but at HWP he has seagulls to chase. Victoria recently caught and ate a pheasant so Hamish will doubtless soon catch his own birds.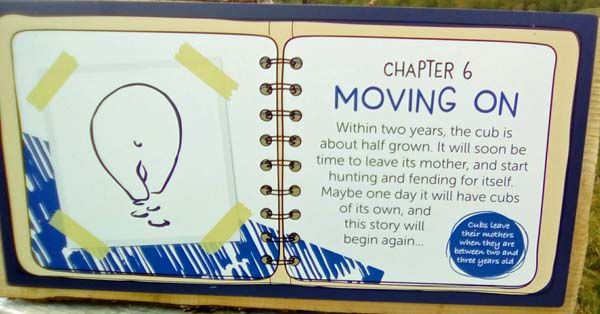 Inevitably the time will come when Hamish will have to leave Victoria, in about two to three years. There will be no hurry for him to go and HWP will be keen to make sure he gets a good home.
The story ends with a reminder of what our actions are doing to Polar Bears and other animals.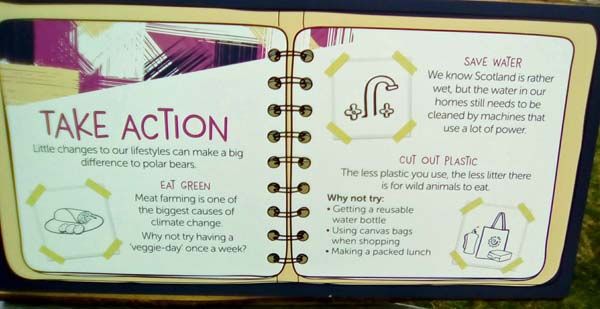 HWP asks us to try and do small things ourselves to help.
Knuti's Weekly Magazine, of course, supports these ideas!!
Climate Change and its impact on Polar Bears
Four notices near Arktos and Walker's enclosure covers the probable outcomes of climate change if nothing is done to change the way we treat our world. The first shows what might be the world in 2020.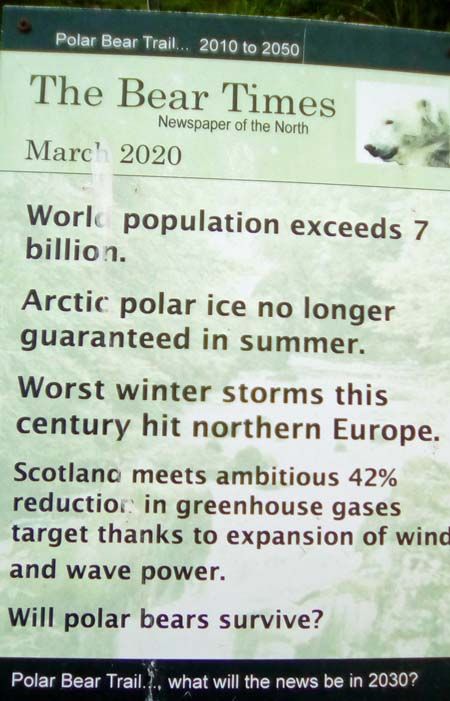 We move forward to 2030 and an even bleaker prospect. A quarter of the Polar Bear population has gone.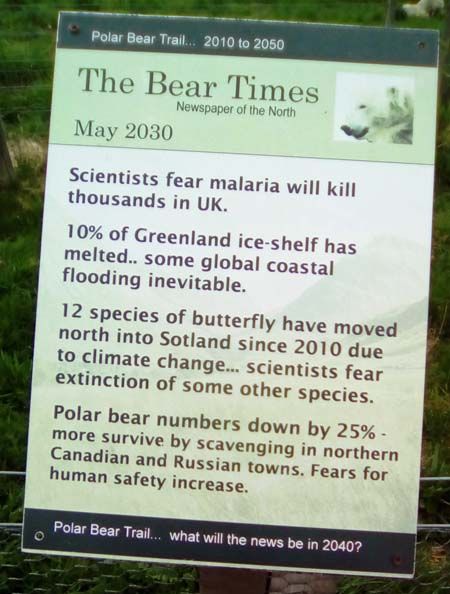 </
By 2040 there will be Summers with no sea ice at the North Pole..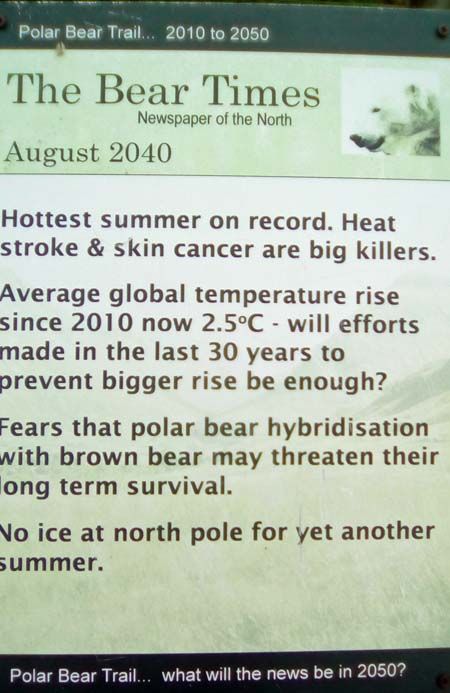 Finally, nearly a Century after I was born (I might be 94 if still around) there might only be a few thousand Polar Bears.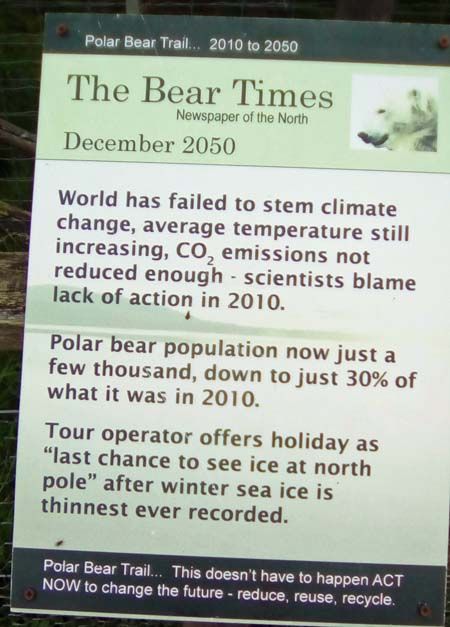 I think Highland Wildlife Park are to be congratulated for such a clear and simple approach to warning visitors what might happen to the Polar Bears and us all.
Teaching visitors about the Polar Bear
HWP does not just introduce us to the individual bears it also uses its signs to teach us about their wild relatives.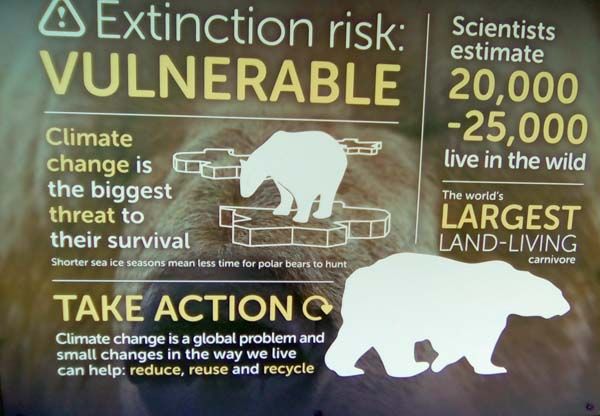 This sign makes clear that only some 20 to 25,000 bears live in the wild and are threatened by Climate Change.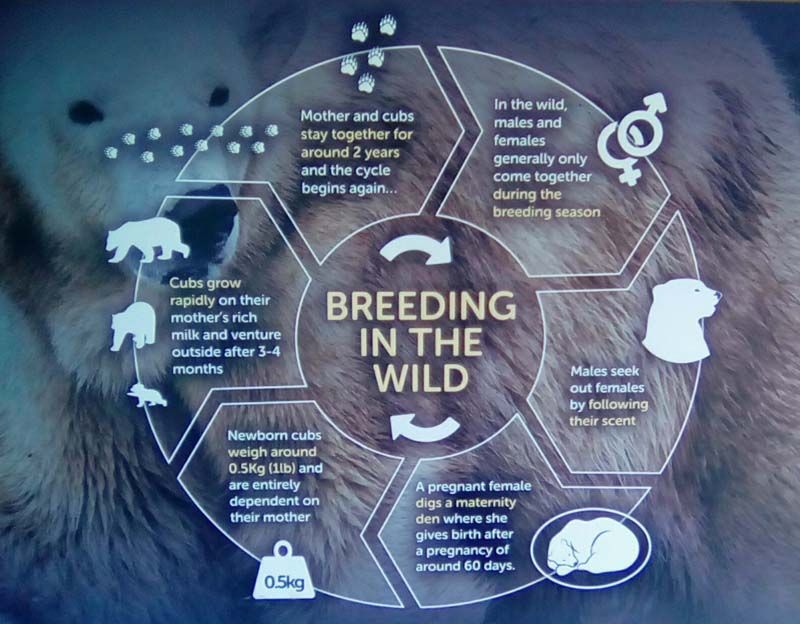 Here we can see the life cycle of the Polar Bear.
This notice explains how the HWP looks after its bears and how we can help conservation.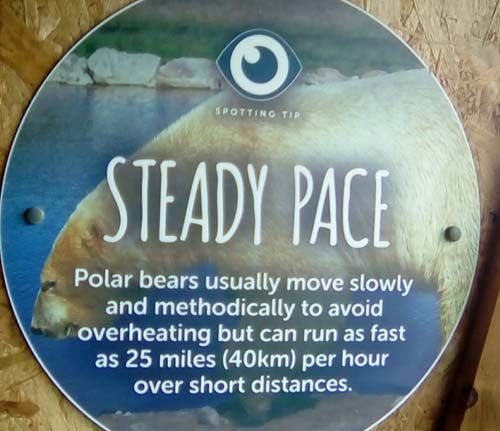 Polar Bears normally move slowly to avoid getting hot but can run at 40kmh over short distances.

Polar Bears have large paws to spread their weight on ice and their short claws act like icepicks.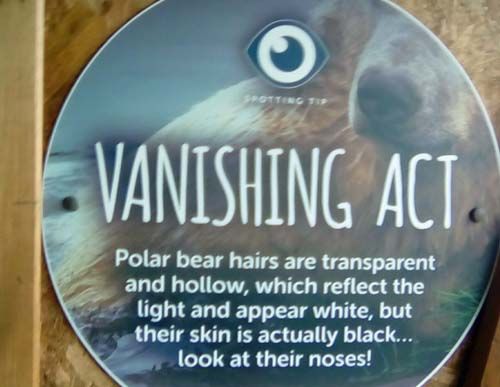 Polar Bears have black skin like their noses and transparent hairs that reflect light.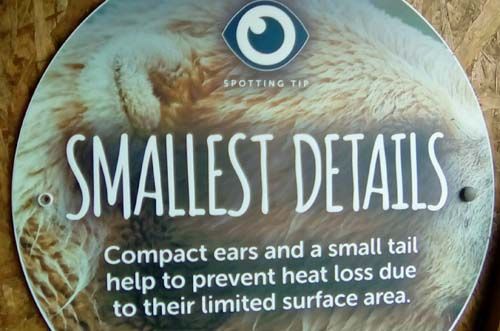 Their compact ears and short tail stumps help prevent heat loss.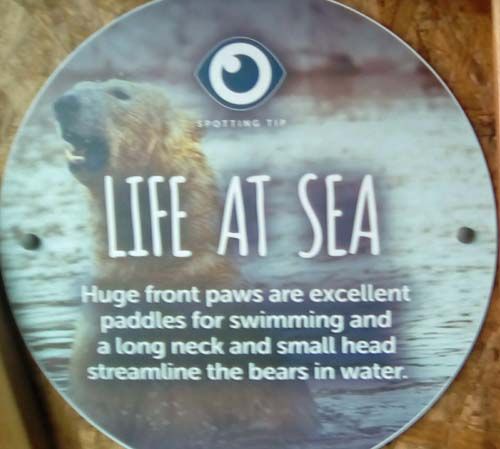 The big paws are great for swimming and their pointed heads slice through the water.
A fun way to learn facts about the Polar Bears and also some nice pictures of the HWP Polars.