Visit to Yorkshire Wildlife Park (YWP) Doncaster on Tuesday 5 June: Morning
Jun 24th, 2018 | By
mervi
| Category:
Ralph's reports
24.6.2018 by Ralph
With the very changeable weather that we are having at the moment, I decided on Monday that the weather on Tuesday was going to be as good as any day this month, so I bought a train ticket and turned up at Oxford Station in plenty of time on Tuesday morning. Remembering Victoria's love of breakfast I found a suitable one to keep my fed until lunchtime.
The train to Doncaster arrived on time and the journey soon passed, though I was horrified to see this cover on the daily free magazine.
I even discussed with the rangers whether it was true that three lions could beat a Polar Bear. However, it turned out that the cover was a publicity stunt to help Polar Bears International and the bear involved was none other than Agee, the well known acting bear.
As if to underscore my belief that lionesses rather than lions were a bigger threat to a Polar Bear, these two chaps were waiting at the entrance to the YWP.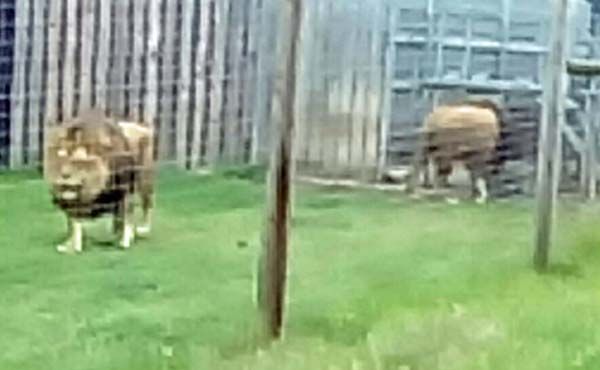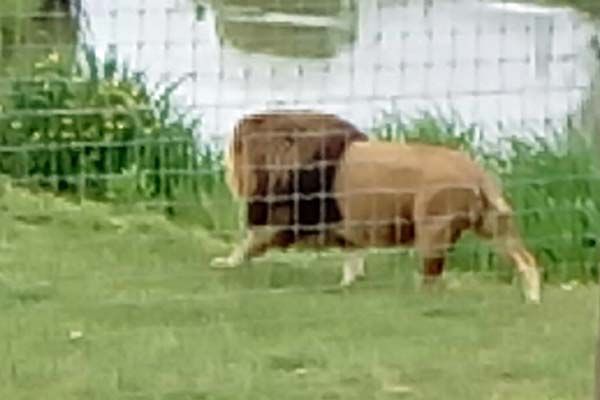 Rescued from a zoo in Romania the lions are enjoying a very relaxed life. While lionesses even in zoos are constantly alert and looking for food, these chaps mainly laze and eat.
I walked quickly, passing the wallabies who are a favourite with young visitors and the lemurs, who were hosting a crowd of very young children, so I passed them by too.
I would love to have seen the lemur baby, who is a star on the Fans of Yorkshire Wildlife Park Facebook site.
One of my favourite animals in the park are the South American warty pigs who have a large area to root around in.
My visit to Yorkshire Wildlife Park: Okapi
At lunchtime, Stephen King and I went for a bit of a walk and I took the opportunity to take some shots of one of the newest arrivals at YWP.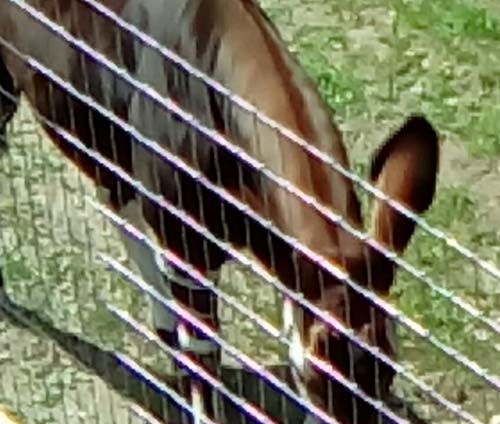 Ruby, the female, was outside. Her head looks very much like a giraffe in this shot, but with those longer lovely ears.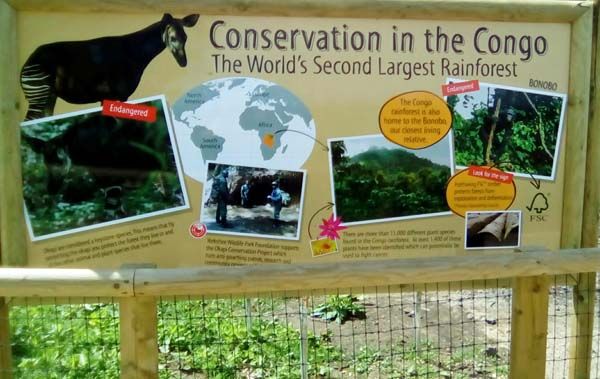 YWP always give you the conservation background to their animals and how they live in the wild. It would be nice to see similar signs with the Okapi in Berlin Zoo.
Here is my shot of that distinctive pattern which works so well in the forest to disguise the Okapi.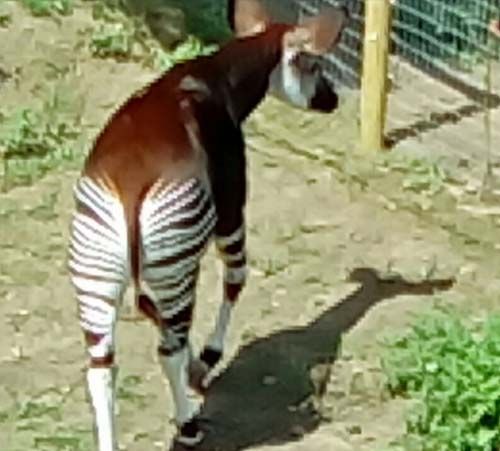 Of course the stars of the show are the Polar Bears of Project Polar!
As you may know this year the mating season has seen some quite spectacular changes to the bears and their relationships. This has been covered on the Facebook site by regular visitors like Stephen King. Victor the oldest bear at 19 has found that the young bears, Nobby and Nissan, both 4, have grown in size and confidence.
At first he had difficulty coping with this and was even frightened by them. Nissan has used this to take over the close relationship with Pixel that he already had but refusing to allow the other bears to come near Pixel. A lot of this has to do with adolescence and the absence of females as the hormones in the young bears kick in.
Fortunately the three enclosures allow the Rangers (as the keepers are called) to manage the bears. Victor was isolated from the others for a while. However, Nobby took advantage of the other three concentrating on their relationship to steal their food. Giovanna would be proud of her son. He has grown and is now bigger than Nissan.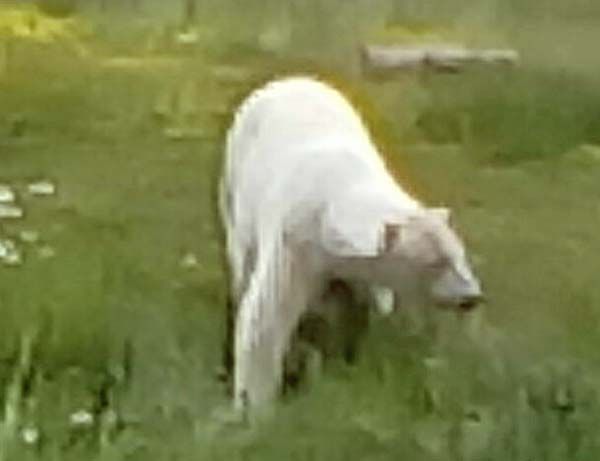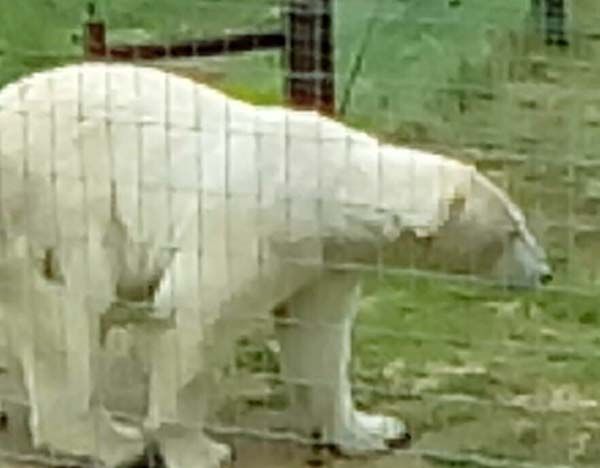 Initially Victor was wary of the third enclosure but he has now got very used to it and I was surprised to find him even swimming in the lake and playing with toys.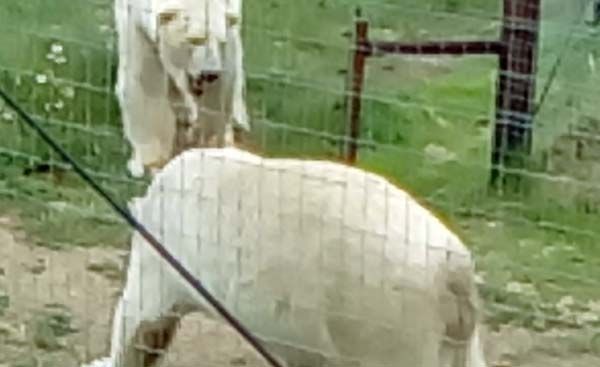 Victor and Nobby now enjoy quite a good relationship and you can see in this shot, with Nobby in front how the size change has helped.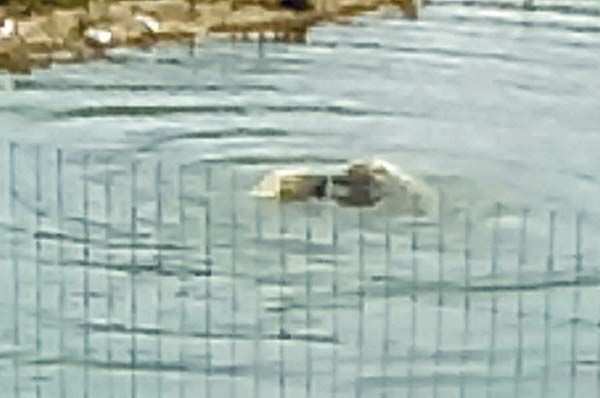 I had to take these shots despite the distance just to show you that Nobby and Victor now even play in the water together. This is something that would have been unimaginable a few months ago.
Pixel and Nissan have always been close friends, but Nissan clearly now has an even stronger interest in him.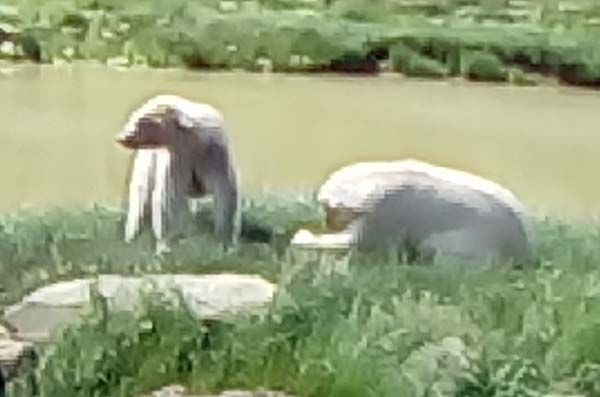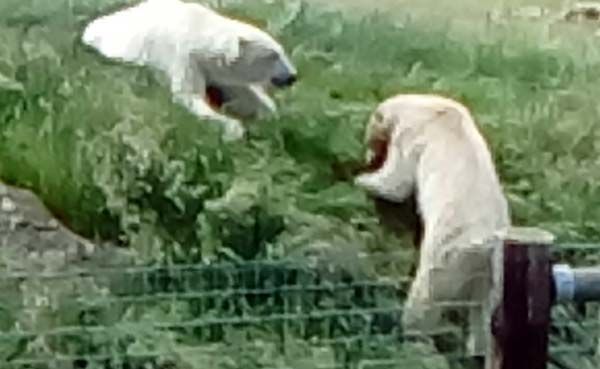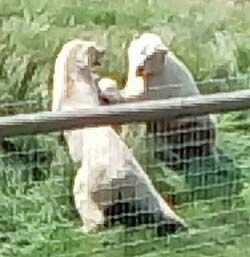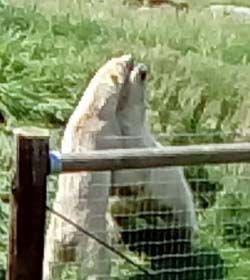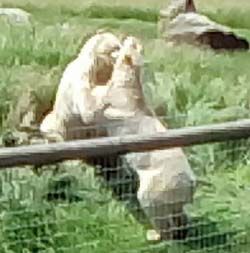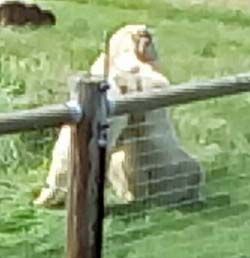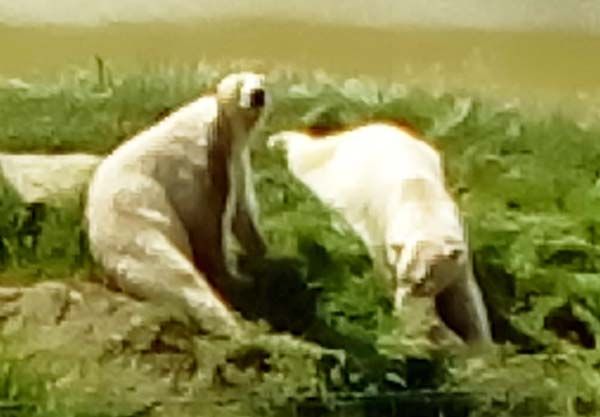 Pixel was already a big bear but as these pictures show, Nissan is very similar now in size. Nissan really enjoys playing and Pixel is also happy to wrestle with him.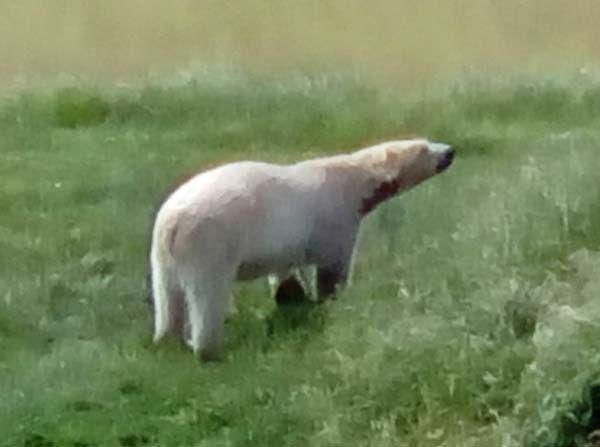 This shot, I think is Pixel, and shows how the bears are maturing into adult looking Polar Bears.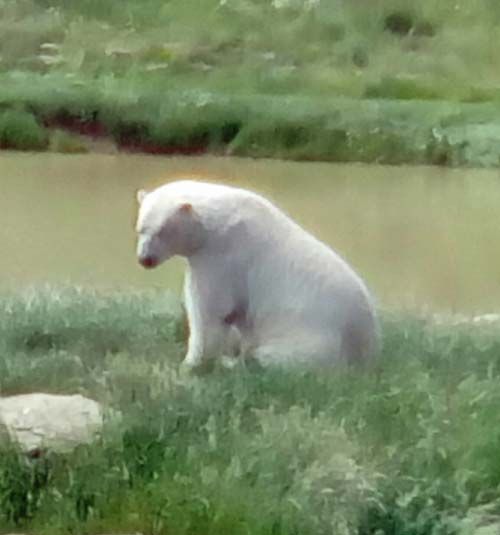 Pixel is a very attractive bear and has beautiful white fur. Perhaps this is why Victor and Nissan both cherish him.
Managing the bears is quite a challenging task, to say the least, and in the second part of the report, I will show how this is done at close quarters.