Sisu's visit to Oxford
Aug 10th, 2018 | By
mervi
| Category:
Ralph's reports
10.8.2018 by Ralph and Sisu
Teddybärenmutti and Teddybärenvati had picked Sisu up in Ranua and decided that he would enjoy a visit to Oxford, where many TV detective shows are filmed. With a note to Ralph from Mother Venus to ensure that he would be at home with the Cotswold Bears, Sisu was made comfortable in a red and white travelling box with some chocolate for the journey.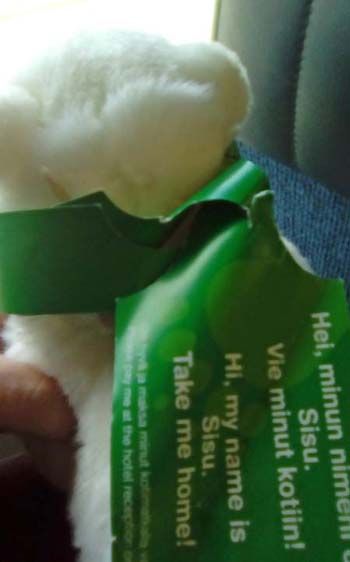 To ensure that Ralph was in doubt that Sisu was who he claimed to be, he wore a label with a greeting and a request to be taken home. However, Ralph thought it would be good for Sisu to visit Oxford and learn about the city where Ralph lives.
Sisu's tickets for his journey were already paid for, so he enjoyed sitting on the bus in the bright sunshine as Ralph explained that they would soon be in the centre of Oxford.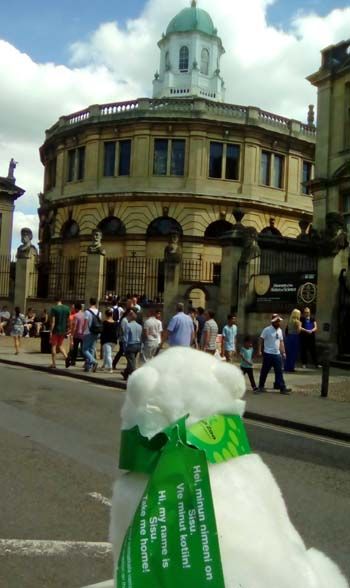 Sisu recognised this building from an episode of "Inspector Morse" on the television. It is called the Sheldonian Theatre and is where the University of Oxford awards its degrees.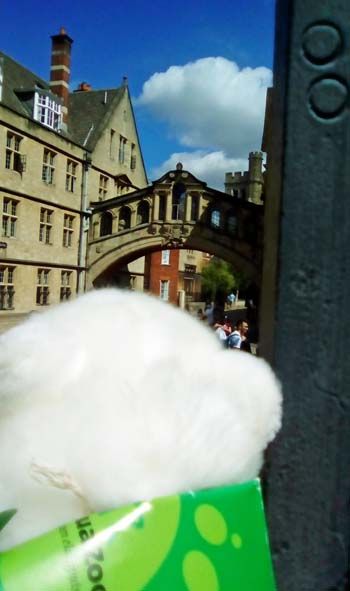 Ralph told Sisu that this bridge links two halves of the College where Ralph was a student in the 1970s. There is a picture in Knutis Weekly of Tosca and her friends visiting Ralph there.
Sisu enjoyed being admired by the tourists as they photographed this important man from many years ago. Ralph told Sisu that a friend of his went to a college he founded, and they would be meeting later. You can read more about him and his connection with the big Library of the University here.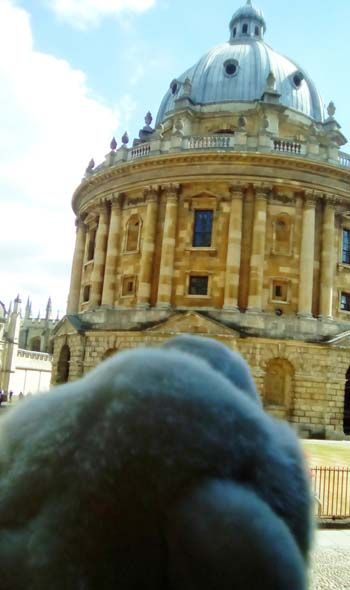 This building is called the Radcliffe Camera. It is part of the Library of the University, and features often in the background of TV shows like "Lewis" and "Endeavour".
Sisu liked the bicycles and Ralph told him that students used them to get around the city. The building on the right is the Radcliffe Camera and the building in front of Sisu in All Souls College, which is shown in films and TV series.
Inspector Lewis and Sergeant Hathaway often walk down Brasenose Lane, so Sisu had his photo taken here.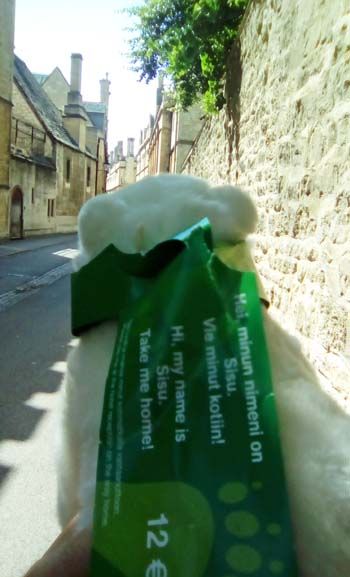 The Lane also appears in the film of the "Golden Compass" at the beginning. Sisu had heard of Iorek Byrnison in the film, but was pleased not to meet him, as he might be rather scary like his father, Manasse.
Sisu recognised this street from both "Lewis and Endeavour".
He thought that Venus would have loved to be here, as she enjoys a good detective show, as do TBM and TBV.
Talking of TBM and TBV, Sisu hoped they would not miss him and wondered he should ask one of these bears to go and visit them. At that moment some Chinese visitors to Oxford stopped to ask Ralph who Sisu was? Ralph explained and they said they would have brought a panda with them to join in the sightseeing.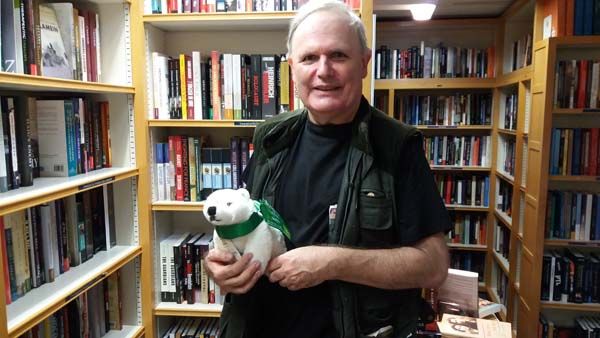 Ralph introduced Sisu to a friend of his in the bookshop where students go to buy their books. He had been a student at the college founded by the man whose statue we saw earlier. The shop was air-conditioned and Sisu was glad to rest after his first day in Oxford.
Sisu hopes to send you some more reports of his stay in England.