The Mystery of the lost Pissiewissieken
Oct 29th, 2018 | By
mervi
| Category:
Nostalgie
29.10.2018 – By Patricia Roberts, Translation into German by Ludmila
Originalphotos by Caren, Drawing by Raspi
Because it's Knutitours' 10th anniversary year here's another hilarious story from the good old days:
Übersetzung von Ludmila finden sie hier (am Ende)
The following e-mail exchanges took place after a certain explanation needed to be given with respect to the proper use of some male body details.
Patricia: And with respect to sex between Knut and Gianna …; well, I think that -although he already made some premature exercises – his "pissiewissieken" only is active so far for one purpose … exactly as a "pissiewissieken" and not more than that!!!!
Caren: your explanation why we are all far away from looking forward to Knuti's and Gio's future babies is hilarious. You just made things clear as clear can be. Only Raspi has a few questions, I think he will contact you quite soon, he needs further explanations …
Patricia: And Dear Caren, yes indeed, I got an e-mail from Raspi in connection with "pissiewissieken". But listen, girls and boys, you are going to keep this very secret as the little boy was very worried.
Raspi: Dear Patricia, you know that I am not an idiot and of course, I know for what a pissiewissieken is to be used for. But it is now already for some time that I have noticed something very strange with Flocke. As we all have to do "wishwishwishwie" every now and than, I discovered that Flocke HAS LOST HER PISSIEWISSIEKEN somewhere, because I have never seen it so far.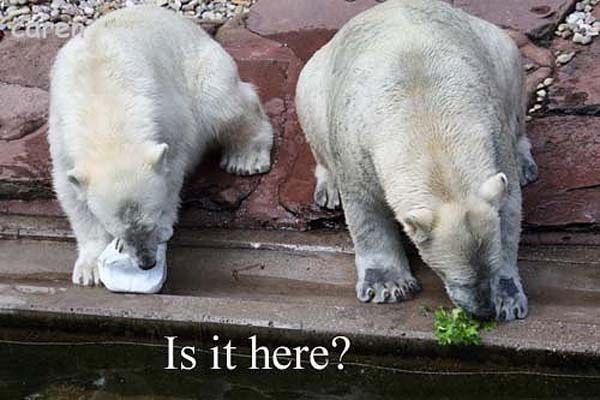 You have already seen the pics of our aunties on which Flocke is sometimes hiding things (toys, food and so) in a hole in our enclosure (close to the water). Since her arms are too short, it has always been my task to get these things out of there for her. Which of course, I have always done with great pleasure for her. And so, it came that I thought that maybe she had put her pissiewissieken also in the hole. In an effort to find it before it became too wet, I looked and looked and looked there again and again.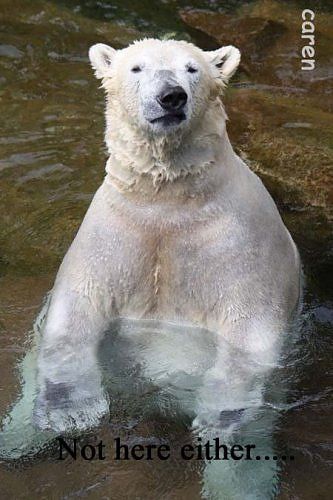 But, NOPE, NADA, NIKS. Do you know, by any chance, a good shop where I can buy her a new one before she herself is noticing this lack? Because if so, I can try to ?use? Auntie Caren?s credit card. Looking forward to your advise, I remain, yours faithfully, Raspi"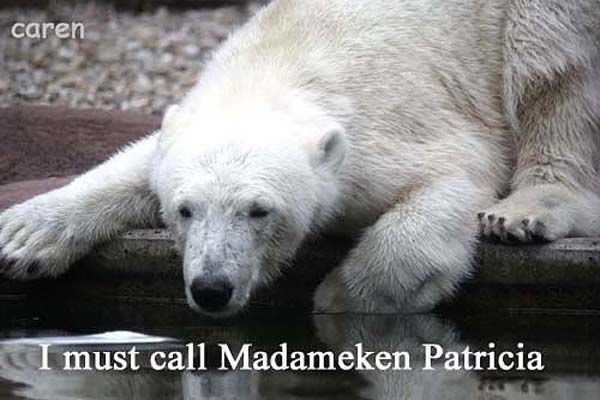 Patricia:"My dearest beloved Raspi-patatje, I really appreciate your devotion to our little Flocke-Madammeken. I can never exaggerate in repeating how glad I am that you both are such great friends and that you take such great care of her. But, My Lovely Patatje, do not worry. There is a thing you must know by now. There is a certain difference between girls and boys. Boys do have a pissiewissieken and I am proud that you know so well the use of it. But girls do have a missiemoosieken and they use it for the same reasons, of which wishwishwishwie is one of them. Next time, you take a better look and then you will see that the form is a little different, but believe me, quite normal. And for the rest, there is only one thing I can say, enjoy your playtime together because it will become the basis of your wishes, dreams and memories.
And most probably, Auntie Caren will be happy to borrow her credit card to you for buying present for our little ice princess. My fluffy furry friends have asked me to bring you both their warmest regards. Your devoted Patricia from Leuven".
Raspi: "Dear Patricia, thank you so much, what a relief and now I have to apologize but we have just made plans to play a lot this evening in the late September sun. Your Patatje".
Caren: Patricia, Very well done, so Raspi knows at least now the difference between girls and boys. And with respect to my credit card I just want to tell you that usually I do not give it to anybody. But for sweet Raspi I will even break with this habit.
Some time later: "Patricia – any news about Raspi's shopping tour? He hasn't returned my credit card yet. Maybe he was not so successful in the shops and did not find what he basically was looking for.
Patricia: "Dear Caren with respect to your credit card, I got another e-mail from Raspi :
Dear Patricia, a miracle happened. You are not going to believe this but it is TRUE. Auntie Caren gave me her credit card for a while to buy certain special things. So, at this moment, I am pretty rich (maybe she won't after a while). But since you explained me that there was no sorrow or need to buy a new "what the boys do have" (as you can see, I learned this lesson very well), I thought by myself that it might be a good idea to visit that Cologne ?Miss Kitty? shop. Well, Christmas is coming closer and her birthday as well. So I need to be prepared. In other words, if there is some radio silence from my side, do not worry? Yours truly Patatje".
Patricia: "Dear Raspi-Patatje, how nice of your Auntie Caren to borrow her credit card. But, please, my sweet mijnheerken, do not exaggerate, your Auntie Caren needs some money to come to Berlin in December to pay a visit to your best friend Knuti. Therefore, let your choice for presents be limited to a few new handbags, sun glasses, handy, T-shirts, pyama?s, a comb and a sandwich box. I am quite sure that you can make a lot of presents out of that. And you know where to hide all these thingies, yes indeed, in that secret hole. And of course, I am quite sure, that Auntie Caren will not mind if you buy a few ?spulletjes? for Knuti, Gianna and yourself, but bear in mind, keep it normal and remember the December visit. Yours faithfully, Patricia and the Leuven Gang".
So, Dear Caren do not worry, your credit card will come back home (empty ??).
Caren: "Dear Raspi – Please bear in mind that tomorrow I have to pay the ticket in the Wilhelma and soon in Nuremberg. Needless to say that I'll need some cents for my planned trip to Berlin. You will understand that therefore my finances are very limited. As I can understand that you have the strong desire to buy a lot of presents for your beloved Flocke I could give you the advice to run straight to Leuven where Auntie Patricia lives. We all know her being a very generous Auntie and I am sure she will give you all her credit cards so that you will have the possibility to buy even more presents also for your friend Knut and his girlfriend Giovanna. But please return my card immediately otherwise I will have to climb over the Wilhelma fences to get in tomorrow and you know that my sporty abilities are even more limited than my credit card. Sweet Raspi I know you are a very good boy who doesn't want to spoil my zoo visits. Thank you for your understanding.
Raspi: "Dear Auntie Caren, big problem, that Leuven woman is rather nice, but she does not have a credit card. So, therefore, I trust that you will understand I still need yours for further use. Is there a possibility to ask Uncle Bernd to give his one to you for a while? Thank you. And now, I need my beddebakje since my arms are sooo tired of running around with all these heavy present bags. And by the way, it seems that you have scared Patricia from Leuven away for the next 12 hours? How did you do that??? Your beloved Patatje.
Caren: "Dear Sweet Raspi, it seems we now have a big problem. Uncle Bernd is not willing to help me with his credit card. He says that he has done so and won't do it again and I do not know why. Nevertheless, I need my plastic card back this evening. Auntie Patricia says she has no credit card? So she will have a lot of currency waiting for you to be spend on presents. Just in case this will not pay your bills I am sure Auntie Mervi will be glad to help you. She is getting up very early in the morning so hurry up to catch her right on time before the first bus is leaving. I am very sorry your arms are tired carrying all that present bags, but I know that you are a strong sweet Raspi and I am convinced you'll manage. Good luck, dear, but do not forget to first come to Munich with my credit card. I have promised to meet Anton and Corinna for a brunch and they won't be very amused if I did not arrive on time. You may understand that I am not very keen on having a fight with either of them. I know, Raspi-Patatje , you are a very good boy! See you soon …
And here is where it ended
Patricia: Let me tell you what happened at 5.00 o'clock this morning. I was just downstairs and my cats were waiting for breakfast when the phone rang. DRRRIIINNNG, DDDRRIIIING !!! Fleur, one of my cats took the phone:
F: Hello, who on earth is calling so early before we having had our breakfast ????
P (that's me): Fleur, keep your morning moods to yourself and give me the horn.
F: PPPFFFFT, Heavens knows what fool is calling you. P: Hello, Good Morning, who is calling?
R (yes indeed, Raspi-patatje): Patricia, is that you? I just had such an unfriendly cat on the phone.
P: Oh, good morning Patatje, do not worry about Fleur, she is always like this in the morning, and actually also during the day and the evening. Tell me, what can I do for you? By the way, have you already given back Auntie Caren's credit card? R: HHHRRRMMM, Weeeellll, that is why I call? I have a little problem and no, I still have the card. P: What little problem? There is still some money left, I hope. Remember that I wrote you that Auntie Caren needs it for her December visit.
R: Point is, there is exactly EUR 12,37 left on it. But I was hoping that Uncle Bernd was going to give his credit card so that Auntie Caren would not noticed it immediately. And now, she wrote me that Uncle Bernd refused to do this !!! And now, Auntie Caren will immediately see that I have spent a bit too much of her money. I dare not bring back the card. She will give me a good one on my boomsie? Wéééééhhh, wéééh, What do I have to do now?
P: Tja, Sweetie, why Uncle Bernd was refusing this, I do not know either. But most probably, I will know why and she too. HMPGGGHHH, OK, you have spent a tad too much, but important thing is that Auntie Caren gets her credit card back, the sooner, the better. You know what you do, you send it back to her by special courier and you make a beautiful drawing for her. She will surely appreciate it.
R: Patricia, you are my friend. That is a wonderful idea and I am going to make this drawing straight away. When I was in the office, I got an e-mail from Raspi saying the following: "Dear Patricia, thanks again for the good advise. I have forwarded Auntie Caren's credit card back to her via special courier and I have added this little drawing. Hope she will like it. (Embedded image moved to file: pic07616.jpg) O ja, and by the way, the cost for this courier was EUR 12,37. And now I am off to play the rest of the day with Flocke. But, ppppssst, I have already hidden all presents. Bussies, Yours Patatje
So, I suppose that by now, Caren is again the happiest person on earth, having back her beloved credit card. Wish you all the best, Folks.