Alaska Zoo welcomed "Cranbeary" – the new female polar bear
Nov 5th, 2018 | By
mervi
| Category:
Alaska
5.11.2018 – Photos and the video by John Gomes, Text by the Alaska Zoo
At the recommendation of the Association of Zoos & Aquariums' Species Survival Plan, the Alaska Zoo has welcomed a new polar bear from the Denver Zoo in October. The Alaska Zoo will care for Cranbeary, a 16-year-old female, with the goal of eventually pairing her with Lyutyik, the Alaska Zoo's male polar bear.
The zoo director Pat Lampi is waiting for Cranbeary
Zoo veterinarians supported her transfer, and she was monitored closely during the transition and after her arrival. Cranbeary will be housed in the Alaska Zoo's newly completed maternity den while she adjusts. A web-cam link will be provided to the public at the appropriate time so people can begin getting to know her during her acclimation.
Cranbeary immediately began exploring the tall vegetation in the behind-the-scenes polar bear yard. She is doing well and appears to be taking in the sights, sounds and smells of her first day in Alaska. She is energetic and curious about zoo staff, spending most of her time breathing in the fresh, Alaska air and moving around on a bear mission to explore every inch of her surroundings. You will notice some toys Cranbeary has in the video which were packed for her new Alaska Zoo home by Denver Zoo keepers.
Here are some of the first images captured by zoo photographer John Gomes as Cranbeary first stepped "paw" on Alaskan soil. Very special moments to capture!
"The Alaska Zoo is grateful that our participation in the Polar Bear Species Survival Program is bringing Lyutyik a companion," said Pat Lampi Executive Director of the Alaska Zoo. "We were excited to welcome Cranbeary and get her settled into her new home over the coming months."
First walks in the snow – photos taken on the 4th of November.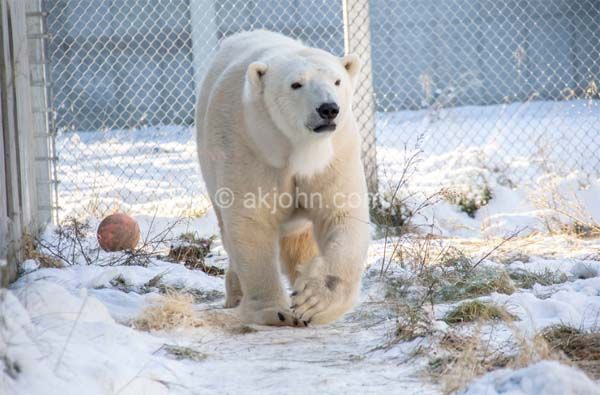 The decision to relocate Cranbeary from the Denver Zoo will benefit the welfare of both Cranbeary and Lyutyik, and contributes to efforts to ensure the long-term well-being and security of the polar bear species.
Since the Alaska Zoo lost its beloved female polar bear Ahpun in December 2017, Lyutyik has been without a companion. It is important for bears to be paired with diverse breeding partners in order to produce genetically diverse offspring. There are currently only 44 polar bears in North American zoos, and the species faces an increase of threats in the wild.
Cranbeary arrived in Alaska in October, but she will not be available for public viewing right away. She will undergo a period of quarantine—standard with all new animal arrivals—to adjust to her new surroundings and acclimate in a calm, controlled environment.
About the Alaska Zoo
The Alaska Zoo is a nonprofit organization that has provided a home for orphaned, injured and captive-born animals for nearly 50 years. Open year-round, the zoo is dedicated to promoting conservation of Arctic and sub-Arctic species through education, research and community enrichment. Additional information on admission rates, history, animals and more is available at www.alaskazoo.org.  
You can see more photos by John Gomes here:
Cranbeary entering her temporary den at the Alaska Zoo