Qannik chills out / Qannik relaxed
Nov 6th, 2018 | By
mervi
| Category:
Louisville
6.11.2018 – by Molly Merrow (In English/Auf Deutsch), Translation into German by Marga Andresen Gransow
The little polar bear girl Qannik is slowing down for the winter. I visited her last week in her home at the Louisville Zoo in Kentucky, USA, and she was chilling out in the small Polar Bear Alley enclosure. The grizzly bears were in the large enclosure with the pool. They too are slowing down for the season.
Das kleine Eisbärmädchen Qannik lässt es ruhiger angehen für den kommenden Winter. Letzte Woche habe ich sie in ihrem Zuhause besucht – im Louisville Zoo in Kentucky, USA, und sie ruhte sich in der kleinen Anlage der Polar Bear Alley aus. Die Grizzlybären übernahmen die große Anlage und auch den Pool, Jedoch auch sie machten alle etwas langsamer für die kommende Jahreszeit.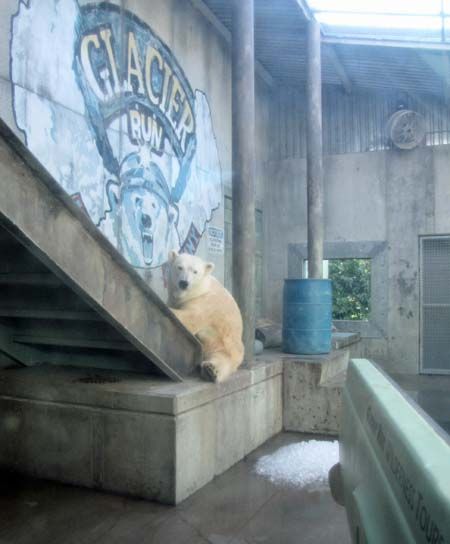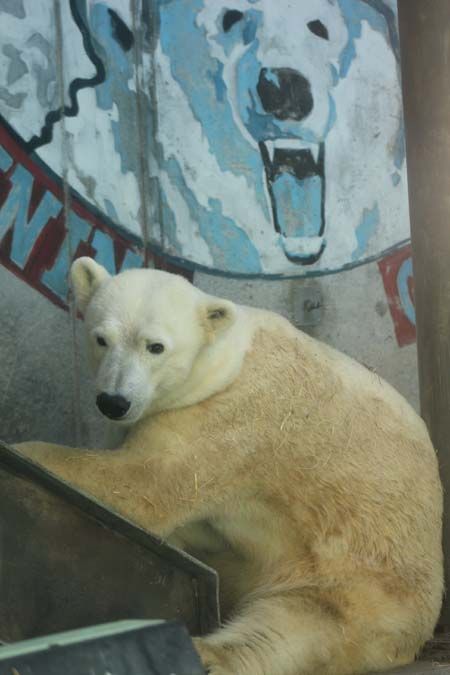 As a tiny cub, Qannik was found in the spring of 2011 on Alaska's North Slope, separated from her wild mother and twin sister by a severe storm. She was starving at only 15 pounds. The U.S. Fish and Wildlife Service, along with staff of the Alaska Zoo, rescued her. After a few months at the Alaska Zoo, gaining back her health, putting on some weight and making many new friends, Qannik was flown to Glacier Run at the Louisville Zoo in late June of 2012.
Als ein winziges Eisbärchen wurde Qannik im Frühling 2011 an der Nordküste von Alaska gefunden-sie wurde von ihrer Mutter und zwei Geschwistern nach einem heftigen Sturm getrennt. Sie war am Verhungern,wog nur noch knapp 15 pounds.Zusammen mit dem Team des U.S. Fish and Wildlife Service und Mitarbeitern des Alaska Zoos wurde sie dann gerettet. Nach einigen Monaten in der Pflege des Alaska Zoos wurde sie gesund, legte an Gewicht zu und lernte neue Freunde kennen. Am späten Juni in 2012 wurde Quannik dann per Flugzeug zum Glacier Run im Louisville Zoo verfrachtet.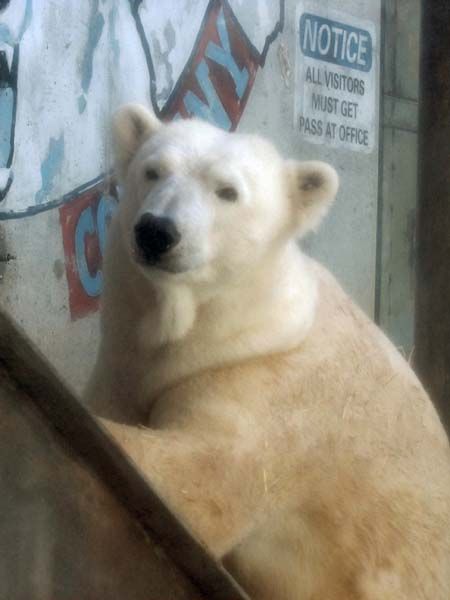 Qannik is the property of the U.S. Fish and Wildlife Service and, like another rescued cub Kali in the St. Louis Zoo, by federal regulations she can live in a zoo but is not allowed to be part of the breeding program.
Qannik ist das Eigentum des U.S. Fish and Wildlife Service, und gehört auch wie ein weiterer gefundener Findling namens Kali, der im St.Louis Zoo lebt. Sie dürfen im Zoo bleiben, aber können nicht in die Zuchtprogramme eingefügt werden.
Her keepers said that on the previous day, when Qannik was in the large enclosure, she did not want to swim in the big pool. When I have visited Qannik in the spring and summer, she is always swimming and splashing. But not right now. She would rather nap.
Ihre Tierpfleger erwähnten am Vortag, als Qannik in der großen Anlage war weigerte sie sich im großen Pool schwimmen zu gehen. Im Frühjahr und Sommer meiner Besuche ging sie immer schwimmen und plantschte umher.Jetzt jedoch aber nicht, sie machte viel lieber ein Schläfchen.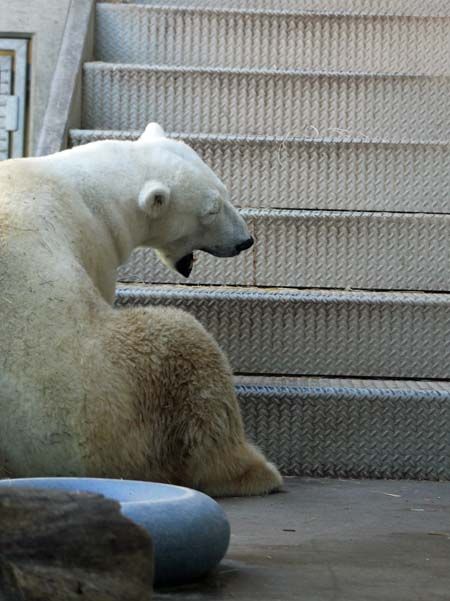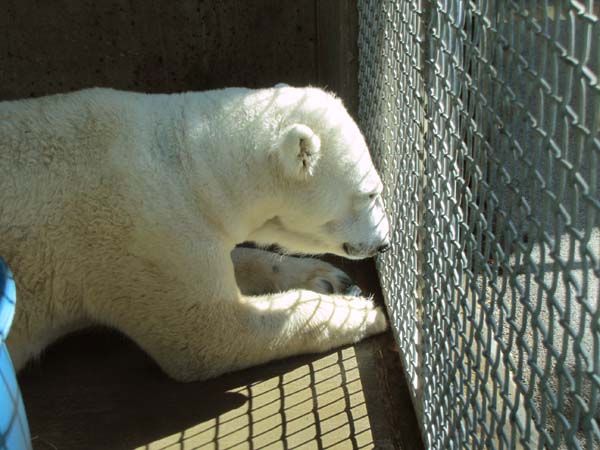 Her current weight is 560 pounds. She really slimmed down this past summer, but has put on some fall weight.
Ihr aktuelles Gewicht beträgt ungefähr 560 pounds (254 KG). Sie hat im Sommer reichlich an Gewicht verloren,aber das hat sie inzwischen schon wieder zugelegt.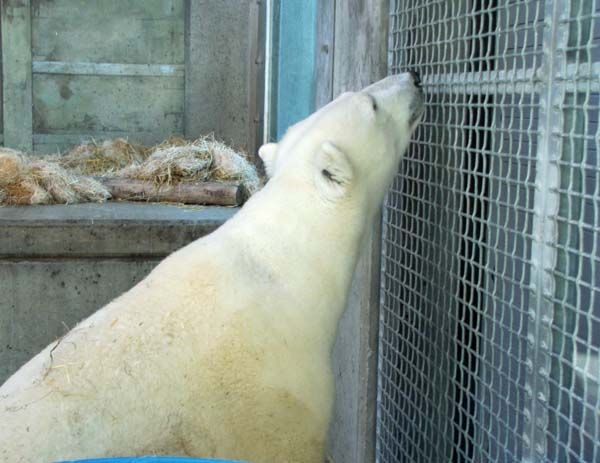 Although Qannik is a wild cub, and no one knows her exact birthday, the Louisville Zoo always has a big birthday party for her in January, with lots of treats and a peanut butter cake. We will all sing happy birthday to her for her 8th birthday this day.
Qannik als ein Tier aus der Wildnis kam kann niemand genau ihren Geburtstag wissen und somit beschloss der Louisville Zoo immer im Januar eine große Geburtstagsparty für Qannik zu veranstalten,mit ganz vielen Leckereien und einen Erdnussbutterkuchen. Auch zu ihrem 8. Geburtstag werden wir ihr ein Happy Birthday Ständchen singen.