Eleven years with Knutitours
Jan 25th, 2019 | By
mervi
| Category:
Featured articles
25.1.2019 by Mervi, Collages by Bauz, Caren and Mervi
What is Knutitours? Frankly – it's very difficult to explain for someone who hasn't been travelling along from the beginning. However, I would like to say that Knutitours – and Knuti's Weekly Magazine – are a combination of reality and fiction. We cherish the happy memories from the good old days but we also live in the current time and look forward to the future.
The 'Headquarters' of the Knutitours is the Knuipe where we can let our inner child out. The spirit of a lovely bear angel is always present in our favourite hangout.
Knuti's Weekly Magazine (KWM) started shortly after the Knutitours was established. The magazine was thought as a complement to Knutitours website but now it's a well known place for excellent reports and even for some fiction. Now all reports are published in KWM and I'm glad knowing that even many zoo keepers are readers of this Magazine.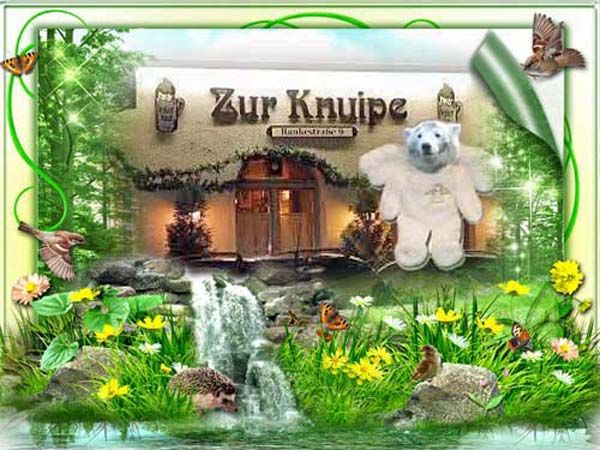 Because my hand doesn't allow me to make new collages I want to show you some I made in the early years of Knut and his friends.  The magic bear still inspires me and all his fans. He still keeps connecting people all over the world.
In the beginning we had our dear Waiter at our service. He was a real charmeur and nobody minded if the croissants and even other kind of food had vanished before it was time to serve them …. 🙂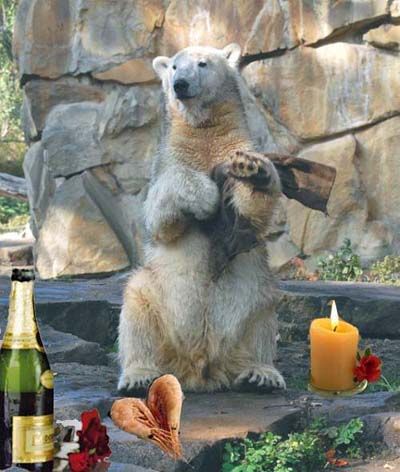 Very often there were small mishaps when our Waiter wanted to roller skate.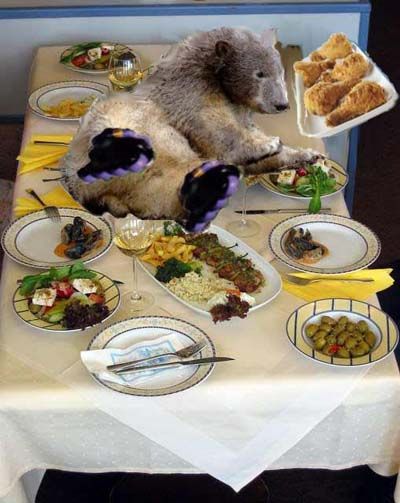 What fun it was to make the first collages of our Dream Team! Oh, those were the days…. but watching the 'oldies' makes me remember the happy times and fills my heart with sunny thoughts.
The first summer vacation when Knuti was allowed to drive a car.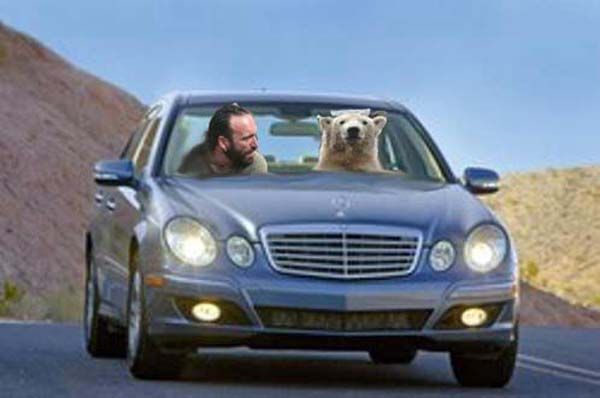 Late summer evenings in a boat … no worries…..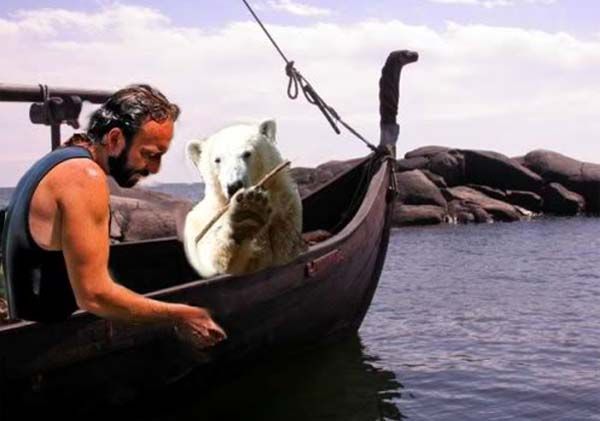 Magic is the word……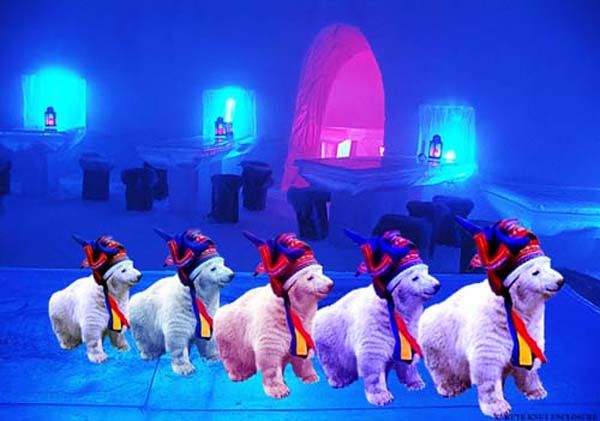 A very popular figure was Super Chief Crime Scene Investigator Knuseau. His disguises never stopped astonishing us. I think his best 'cover' was die Gräfin Knuthilda von Brandenburg. Maybe you remember how he stopped Arsene Knupins jewel robbery?
Here Knuseau was wearing his Sherlock Holmes outfit.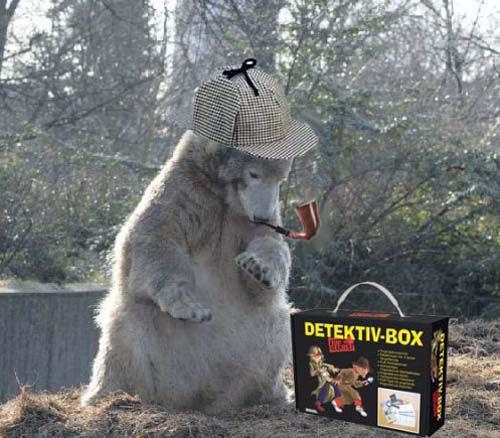 A growing bear needs lots of energy!!!!
Before we knew we also had a waitress in the Knuipe. Fräulein Flocke came in and charmed us all. In the first collages she was carrying a pink purse and when I forgot the purse in a picture everybody was asking what has happened to her purse. The image of pink loving Flocke was created.
Teddybärenmutti has written several stories about this couple and served us many good laughs.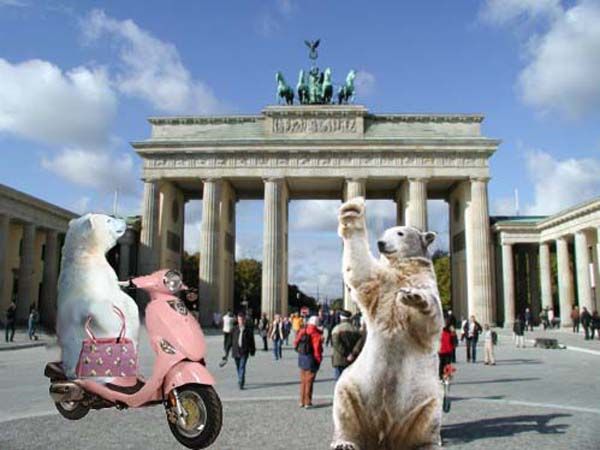 Since Knuti and Flocke are very action minded they're not afraid to start new projects! In this case they got tired of waiting for a new enclosure and decided to build it themselves.
Raspi, Knuti and Flocke having holiday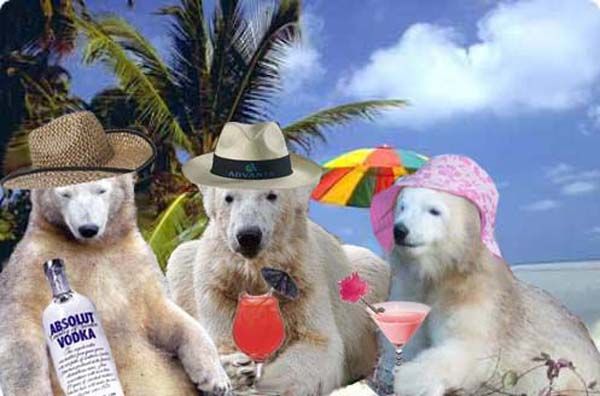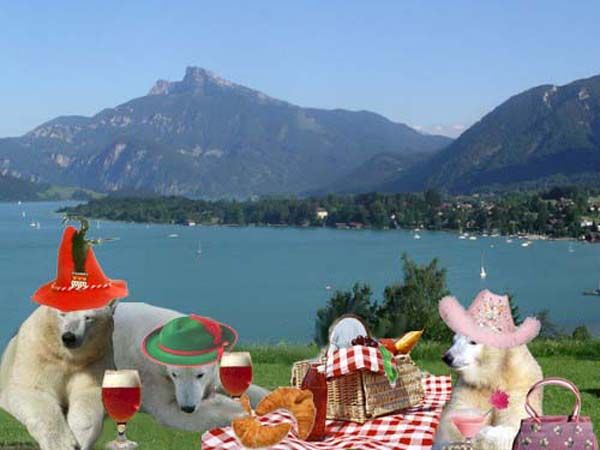 A welcome party for Gianna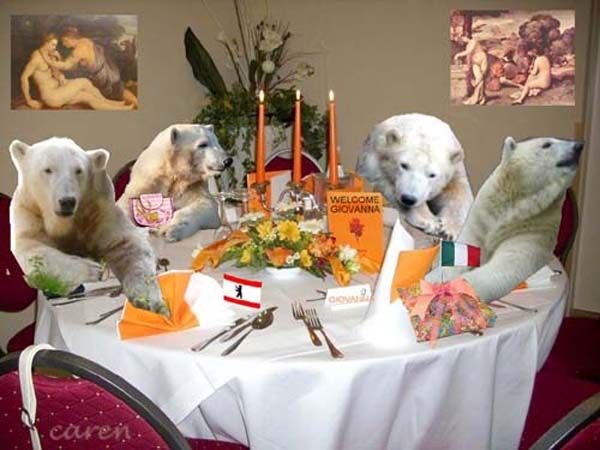 Raspi admires the Italian beauty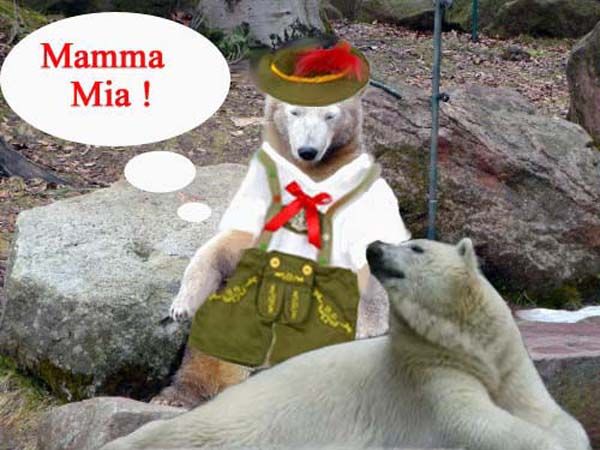 We have all learnt  that lettuce is for sissies! -:)
Honey paws Knut and Bernie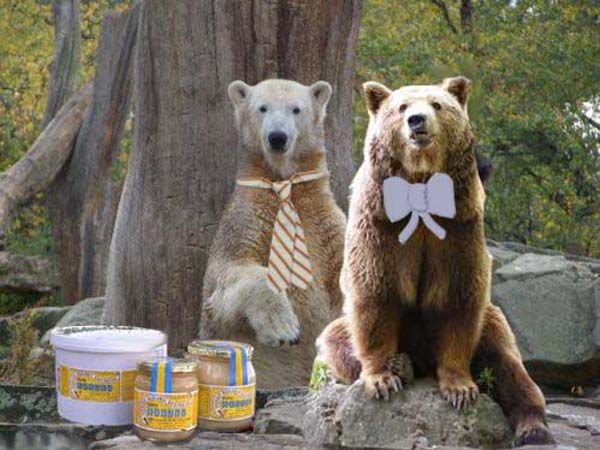 Romantic dinner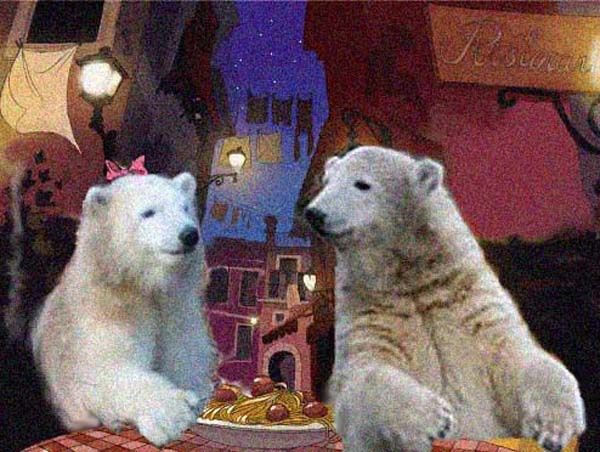 The Chief of the Fitness Center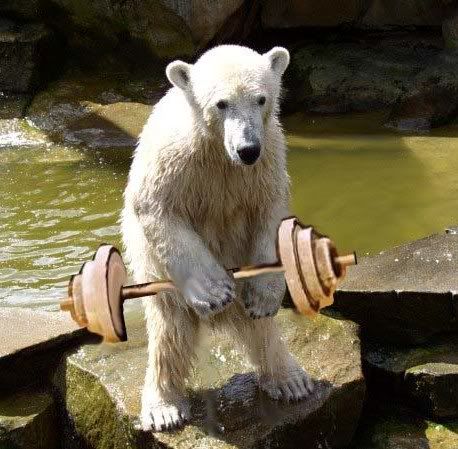 Knuti always tried to make us understand the importance of relaxation and he really was a good example for us all.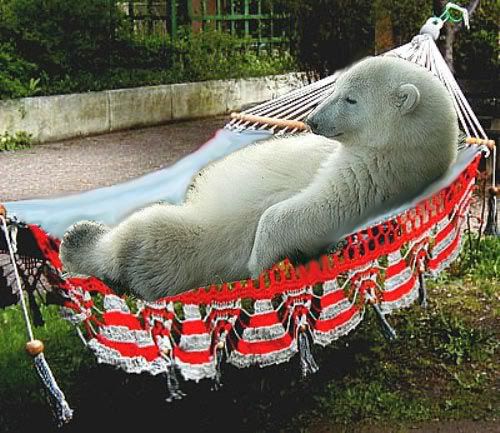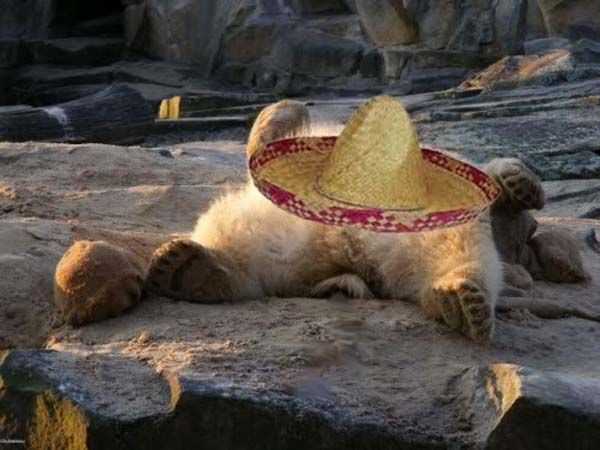 The favourite drinks in the Knuipe are Knutsteiner and Knusecco.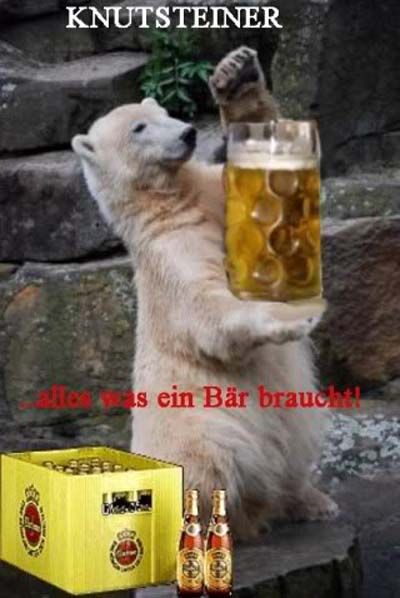 Sometimes it's difficult to enter our hangout because the Server Family is causing problems but it's amazing how we always manage to get in! It takes a lot of patience and a creative way of thinking but we always make it! 🙂
This was a small sample of the collages from the early years. I have no idea how many pictures there are but it would take weeks, maybe months to read all the stories and watch all the pics!
I want to thank all the readers, reporters and commentators in the Knuipe and in KWM. Without you the journey  wouldn't be possible. Of course, it's good to know there are many silent readers but it would be nice if you just said 'hello' once and a while. 🙂 Each and every comment is very much appreciated!
Although it's difficult to compete with Facebook I hope the magic journey in our virtual world will go on. I want to offer more than just photos and videos in KWM because I don't want the Magazine turn into a photo album! It remains to be seen if my efforts will be rewarded so there will even be the 12th anniversary ….
Thank you for being here!
Yours sincerely, Mervi