Milana and Sprinter – a love affair in Hannover
Mar 14th, 2019 | By
mervi
| Category:
Featured articles
14.3.2019 von/by Annemarie
Als ich vor kurzem (19.2.19) den Zoo Hannover besuchte, da ging ich gleich zum "Yukon Bay", wo die beiden Eisbären-Männer Sprinter, Nanuq und ihre Freundin, die junge Milana, ihr Zuhause haben. In der vergangenen Zeit hatte sich Milana hinter den Kulissen für Sprinter entschieden. Jetzt wird für Nanuq eine neuer Zoo gesucht, wie man berichtete.
Ich war froh, Milana und ihren Auserwählten auf dem großen Hafengelände beobachten zu können. Ab und an gab es zarte Begegnungen an Land. Aber im Wasser, da ging es heftig zu, so dass das Wasser nur so spritzte. Ab und an rettete sich Sprinter an Land und atmete tief durch. Aber Milana lockte ihn wieder ins Wasser. Nach der Fütterung am Nachmittag wurden sie in ihren Stall gelassen, den dann sollte Nanuq die Gelegenheit bekommen, an die frische Luft zu gehen.
When I recently visited the Zoo Hannover (19.2.19), I went straight to the "Yukon Bay", where the polar bears Sprinter, Nanuq and the young girl from Russia, Milana, have their home. In the past, Milana had chosen Sprinter as her friend behind the scenes. Now, the Zoo is looking for a new zoo for Nanuq, they reported.
I was glad to see Milana and Sprinter in the big harbor area. From time to time there were gentle meetings ashore. But in the water, they played wish such energy that that the water just splashed. From time to time Sprinter 'saved' himself ashore and took a deep breath. But Milana lured him back into the water, again and again. After the public feeding in the afternoon, they were left in their stable and Nanuq was given the opportunity to go out in the fresh air.
The beautiful Milana was born in 2009 in the Moscow Zoo. Her parents are Simona and Wrangel. In 2017 she came to Hannover and charmed everybody.
Sprinter came to Hannover from Rhenen where he was born in 2007. His parents are Freedom and Viktor.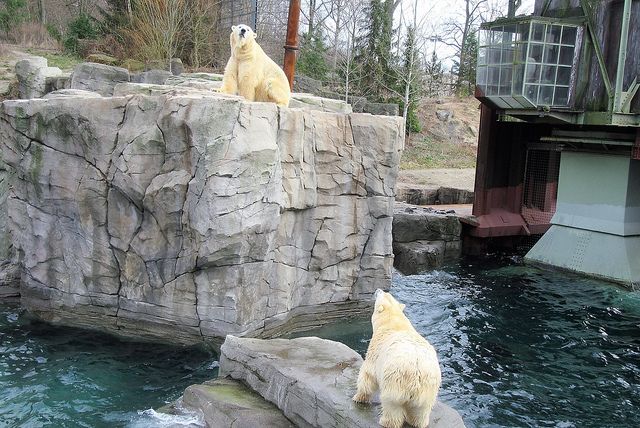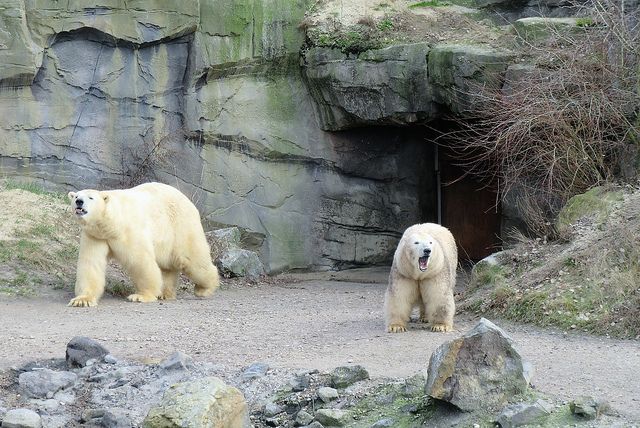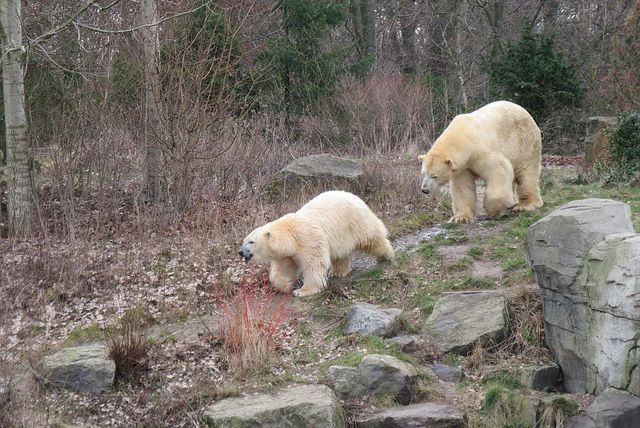 Sprinter und Milana tobten durch das Wasser. Sprinter zwickte sie viel in ihren Nacken, was ihr aber anscheinend gar nichts ausmachte.
Sprinter and Milana 'sprinted' through the water. From time to time Sprinter pinched her neck, which did not seem to bother her much.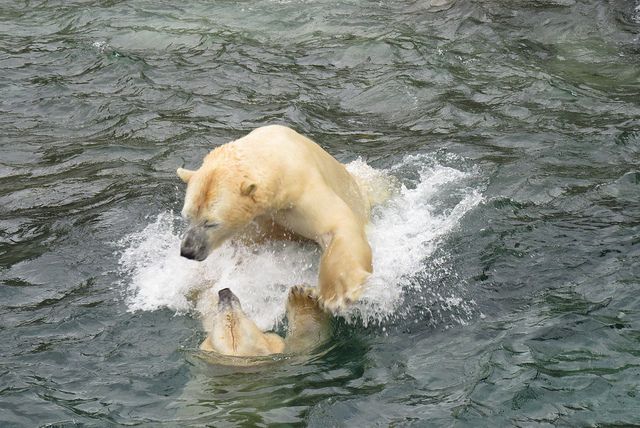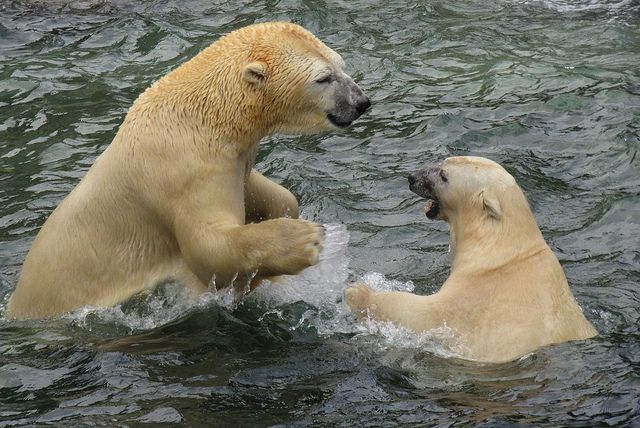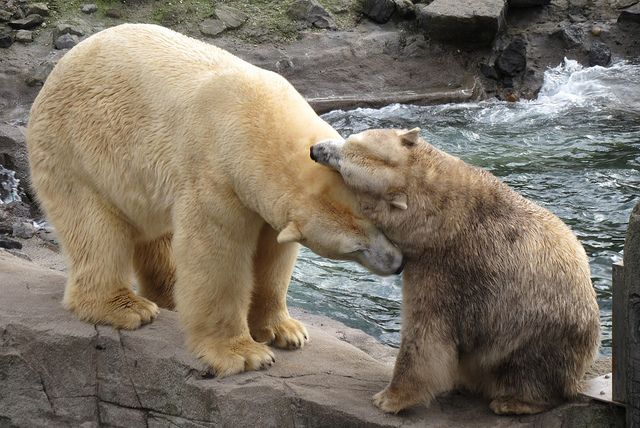 Milana hat mich oft an Knut erinnert, der auch gern so nett posierte.
Milana often reminded me of Knut, who liked posing so nicely.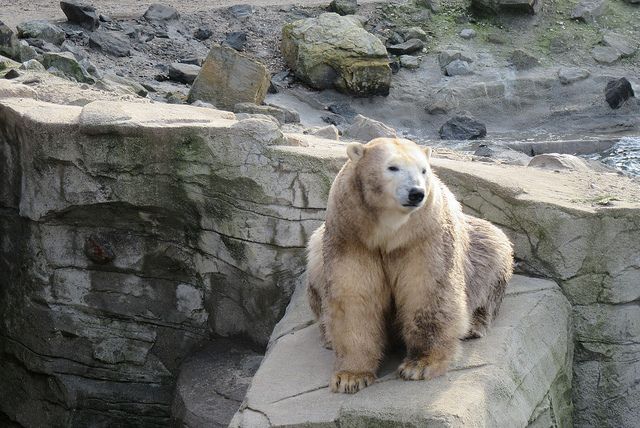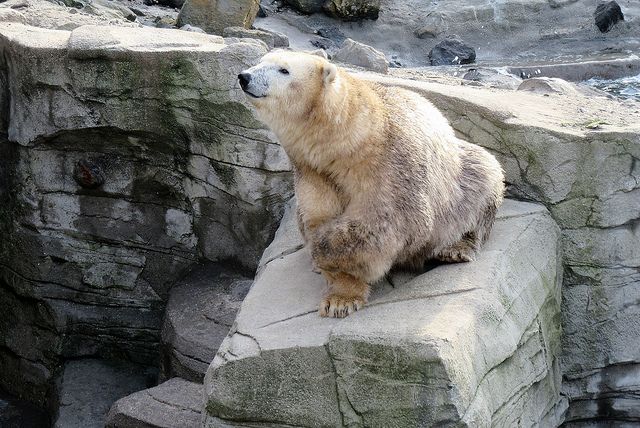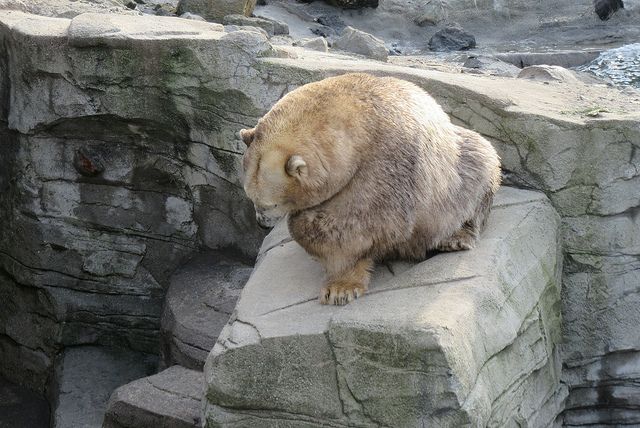 Sprinter spielte auch gern allein – mit der Hafen-Boje.
Sprinter also liked to play alone – with the harbor buoy.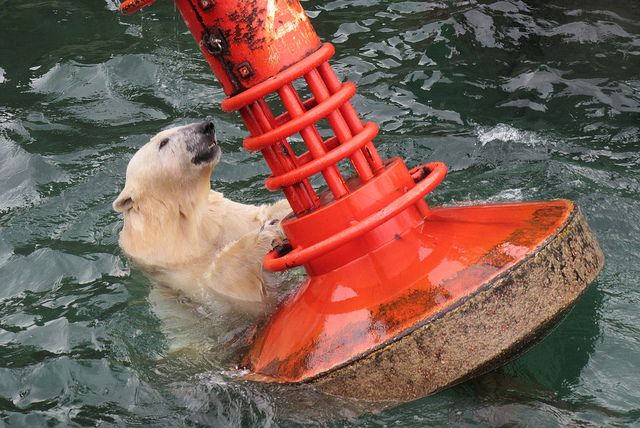 Bye bye!