Lynn's baby charms everybody
Mar 1st, 2019 | By
mervi
| Category:
Denmark
1.3.2019 – Source: the Copenhagen Zoo
Lynn and her cubbie can now be seen in the old polar bear enclosure in the zoo daily. Of course, it's mama Lynn who decides if they want to be out or stay indoors.
Shall we check what the world looks like today?
Mama Lynn is guiding her baby bear.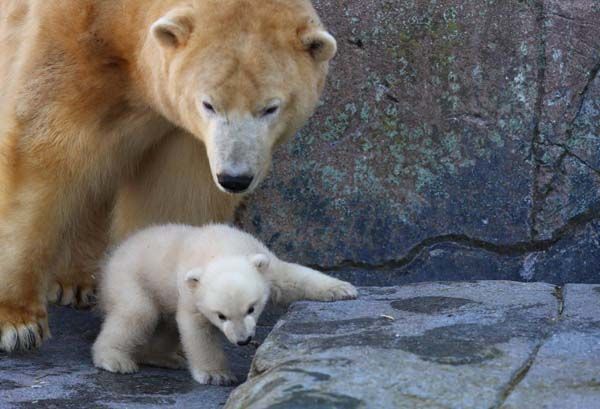 Sometimes she must help the baby with the 'transport'. 🙂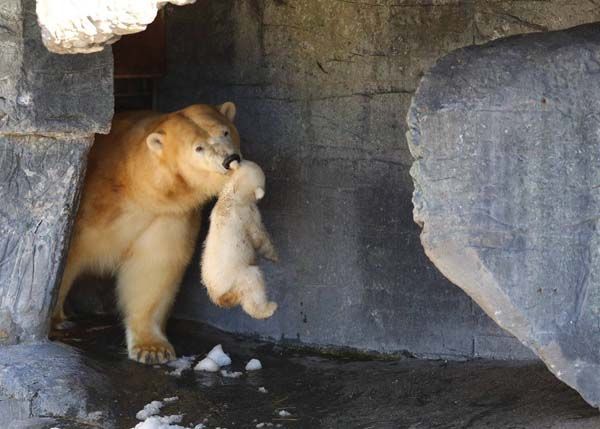 What a sweetie! What a cutie! What a lovely miracle!
……………………..
28.2.2019 – UPDATED at 13.45, Source: the Copenhagen Zoo, Ekstrabladet
Now I can finally present some photos of Lynn and her baby bear in the outer enclosure! I was a bit worried when I heard they would come out in one of the old enclosures which are not so suitable for a small cub. However, to my great pleasure I saw there are big haystacks in the moth and even other places so it looks now quite secure.
There were, of course, lots of reporters and visitors witnessing this special event. Exactly at 11.00 o'clock Lynn came out alone, took a look at the audience, sniffed the air and ran back to the den.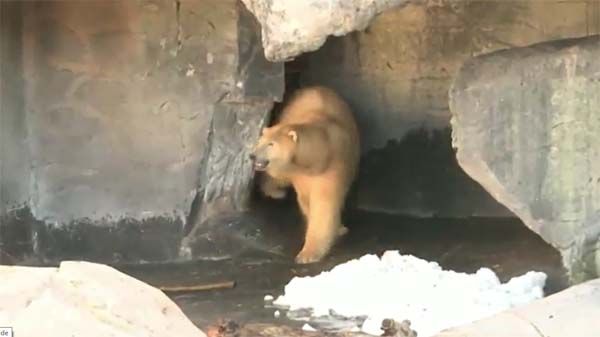 Soon she came back and there the star of today was following her mama.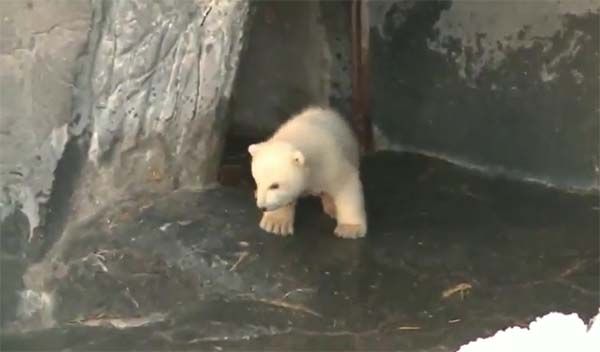 There was even some snow for the bears.
Do I have to tell you that I immediately fell in love with the cutie pie ….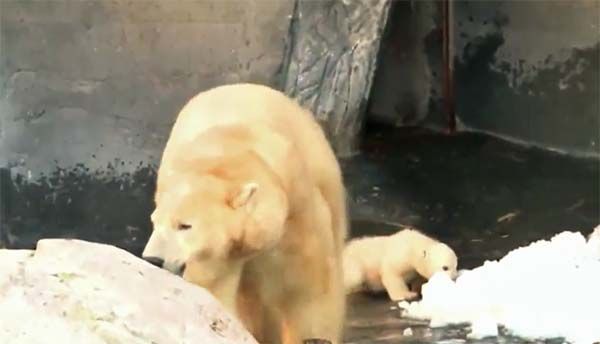 When we visited the zoo last April we could see Nord and Lynn together. Maybe they were planning a nice furry surprise? Well, they certainly succeeded!
The baby didn't seem to mind the big crowd of visitors but began to examine the 'new world' with great curiousity.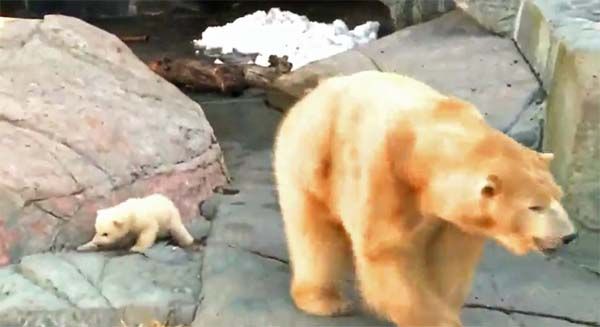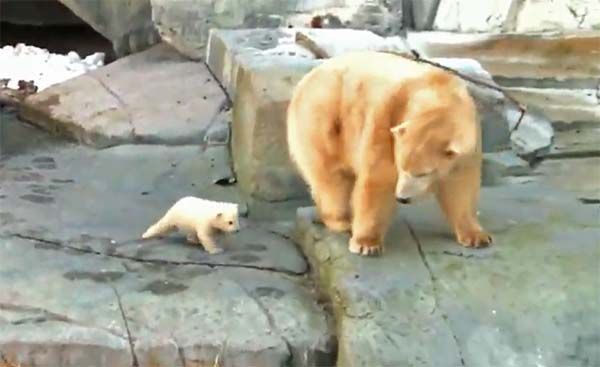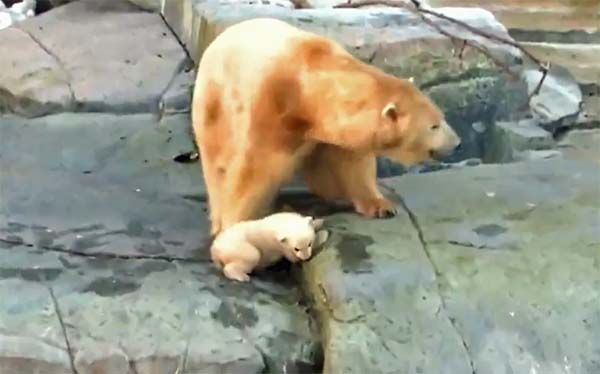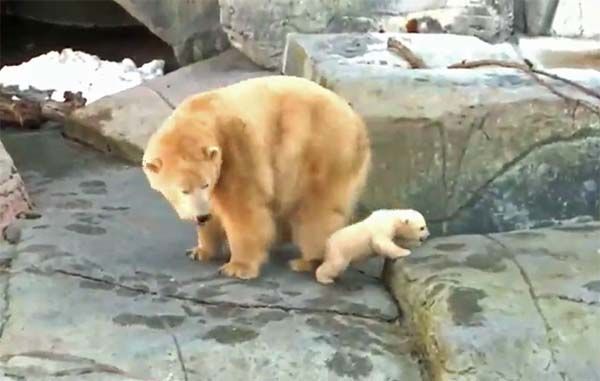 Naturally the cubbie stayed close to mama – or was it vice versa?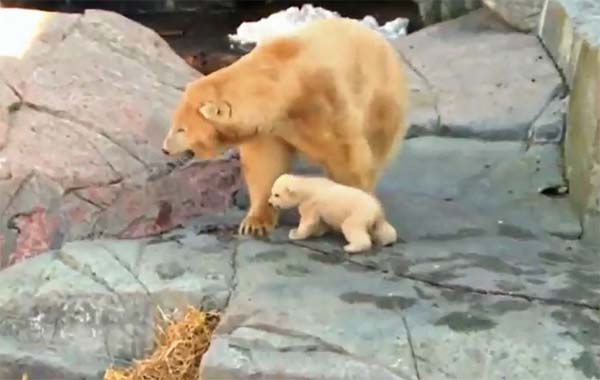 Lynn looked quite relaxed but kept an eye on her baby all the time.
………..
This morning Lynn's cubbie was happily playing in the den before the first outing that took place at 11.00 o'clock. There were, of course, lots of reporters and visitors witnessing the baby bear's first 'public performance' .
I watched the event 'live' but unfortunately the camera didn't zoom in so it was impossible to make screen shots. I'm sure there will be photos later on and, naturally, I will show them here.
While we're waiting – here are a couple of pics and a short video of the sweetie this morning.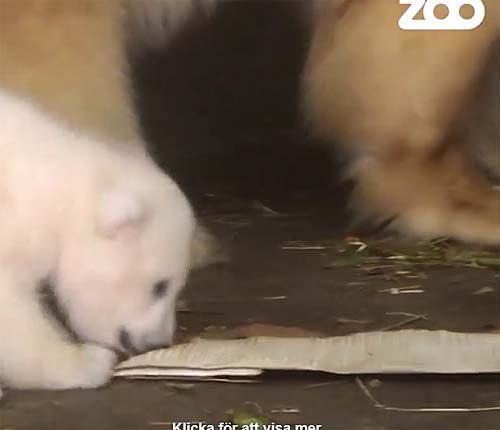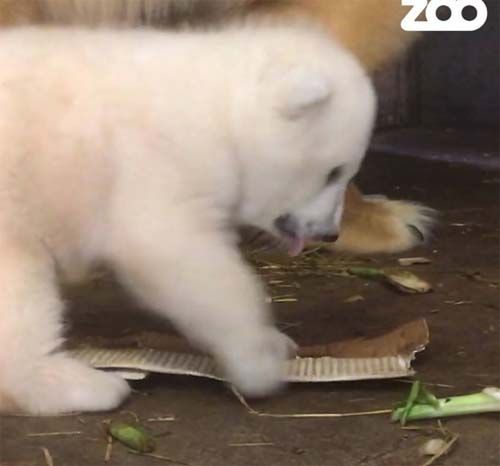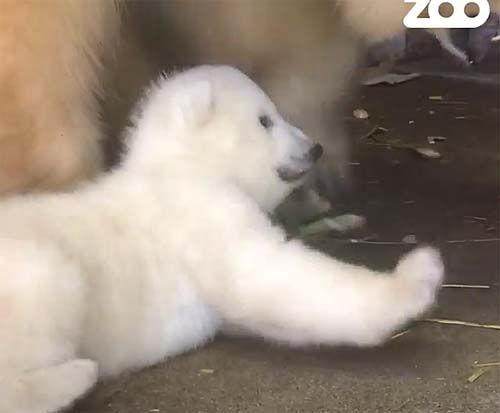 It's a tradition in the Copenhagen Zoo that on the International Polar Bear Day the polar bears will get ice on their enclosure. Yesterday Nord and Nöel could enjoy 1500 kg ice and there's no doubt they loved the gift!