Knut nostalgie – Midsummer Night's Dream
Jun 21st, 2019 | By
mervi
| Category:
The Memory Lane
21.6.2019 – Story and collages by Mervi
Original Knuti, TD and Flocke by Christina M, Viktor and Vesa, Übersetzung/Translation: Doro II
This story was first published  in 2008. I thought it would be suitable to publish it again on the Midsummer Eve 2019. Oh, how time flies ….
Midsummer Night's Dream 2008
Today it's Midsummer Eve and Daddy and I decided to celebrate like the Scandinavians do. We started in the morning by picking flowers in a beautiful field near Baerlin.
Heute ist der Tag vor der Sonnenwende, und Papi und ich haben uns entschlossen, auf skandinavische Art zu feiern. Morgens haben wir damit angefangen, auf einer wunderschönen Wiese nahe Bärlin Blumen zu pflücken.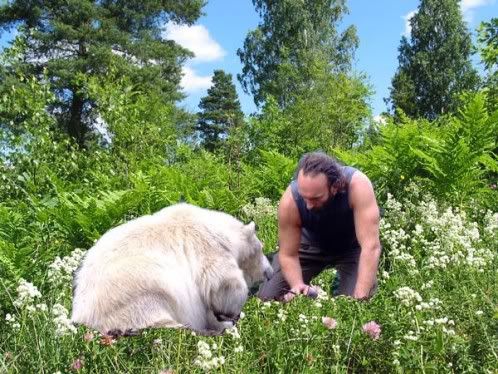 Then Daddy made us these wonderful garlands of flowers. He said we look like two hippies…I don't know what a hippie is but Daddy said the Wild Herd knows – many of them have probably been hippies on the merry 60's!
Dann hat uns Papi diese wundervollen Blumengirlanden gemacht. Er sagte, dass wir wie zwei Hippies aussehen … Ich weiß zwar nicht, was ein Hippie ist, aber Papi hat gesagt, die wilde Herde wüsste das – viele von ihnen sind in den fidelen Sechzigern wahrscheinlich selber welche gewesen.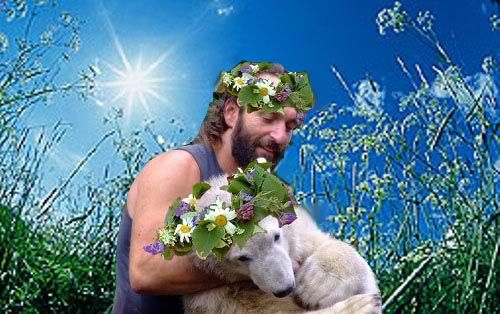 I wanted to wear my beautiful garland even when I went swimming. I look quite cute if I may say so myself!
Ich wollte meine schöne Girlande sogar beim Schwimmen tragen. Ich sehe echt süß damit aus, wenn ich das mal so sagen darf!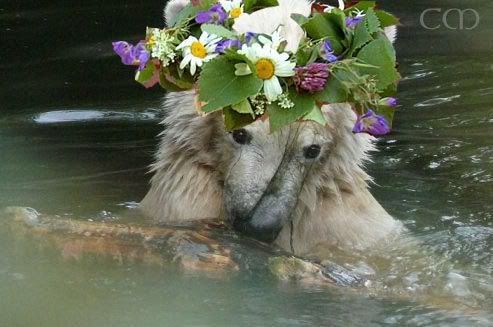 After we had been swimming, playing and fooling around in the flower field we were very hungry. Daddy had a surprise for me – a traditional Midsummer lunch! We had smoked salmon, different kinds of herring, mini kartoffel, vanilla icecream and strawberries. Well, I always prefer my salmon au naturelle so I had a large unsmoked Swedish salmon. It was very yammy!! Daddy even drank beer and snaps – I had some soft drinks because I'm still too young for that 'heavy' stuff but maybe next year I can say 'skål' and 'kippis' and have a little snaps with Papi!! Oh, that will be fun – so I've heard…..
A famous Dutch painter, Knumbrandt, happened to pass by and painted this picture of Daddy and me. Wasn't that nice of him!
Nach dem Schwimmen, Spielen und Herumalbern auf der Blumenwiese waren wir richtig hungrig. Papi hatte eine Überraschung für mich – ein traditionelles Sonnenwendmahl! Es gab Räucherlachs, verschiedene Heringe, Minikartoffeln, Vanilleeis und Erdbeeren. Na ja, ich mag meinen Lachs ja lieber "au naturel", und deshalb gab's für mich einen großen ungeräucherten schwedischen Lachs. Der war ja so lecker! Papi trank sogar Bier und Schnaps – ich dagegen hatte Alkoholfreies, weil ich für dieses starke Zeugs noch viel zu jung bin. Aber vielleicht kann ich nächstes Jahr schon "Skål" und "Kippis" sagen und mit Papi einen kleinen Schnaps trinken!! Oh, das macht Spaß, wie ich gehört habe …
Ein berühmter holländischer Maler namens Knumbrandt kam zufällig vorbei und hat dieses Bild von Papi und mir gemalt. War das nicht nett von ihm!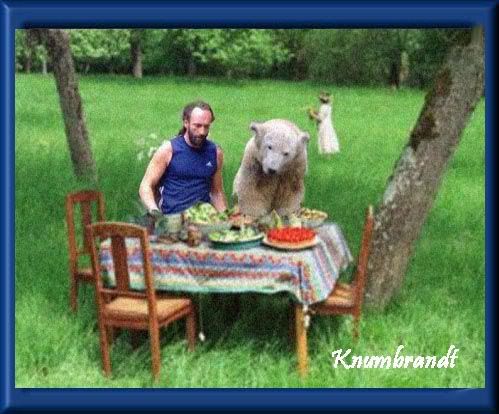 In Sweden and in Swedish speaking parts of Finland it's customary to raise a 'majstång' – it's called maypole in English and looks a little like a flag pole decorated with flowers and ribbons in different colours. People use to sing and dance around the maypole. Daddy made a little maypole in my enclosure – I love it!
Lighting big fires is also a Midsommer custom. It's supposed to chaise away evil spirits. Daddy and I want our fire to chaise away the yellow press and that special, nosy, so called journalist with the ladder!!! I hope our great fire does the trick and makes the evil people disappear!
In Schweden und dem Teil von Finnland, wo man schwedisch spricht, ist es Brauch, einen "Majstång" aufzustellen. In Deutschland heißt das Maibaum, und der sieht ein bisschen aus wie ein mit Blumen und bunten Bändern geschmückter Fahnenmast. Um diesen Maibaum herum tanzen und singen die Leute. Papi hat einen kleinen Maibaum in mein Gehege gestellt – den find' ich so toll!
Große Feuer sind ein weiterer Brauch zur Sonnenwende. Sie sollen böse Geister vertreiben. Papi und ich wünschen uns, dass unsere Feuer die Boulevardpresse verscheuchen und vor allem diesen ganz besonders neugierigen sogenannten Journalisten mit der Leiter!!! Ich hoffe, dass unser großes Feuer das schafft und die bösen Leute endgültig verschwinden!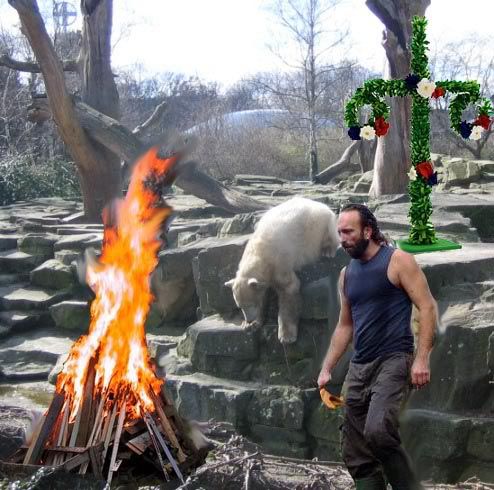 And now I want to tell you something very exciting! I've heard that the unmarried ladies use to pick seven different kinds of flowers and put them under their pillow in Midsummer Eve's night. They believe that their husband to be will appear in their dreams!
I'm not exactly an unmarried maiden but I decided to make an experiment. I put seven flowers under my pillow and guess what happened! A pretty girl appeared in my dream – she looked very much like a certain beauty in Nürnberg!! Wow, wow, wow!!! I'm a very happy bear!
Und nun möchte ich euch etwas ganz besonders Aufregendes erzählen! Ich habe gehört, dass die unverheirateten Damen am Vorabend der Sonnenwende sieben verschiedene Blumenarten pflücken und sie unters Kissen legen. Sie glauben, dass ihnen in ihren Träumen dann ihr zukünftiger Ehemann erscheint!
Ich bin nun nicht gerade eine unverheiratete Jungfer, habe mich aber zu einem Experiment entschlossen. Ich habe sieben verschiedene Blumen unter mein Kissen gelegt – und ratet mal, was passiert ist! Ein hübsches Mädchen ist mir im Traum erschienen – sie sah einer ganz bestimmten Schönheit aus Nürnberg sehr ähnlich! Wow, wow, wow!!! Ich bin ein total glücklicher Bär!
In my dream we were playing together in a beautiful field. I even let her borrow my ball – something I usually don't do but this was such a special occasion. Oh, how I wish this dream will come true one day!
In meinem Traum haben wir zusammen auf einer wunderschönen Wiese gespielt. Ich habe ihr sogar meinen Ball geliehen – was ich normalerweise nicht tue, aber das war eine ganz besondere Gelegenheit. Oh, wie sehr ich mir wünsche, dass dieser Traum eines Tages in Erfüllung geht!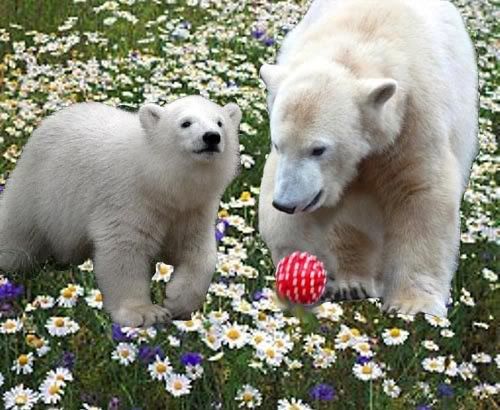 Well, folks, sometimes I find the Scandinavians very odd and funny people but they certainly know a lot about dreams!!!!
Also, Leute, manchmal finde ich die Skandinavier schon ziemlich merkwürdig und komisch, aber sie wissen eine Menge über Träume!