Zoom Gelsenkirchen – My visit in April 2019
Jun 3rd, 2019 | By
mervi
| Category:
Ralph's reports
3.6.2019 by Ralph Morton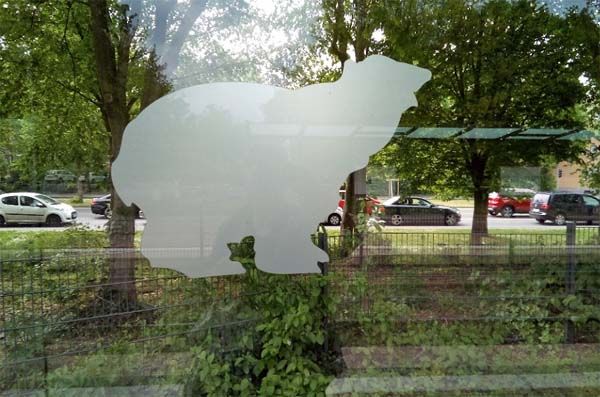 I spent a morning in the Alaska world at Zoom Gelsenkirchen in April on the way to meet a friend in Dusseldorf. The tram stop has a series of animals from Zoom, including a Polar Bear, on its glass shelters.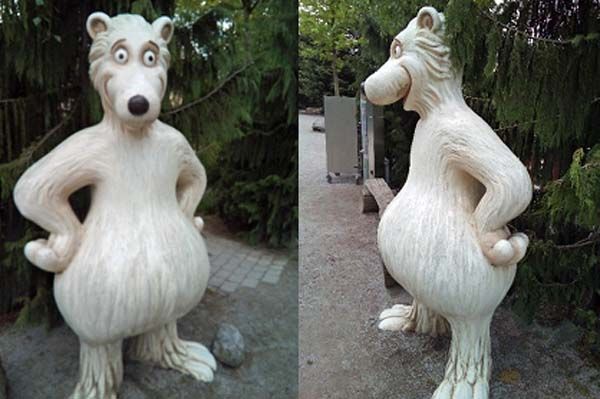 The cheerful Polar Bear mascot of Alaska World is represented near the Polar Bears by this life size wooden figure.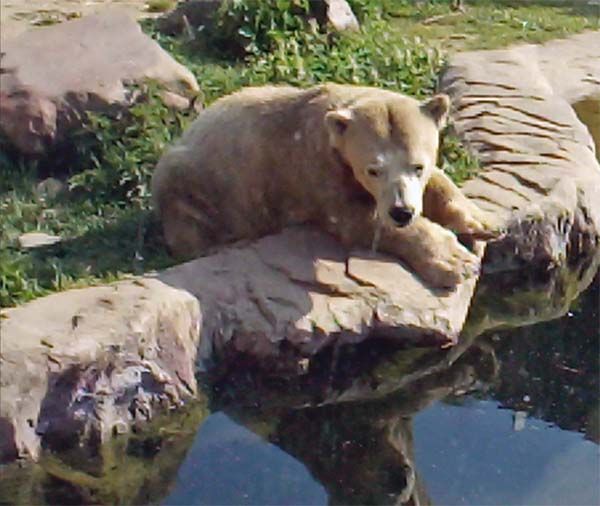 The grand old lady of Zoom, Antonia, was my first call as usual. She was enjoying the morning sun and keeping a watchful eye on anyone nearby.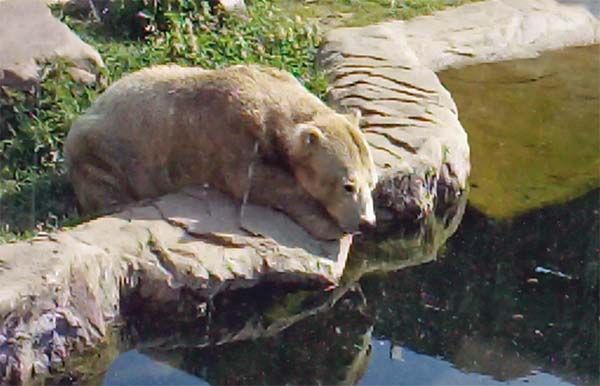 With no one much around Antonia decided to have a short nap.
As we know, Polar Bears are keen gardeners. This was the first time I had seen Antonia tending her grounds. As you can see, she takes her work very seriously.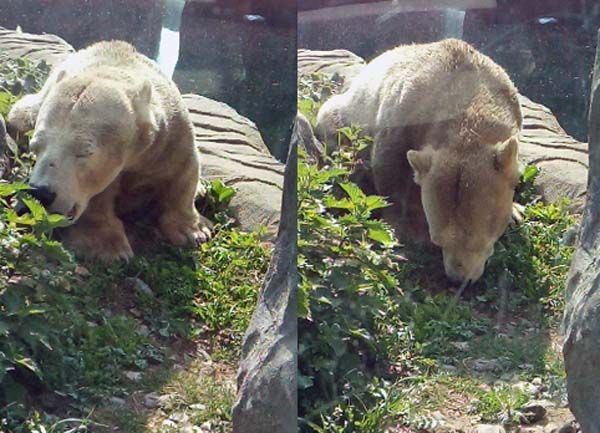 The gardening work made Antonia hungry, so she took the opportunity to eat some grass. This helps her digestion as well as being an enjoyable meal.
Antonia was concentrating on eating and it gave me an opportunity for a close up of her very distinctive face.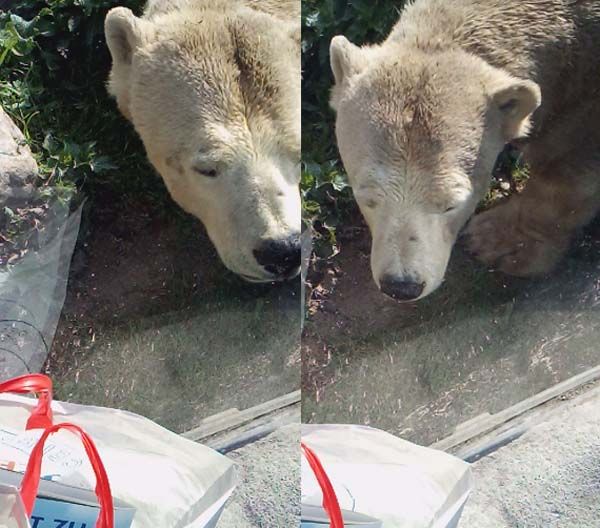 Although the grass was delicious, Antonia took time to check out my bag. However, she is a wise old bear and was soon back at the grass.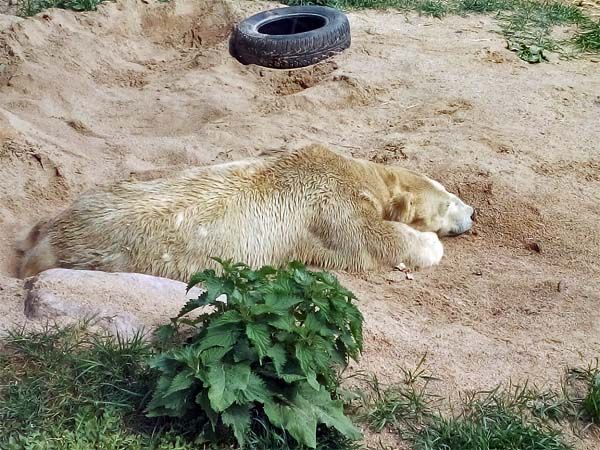 Later on Antonia was fast asleep. It had been a busy morning. Polar Bears are always able to camouflage themselves and a passing visitor might not even notice her.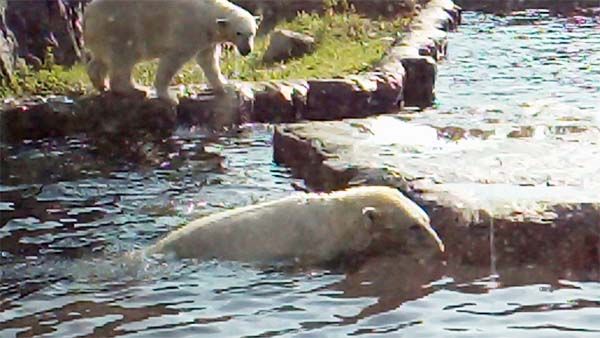 Bill was fast asleep for most of the time I was there. He did go and see if Lara was at the partition a few times, but otherwise he was the most relaxed I have seen him. Lara and Nanook, her 16 month old cub, were in the water.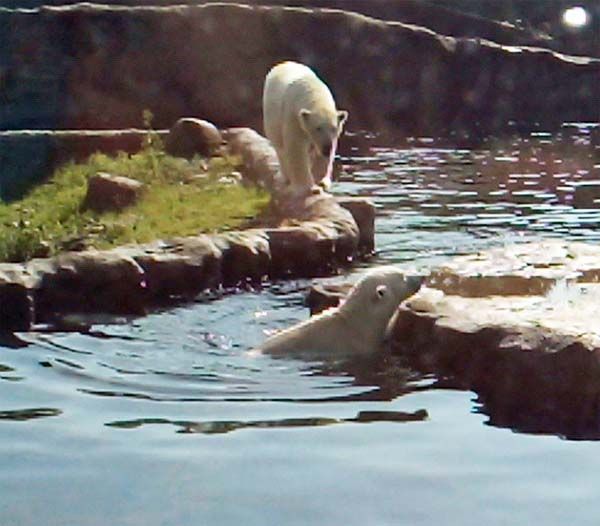 It seems a long time since last year when little Nanook was being trained by Lara in the water. Now it is hard to tell them apart. Nanook is in the water here.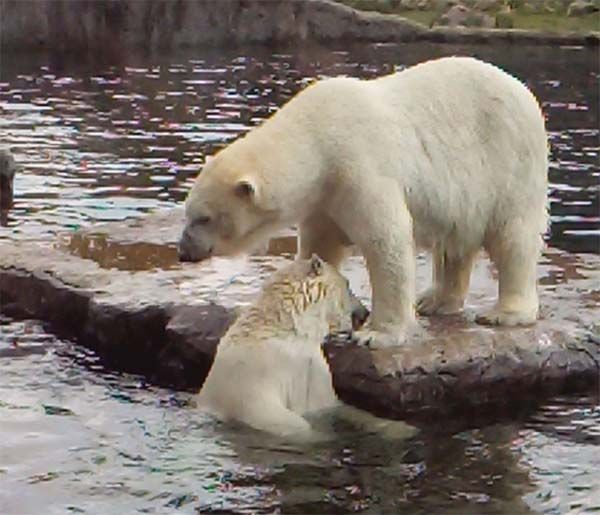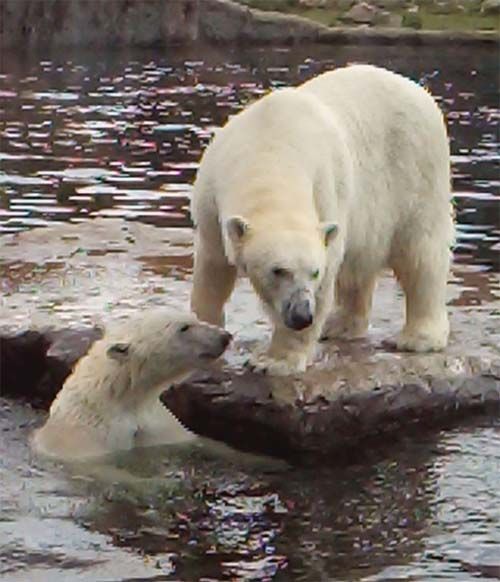 Lara standing on the island with Nanook in the water shows how much Nanook has grown. There is not much left for Lara to teach her cub, but they still enjoy being with each other.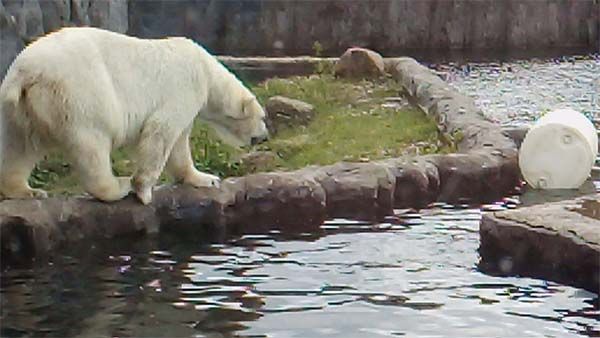 Like all Polar Bears Lara still enjoys playing with barrels and buckets.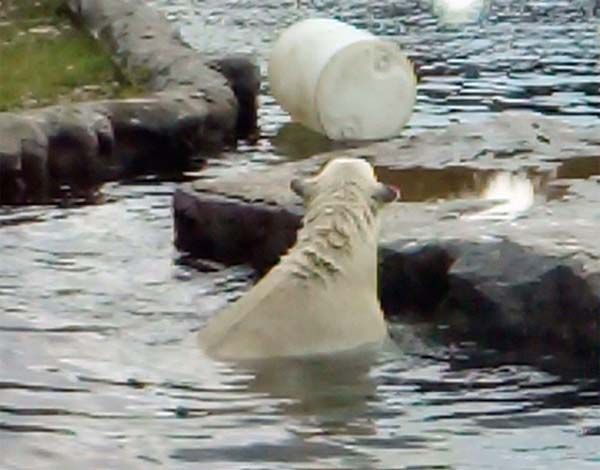 Now of course she has competition from Nanook.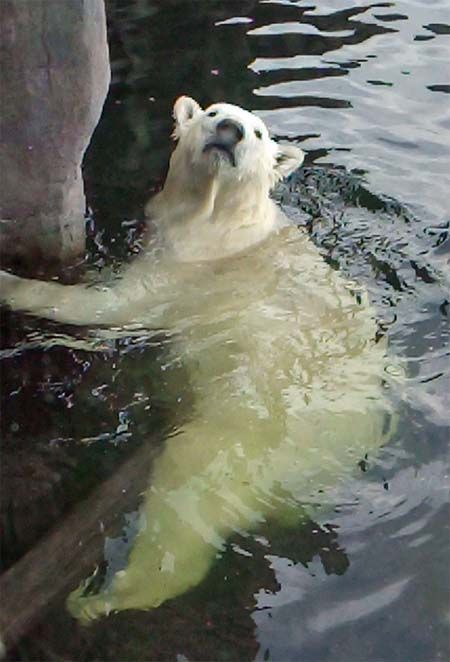 Nanook like all Polar Bears has favourite resting spots in the water.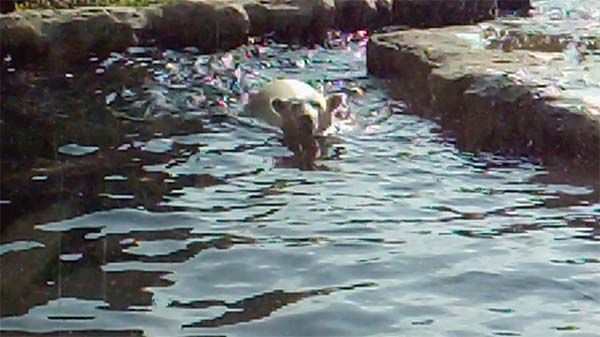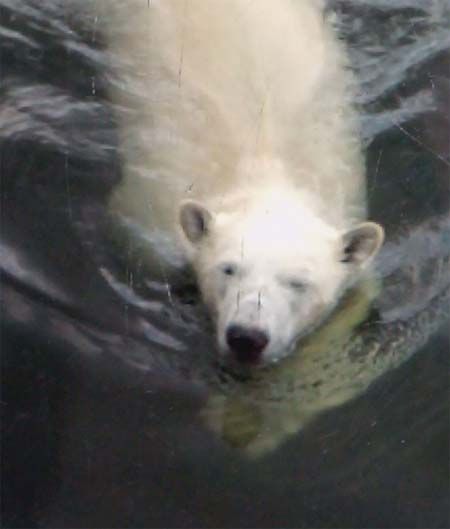 Apart from containing my food and drink, my plastic shopping bag is a reliable way of attracting Polar Bears to the glass.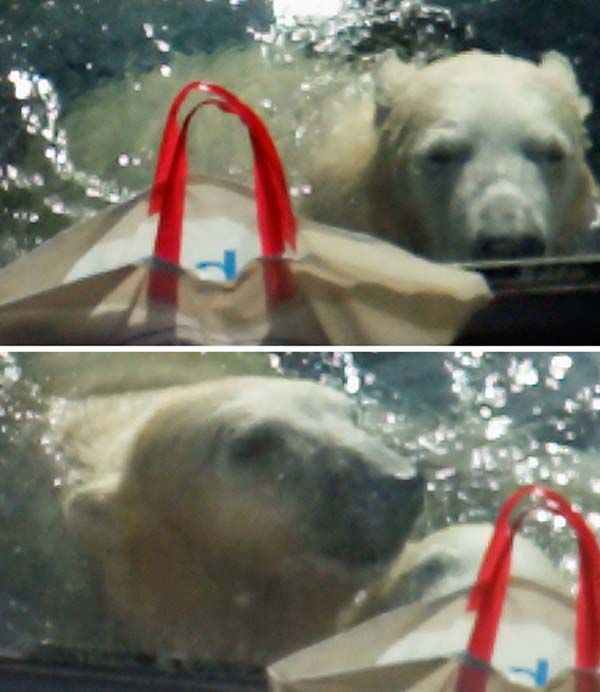 Compared with the cub waiting patiently for Lara to check the bag out, Nanook is now confident enough to come across herself and examine me and the bag.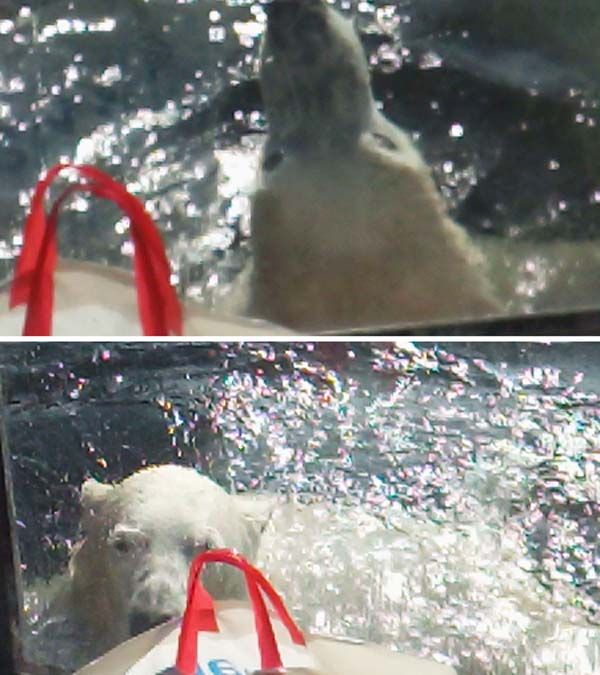 Nanook is confident and curious. Lara has done a good job of rearing her daughter.
Another free advert for a leading UK supermarket. Nanook would like a sandwich too!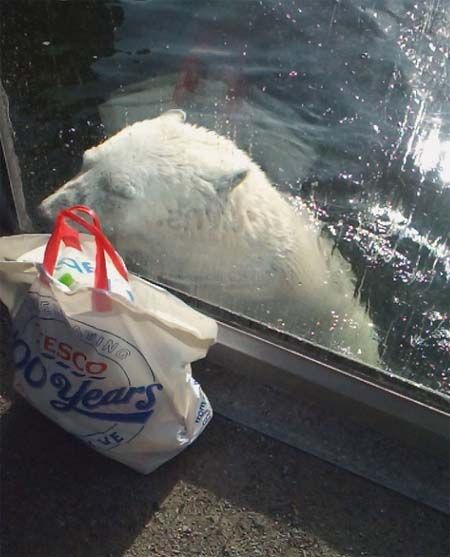 It is such a shame that we cannot share lunch!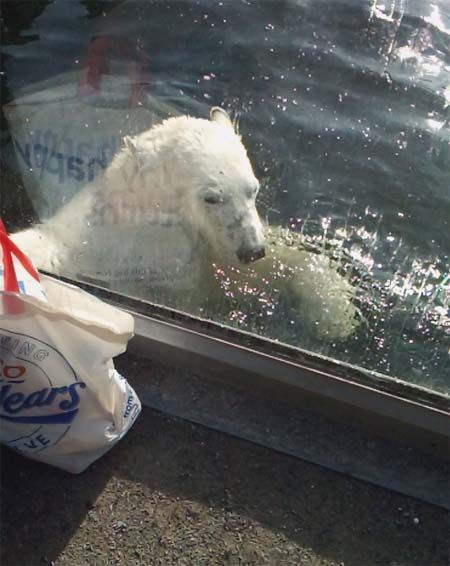 Nanook soon realises that Zoo rules mean I cannot share with her, so she leaves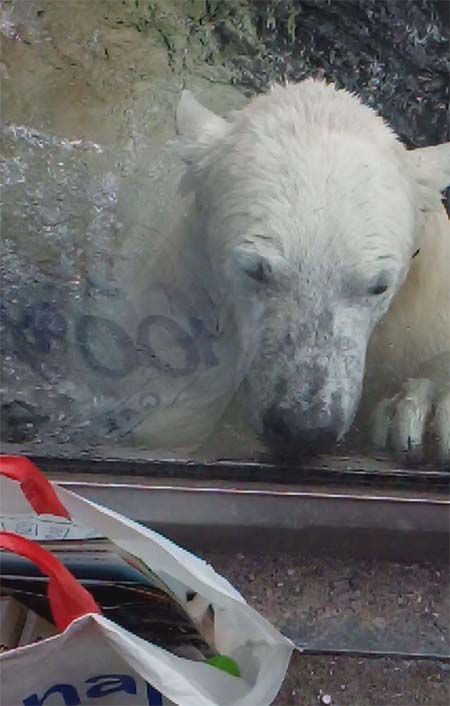 Nanook is a good looking bear just like Lara and Bill. She has a distinctive marking on her nose.
Just to remind you how small Nanook once was, here is a picture of her with Lara in December 2017. I am sure Lara would have liked my Ice Coffee and its symbol!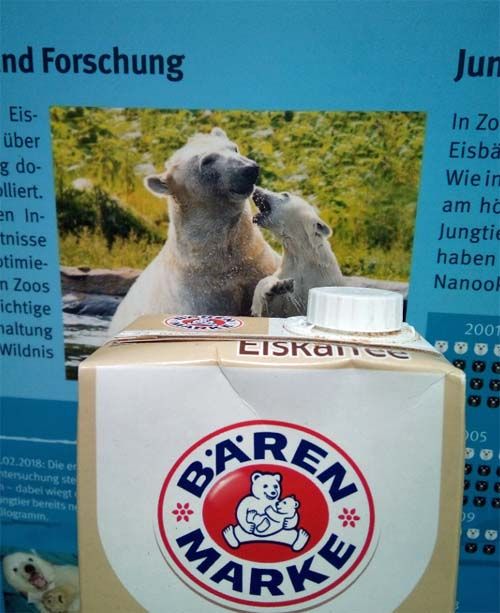 Another free advert! The coffee was very welcome though.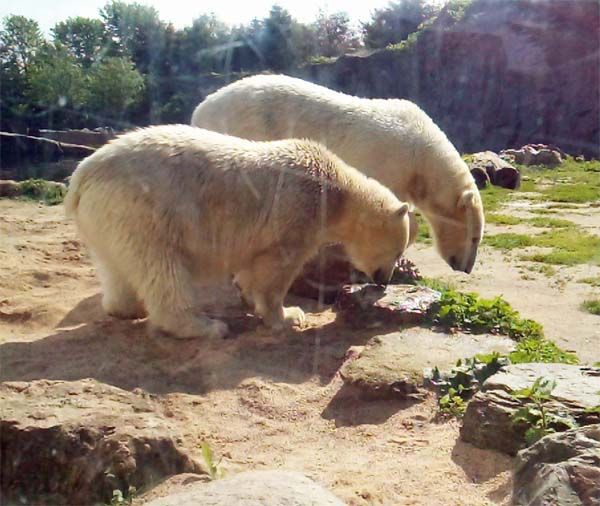 My last shot from this visit to Gelsenkirchen shows Lara and Nanook together.