Wolodja and Olinka in Diergaarde Blijdorp in Rotterdam
Aug 12th, 2019 | By
mervi
| Category:
News from the Bear World
12.8.2019 – Photos by Nel Hoekstra
Wolodja moved to Rotterdam in June this year and he has settled quite well in his home in the Diergaarde Blijdorp. Nel Hoekstra has visited him and Olinka and kindly given me permission to publish her photos even in this magazine.
Our Teddy is relaxing in the green grass …..
… and a nap by the 'sea side' is always nice. When Wolodja opens his eyes he can admire himself in the water mirror.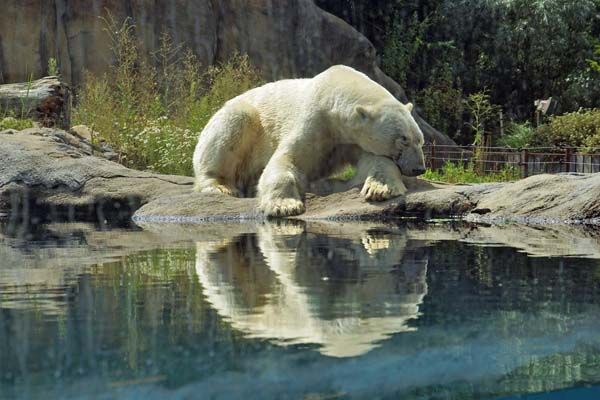 Most of you know the history of Wolodja but here's a little reminder.
He was born on the 27th of November 2011 in Moskau – Mutter: Simona, Vater: Vrangel
Wolodja has already moved a lot:
08.08.2013 – 13.02.2017 Tierpark Berlin
13.02.2017 – 22.04.2017 Berlin Zoo
22.04.2017 – 09.05.2018 Berlin Tiergarten
09.05.2018 – 30.01.2019 Berlin Zoo
30.01.2019 – 14.06.2019 Rhenen
14.06.2019 Rotterdam
Wolodja has fathered two cubs – Fritz in 2016 and Hertha 2018. Unfortunately little Fritz died only 4 months old.
Here's Olinka's history in a nut shell:
Olinka: Born 21. November 1992 in Köln – Mutter: Olga, Vater: Omaha
Olinka is a beautiful polar bear lady.
Even Olinka has travelled a lot:
18.03.1994 – 17.02.2002 Wien
17.02.2002 – 26.05.2003 Bremerhaven
26.05.2003 – 14.11.2005 Wien
14.11.2005 – 05.12.2006 Gelsenkirchen
05.12.2006 – 04.03.2010 Wien
04.03.2010 – Rotterdam
Olinka has given birth to several cubs and she's even a grandmother of a couple of cubs.
These polar bears are Olinka's children – well, they are adults now:
2000: Lloyd, Nika
2004: Lara
2007: Arktos, Nanuq
2010: Vicks
2014: Todz, Sizzel
Olinka is obviously thinking big thoughts!
For the time being Wolodja and Olinka are living in separate enclosures. It remains to be seen if they'll be living together later on.
Olinka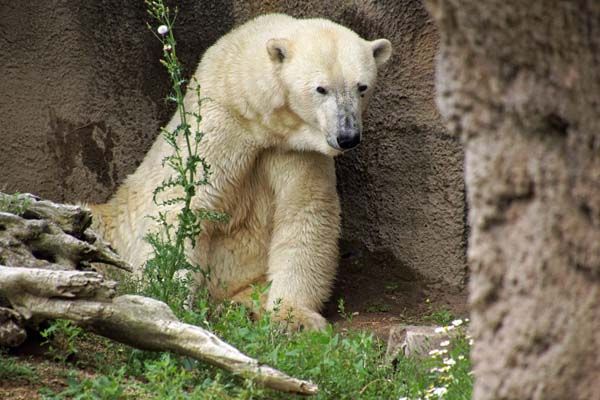 Wolodja
This photo of 'Teddy' made me think of his daughter Hertha. She must have inherited some of her energy from papa Wolodja. 🙂
Thank you so much, dear Nel, for this update! Knuti's Weekly wishes you, Wolodja, Olinka and all the keepers in the Diergaarde Blijdorp a pleasant late Summer time!