Happy birthday to you, dear Sisu!
Nov 21st, 2020 | By
mervi
| Category:
Ranua 2020
21.11.2020 by Mervi, Photos by Marko Junttila
The 21st of November 2016 was a happy day in the Ranua Wildlife Park. Polar bear lady Venus gave birth to a tiny cub. The park announced the news only in January when the cub had made it through the first critical weeks. What a happy day that was for me!
The cub was a boy and in mid March Venus decided to present her precious baby to the media and the visitors.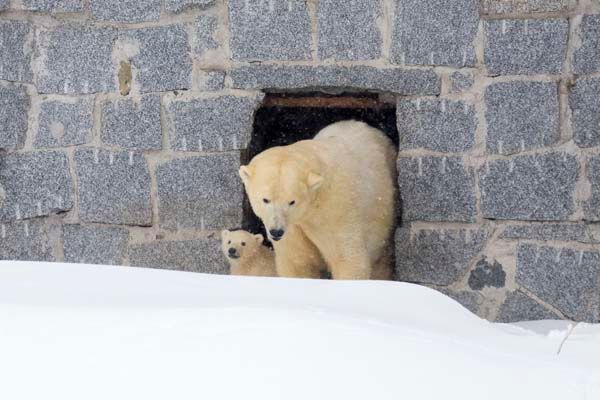 Sisu was immediately very interested in the surroundings. In this photo it seems that he's checking that the walls of the enclosure are strong enough. 🙂
It was snowing during Sisu's first outing so Venus had a perfect timing for the presentation of her son.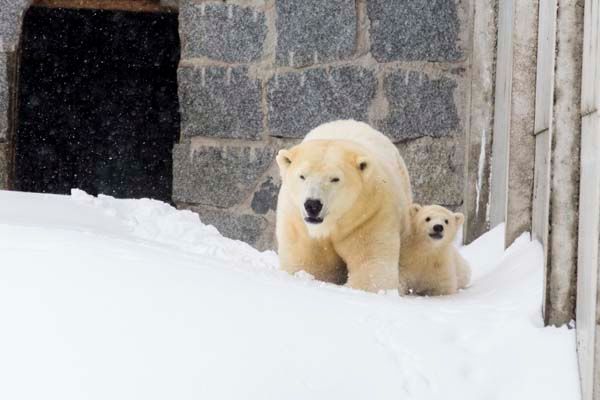 Living in Ranua in north of Finland Sisu could enjoy the snow until May.
Tender moments with mama
Sisu has always been a self confident polar bear boy. I think he walks with very determined steps! 🙂
I had the pleasure of meeting Venus and Sisu 'live' in May 2017. I guess I don't have to tell you I was in seventh heaven when I was standing at their enclosure admiring them.
The ball we brought to Sisu was, naturally, broken in seconds flat but he loved to play with it anyway. 🙂 The black tyre was a favourite, too.
Because I'm a Winter lover I've been happy to publish so many snowy photos of Sisu in this magazine. There are so many of them that it was difficult to choose among them but here's a little collection.
Oh bear, what a big snow ball!
The ice is thick enough to carry the weigh of a polar bear. When this photo was taken Sisu already looked quite impressive ….
…. but still a cute little cubbie! I love those paws!
This photo is one my absolute favourites. The snow on the licorice nose – isn't that cute!
Salmon is a polar bear's best friend – next to mama, of course …. 🙂
This is Sisu's famour seal imitation. He masters the big ball with great brilliance!
Even smaller balls are fun to play with.
The gigantic pearl string made him very happy, too.
Brrrrr, sometimes the icy photos made me freeze but I know Sisu thought the temperature in the water was just right.
The long Winter in Ranua is very suitable for polar bears.
What a beautiful photo of a mother and her son!
A singing lesson? 🙂
Sisu grew bigger and bigger and so the day came when it was time for Venus to kiss her son goodbye. They both still live close to each other but separately.
Winter if fantastic but Summer isn't so bad either ….
Nice table manners
This time of the year the first snow has fallen and the pool is freezing.
Sisu is going to be as big as papa Manasse and the big brother Ranzo. Big balls are no challenges!
We're having a severe corona situation in the whole world and Sisu's contribution to help us fight the evil virus is this elegant mask.
HAPPY BIRTHDAY TO YOU! Always be a happy bear  whatever your future will be. If you will move from Ranua I hope you will go to a zoo where I can keep following your life.
I wish you and mama Venus a real Winter with lots of snow!
ONCE AGAIN – HAPPY BIRTHDAY, SWEET SISU!