Tosca and Katjuscha 06.12. und 07.12.2014
Dec 13th, 2014 | By
mervi
| Category:
What's up in Berlin 2014
13.12.2014 von Monika aus Berlin (collage by Mervi) – Dedicated to Ralph on his very special day.
Who could be more suitable to deliver our birthday greetings to Ralph than Katjuscha! Please, notice that 'old chap' is not referring to your age! 🙂
………………
Gestern Morgen bei Sonnenschein
Auch die Spätzlein waren schon da
Tosca und Kati warten aufs Frühstück
Unsere fleißigen Futterfeen haben Leckerlis geliefert. Hier Kati mit dem Rosinenbrot, auch Knut-Gedächtnis-Brot genannt.
Tosca wollte ans Brot, aber nicht ins Wasser
Sie kehrte wieder um.
Dann wurden die schönen großen Lachse nacheinander ins Wasser geworfen. Nach einem Weilchen holte sich Kati den Lachs.
Tosca ging zwar kurz mit dem Kopf ins Wasser, holte aber nur ein kleines Fischlein hoch. Vielleicht hat sie es auch nicht mitbekommen, dass noch ein Lachs für sie im Wasser war.
Kati ließ es sich schmecken
Tosca
Inzwischen ging Kati erneut ins Wasser und holte sich den zweiten Lachs
Sie legte den Fisch erstmal neben sich, denn sie ist zurzeit wieder sehr vom Juckreiz geplagt. Sie bekommt aber schon seit längerer Zeit Medikamente.
auch der Popo juckte
An der Knut-Statue freuten sich die Rotkehlchen und Spatzen über die vielen Croissants, die abgelegt wurden.
Heute Morgen schien auch wieder die Sonne, und Kati lugte aus der Höhle
Es sind noch mehr Fotos und Blumen hinzugekommen. Die zwei schönen Collagen hat Sabine aus Frankreich per Post geschickt, da sie selbst leider dieses Jahr nicht kommen konnte.
An dieser Stelle ganz liebe Grüße an Sabine.
Die Mädels wurden auch heute wieder mit Lachs verwöhnt. Hier Kati.
Diesmal platschte der Lachs direkt vor Toscas Nase, so dass sie heute auch in den Genuß des Fisches kam.
Als Nachtisch gab es dann noch Kürbisse. Diesmal war Tosca die erste, die den Kürbis nahm.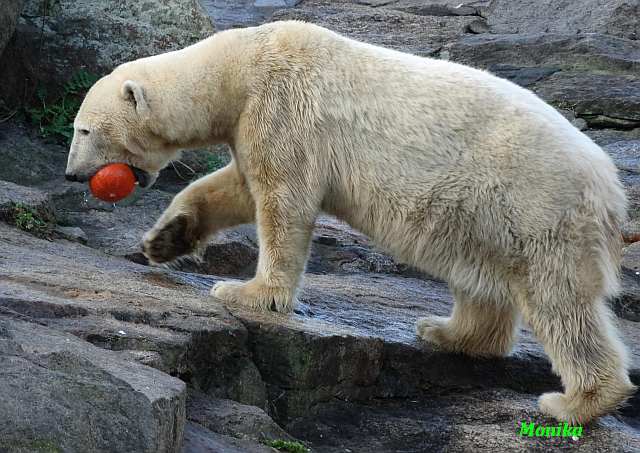 Als Kati ihren Kürbis aufgefuttert hatte, fraß sie noch den Rest von Toscas Kürbis, den Tosca sie liegen ließ. Auch die Krähe durfte mitessen.
Eine schöne Geste. Blumen am Braunbärengehege zum Gedenkaen an Berni, Jana und Petzi.