Sadness in Alaska, Happiness in Scotland
Jan 3rd, 2018 | By
mervi
| Category:
News from the Bear World
3.1.2018 – Sources: Alaska Zoo, Highland Wildlife Park Kincraig
After roughly two decades at the Alaska Zoo, Ahpun the polar bear suddenly died last weekend, according to zoo officials.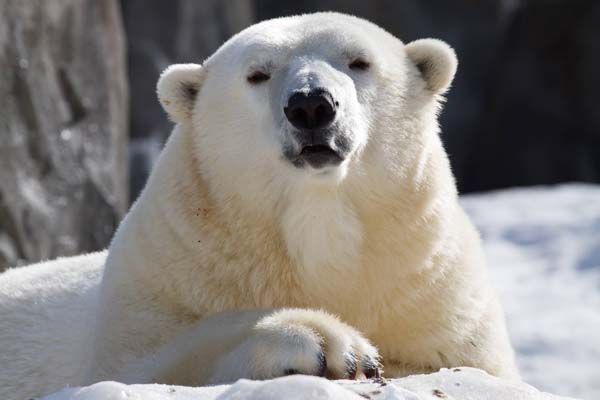 Pat Lampi, the zoo's director, said he was devastated after zoo staff discovered Ahpun's body Sunday morning. Lampi said Ahpun was roaming around her enclosure at the zoo when he left Friday.
It is with a heavy heart that we announce the passing of our beloved polar bear, Ahpun. Zoo staff has had the privilege of taking care of her since her arrival as a cub in 1998, and are devastated with this loss. Ahpun was in good condition and had shown no signs of poor health at anytime leading up to her death. A necropsy was performed by veterinary staff and we are awaiting final results as to the cause of her death.
We know Ahpun was well-loved by our community, so this year's Polar Bear Birthday will also include a celebration of life for her.
Photos by John Gomes
……………
Highland Wildlife Park
We're thrilled to announce that Victoria, the UK's only female polar bear, has given birth here at the Highland Wildlife Park! This is the first time a polar bear cub has been born in the UK for a quarter of a century.
While we aren't able to see inside her maternity den, keepers here at the Park heard distinct high-pitched noises shortly before Christmas which have continued into the new year.
Victoria's enclosure is currently closed, but visitors are welcome to visit dad Arktos, and his pal Walker, at our male polar bear enclosure.