Nostalgie – Fiete's Octobear Surprise / Fiete's Oktobär-Überraschung
Sep 23rd, 2021 | By
mervi
| Category:
Featured articles
23.9.2021 by Fiete and Mervi – English /Deutsch, Übersetzung von Bärgit (First published 23.9.2016)
When Vilma woke up on a late September morning she saw two suitcases packed and ready for a travel. Soon she heard a cheerful voice calling her.
– Mama! I have a great surprise for you!
– Oh bear! I hope we're not flying to the moon …. Sometimes I really hope you hadn't so much energy for arranging things!
– No, we're not going to visit the moon. We're going to Munich! Auntie Giovanna and Uncle Yoghi have invited us to the Oktobärfest. Well, actually I told them it would be nice to visit them so they sent an invitation ….
– So you asked them to invite us?
– OK, I kind of gave them a little hint …. but now they've invited all their friends to join the big event. Isn't that great or isn't that great? Maybe we'll even meet papa …..
Als Vilma neulich spät aufwachte, entdeckte sie zwei fix und fertig gepackte, reisebereite Koffer. Gleich darauf hörte sie eine fröhliche Stimme, die ihr zurief:
– Mama! Ich hab eine tolle Überraschung für dich!
– Oh mein Bärchen! Ich hoffe, wir fliegen nicht zum Mond……Manchmal wünschte ich wirklich, du hättest nicht so viel Energie übrig fürs Aushecken von Aktionen!
– Ne, wir fliegen bestimmt nicht zum Mond. Wir fahren nach München. Auntie Giovanna und Uncle Yoghi haben uns doch zum Oktobärfest eingeladen. Na ja, in Wirklichkeit hab ich ihnen gesagt, es wär doch schön, wenn sie uns eine Einladung schicken würden…
– Also hast du sie dazu aufgefordert, uns einzuladen?
– Also gut, ich hab ihnen einen kleinen Wink gegeben…aber jetzt haben sie all ihre Freunde zu diesem großartigen Fest eingeladen. Ist das nicht toll oder ist das toll? Vielleicht treffen wir sogar den Papa…..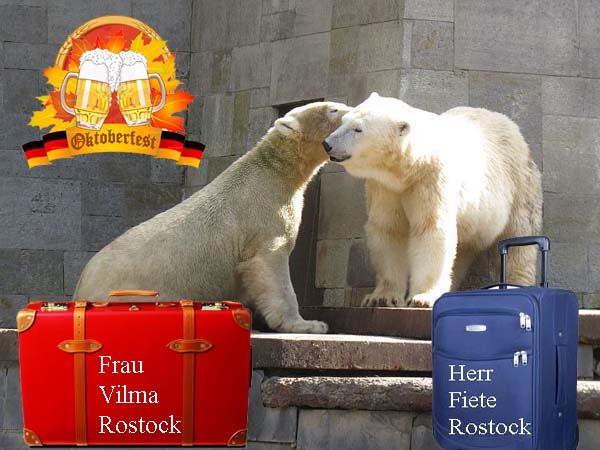 As we all know by now our Fiete is a master of arrangements. He had booked the train tickets and asked the station staff to make sure the train to Munich could be easily found.
Wie wir ja längst alle wissen, ist Fiete ein wahres Organisationsgenie. Er hatte bereits die Zugfahrkarten gebucht und die Schaffner gebeten, alles zu tun, damit sie den Zug nach München auch leicht finden können.
Vilma and Fiete had the train for themselves because when they entered the platform all the two legged creatures suddenly decided to take the next train. Very odd!!!
Giovanna and Yoghi had placed big signs showing the way to the exit in the railway station in Munich and then to Hellabrunn so Vilma and Fiete just followed the signs.
Vilma und Fiete hatten sogar den ganzen Zug für sich allein, weil sich alle Zweibeiner blitzschnell dazu entschieden, den nächsten Zug zu nehmen, als die beiden den Bahnsteig betraten. Das war schon sehr sonderbar.
Giovanna und Yoghi hatten riesige Schilder angebracht, damit Vilma und Fiete den Weg aus dem Münchner Hauptbahnhof und nach Hellabrunn auch finden konnten. Daher mussten den beiden nur den Schildern folgen.
The host and the hostess welcomed their guests in a most lovely way.
Gastgeber und Gastgeberin begrüßten ihre Gäste aufs allerliebste.
Of course, Fiete didn't come empty pawed. Oh no, he had brought a barrel of beer which he wanted to bring to Hellabrunn himself. Who needs horse power when there's enough bear power!!!
Selbstverständlich kam Fiete nicht mit leeren Pfoten an. Oh ja, er hatte ein Fass Bier dabei, das er höchstbärsönlich nach Hellabrun rollen wollte. Wer braucht schon Pferdestärken, wenn er genügend Bärenstärke hat!!!!
Rolling a beer barrel is exhausting! Not only Fiete but even Yoghi had been a beer deliver. Mind you, he hadn't drank a drop when the photo was taken – he was just tired! Some of the arrangements for the Oktobärfest are really energy consuming. However, many of Yoghi's bear friends were coming and they expected all kinds of treats. Giovanna had made sure there were enough 'brezels' to go with the beer. Of course, she hadn't forgotten the salmons, melons and other 'beary kind of food'.
Ein Bierfass zu rollen strengt ziemlich an! Nicht nur Fiete, auch Yoghi war als Bierroller beim Festzug dabei. Und immerhin hatte er keinen einzigen Tropfen intus, als das Foto gemacht wurde – er war einfach nur müde! Einige der Vorbereitungen fürs Oktobärfest sind wahre Energieräuber. Immerhin kamen viele von Yogis Bärenfreunde und sie erwarteten alle möglichen Leckereien. Giovanna hatte dafür gesorgt, dass es zum Bier auch genügend Brezen gab. Natürlich hatte sie auch den Lachs, die Melonen und anderes 'Bärenfutter' nicht vergessen.
After the busy day Herr Yoghi rewarded himself with a big glass of cold beer. The old chap really deserved it. Fiete had a nice glass of lemonade. He's still too young for the stronger stuff. What would papa Lars think if he met his son drinking beer!!
Nach dem arbeitsreichen Tag, belohnte sich Herr Yoghi mit einer kühlen Riesenmaß. Der alte Bursche hat sie sich wirklich verdient. Fiete trank ein Gläschen guter Limonade. Er ist ja noch zu jung für den stärkeren Stoff. Was würde Papa Lars denn denken, wenn er seinen Sohn beim Biertrinken treffen würde!!
There were also big cans of Paulaner Weißbier and Vilma couldn't resist the temptation but did some juggling. What grace, what elegance, what girl power! 🙂 Fiete tried to follow his mother's example but he was so tired after the barrel rolling that he took a short nap using a can as a pillow.
Es gab auch große Dosenkanister Paulaner Weißbier und Vilma konnte der Versuchung nicht widerstehen, damit zu jonglieren. Welche Anmut, welche Eleganz, was für eine Girlpower! 🙂 Fiete versuchte natürlich gleich, dem Beispiel seiner Mama zu folgen, aber er war nach der Bierfassrollerei so müde, dass er ein kleines Nickerchen machte und den Dosenkanister zum Kissen umfunktionierte.
One of the absolute highlights for Fiete was meeting papa Lars! Of course, a nice portrait of the son and the father together was a 'must'!
Einer der absoluten Höhepunkte für Fiete war das Treffen mit Papa Lars! Natürlich war ein schönes Porträt von Vater und Sohn zusammen ein unbedingtes 'Muss'!
Uncle Sergej took care of the entertainment. He was not only a bar tender and a waiter. He also played several instruments and every now and then he sang a Russian song. Oh bear, Uncle Sergej must have even some Irish blood in his veins because he just loves to sing …. 🙂
Uncle Sergej kümmerte sich um die Unterhaltung. Er fungierte ja nicht nur Barkeeper und Kellner. Er spielte auch verschiedene Instrumente und ab und zu gab er ein russisches Lied zum Besten. Oh Bär, Uncle Sergej muss auch etwas irisches Blut in seinen Adern haben, weil er einfach gerne inbrünstig singt … 🙂
The favourite BfB (Beer for Bears) is, of course, Knutsteiner!
Das Lieblings BfB (Bier für Bären) ist – natürlich – Knutsteiner!
Fiete would have loved to meet even his small friends in Munich but some of them are simply too young for long travels.
Valeska wanted to 'compensate' Lili by taking her to Bremen to meet the four musicians – die Bremer Stadtmusikanten. She had also bought Lili a nice dirndl to put her in an 'Oktobärish mood'. Valeska is a mother who does everything to make her daughter happy.
Fiete hätte liebend gerne auch seine kleinen Freunde in München getroffen, aber einige von ihnen sind schlicht und ergreifend noch zu jung , um auf weite Reisen zu gehen.
Valeska wollte Lily dafür 'entschädigen', und begab sich deshalb mit ihr nach Bremen, um die vier Musiker – die Bremer Stadtmusikanten – zu treffen. Sie hatte Lili auch ein süßes Dirndl gekauft, um sie in eine oktobärige Stimmung zu versetzen. Valeska ist eine Mama, die alles macht, um ihre Tochter glücklich zu machen.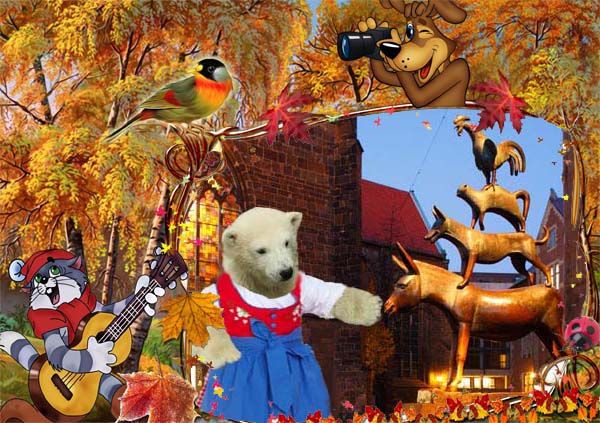 Needless to say the Oktobärfest beats the Oktoberfest anytime! Everybody's enjoying the big party that goes on for several days.
Vilma was very happy about Fiete's surprise. Maybe this is the last party for them together because soon the rebuilding of the 'polar world' in Rostock will begin and our friends must move to other zoos. Knuti's Weekly wishes Vilma and Fiete best of luck! Hopefully we'll be able to follow their lives even in the future.
But now it's PARTY TIME and EVERYBODY'S INVITED!
Es braucht wohl nicht eigens erwähnt werden, dass das Oktobärfest das Oktoberfest um Längen schlägt! Jeder hat Spaß an der Riesensause, die tagelang geht.
Vilma machte Fietes Überraschung mehr als glücklich. Vielleicht ist das ja für beide die letzte große Party, weil man bald mit den Umbauarbeiten in der 'Polarwelt' in Rostock beginnen wird und unsere Freunde in andere Zoos umziehen müssen. Knuti's Weekly wünscht Vilma und Fiete alles erdenklich Gute. Hoffentlich werden wir ihre Lebenswege auch in Zukunft begleiten dürfen.
Aber nun ist erstmal FEIERN angesagt und JEDER IST EINGELADEN!