Nostalgie – Fiete's Easter Adventure / Fietes österliches Abenteuer
Apr 14th, 2022 | By
mervi
| Category:
Featured articles
14.4.2022 by/von Mervi (In English / Auf Deutsch)
This story was first published on the 25th of March 2016 and I thought I could 'dust it off' and publish it again. – Translation by/Übersetzung von Doro
This is Fiete's second Easter and he's really looking forward to meeting sweet Easter bunnies, going for egg hunting and other Easter things. Fiete has made some plans but our fluffy friend was taken by surprise this year ….
Maybe you have also seen this sign?
Fietes zweites Ostern ist da, und er freut sich schon sehr auf die süßen Osterhäschen und die Jagd nach Eiern und anderen feinen Sachen. Unser flauschiger Freund hatte schon Pläne gemacht, doch in diesem Jahr wurden sie völlig über den Haufen geworfen …
Vielleicht habt auch ihr dieses Schild gesehen?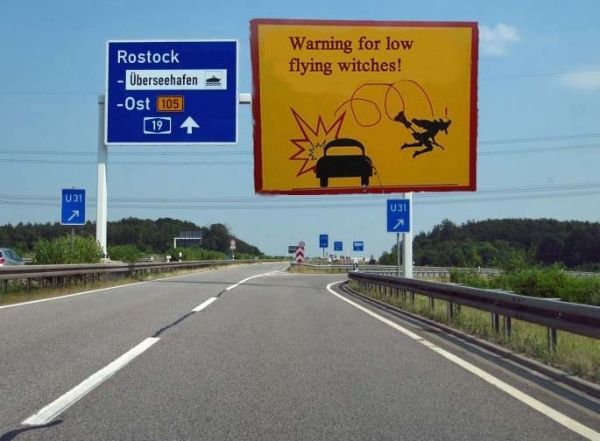 – Hello Fiete! I'm an Easter witch – you can call me Hexelina. I was on my way to the Blue Mountain when I had a little mishap on the Autobahn and had to leave my broom for service. The modern brooms are very tricky with the remote controls and all kinds of smart things that I don't understand. Luckily I found a nerd who's specialized on witches' brooms. Since I was in the neighbourhood I thought I could pay you a visit.
– Hello Hexelina! I've heard witches are evil but you look very kind ….
– Hallo Fiete! Ich bin eine Osterhexe – nenn mich doch Hexelina. Ich war auf dem Weg zum Blauen Berg, als ich auf der Autobahn ein kleines Missgeschick hatte und meinen Besen zur Reparatur geben musste. Diese modernen Besen sind total kompliziert mit ihrer Fernbedienung und allem möglichen Schnickschnack, von dem ich keine Ahnung habe. Zum Glück habe ich einen Nerd aufgetrieben, der sich auf Hexenbesen spezialisiert hat. Da ich nun mal in der Nähe war, dachte ich mir, ich könnte dich auch gleich besuchen.
– Hallo Hexelina! Man hat mir erzählt, dass Hexen böse sind, aber du siehst ja richtig freundlich aus …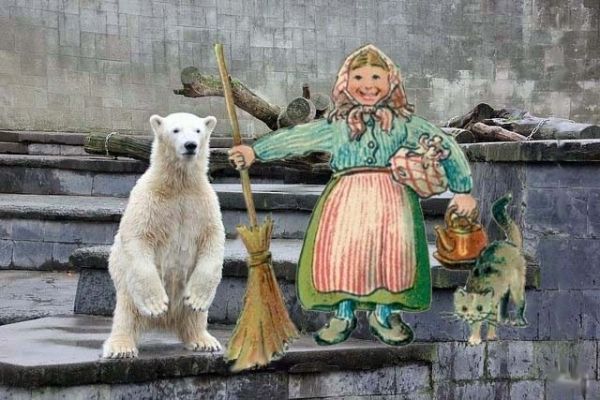 – You know, there are evil witches and there are good witches. I'm a really good one – just ask my cat Kisselina! 🙂
– You said you left your broom for service but what's that thing you're holding?
– Oh, it's my reserve. No good for flying but I can use it for magic! Look around and tell me what you see!
– Oh bear, where did the mermaid come from? And the little bunny girl? I can hardly believe my eyes!
– Ach weißt du, es gibt böse und gute Hexen. Und ich bin eine der richtig Guten – frag doch nur meine Katze Schnurroline! 🙂
– Du hast gesagt, dass dein Besen zur Reparatur ist, aber was ist das für ein Ding, das du in der Hand hast?
– Oh, das ist meine Reserve. Zum Fliegen nicht zu gebrauchen, aber zaubern kann ich damit. Schau dich mal um und sag mir, was du siehst!
– O Bär, woher kommt denn diese Meerjungfrau? Und das kleine Hasenmädchen? Ich glaub's einfach nicht!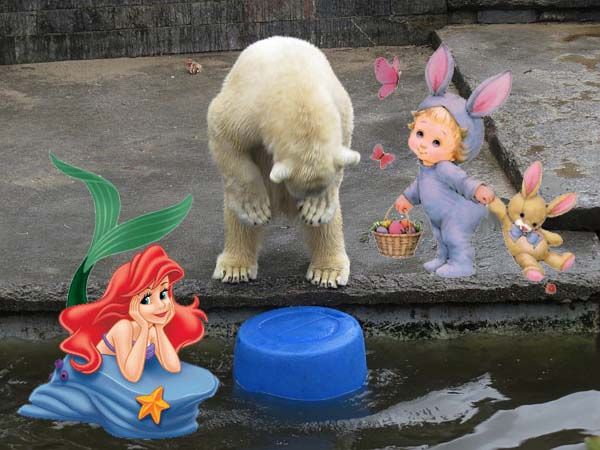 – My dear friend, that was nothing but since I'm here now I could take you for a little Easter adventure. How about that?
– I would like that very much!! I'm really curios now ….
– OK, please step into this small cottage and open the window.
– Mein lieber Freund, das war noch gar nichts, aber da ich nun einmal hier bin, kann ich dich auch zu einem kleinen Osterabenteuer mitnehmen.
– Das wär' toll!! Jetzt bin ich echt neugierig …
– Okay, dann geh mal in diese kleine Hütte und öffne das Fenster.
– I see a beautiful princess like creature. Who is she?
– Her name is Cinderella. Maybe your mama has read the story of her for you?
– Yes, now I recognize her and her nice shoes. Do you think she wants to dance with me?
– Ich sehe jemanden, der wie eine wunderschöne Prinzessin ausschaut. Wer ist sie denn?
– Das ist Cinderella. Vielleicht hat dir deine Mama ihre Geschichte mal vorgelesen?
– O ja, jetzt erkenne ich sie und ihre hübschen Schuhe. Glaubst du, dass sie mit mir tanzen möchte?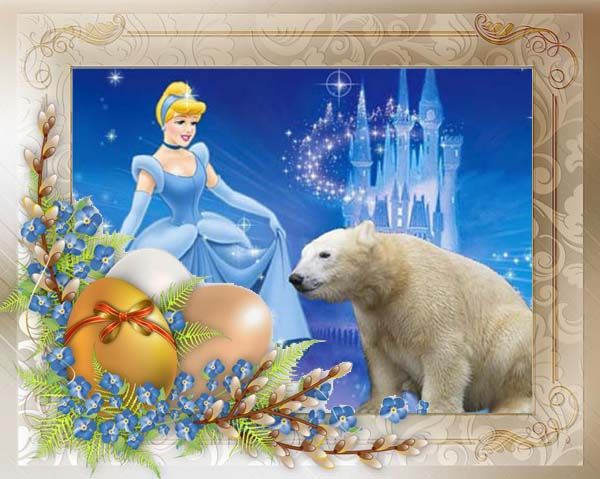 – Sorry, there's no time for dancing because now I want to introduce you to the Snow White and the seven dwarfs.
– The dwarfs are cute. They have all different kind of character but I like the whole bunch. 🙂 Hmm, I don't understand why Snow White has that name – I mean I'm much more snow white than she is!! Of course, sometimes my fur gets the cappuccino colour …..
– Well, Fiete my friend, I've never thought of that but you're right! 🙂 Snow White would be a very suitable name for a polar bear.
– Zum Tanzen haben wir leider keine Zeit; ich möchte dich jetzt nämlich Schneewittchen und den sieben Zwergen vorstellen.
– Ach, sind die Zwerge niedlich! Jeder hat seinen eigenen Charakter, aber mir gefällt die ganze Truppe. 🙂 Hmm, ich verstehe nicht ganz, warum Schneewittchen so heißt – ich meine, ich bin doch viiiel weißer als sie!! Gut, manchmal sieht mein Fell auch wie Cappuccino aus …
– Nun, Fiete, lieber Freund, darüber habe ich noch nie nachgedacht, aber du hast Recht! 🙂 Schneewittchen wäre wirklich ein passender Name für einen Eisbären.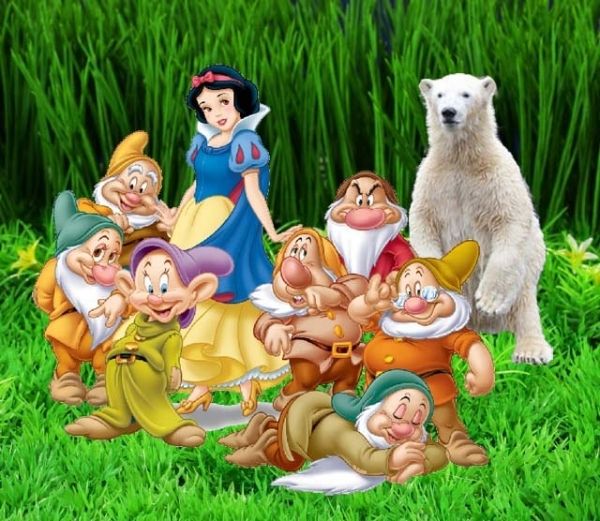 The next stop was in a city that could be called Stupidopol ….
– Just like many people this Emperor is incredibly stupid so the tailors made him believe he's wearing new fine clothes although he's naked.
– What a pity he hasn't got a fine fur like I have! I think I'll offer him my blue barrel so he can hide behind it ….
– Let him walk without clothes. Maybe he will learn a lesson or two! 🙂
Anschließend machten sie Halt in einer Stadt, die man guten Gewissens Dummersbach nennen könnte …
– Wie viele andere Leute auch ist dieser Kaiser ein unglaublicher Dummkopf! Als ihm die Schneider einflüstern, dass er schöne neue Kleider trägt, glaubt er das tatsächlich, obwohl er im Adamskostüm herumläuft.
– Schade, dass er kein so feines Fell hat wie ich! Ich könnte ihm ja mein blaues Fass anbieten – dann kann er sich drin verstecken …
– Lass ihn doch ohne Kleider herumlaufen. Vielleicht wird ihm das ja eine Lehre sein! 🙂
The Easter tour continued and Fiete was introduced to Rapunzel.
– Can you see what long hair she has? I can also see my good friend Eulalia is on her way to the Blue Mountain. Oh dear, I hope she's flying high enough to avoid mishaps.
– I must say Rapunzel's hair is very beautiful but can it compare to my fur?
Die Ostertour ging weiter, und Fiete wurde Rapunzel vorgestellt.
– Schau mal, was für lange Haare sie hat! Ich sehe gerade, dass auch meine gute Freundin Eulalia auf dem Weg zum Blauen Berg ist. Mein Gott, hoffentlich fliegt sie hoch genug, damit kein Malheur passiert.
– Ja, die Haare von Rapunzel sind superschön, aber schneiden sie auch gut ab im Vergleich mit meinem Fell?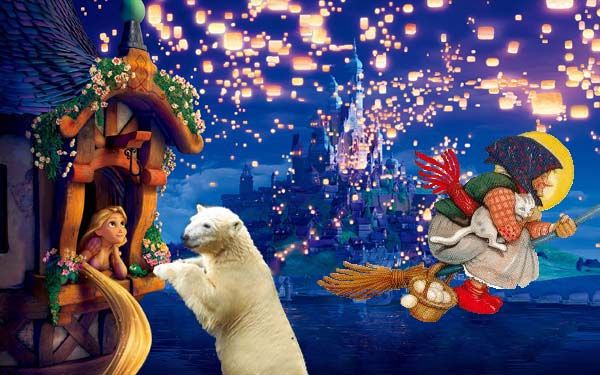 – Here's one of my favourites – Baron von Münchhausen. Please, don't believe a word of what he says. The old chap has a very vivid imagination – to put it mildly. – But for heaven's sake, he's actually riding a cannonball! I know what we'll do. We will organize a special race for cannonballs and brooms!
Hexelina immediately phoned her friends and soon there was a fantastic race going on in the sky.
– Glendora and Adalmina are the best broom racers in the world! Go, girls, go! Show the Baron what you're made of!
Hexelina got very excited but suddenly there were no racers to be seen in the sky ….
– Und hier ist einer meiner Favoriten – Baron von Münchhausen. Glaub bloß nichts davon, was er dir erzählt. Der alte Knabe hat – gelinde gesagt – eine äußerst lebhafte Phantasie. – Ach du liebe Güte, er reitet tatsächlich auf einer Kanonenkugel! Ich weiß, was wir jetzt machen. Wir organisieren ein Sonderrennen für Kanonenkugeln und Besen!
– Unverzüglich rief Hexelina ihre Freunde an, und bald darauf konnte man ein phantastisches Rennen hoch in den Wolken erleben.
– Glendora und Adalmina sind die besten Besenpilotinnen der Welt! Go, Mädels, go! Zeigt dem Baron, was ihr drauf habt!
Hexelina war außer sich vor Begeisterung, doch plötzlich waren die Rennpiloten dort oben am Himmel nicht mehr zu sehen …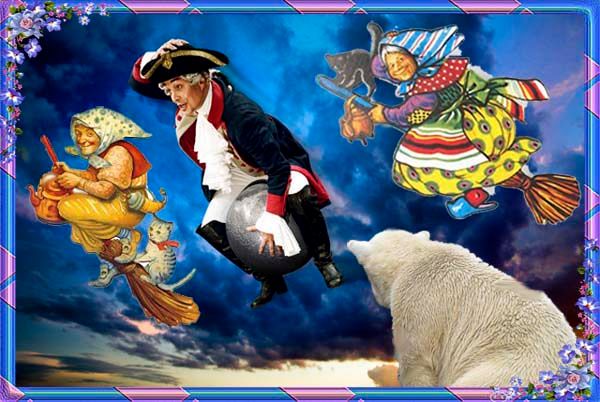 – Hexelina, what happened? Who won the race?
– It's hard to say because they all crash landed with not so much elegancy if you know what I mean. 🙂
Well, dear friend, my broom is functioning again so I'd better continue my flight to the Blue Mountain!
– Hexelina, was ist passiert? Wer hat das Rennen denn gewonnen?
– Schwer zu sagen, weil sie alle eine nicht unbedingt elegante Bruchlandung hingelegt haben, wenn du verstehst, was ich meine. 🙂 So, mein Freund, mein Besen funktioniert wieder, und meinem Flug zum Blauen Berg steht somit nichts mehr im Wege!
– Bye bye, Hexelina! Thank you so much for the adventure – and a very happy Easter to you and all your friends! I hope you'll come to your destination safe and sound!
Of course, Fiete had so much to tell his mother although Vilma didn't seem to believe everything he said …. Well, the adults are like that but it didn't prevent Fiete from being happy and in a real Easter mood! 🙂
– Mach's gut und tschüss, Hexelina! Vielen, vielen Dank für das Abenteuer – und habt ein fröhliches Osterfest, du und alle deine Freunde! Ich hoffe, dass ihr euer Ziel gesund und munter erreicht!
Natürlich hatte Fiete seiner Mutter eine Menge zu erzählen, obwohl Vilma nicht alles zu glauben schien, was er sagte … Na ja, Erwachsene sind nun mal so, aber das hielt Fiete nicht davon ab, happy zu sein und in echte Osterstimmung zu kommen! 🙂
Mervi: The special bear angel appeared again in my dream and in the morning I found this on my pillow.
In meinem Traum ist mir wieder dieser ganz besondere Bärenengel erschienen, und heute Morgen fand ich das hier auf meinem Kissen.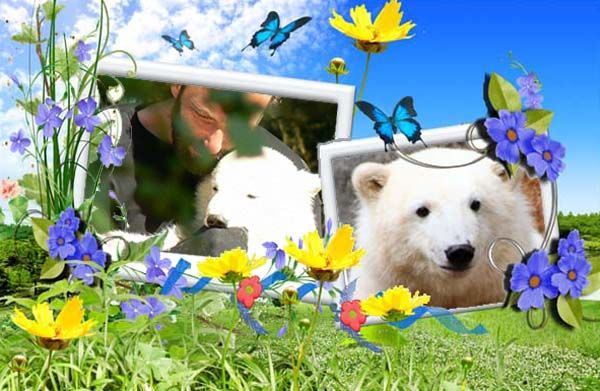 HAPPY EASTER TO EVERYBUNNY! 🙂
FRÖHLICHE OSTERN EUCH ALLEN, IHR "HASIS"! 🙂
My special thanks to Doro for the great translation and to Gisela H for her excellent photos of Fiete and Vilma!